9 Best Products To Get Rid Of Tan For Women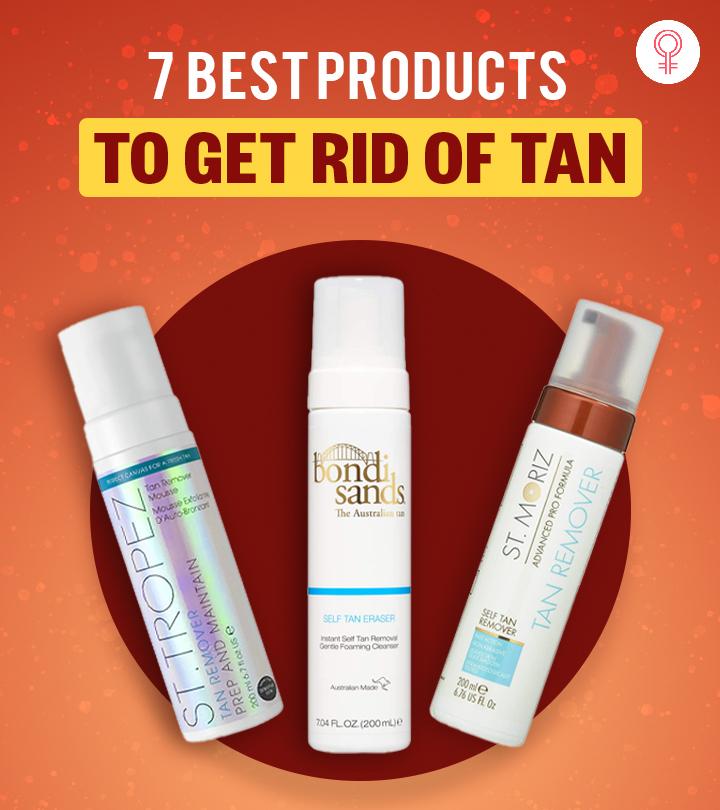 A perfect tan can help you feel your best in summer. But the fuss with self-tanners is that they do not last long and need to be freshly applied if you desire that evenly glowing bronze skin every time you step out. You also have to apply it uniformly for that subtle look and to avoid those pesky darker patches that tend to show up out of nowhere! Well, it's a good thing we live in an era that has loads of self-tan removers to combat all our self-tanning issues! Check out the list below to find the 9 best products to get rid of a tan.
9 Best Products To Get Rid Of Tan
Cleanser: A tan cleanser can be a great way to remove excess or uneven tan from your previous tanning session.
This Tan Removal Foam is perfect for removing self-tan and professional spray tanning from the skin. It is easy to use and does not contain any harmful chemicals. You can use this cleanser not only to remove tan but also as a pre-tan preparation step for your next tanning session.
Pros
Easy to apply
Pleasant scent
Preps the skin for the next tanning session
Cons
May irritate sensitive skin.
Mitt: Using a mitt helps exfoliate your skin while removing excessive tan buildup from your skin.
The Sun Labs Tan Removal Mitt is designed to effectively remove tan buildup. It buffs away dry skin and leaves it ready for a perfect tan reapplication. It is also ideal for correcting tanning mistakes and evening out darker tan spots, creating soft, silky, and perfectly tanned skin. Apart from removing tan, this mitt is also great to exfoliate and remove dead skin cells, unclog pores, stimulate blood circulation, and reduce body hair growth, and make your skin healthier and smoother.
Pros
Removes tan evenly
Easy to use
Time-saving
Cons
Not suitable for irritated skin.
Exfoliating Spray: An exfoliating spray can remove self-tan or spray tan in just 2-3 minutes, and it does not require any harsh scrubbing.
The X-TAN Sunless Tan Remover Exfoliating Spray is a brilliant product to remove self-tan or spray tan in only a few minutes without harsh scrubbing. This dermatologist-tested and approved product are infused with hyaluronic acid that moisturizes the skin, green tea that is a powerful antioxidant, and Kakadu plum, a superfood ingredient that is packed with vitamin C.
Pros
Hypoallergenic
Non-drying
Cruelty-free
Paraben-free
Cons
May not remove tan evenly.
Self-tanEraser: A self-tan eraser moisturizes and cleanses the skin while also removing excessive tan buildup and uneven tan lines.
The Bondi Sands Self Tan Eraser effectively removes self-tan in a matter of minutes without any harmful ingredients or exfoliators. This unique tan cleansing formula also moisturizes the skin and leaves it silky smooth. This product is supposed to be used at least three days after tanning. For best results, apply it liberally and wash it away while taking a hot shower.
Pros
Easy to use
Saves time
Does not require harsh scrubbing
Removes tan evenly
Cons
Tan Removing Mousse: A tan removing mousse can be a good solution to get rid of any unwanted tan spots or mistakes that are made while self-tanning.
The St. Tropez Prep & Maintain Tan Remover Mousse is one of the quickest and easiest ways to remove mistakes or tan buildup and prime the skin for a fresh tan application. This product is suitable for sensitive skin, as it effectively removes all traces of even the darkest tan in minutes. This mousse is infused with a detoxifying cotton extract that purifies the skin, while the probiotics rebalance and prime the skin to create a perfectly clean canvas for your next tanning session.
Pros
Easy to use
Pleasant fragrance
Fast-acting
Cons
Requires harsh scrubbing.
Tan Removing Bubble Bath: A tan removing bubble bath can is an easy and effective way to dissolve and buff away the fake tan on your body in one go.
The Purity Self Tan Removing Bubble Bath can be used on all skin types and does not cause any irritation. All you have to do is simply pour this product under running water and watch the bubbles fill up the tub. Relax in the bath for about 20 minutes, and gently buff over your skin with an exfoliating mitt to remove your tan with ease.
Pros
Paraben-free
Alcohol-free
Color-free
Fragrance-free
Removes tan evenly
Easy to use
Cons
Not suitable for irritated or sensitive skin.
Tan Removal Gel: A gel tan remover gently exfoliates and lifts away from the spray tan from your skin.
The Unreal Tan Eraser contains rich hydrating ingredients like coconut oil. This gel is great for getting rid of patchy tan, and it can also lighten the freshly applied tan, even if it is a spray tan. This product contains nourishing and gentle exfoliating ingredients, including shea butter, kiwi seed, green tea, and red riboose tea extract, all of which leave your skin hydrated and fresh after use.
Pros
Pleasant fragrance
Natural ingredients
No harsh scrubbing
Softens the skin
Cons
Tan Removing Primer: A tan removing primer removes excess tan from your skin and moisturizes it to prep it for your next tanning session.
The Selfie Tan Remover &Primer gently removes any excess self-tanner in under 5 minutes. It also hydrates and primes the skin for a fresh and sunless session. This product is suitable for all skin types.
Pros
Paraben-free
Easy to use
Suitable for all skin types
Cons
Sticky and unpleasant texture
Self-Tan Remover: A self-tan remover can be a safe way to remove fake tan as it does not require any harsh scrubbing.
The St. Moriz Advanced Pro Formula Self Tan Remover gently and effortlessly removes self-tan without the need for any abrasive scrubbing. This moisture-rich formulation leaves the skin supple, smooth, and tan-free. It is created with a unique combination of ingredients that work with the pH balance of the skin to effectively reduce and remove unwanted tan from the skin.
Pros
Good fragrance
Easy to use
Fast-acting
Cons
May not remove tan evenly.
Self-tanning can feel like a daunting task when you constantly feel your tan comes out patchy and retains a lot of buildup. This is why an effective self-tan remover can come in handy as it helps remove tan buildup and gets rid of uneven tan spots and lines. It can be used either to remove tanning mistakes or your previous tan to prepare your skin for a fresh tan application. Check out the list above to find the different tan removing products that work well to remove self-tan or spray tan.
Recommended Articles