15 Best Tattoo Cover-Up Makeup Products – Top Picks Of 2022
For flawless coverages that can mask the brightest and boldest of marks and colors on your skin.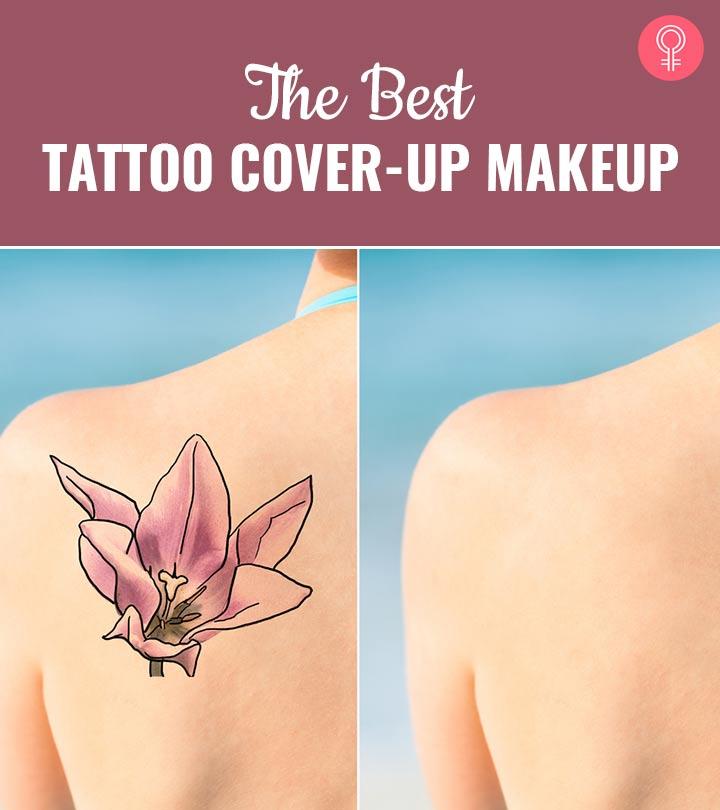 Tattoos are a way of expressing oneself, but sometimes they need to be covered up for work or convenience. The most inexpensive way to do it is by using the best tattoo-cover makeup. Although it is a temporary method of using makeup products to cover up tattoos, it is quick and easy. Full-sleeved clothes and laser treatment are two other ways to hide and get rid of tattoos.
A tattoo-cover makeup product can also hide blemishes and scars and can be used as often as you want. These are waterproof and last for several hours without fading away. Some of them are also enriched with skin-nourishing ingredients. So, go ahead and check out the best tattoo-cover makeup products on our list right now. Keep scrolling!
15 Best Makeup To Cover Tattoos
The Westmore Beauty Body Coverage Perfector works as an illuminator and camouflage to cover skin imperfections and tattoos. It is formulated with tri-effects technology that provides buildable coverage for 24 hours. This product is waterproof and imparts a natural glow to the skin. It can be used on the arms, legs, and décolleté. It evens out the skin tone and makes it look young.
Pros
Provides buildable coverage
Waterproof
Long-lasting
Transfer-resistant
Cons
Might require skin prep
Might leave a shimmery finish
The Judith August Killer Cover is an opaque, water-proof makeup concealer for tattoos, birthmarks, scars, age spots, bruises, vitiligo, and other skin imperfections. It has five shades to match the skin tone of every body part. This concealer is thick and needs to be applied in layers for dark tattoos. It is also recommended by cosmetic surgeons and skin care professionals for post-surgical cover.
Pros
Provides full coverage
Long-lasting
Blends easily
Cons
Might transfer easily
Might not work on some skin types
The Dermablend Leg And Body Makeup provides medium to full body coverage with SPF 25. It conceals scars, varicose and spider veins, stretch marks, bruises, and other imperfections. It is lightweight and provides a natural-looking finish. There are 12 shades, so you can get true-to-tone coverage. It is transfer-resistant, suits all skin tones, and can be used with setting powder.
Pros
Provides medium to full coverage
Lightweight
Contains SPF 25
Transfer-resistant
Suitable for all skin tones
Non-comedogenic
Blends easily
Available in 12 shades
Cons
The Make Up For Ever Full Cover is a smooth and creamy concealer that provides long-lasting coverage. It conceals scars, severe skin damage, beauty spots, depigmentation, tattoos, and birthmarks. It holds well even in extreme conditions and helps even the skin tone.
Pros
Blends easily
Long-lasting
Waterproof
Matte finish
Cons
Might dry out the skin
Might get patchy and creasy
The Kat Von D Foundation is highly-pigmented and lasts up to 24 hours, providing full coverage with a matte finish. It comes in 30 shades to suit every skin tone. The foundation has a creamy consistency that corrects discolorations, conceals blemishes, and prevents shine. It is formulated with proprietary pigments of silicone elastomers and esters that bind the mix together. It is waterproof, fade-proof, and transfer-resistant. It comes in an airless chamber that prevents contamination.
Pros
Paraben-free
No synthetic fragrances
Sulfate-free
Phthalate-free
Cruelty-free
Waterproof
Fade-proof
Transfer-resistant
Vegan
Long-lasting
Provides full coverage
Matte finish
Cons
Expensive
Might dry out the skin
Might get patchy and cakey
The ProColoRing Tattoo Cover has an opaque and creamy consistency. It helps conceal tattoos, birthmarks, and other skin discoloration. It is gentle on the skin and provides an even skin tone. It comes in a palette of five colors and can be found in a variety of shades.
Pros
Provides full coverage
Long-lasting
Blends easily
Cons
Might require reapplication
The Bairly Sheer Tattoo Cover is a high intensity, airbrush body cover spray. It is ideal for sensitive skin and provides up to 18 hours of buildable coverage. This lightweight spray conceals varicose veins, bruises, tattoos and can also be used as a regular foundation. It is easy to blend and made with a water-based formula.
Pros
Provides full coverage
Blends easily
Long-lasting
Water-based formula
Paraben-free
Alcohol-free
Fragrance-free
Oil-free
Cruelty-free
Lightweight
Transfer-resistant
Odor-free
Dermatologist-tested
Ophthalmologist-tested
Ideal for sensitive skin
Cons
The Dermacol Make-Up Cover provides highly pigmented coverage with a natural-looking finish and a velvety matte appearance. It contains SPF 30 and is formulated with 50% pigments that help conceal skin imperfections, dark circles, spots, and tattoos. It also helps to cover acne, blemishes, hypo/hyperpigmentation, and post-surgical bruising. It is hypoallergenic and waterproof. 
Pros
Provides full coverage
Long-lasting
Waterproof
Hypoallergenic
Contains SPF 30
Suitable for all skin types
Preservative-free
Cons
Transfers easily
Might require reapplication
Might crease or get cakey
The Cherioll Concealer Cream provides full coverage and helps conceal tattoos, acne, hypo/hyperpigmentation, post-surgical bruising, and other skin imperfections. It can also be used for color-correction and balancing the skin tone. This creamy and hydrating formula is thin and does not crack, cake, or settle into fine lines or wrinkles.
Pros
Provides full coverage
Water-resistant
Long-lasting
Alcohol-free
No harsh chemicals
Cons
The Buoceans Tattoo Concealer Kit is formulated with natural ingredients and imparts a healthy and radiant complexion. It hides acne, hypo/hyperpigmentation, post-surgical bruising, tattoos, and other skin imperfections. It also aids in color correction and evens out the skin tone.It has a fine and light consistency that allows skin to breathe and is non-sticky. It provides ideal coverage even in thin layers and is water and sweat-proof.
Pros
Provides full coverage
Suitable for sensitive skin
Non-cakey
Long-lasting
Smudge-proof
Non-sticky formula
Alcohol-free
No harsh chemicals
Waterproof
Sweat-proof
Cons
The Dermaflage Water-proof Concealer is used by Hollywood makeup artists to hide bruises, tattoos, discolorations, acne, redness, dark circles, age spots, and other skin imperfections. It has a matte finish without smudging or rubbing off. This concealer provides highly-pigmented coverage and lasts up to 12 hours without using setting powders or sprays.  It comes in nine different shades.
Pros
Long-lasting
Sweat-resistant
Waterproof
Smudge-proof
Non-greasy formula
Paraben-free
Gluten-free
Cruelty-free
Available in 9 shades
Cons
The Graftobian Make-Up is a highly pigmented neutralizer and concealer in an easy-to-use, compact wheel. It covers skin imperfections, stains, scars, and tattoos. This strong formula also handles tough discolorations and blemishes.
Pros
Provides strong coverage
Blends easily
Includes most-used shades
Cons
Might require reapplication
Might dry out the skin
The Eve Pearl Dual Foundation provides full coverage and a natural matte finish. It is formulated with a skin-balancing combination of coconut oil, complex nutrients and vitamin E.This foundation is lightweight, non-greasy, and ideal for sensitive, acne-prone, and mature skin. It covers redness, discoloration, acne, scars, skin imperfections, and tattoos.
Pros
Long-lasting
Lightweight
Non-greasy formula
Ideal for sensitive, acne-prone, and mature skin
Provides full coverage
Fragrance-free
Paraben-free
Petrolatum-free
Cons
Might get cakey
Less value for money
Cover your tattoo, acne, or surgical scars with the SegMiniSmart Tattoo Concealer. It offers instant full coverage and is long-lasting. You can use this concealer on your face and body for lightening or darkening skin tones and color correction. It offers a bright and radiant complexion. The kit comes with a white concealer, a brown concealer, a mixing brush, a palette, and a remover.
Pros
Non-sticky
Breathable
Light texture
Alcohol-free
Water-proof
Sweat-proof
Cons
None
The Glossiva Full Cover Skin Concealer can be used to cover dark spots, tattoos, scars, vitiligo, and other blemishes, marks, and imperfections. It comes in a dark and light tone that can be mixed to for an ideal skin tone match. This product includes a cleansing oil, smudger, and a mixing spatula. It is formulated with petrolatum and bilberry. It is skin-friendly, UV-blocking, waterproof, and sweat-resistant. 
Pros
Suitable for daily use
Long-lasting
No harmful chemicals
Alcohol-free
Contains UV-block
Non-cakey
Water-proof
Easy to use
Sweat-resistant
Cons
Expensive
Might require layering
Now that you know which makeup products can help you cover your tattoos, read on if you want to know how to conceal a tattoo properly.
How To Cover Up Your Tattoo With Makeup
Cleanse the tattoo area thoroughly.
Use a primer to form a smooth base for the makeup product.
Use a color corrector to mask out the multiple colors of your tattoo and form an even tone.
Apply foundation over the primer and corrector, and blend properly.
Use a concealer that matches your skin tone to cover up the tattoo properly.
Use a setting powder or spray to set the makeup so that it does not come out or rub off easily.
Note: You can also use the concealer before the foundation, depending on your preference.
Why Trust StyleCraze?
Baishali Bhattacharya, the author of this post, is certified in makeup techniques. She loves to explore various makeup products and constantly checks various emerging makeup trends. The best tattoo cover-up makeup list is compiled after extensive research and reading many customer reviews online from various trusted platforms. These are the quick way to cover the tattoo easily. These products are also sweatproof and long-lasting.
Frequently Asked Questions
Can I find my specific skin tone for a tattoo concealer?
Most tattoo concealers come in different shades, ranging from light to dark. Pick the one closest to your skin tone. Some concealers come in dark and light shades, so you can mix them to suit your skin tone.
How long will a tattoo concealer remain on my skin?
Depending on the brand, most tattoo concealers last an entire day or maybe longer.
How can I remove tattoo concealers?
Remove the concealer with oil by massaging gently. Use soap and water to clean the skin.
Does tattoo cover-up makeup rub off on clothes?
Some full coverage tattoo cover-up makeup may rub off on clothes. Use transfer-resistant formulas that do not rub off and remain in place for a long time.
What color tattoos are easiest to cover up with makeup?
Colors like black, brown, purple, blue, and dark green are easier to cover up with makeup. These tattoo colors are easy to cover up if you know which concealer to choose. Blue tattoos are hidden with light pink concealers. Peach concealers hide purple tattoos. Dark blue tattoos are hidden with yellow concealers and orange makeup concealers hide black and dark green colored tattoos.
Recommended Articles