10 Taylor Swift Hairstyles That Are Trendy And Stylish
Let global superstar Taylor Swift inspire you with her simple yet trendy hairstyles.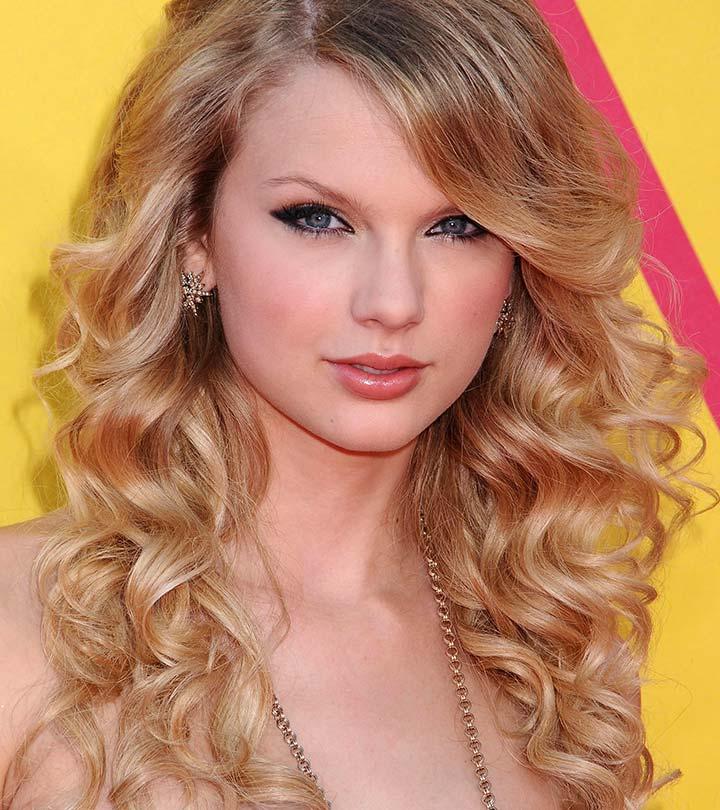 This queen is slaying the music world and serving the Taylor Swift hairstyles FOMO goals to many fans worldwide. Whether you love her country music or the latest poppy bops, her fashion and hair experiments are all the reasons to love her more. Not only are these hairdos relatable and easy to replicate, but it also gives off the dreamy and girly vibes that will amp up your confidence level. Scroll down to try out some of her unique hairstyles.
The Best Of Taylor Swift Hairstyles
1. Fringe
International singing sensation Taylor Swift has been quite on the fashion radar for her continuous experimentation with her hair. The young pop star loves to try different twists and turns for her silky traces. She flaunted a fringe at a recent event and ever since then has sported it with grace. This taylor swift hairstyle caused a rage among the younger women!
2. Messy Bun
The messy hairstyle may be quite in vogue, but Taylor Swift decided to go the messy way at a red carpet event too. Spotted in a tube gown, she donned a messy bun hairdo which perfectly complemented her blue eyes and flawless skin.
3. Flicks
Taylor swift was clicked at a concert for a charitable trust. Her flicks were the charm of the event as she swayed them each time she bounced and sang her tracks. The flicks gave her personality a boost and made her look gorgeous.
4. Bob Cut
Experimentation may be her forte but coming right in each style is her art. She sported a black bob cut look just like that of a painter's and still looked her shining best. The look got her loads of appreciation and love.
5. Fishtail Pony
Fishtail pony is the new fashion of our girl next door stars. The pony forms a fish's tail part and gives the wearer a perfect girlfriend look. Liked by a lot and reviewed by many, this style has made it to the red carpets by many A–listers.
6. Maiden Look
The maiden bun is the epitome of flamboyance when styled right. Woman in the 60's and the Victorian era were known for their maiden hairdos. Taylor Swift was seen sporting this look in a pearl color peter pan cut collar look. She looked angelic and just a god's favourite creation in that hairdo.
7. Casual Pony
Here we see Taylor go all casual with just a tied up pony. Pull your hair back and tie it up with a rubber band and then start your day. Best for shopping, meetings, this avoids your hair from falling on your face and let the person spot your beautiful smile.
8. Sagging Side Bun
Buns are no longer the rolled up version of stressful hairdo but are the new current trend. Taylor Swift bun hairstyle loves to tie up her hair with loads of flamboyance for the red carpet award nights as that complements her gown and the colour toned make up she puts over.
9. Side Braid Pony
The side braid pony is a marvellous innovation of chicness. Taylor was seen sporting the hair style during an award night, where she wore a shimmery tube dress and emerald earrings, the side braid pony which has a braid in the back and following a flow of loose left traces enhances her look and beauty.
10. Cinderella Bun – Beehive
The bee hive is the classic princess style hairdo, seen in a lot of fairytales when they receive the crown. It's a high bun which allows the crown to settle and screams royalty. Taylor sported this during her Cindrella princess act for one such video and looked magnificent and made the perfect damsel waiting for her prince charming.
Taylor Swift is a well-known American singing sensation. Just like her music, her hairstyles too became popular. She has remained in the news not just for her latest albums but also for her ever-changing hairstyles. Taylor Swift hairstyles are easy to replicate and give you a girly vibe. She has been changing her hairstyles and setting new hair goals for everyone. Fringe, messy bun, flicks, bob cut, and fishtail pony are the best of Taylor Swift hairstyles. These may give you some inspiration to try new hairdos.
Frequently Asked Questions
Does Taylor Swift color her hair?
Yes, Taylor Swift colors her hair. The singer has experimented with a few hair colors, from darker copper to dirty blond shades.
When did Taylor Swift straighten her hair?
Her pictures and looks in the music videos indicate that she has straightened her hair since 2011.
How does Taylor Swift get curly hair?
Taylor Swift has naturally curly hair. However, she used hair products to enhance them further sometimes.
When did Taylor get bangs?
Taylor Swift has been rocking bangs since 2010. She sported straight hair and bangs that accentuated her sharp facial features.
Image source: 1 , 2 , 3 , 4 , 5 , 6 , 7 , 8 , 9 , 10
The following two tabs change content below.