7 Outstanding Taylor Swift Tattoos That Everyone Should Try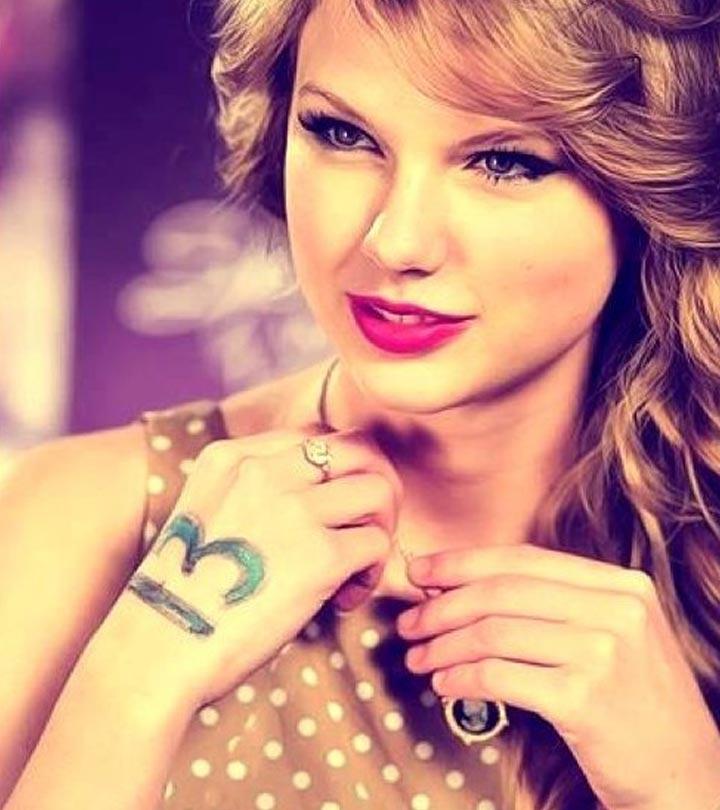 Taylor Swift tattoos have long been a matter of curiosity and puzzlement among the fans and haters of the star. Although she needs no introduction, Taylor Swift is a well-known country singer born in the United States in 1989. Tim McGraw, her debut record, was an instant hit that catapulted her to stardom. In addition, Taylor Swift is noted for her charming persona, allowing her to connect with her many followers and audiences.
She has sported several tattoos on her body, but as it turns out, each of those fantastic designs has been either a fake tat or a doodle. In an interview, the star said that she is not yet comfortable getting something permanent. However, that doesn't mean that those designs are any less inspiring. On the contrary, her fans love them, and many have even followed suit and gotten some designs inked for real. Her fake tattoos and doodles are most commonly seen on the underside of her left wrist, right hand, and left arm, among other places. Scroll down to know more about them!
Best Taylor Swift Tattoos:
Here are the top 7 Taylor Swift tattoos you will simply love!
1. This tattoo was inked on Taylor Swift's neck. The font in which it had been created is very appealing. The tattoo showed her exes' names written in ink. According to the media, it is a fake one.

2. Taylor Swift loves to flaunt temporary tattoos at various places on her body. The tattoo shown here was a temporary one as well. It was done on her left arm. It said, 'Tell me everything I want to hear, like it was your favorite year'. These words are from the award winning song "The Dixie Chicks'. The young singer seems to be hugely influenced by The Dixie Chicks.
3. 13 is Taylor Swift's lucky number. Hence, she gets the number drawn on her right hand before very show. 13 is also her birth date. Taylor Swift believes that her right hand is responsible for all her good luck and fortune. The outline of this tattoo was done in black and was filled with a shimmery blue ink.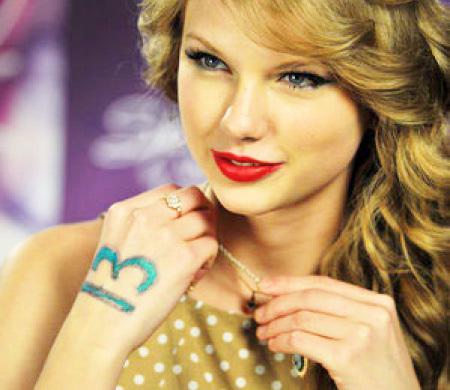 4. This tattoo was inked on Taylor Swift's arm. It had the song lyrics – "May these memories break our fall". This Taylor Swift tattoo had three glittery hearts at the end that looked very feminine and cute. The touch of colorful glitter filled in each heart gave it extra glamour and a girly femininity.
5. This star tattoo on Taylor Swift is another fake one. It was made on her upper chest for a promotional photo shoot. The tattoo was inked on the upper part of her right chest.

6. This heart tattoo is a fake one that was initially made with henna. Swift loves tattoos that are made in heart designs. It is a simple and sober design, yet looks very elegant. This heart tattoo adds a girly charm to Taylor's beautiful foot.
7. This tattoo on Taylor Swift's foot became hugely popular with her fans. She got this inked for her album "Fearless". Her fans have been flaunting this tattoo on their foot, back, neck and wrist. It is a very simple text tattoo, yet quite charming and unique.
Female empowerment has been a hot topic in recent years. While many folks are still upset at the idea of seeing women climb to their maximum potential, the vast majority of females are challenging society and culture to escape the clutches of stereotypes. They are smashing through the social boundaries and revolutionizing how the business world works today. Women can work at home while also prospering at work. They are the shining example of how to strike a work-life balance. We have covered the top ten Indian businesswomen who have changed the world and helped put India on the map.
The following two tabs change content below.