7 Outstanding Taylor Swift Tattoos That Everyone Should Try
Take body art inspiration from one of the coolest singer-songwriters of our times.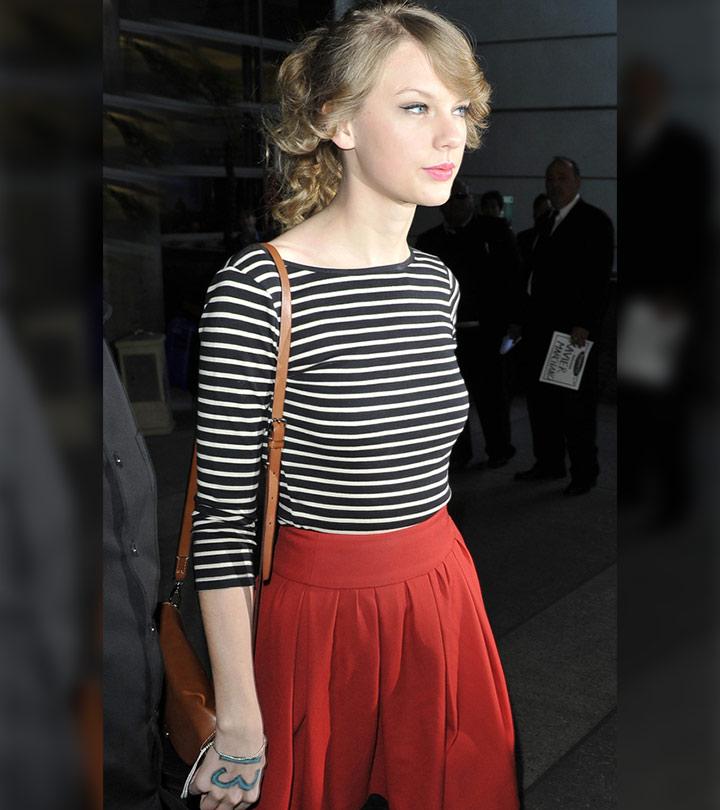 Taylor Swift tattoos have long been a matter of curiosity and puzzlement among the fans and haters of the star. Although she needs no introduction, Taylor Swift is a well-known country singer born in the United States in 1989. Tim McGraw, her debut record, was an instant hit that catapulted her to stardom. In addition, Taylor Swift is noted for her charming persona, beauty, and fashion sense allowing her to connect with her followers and audiences.
She has sported several tattoos on her body, but as it turns out, each of those fantastic designs has been either a fake tat or a doodle. In an interview, the celebrity said that she is not yet comfortable getting something permanent. However, that doesn't mean that those designs are any less inspiring. On the contrary, her fans love them, and many have even followed suit and gone under the needle to get some of those designs inked for real. Her fake tattoos and doodles are most commonly seen on the underside skin of her left wrist, right hand, and left arm, among other places. Scroll down to know more about them!
Best Taylor Swift Tattoos:
Here are the top 7 Taylor Swift tattoos you will simply love!
1. This tattoo was inked on Taylor Swift's neck. The artistry of the font is very unique and beautiful. The tattoo showed her exes' names written in ink. According to the media, it is a fake one.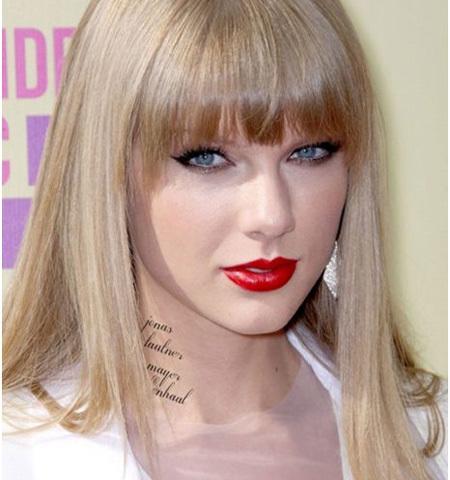 2. Taylor Swift loves to flaunt temporary tattoos at various places on her body. The tattoo shown here was a temporary one as well. It was done on her left arm. It said, 'Tell me everything I want to hear, like it was your favorite year'. These words are from the award winning song "The Dixie Chicks'. The young singer seems to be hugely influenced by The Dixie Chicks.
3. 13 is Taylor Swift's lucky number. Hence, she gets the number drawn on her right hand before every show. 13 is also her birth date and the tattoo is symbolic of her success. Taylor Swift believes that her right hand is responsible for all her good luck and fortune. The outline of this tattoo was done in black and was filled with a shimmery blue ink.


Quick Tip
Her birthday falls on December 13th, and she writes 13 on some part of her body at every concert.
4. This tattoo was inked on Taylor Swift's arm. It had the song lyrics – "May these memories break our fall". This Taylor Swift tattoo had three glittery hearts at the end that looked very feminine and cute. The touch of colorful glitter filled in each heart gave it extra glamour and a girly femininity.
5. This star tattoo on Taylor Swift is another fake one. It was made on her upper chest for a promotional photo shoot. The tattoo was inked on the upper part of her right chest.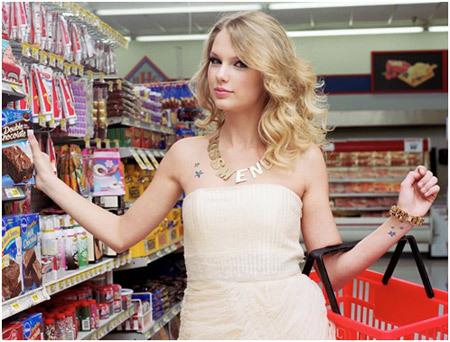 6. This heart tattoo is a fake one that was initially made with henna. Swift loves tattoos that are made in heart designs. It is a meaningful and aesthetic design, yet looks very elegant. This heart tattoo adds a girly charm to Taylor's beautiful foot.


Quick Tip
The musical heart tattoo design symbolizes Taylor Swift's personal love for music. This tattoo design is simple but looks great.
7. This tattoo on Taylor Swift's foot became a huge trend among her fans. She got this inked for her album "Fearless". Her fans have been flaunting this tattoo on their foot, back, neck, and wrist. It is a very simple text tattoo, yet you gotta give full points for creativity to this quite charming and unique tattoo.
Infographic: Best Of Taylor Swift's Temporary Tattoos
Taylor Swift's distinctive collection of temporary tattoos includes designs influenced by her music and sense of style. These temporary tattoos may let her admirers embrace their inner Swifties and show off their love for the pop sensation through delicate symbols and empowering messages. Check out the infographic to learn more about tattoo design ideas inspired by the singer.


Taylor Swift's tattoos are just as thoughtful and creative as her songs. From inking her favorite lyrics to her lucky number 13 before every concert, she has dazzled the world with her tats. Though these tattoos were not permanent, they symbolized important parts of her life. Swifties appreciate her tattoos and sometimes even get them inked on themselves to show their love and support for her. So, if you are looking for a thoughtful tattoo to get inked, you could definitely go for one of these sported by her.
Frequently Asked Questions
Has Taylor Swift's love for tattoos influenced her music or creative expression?
No, Taylor Swift's love for tattoos has not influenced her music or creative expression. However, she flaunts temporary tattoos of words and phrases that had an impact on her pop culture life and inspired her to be who she is today.
Does Taylor Swift have any tattoos of her favorite lyrics?
Yes, Taylor Swift had temporarily tattooed the lyrics, 'Tell me everything I want to hear, like it was your favorite year' from the renowned song 'The Dixie Chicks' on her left arm.
What does Taylor Swift's "1989" tattoo mean?
1989 is Taylor Swift's birth year, and it is also the name of her most iconic album, released in 2014. The album marked a turning point in her life as she shifted from country music to pop music.
What does Taylor Swift's "Red" tattoo mean?
'RED' is the name of Taylor Swift's fourth studio album, released in 2012. Ed Sheeran had tattooed 'RED' on his arm to support her 'Red' North American tour in 2013.
What is the meaning behind Taylor Swift's snake tattoo?
Taylor Swift sported a massive temporary back tattoo in the album "You Need To Calm Down," which featured two intertwined snakes with many butterflies. Tay claimed the snake symbolism following Kanye West's controversial lyrics about her, and fans associate it with her pop culture comeback.
Does Taylor Swift regret any of her tattoos?
Most of Taylor Swift's tattoos on her body are temporary, and she usually gets lyrics of her songs on her arm. But she once stated in an interview that she wouldn't take the plunge to get a permanent tattoo and could never commit to something permanent.
All the Swifties unite! Check out this video to see the gorgeous tattoo that Taylor Swift got inked on her back.
The following two tabs change content below.