How To Make A Tea Hair Rinse: Benefits And Side Effects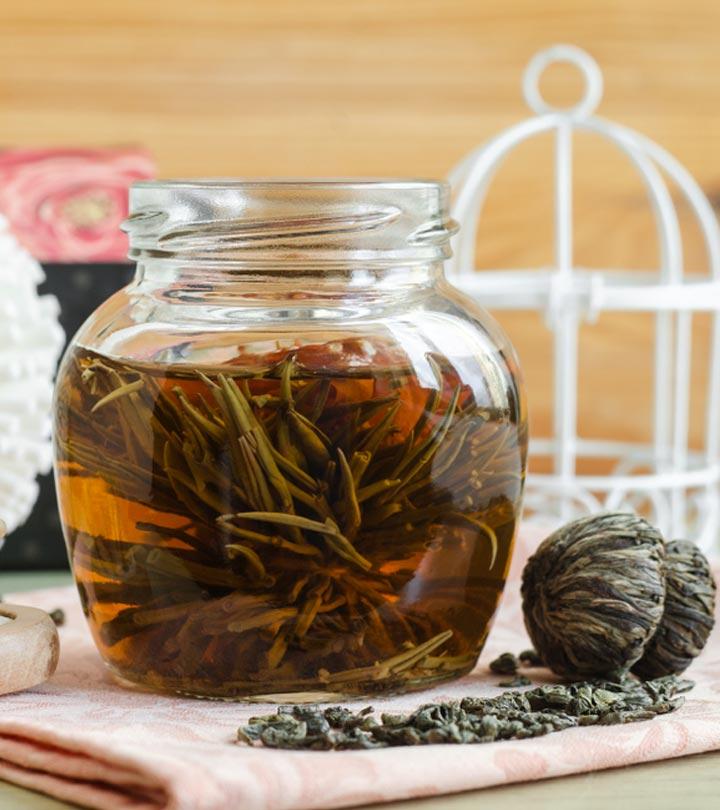 Did you know you could rinse your hair with tea? Yes! You read it right. Tea is not just a beverage; it can also be used to pamper your tresses. Herbal rinses have been used for centuries to help tone the hair color, add shine, and soften the hair. The different herbs used to make tea have beneficial properties that promote hair growth and keep the scalp healthy.
If you have never tried a tea rinse for your hair, it's time to give it a try. Keep reading to find out why you should try it and how you can prepare one at home.
Why Use A Tea Rinse For Hair?
A tea rinse is an herbal rinse that can improve the hair's appearance and feel. It is a blend of herbs and water that keeps the hair healthy. Here are a few reasons to use tea rinses for the hair (1):
Herbal rinses are gentle and nourishing. They promote healthy hair and scalp.
They soften the hair, improve shine and volume, and make it bouncy.
Herbal rinses can deep cleanse the scalp, soothe irritation, and prevent dandruff. They may even stimulate hair growth.
They can lighten, darken, or improve natural hair color.
You can try different ingredients to prepare an herbal tea rinse. In the following section, we explain each ingredient and its benefits.
Types And Benefits Of Tea Rinses For Hair
Green Tea: It contains flavonoids that can stimulate hair growth (2). Research found that green tea extract showed better results than minoxidil 2.5% in promoting hair growth (3).
Black Tea: It contains tannins that can brighten hair color intensity (4). Black tea contains caffeine that can help prevent androgenic alopecia and hair loss (5).
Rosemary: It is used in herbal tea blends and is known for its antifungal properties (6). This may help keep the scalp clean and dandruff-free. It can also turn gray hair darker. Rosemary oil may also improve androgenic alopecia (7).
Chamomile: It contains antioxidants and exhibits antimicrobial properties, making it ideal for topical use. Applying chamomile tea can reduce inflammation and soothe scalp irritation and conditions like eczema and dermatitis (8). Research shows that chamomile can inhibit 5-alpha reductase and stimulate hair growth and prevent androgenic alopecia (9).
Hibiscus: It may help stimulate hair growth. A mice study found hibiscus to induce hair growth (10). The leaves and flowers of the hibiscus plant are said to fight dandruff (11). They also improve the overall health and appearance of the hair.
Peppermint: Peppermint oil is known to stimulate hair growth. It also has antimicrobial and antifungal properties (12). These properties may keep the scalp clean.
Lavender: Lavender oil contains linalyl acetate, linalool, and geraniol that help manage alopecia areata and promote hair growth (13).
Nettle: Stinging nettle (Urtica dioica) leaves are traditionally used for treating hair loss (14). More research is needed to prove its hair benefits.
Sage: Anecdotal evidence claim that sage prevents premature graying.
You can use any of the herbs or a blend of several herbs to prepare a tea rinse for your hair. Here are the instructions.
How To Wash Your Hair With A Tea Rinse
Prep Time
30-45 minutes
You Will Need
2 teaspoons of tea herbs
1 ½ cups of water
Note: Adjust the quantity as per the hair length.
Procedure
Steep the tea herbs in hot water for half an hour.
Strain the tea and allow it to cool.
Use the tea as a post-wash rinse.
How Often
Once every week
You can also use the tea rinse to prepare the scalp for a deep conditioning treatment. After shampooing, wash the scalp and hair with the tea rinse, put on a shower cap, and leave it on for 15-30 minutes. Follow up with a deep conditioning mask, cream, or serum and leave it on for another half hour before rinsing off the hair with cool water.
Tea rinses are safe to use. However, they may have some side effects.
Side Effects Of Tea Rinses
Using tea rinses too often can make the hair dry and brittle. Hence, use them not more than once a week. The herbs may also trigger allergic reactions and cause irritation, itching, hives, and inflammation. Ensure you do a patch to prevent allergic reactions.
Of all the herbs mentioned in the above list, black tea contains the highest caffeine levels – a compound proven to promote hair growth. You can try a tea rinse made of black tea to promote hair growth. Let's find out how it works.
Black Tea To Reduce Hair Shedding
Black tea contains caffeine (5). A study found caffeine to stimulate hair growth by increasing the anagen phase (growth phase) (15). Another reason for hair shedding can be scalp inflammation and itching, and caffeine can help calm an itchy scalp.
Stress is one of the most common factors contributing to hair loss. Black tea is also known to relieve stress, preventing hair shedding (16). You may apply or drink black tea to prevent hair fall. You may either wash it off or leave it on your hair.
Can You Leave A Tea Rinse On Your Hair?
Yes. You can leave the tea rinse on the hair. Tea rinses can unclog pores, cleanse the scalp, and nourish the hair follicles. Anecdotal evidence suggests that massaging the scalp after using the tea rinse can clear the pores and remove dirt and other impurities. Massaging may also stimulate blood flow and induce hair growth.
Takeaway
Using a tea rinse once a week is an easy and convenient way of taking care of the hair. The herbs not only promote hair growth but also maintain scalp health. You can use a single herb or a blend of your favorite herbs to prepare the rinse. However, ensure that you are not allergic to them.
Sources
Articles on StyleCraze are backed by verified information from peer-reviewed and academic research papers, reputed organizations, research institutions, and medical associations to ensure accuracy and relevance. Check out our
editorial policy
for further details.
Recommended Articles
The following two tabs change content below.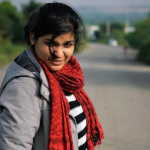 Anjali Sayee is a writer and an introvert. From studying Aeronautical Engineering and wanting to design her own airplane to writing articles on hairstyles, she has been on quite a journey. She believes that hair is one of the key factors that define a woman's personality. To quote her, "What's the first thing they do in the movies to show a personality change? Change the hair – because it has a life of its own." She's here to help you find the hairstyle you need. This bookworm is a self-professed Wholocker, a talented drummer, and an amateur photographer.