How To Use Tea Tree Oil To Promote Hair Growth
One of the most reliable hair care ingredients for long, healthy, and voluminous tresses.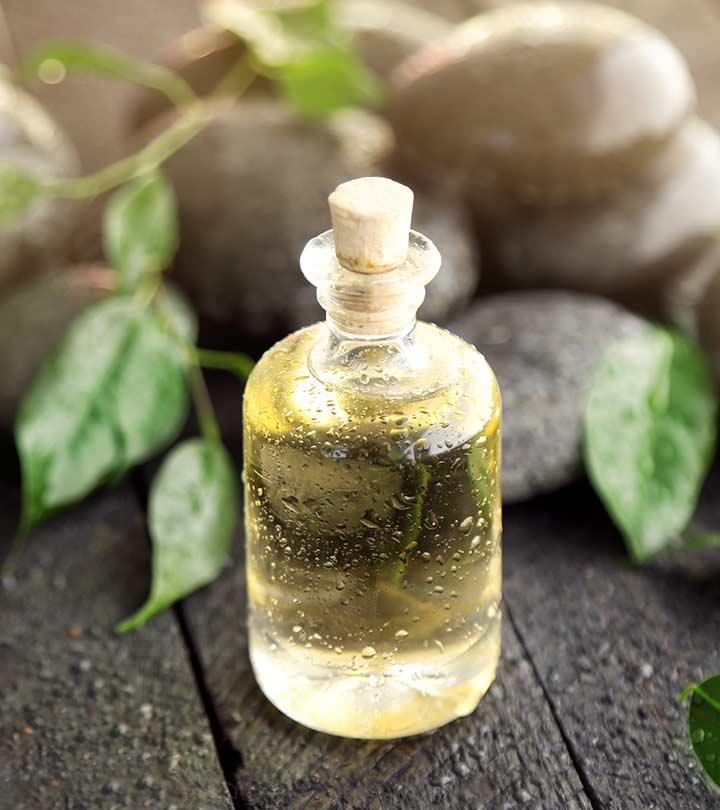 It is time you tried tea tree oil for hair growth. This potent ingredient is found in most beauty products. It is a well-known astringent that can curb excess greasiness on the scalp. Its antimicrobial properties also keep dandruff at bay, and the oil also has a role to play in stimulating hair growth. In this article, we discuss how to get long, luscious locks by using tea tree oil. Scroll down to learn more.

Know Your Ingredient: Tea Tree OIl
What Is It?
A light yellow liquid produced by distilling the leaves of the Melaleuca alternifolia plant.
What Are Its Benefits?
It helps reduce oily scalp, dandruff, and scalp infection and promotes hair growth.
Who Can Use It?
Anyone can use this oil to improve their hair health.
How Often?
You can use it once or twice a week.
Caution
Excess usage of this oil may cause scalp irritation and itching in some people.
What Is Tea Tree Oil?
Tea tree oil is an essential oil that is extracted from the leaves of the Melaleuca alternifolia plant. It has strong antimicrobial properties that have made it a popular natural remedy for treating issues of the scalp and skin (1). It is often used in cosmetic products, like shampoos and conditioners, and to treat issues like dandruff and acne (2), (3), (4).


Did You Know?
Though named Melaleuca alternifolia, British explorer Captain James Cook named the plant "tea tree" when he noticed that the indigenous people of Australia used it to make tea.
How Does Tea Tree Oil Promote Hair Growth?
There is no scientific evidence that links tea tree oil to hair growth. However, tea tree oil may help treat issues of the hair and scalp, which facilitates healthy hair growth.
Research shows that hair loss can be caused due to less blood circulation (5). Tea tree oil improves the circulation of blood, which can help flush out toxins.
Tea tree oil also exhibits antifungal properties against M. furfur, fungi that cause dandruff (6). Dandruff can cause severe itching and scratching, which can injure the scalp and cause inflammation in the hair follicles, resulting in hair fall.
The antiseptic, antifungal, antibacterial, anti-inflammatory, and antioxidant properties of tea tree oil ensure that your hair stays clean and healthy (1). The improved scalp health makes the follicles more receptive to nutrition, and the unclogged pores help promote unhindered hair growth.
Does Tea Tree Oil Work For Oily Hair?
Yes, it does! For greasy hair, the essential oil helps unclog pores and calms down the overzealous sebaceous glands. More often than not, hair loss is a direct result of clogged follicles and an irritated scalp. It also improves scalp health on the whole with its antimicrobial properties.
How To Use Tea Tree Oil For Hair Growth
Tea tree oil can be used on dry and oily hair types to improve hair growth. You can add various ingredients to this essential oil to create the perfect hair growth solution for your hair.
One of the best ways to use tea tree oil is in combination with other carrier oils. Given below is a step-by-step guide on how to use tea tree oil to stop hair loss and promote hair growth.
Using Tea Tree Oil With A Carrier Oil For Hair Growth
Tea tree oil needs to be diluted before you can use it. By combining a few drops of the essential oil with your regular hair oil, you can create a hair growth solution that boosts scalp health.
While tea tree oil induces new hair growth, the carrier oil will help nourish your follicles. This can work to your advantage if you already know what oils work best for your hair. If not, read on to find out which oils will best suit your hair type.
You Will Need
2 tablespoons of any carrier oil
10 drops of tea tree oil
A bowl for mixing
Hot towel
How To Apply
Combine the carrier oil with the tea tree oil in a mixing bowl.
Heat the oil mixture until it is slightly warm. Do not use a microwave as it may cause nutrition loss. Instead, place the bowl containing the oil mixture in a larger bowl that contains hot water.
Section your hair and rub the warmed oil onto your scalp and along the length of your hair.
Once your entire scalp is covered in the oil, massage it for 10 minutes.
Wrap a hot damp towel around your head. This will create a warm environment that will help open up and unclog your follicles.
Wait with the towel on for 20 minutes and then rinse out the oil with shampoo and conditioner. Optionally, you can leave the oil in your hair overnight.
How Often
Since washing your hair too often can be detrimentali  XA substance or habit that possesses the ability to cause harm, injury, or deteriorate one's hair condition. to hair health, it is recommended that you treat your hair with hot oil not more than three times a week. Oily hair types can use lighter oils like jojoba or olive.
Precautions
Do not overheat the oil as it can lose nutrients, and you also run the risk of burning your scalp.
It is completely normal for your scalp to feel a little tingly during and after this treatment.
Since everyone's hair is different, something that works for one person may not work for you. However, choosing a carrier oil for your hair type is pretty simple. In fact, there are many oils that work well for each hair type – be it oily, dry, or combination. The following is a list of oils that can be used with tea tree oil to promote hair growth.
Tea Tree Oil Blends For Hair Growth
| | |
| --- | --- |
| Olive Oil | Jojoba Oil |
| Castor Oil | Coconut Oil |
| Almond Oil | Lavender Oil |
| Rosemary Oil | Aloe Vera |
| Apple Cider Vinegar | Shampoo |
1. Use Tea Tree Oil With Olive Oil For Hair Growth
Olive oil contains oleuropeini  XA polyphenol found in the olive plant that has cardioprotective, anti-inflammatory, and antioxidant abilities. that could promote hair growth in mice (7). It hydrates your hair and is light and does not weigh your hair down, which makes it perfect for all hair types. In combination with tea tree oil, it makes a hydrating hair growth remedy that supports hair thickness and curbs hair breakage.
Ideal For
Due to its lightweight and hydrating properties, olive oil can be used by everyone regardless of their hair type. It provides hair shine and leaves the hair feeling soft and silky while keeping it moisturized.

Trivia
Greeks were pioneers in using olive oil. Even thousands of years ago, they used to prepare concoctions and ointments from olive oil to prevent hair loss and soothe pain.
2. Tea Tree Oil With Jojoba Oil For Hair Growth
Jojoba oil is very similar to the natural oils present in your scalp (8), (9). More often than not, the reason your hair gets oily is that your sebaceous glandsi  XMicroscopic glands found in your hair follicles that secrete sebum, a waxy fluid that keeps hair and skin moisturized. are pushed into overdrive because of dry conditions. Using jojoba oil calms them down while making your hair stronger and promoting hair growth (10). It also prevents hair damage often caused by heat styling and makes your tresses soft and shiny.
Ideal For
This oil is perfect for oily hair types. With regular use, jojoba oil can control the amount of oil produced and also reduce hair fall.
3. Castor Oil And Tea Tree Oil For Hair Growth
Castor oil is hailed as a miracle solution for hair loss. However, there is no scientific evidence linking castor oil to hair growth. Castor oil nourishes your follicles and hair with omega-9 fatty acids. It strengthens dry hair by nourishing it and providing proper hair hydration. It also helps increase hair luster (11). Due to its thick and sticky consistency, castor oil can be used better in combination with a lighter carrier oil, like coconut or olive. Anecdotal evidence suggests that it may not only promote hair growth but also helps prevent dandruff and split ends.
Ideal For
The thick consistency of castor oil makes it ideal for dry and damaged hair types. Mix one part of castor oil with two parts of a lighter carrier oil and 10 drops of tea tree oil.
4. Coconut Oil And Tea Tree Oil For Hair Growth
Coconut oil is one of the most popular and penetrative hair oils (12). This means that it penetrates through your hair cuticles and nourishes your hair shafts with its rich content of fatty acids. It prevents the loss of protein from your hair, keeping it healthy and maintaining hair strength and hair volume. When used with tea tree oil, it aids in improving your scalp health and stimulating hair growth, while providing intense hair nourishment.
Ideal For
Coconut oil can sometimes weigh your hair down if not washed out properly, so it is not recommended for oily hair. It can be used for hair types that range from normal to dry.
5. Almond Oil With Tea Tree Oil For Hair Growth
Almond oil has emollient properties (13). It hydrates and relaxes your cuticles while promoting hair growth. It is light and does not weigh your hair down. It aids hair growth by unclogging follicles and improving blood circulation. It leaves your hair feeling smooth, promotes shiny hair, and increases hair elasticity.
Ideal For
Almonds oil's lightness and moisturizing properties make it ideal for all hair types.
6. Lavender Oil And Tea Tree Oil For Hair Growth
Lavender essential oil has antimicrobial properties (14). This can help improve scalp health. Lavender essential oil also promoted hair growth in mice studies (15). Another study showed that aromatherapy with essential oils, including lavender oil, promoted hair growth (16). Hair fall is often a common by-product of stress. Lavender essential oil can help with this as it is often used in aromatherapy to relieve depression and stress (17). A lavender and tea tree essential oil combination can work miracles to improve scalp health. When using this combination, add them to a carrier oil suitable for your hair type.
Ideal For
This combination can be used for all hair types as long as you select a carrier oil that suits your hair. Combine 2-3 drops of lavender oil to 10 drops of tea tree oil and 2 tablespoons of carrier oil.
7. Rosemary Oil And Tea Tree Oil For Hair Growth
Rosemary oil is often used as a hair growth remedy (18). It thickens your hair and leaves it feeling soft and manageable. In combination with tea tree oil, it can make for a good hair growth solution. This solution also needs to be diluted with a carrier oil.
Ideal For
This solution can be used for all hair types if you use it with a carrier oil suitable for your hair. Combine 2-3 drops of rosemary essential oil with tea tree oil and carrier oil of your choice.
Tea tree oil can be used in hair masks and added to other hair products to promote hair growth. Listed below are the different ways in which you can use tea tree oil to treat hair loss.
Other DIY Tea Tree Oil For Hair Growth Remedies
8. Aloe Vera-Tea Tree Oil For Hair Growth
Aloe vera is known for its healing and hydrating properties (19). It contains vitamins and minerals that promote healthy hair growth. It can also soothe an irritated scalp and deal with issues, such as dandruff (20). It also leaves your hair with a pleasant sheen. To use aloe vera with tea tree oil to promote hair growth, follow the steps below.
You Will Need
4-5 drops tea tree oil
1/2 cup of water
1/2 cup of aloe gel
Bowl for mixing
How To Apply
Mix the ingredients in a bowl and stir until it reaches a smooth consistency.
Apply it to your hair from the roots to the tips and leave it on for 30-45 minutes.
Rinse it out with shampoo.
Ideal For
This hair mask is ideal for all hair types as it cleanses your scalp while moisturizing your hair.
How Often
Apply this mixture at least once a week in combination with regular oiling to promote hair growth.
9. Tea Tree Oil And Apple Cider Vinegar Hair Rinse For Hair Growth
A hair rinse can go a long way in maintaining the health of your scalp and hair. Apple cider vinegar is a popular hair cleanser, often used also to clean hair extensions. It also helps reduce split ends, hair loss, baldness, dandruff, scalp acne, amongst other hair care benefits. Clean hair and scalp are more receptive to nourishment and hydration from hair treatments, and unclogging your hair follicles is crucial for healthy hair growth.
You Will Need
2-3 tablespoons of apple cider vinegar
5 drops of tea tree oil
2 cups of water.
How To Apply
Combine all the ingredients in a jug and ensure that it is cool.
Wash and condition your hair as usual.
Pour the rinse through your hair. Wash it off with water.
Let your hair air dry.
10. Tea Tree Oil And Shampoo For Hair Growth
Adding tea tree oil to your shampoo is one of the most convenient ways of using it to prevent hair fall and promote hair growth. To create your own tea tree oil shampoo, you can combine 10 drops of the oil to 250 ml of shampoo. You can add more to create a stronger solution, but do not cross 25 drops to prevent potential scalp irritation and dandruff.
Precautions And Tips
Do not exceed the recommended amount of tea tree oil.
Unless you are using it in a carrier oil solution, do not leave the oil on for more than an hour.
Steaming your hair after you oil it is a good idea as it will open up pores and allow for deep action.
Ensure that you thoroughly wash the oils off your hair and scalp.
Other Benefits Of Applying Tea Tree Oil On Your Hair
It treats dry and oily scalps and restores the pH levels of your scalp.
It soothes itching and irritation.
Can You Apply Tea Tree Oil Directly To Your Hair?
While a few drops of tea tree oil can be rubbed directly on your scalp, it would be a waste to apply it directly to your hair. A little bit of this essential oil goes a long way, so it is recommended to dilute it with other carrier oils before applying it to your hair.
How Long Can You Leave Tea Tree Oil In Your Hair?
Tea tree oil, when used in small amounts and in combination with other oils, can be left in overnight as a deep conditioning treatment. However, when using it by itself as a scalp treatment, it is better to wash it off within an hour to avoid possible irritation.
Infographic: 5 Best Carrier Oils For Hair Growth
While you can mix tea tree oil with any other carrier oil and use it for hair growth, not all combinations may give the best results. A few carrier oils can help nourish the scalp and hair follicles, which can encourage healthy hair growth. Check out the infographic below to learn which oils work best with tea tree oil and keep your hair healthy.


Tea tree oil is often recommended for several hair care issues. Now you know why! It has antimicrobial properties that treat scalp issues. It is effective in treating dandruff and managing acne. Using tea tree oil for hair growth can be effective as it increases blood circulation and eliminates hair issues that might cause hair fall, such as dandruff. It has antibacterial, antioxidant, anti-inflammatory, antifungal, and antiseptic properties that improve the scalp and hair's overall health and appearance. For best results, use tea tree oil as recommended above.
Frequently Asked Questions
Does tea tree oil help thinning hair?
It may help maintain scalp health, which is crucial for preventing hair loss. If your hair thinning is caused by dandruff, scalp irritation, and related issues, tea tree oil may help prevent hair fall and thinning. However, if it's due to some underlying condition, tea tree oil may not help unless you address it.
Does tea tree damage your hair?
No, tea tree oil has little to no impact on the hair, making it safe for all hair textures and types.
Key Takeaways
Tea tree oil possesses antifungal properties that may help treat dandruff-related hair fall.
It unclogs hair pores and soothes irritated and oily scalps.
Excessive use of tea tree oil can cause scalp irritation and itching.
Tea tree oil mixed with jojoba oil can boost hair growth and health.
Sources
Articles on StyleCraze are backed by verified information from peer-reviewed and academic research papers, reputed organizations, research institutions, and medical associations to ensure accuracy and relevance. Check out our
editorial policy
for further details.