How To Remove Skin Tags With Tea Tree Oil
Learn how the oil works and different ways to use it to eliminate skin tags.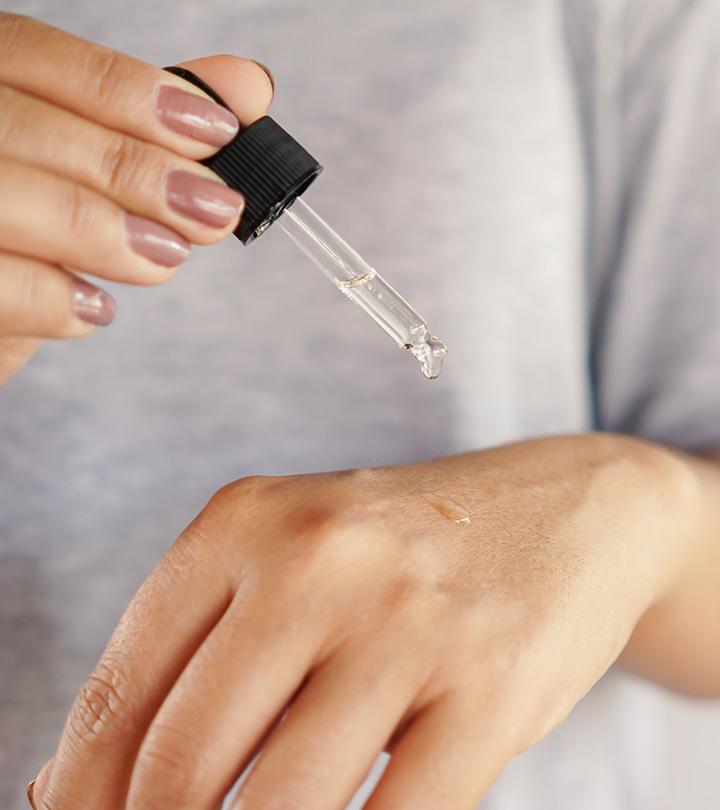 Skin tags can appear on any part of the body and may look unattractive if they appear in prominent places such as the face. Are you seeking an all-natural way to get rid of them? Tea tree oil for skin tags removal is the answer.
Many bloggers have found using tea tree oil for skin tag removal effective. But, how does it work? Keep reading to learn more!
Skin tags are small, flesh-colored growths that protrude from the skin, giving them a wart-like appearance. They are caused by low-risk human papillomavirus (HPV) and are not dangerous. but should always be checked by a medical professional prior to treatment or removal (1).
They can appear on all body parts. However, certain areas like the neck, groin, thighs, armpits, and eyelids are more prone to skin tags than others.  They are also more frequent among people with type 2 diabetes and insulin resistance and those who are overweight. Continue reading to learn if tea tree oil can help in removing skin tags.
Yes, it may have beneficial effects on skin tags.
Tea tree oil is effective against human papillomavirus and is often used for treating warts (2). Another study found that topical application of tea tree oil for 12 weeks reduced common warts caused by human papillomavirus (3).
If you are wondering how to apply the tea tree oil, read the next section to find out.
Note: Always consult a dermatologist or other qualified medical professionals to evaluate the skin tags to ensure they are not dangerous.
Follow the steps below to eliminate skin tags with tea tree oil:
Clean the skin tags and the surrounding area with soap and warm water. Pat it dry with a clean towel.
Dilute 2-3 drops of tea tree oil with a tablespoon of any carrier oil like olive, coconut, or almond oils.
Apply the oil blend to the skin tag(s) with a Q-tip.
Let the oil dry. You may put some oil in a cotton ball, place it on the skin tag, and tape it.
Repeat it thrice a day until the skin tag falls off.
Caution: Tea tree oil may irritate the skin, so do a patch test. Also, if the skin tag is in a sensitive region, such as near the eyes or the genital area, it is better to get it removed by a doctor. Scroll down to learn a few more side effects of tea tree oil.
Quick Tip
Anecdotal evidence suggests that it may take several days to weeks for the skin tags to fall off using tea tree oil. Poor compliance in the application may delay the results.
Side Effects And Risks
Never use undiluted tea tree oil as it may irritate the skin. Also, if you are allergic to it, tea tree oil may cause:
Itching
Burning sensation
Stinging sensation
Redness
Dry or rough skin
Make sure to always consult your healthcare provider before using essential oils. Also, check the brands to ensure quality. Though skin tags do not necessarily require medical attention, it is certainly recommended that they be assessed by a qualified healthcare professional prior to treatment.
Quick Tip
Researchers estimate that about 50-60% of adults will develop a skin tag at least once in their lifetime (
4
).
When To See Your Doctor
If the skin tags persist even after several weeks of treatment, it is best to consult a doctor. There are non-surgical interventions that burn the skin tag off with plasma electricity. They are quick and effective and with minimal downtime. If you decide on surgical removal, the dermatologist will cut or remove the skin tags with a scalpel and scissors.
Key Takeaways
People who are overweight/obese or have type 2 diabetes or insulin resistance are more prone to developing skin tags.
Studies suggest that tea tree oil neutralizes human papillomavirus (HPV) that causes these wart-like extensions.
Before applying this oil (diluted), do a patch test to see if it irritates your skin.
Skin tags are small, skin-colored growths caused by the human papillomavirus (HPV) in the neck, groin, thighs, or armpits. For those seeking natural alternatives, you may use tea tree oil for skin tags. Studies suggest that topical application of tea tree oil may reduce skin tags over time. Dilute tea tree oil with a carrier oil before applying it to the skin tags to avoid skin irritation. If you are allergic to tea tree oil, it is best to avoid it as you may experience swelling, redness, or burning. Consult a doctor if the skin tags persist for a few weeks and you would like to have them removed.
Frequently Asked Questions
How long does it take to remove skin tags with tea tree oil?
It may take between a few weeks to months before your skin tag falls off.
Sources
Articles on StyleCraze are backed by verified information from peer-reviewed and academic research papers, reputed organizations, research institutions, and medical associations to ensure accuracy and relevance. Read our editorial policy to learn more.