Teff: Health Benefits And Possible Side Effects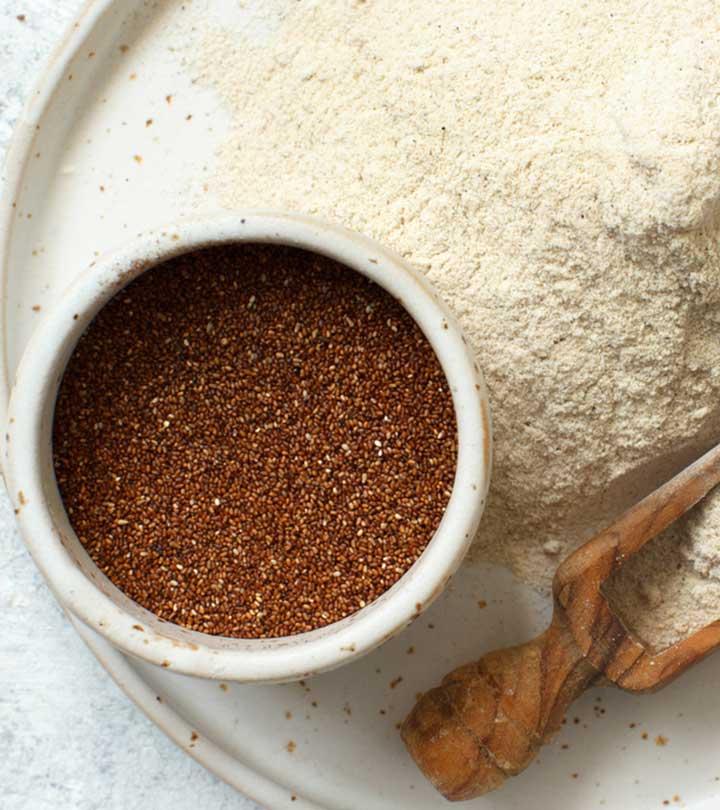 What is the world's smallest gluten-free grain that is highly nutritious? It is teff! Teff (Eragrostis tef) is a protein-rich staple native to Ethiopia. This nutrient-dense tropical grain has been in use for centuries. It is high in iron and super tasty. You can use teff and its flour just like any other millet. Teff has a wide variety of vitamins and minerals that are used to treat many health ailments. It can improve bone health, manage diabetic symptoms, reduce the risk of cardiovascular diseases, and enhance digestive health. In this article, we explore the health benefits of teff, its nutrition facts, recipes, and the risks associated with it. Keep reading!
Teff Nutrition Facts
Teff is a small grain that is highly nutritious and filled with a wide variety of vitamins and minerals. According to the U.S. Department of Agriculture, 100 grams of uncooked teff contains:
Energy: 367 kcal
Protein: 13.3 g
Fat: 2.38 g
Carbohydrate: 73.1 g
Fiber: 8 g
Calcium: 180 mg
Iron: 7.63 mg
Sodium: 12 mg
Potassium: 427 mg
It also contains magnesium, zinc, copper, manganese, riboflavin, and pantothenic acid. This gluten-free cereal also has high iron and calcium content.
The presence of a wide variety of vitamins and minerals in teff has many health benefits. So, what are the health benefits of teff? Scroll down to find out.
Health Benefits Of Teff
1. Improves Bone Health
Adequate intake of calcium can prevent bone loss (osteoporosis) while aging. Teff contains 0.165 % calcium, which is higher than other cereals. One study conducted by the University College (Cork) found that calcium supplementation can enhance bone mineral density and reduce the risk of fractures. It is an essential mineral for bone growth and development. Another study highly recommended red teff grains for osteoporosis and bone healing. However, more studies are warranted to understand the benefit of teff in humans.
2. Manages Diabetic Symptoms
A diet rich in whole grains contains dietary fiber, which can reduce the incidence of type 2 diabetes and improve insulin responsiveness. According to a study conducted on mice, a 14-week dietary treatment with teff improves glucose tolerance. The low glycemic index of this Ethiopian grain is highly recommended for diabetic patients.
A study conducted by the University of Sydney found that teff improves overall glycemic control in people with diabetes. Also, teff is rich in manganese, which helps improve glucose tolerance.
3. Enhances Digestive Health
Teff has high starch digestibility and contains both soluble and insoluble fiber. This whole grain has been used to speed up digestive processes. According to research, soluble fiber can soften the stools by drawing out the gut's water and supporting fat metabolism. At the same time, insoluble fiber increases bowel movements. Dietary fiber intake can also stimulate peristaltic motion and relieve constipation. However, more studies are required to understand this benefit of teff in humans.
4. Supports Cardiovascular Health
As per the Food and Drug Administration, whole grains like teff can help reduce the risk of cardiovascular disease. Teff is also low in sodium, and low sodium intake can decrease blood pressure, thereby reducing heart diseases.
Additionally, the presence of vitamin B6 in teff helps reduce the risk of CVD. Teff is also a rich source of iron that is needed for hemoglobin production and blood circulation. This is important to maintain a healthy heart. However, more research is required to understand this benefit of teff in humans.
5. Treats Iron Deficiency
The high iron content of teff helps people with iron deficiency. In general, you can see many iron deficiency-related cases in pregnant women. Teff consumption is linked with the reduction of anemia in pregnant women. A study conducted by the Manchester Metropolitan University found that intake of teff flour-rich bread acts against iron deficiency during pregnancy.
Also, teff may aid weight loss. A study conducted by the Pennsylvania State University found that teff hay was an appropriate forage source for obese horses. Of course, more research conducted on humans is required to prove the same. Much anecdotal evidence also suggests that the anti-inflammatory potential of teff helps you deal with menstrual problems like severe cramps, heavy menstrual flow, and pain in muscles.
These are the potential health benefits of teff. Are there any types of teff? Find out this in the following section.
Types Of Teff
The most common types of teff include:
White teff
Red/brown teff
Mixed (red, white, brown) teff
White teff is the most expensive teff, and it only grows in certain parts of Ethiopia. Red/brown teff is the least expensive and preferred type of teff. But, it contains high amounts of iron, which helps reduce the risk of anemia. So, how do you add teff to your diet? Scroll down to find out.
How To Add Teff To Your Diet
Teff can be eaten as a grain, or its flour can be used to prepare a wide variety of baked goods like pasta and Ethiopian injera. Grinding the small seeds of teff gives a fine teff flour, which has a very nutty and sweet flavor. This teff flour pairs best with cocoa powder, nuts, fruits, and chocolate.
Use teff as an alternative to wheat flour in numerous dishes, such as pancakes, cakes, cookies, and muffins, as well as gluten-free egg noodles.
You can use it as a crunchy salad topping.
Use teff as a substitute for polenta or spread cooked teff on the bottom of a pan, topping it with mixed eggs.
Try swapping out your usual oatmeal for teff in a breakfast bowl.
Add teff to your homemade veggie burgers.
You can easily prepare some delicious recipes with teff. Check out three tasty recipes below.
3 Easy And Delicious Teff Recipes
1. Teff Peanut Butter Cookies
What You Need
Teff flour – 1-1/2 cup
Vanilla extract – 1-1/2 teaspoons
Salt – ½ teaspoon
Pure maple syrup – ½ cup
Canola oil – ½ cup
Smooth peanut butter – 1 cup
Process
Preheat the oven to 350°F and line two baking sheets with parchment.
Whisk together the teff flour and salt in a medium bowl.
In a food processor, blend the peanut butter, maple syrup, canola oil, and vanilla extract.
Add the dry ingredients and blend them well.
Divide the dough into 1-inch balls and place them 2 inches apart on the baking sheets.
Flatten the balls slightly with a fork and bake for 13 to 15 minutes.
Let the cookies cool for a few minutes on the baking sheet, then transfer them to a cooling rack to cool completely.
2. Teff Muffins
What You Need
Teff flour – ¾ cup
Brown sugar – ½ cup
Sea salt – ¼ teaspoon
Brown rice flour – ¾ cup
Water – 2/3 cup
Eggs – 2
Arrowroot starch – ½ cup
Baking powder – 1½ teaspoon
Olive oil – 1/3 cup
Chopped hazelnuts – ½ cup
Ground cinnamon – ½ teaspoon
Process
Preheat the oven to 400°F.
Grease the muffin pans and set them aside.
Mix the sugar, flours, arrowroot, baking powder, cinnamon, and salt.
In a separate bowl, mix the eggs, oil, and water together and add them to the flour mixture, mixing quickly.
Fold the nuts into the batter.
Fill the greased muffin pans 3/4 full.
Bake for 25 minutes.
3. Teff Banana Raisin Bread
What You Need
Teff flour – 1¾ cup
Chopped dates – ½ cup
Chopped walnuts – ½ cup
Whisked egg – 1
Ground cinnamon – 1 teaspoon
Butter – ½ cup
White sugar – 1 cup
Baking powder – ½ teaspoon
Baking soda – ½ teaspoon
Vanilla extract – 1 teaspoon
Salt – ½ teaspoon
Mashed banana – 1 cup
Process
Preheat the oven to 350°F and grease a 9-inch loaf pan with cooking spray.
Toss the raisins, chopped dates, and walnuts with a few tablespoons of teff flour and set them aside.
Combine the remaining teff flour with the cinnamon, baking soda, baking powder, and salt in a medium bowl.
In a separate bowl, cream together the butter and sugar until light and fluffy.
Blend in the banana, egg, and vanilla extract until well mixed.
Add the wet ingredients to the dry ingredients and mix them well.
Fold in the dried fruit and nuts.
Spoon the batter into the prepared pan and bake for 40 to 45 minutes until a knife inserted in the center comes out clean.
Let the bread cool in the pan for 10 minutes, then turn it out onto a wire rack to cool completely.
Note: Teff should be stored in a cool, dry place. Teff flour can last up to one year, and teff grain can last up to two years. But, an opened flour bag should be kept in the fridge to avoid rancidity.
Consumption of a limited quantity of teff is considered safe. But, are there any risks associated with excess intake? Find out in the next section.
Risks And Precautions
Intake of teff is generally considered safe. But, excess consumption may cause side effects in some people. As teff is high in fiber, it may cause gas or bloating. Also, it contains phytate in high amounts, which inhibits mineral absorption in the body. But, phytate is low in fermented teff formulas.
People with celiac disease should use pure teff, which is free of gluten. While buying, always look for gluten-free certifications on product labels.
People with calcium and zinc deficiencies should limit the intake of teff.
Conclusion
Teff is a nutritious cereal with a wide variety of vitamins and minerals. The high fiber and protein content of teff helps treat many health ailments. From improving bone health to reducing the risk of heart problems, teff offers several benefits. You can include teff in your diet easily, and it is generally considered safe. However, excess consumption may lead to certain side effects. Hence, limit its consumption and consult a doctor in case of emergency.
Sources
Articles on StyleCraze are backed by verified information from peer-reviewed and academic research papers, reputed organizations, research institutions, and medical associations to ensure accuracy and relevance. Read our editorial policy to learn more.
Recommended Articles
The following two tabs change content below.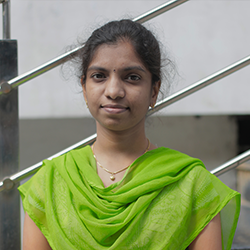 Sindhu Koganti is a Biotechnology graduate and has been in the writing field for over 4 years now. She specializes in writing on Health and Wellness. She has hands-on experience in writing articles and press releases on Life Sciences and Healthcare, Food and Beverages, and Chemicals and Materials. When she's not writing, she loves watching movies and listening to music. She also enjoys traveling.