Tempeh Benefits, Nutrition, Recipes, And More Tempeh is a traditional dish native to the Javanese. The benefits of tempeh are gaining the attention of many health enthusiasts. It is typically made of soybeans and is fermented with a certain fungus. But there are other varieties of tempeh, too, based on the other ingredients added. Tempeh is a great protein source for those who want to eat only plant-based foods. What benefits does tempeh offer? In how many ways can you cook tempeh? Here, we answer these questions and help you understand how you can get the best out of tempeh. Keep reading.
What Is Tempeh?
Tempeh is a traditional fermented food from Indonesia. It is made of any kind of soybeans bound tightly together by fermenting them with a special fungus called Rhizopus oligosporus. It is a fragrant fungal species that adds to the taste and the overall nutrition of soybeans.
The traditional method of preparing tempeh involves introducing the fungus into the soybeans and wrapping the mixture with banana leaves. These packages are then incubated at 30 to 31°C for about 24 hours, which binds the soybeans together (1).
After the incubation period, tempeh is ready to be packed and sold. Tempeh is not considered a processed food because of this natural process. Pure, original tempeh gives off a nutty and dry flavor with an earthy undertone.
There are various types of tempeh based on the ingredients added (apart from soybeans) that enhance the flavor of the end product. The most common additives are flax seeds, oatmeal, cassava fibers, and peanut dregs.
The more exotic ones are grated pumpkin and coconut dregs, but the latter could cause food poisoning as coconut dregs could get contaminated with other unwanted microbes.
Trivia – History Of Tempeh
Tempeh originated deep in the roots of Central or East Java as early as the early 1800s. It is one of the few traditional soy-based foods that did not originate from Japan or China.
Given its nutrient profile, tempeh can be called a superfood. Keep reading to find out why.
Nutritional Profile Of Tempeh
Tempeh (100 grams) contains the following nutrients (2):
| Nutrient | Amount |
| --- | --- |
| Energy | 192 kcal |
| Proteins | 20.3 g (37% RDV) |
| Fats (total) | 10.8 g |
| Carbohydrates | 7.64 mg |
| Potassium | 412 mg (12% RDV) |
| Phosphorus | 266 mg (27% RDV) |
| Magnesium | 81 mg (20% RDV) |
| Calcium | 111 mg (11% RDV) |
| Manganese | 1.3 mg (63% RDV) |
Apart from these, tempeh also has various forms of vitamin B, including folate, riboflavin, thiamin, and pantothenic acid. In addition, it also has other essential minerals (iron, manganese, copper, and zinc) in trace amounts.
Rachel Dyckman, Owner and RD at Rachel Dyckman Nutrition LLC, says, "Tempeh is an excellent source of complete plant-based protein and can help those who are vegan or vegetarian to meet their protein requirements."
How exactly do these nutrients in tempeh contribute to the body's healthy upkeep? Keep reading to find out.
6 Health Benefits Of Tempeh
Kristin Gillespie, MS, RD, LD, advisor for Exercisewithstyle.com, says, "One serving of tempeh is a 3-oz portion. Tempeh can certainly be added to your daily diet at 1-2 servings per day."
Tempeh may immensely benefit your health in the following ways.
1. May Boost Growth Of Gut Flora
The fermentation of soybeans with a few fungal strains causes the breakdown of phytic acid (an antinutrient that prevents the absorption of nutrients into the body). This helps promote digestion and gut flora health. Tempeh can be a probiotic (3),(4). Tempeh has also shown prebiotic properties, which again promote gut flora by stimulating the growth of bacteria like Bifidobacterium and Lactobacillus (5). This helps improve gut health and prevent related diseases.
2. May Help Maintain Bone Health
Tempeh is rich in calcium, an essential element that is not produced in the body. Hundred grams of tempeh can contribute to at least 10% of your daily recommended calcium intake.
Calcium deficiency may affect bone density negatively. This, coupled with oxidative stress, may cause osteoporosis (weak and brittle bones) (6).On the other hand, children need calcium for proper skeletal growth (7).
3. May Reduce Oxidative Stress
Tempeh has isoflavones, an antioxidant abundant in soybeans. Many studies suggest that isoflavones inhibit free radical damage and reduce oxidative stress on the cells (8).
The isoflavone activity is especially important in postmenopausal women as they are at a higher risk of cardiovascular disease and cancer (9),(10). In a study, postmenopausal women on a soy-rich diet experienced a significant reduction in oxidative stress (11). Another study suggests that soy isoflavones may help reduce liver damage in mice (12).
Kristin Gillespie says, "This, in turn, may help prevent many chronic illnesses and damage to vital organs, including eyes and skin."
4. May Improve Heart Health
Isoflavones in tempeh work against bad cholesterol in the body. They were found to reduce LDL (bad) and total cholesterol levels in the bloodstream (13). Moreover, this effect was more pronounced in subjects with hypercholesterolemia (high blood cholesterol). The cholesterol-lowering effect of isoflavones and their antioxidant properties may also help reduce the risk of cardiovascular disease, including heart blockages (14). Besides, a study on mice also concluded that tempeh itself may decrease cholesterol levels besides exerting hepatoprotective (liver-protective) properties (15).
5. May Help Manage Weight
The protein in tempeh makes you feel fuller for longer as it can take a while to digest. This increased satiety can keep you from overeating and helps control energy intake. This way, tempeh is a better option than tofu, another soy-based product. While one serving of tofu (100grams) gives only about 8g of protein, the same quantity of tempeh provides 19g of the nutrient. A study suggests that reducing the carbohydrate intake and replacing it with proteins may improve the body's thermogenesis (heat production), which may help reduce body fat (16). However, more long-term studies are needed in this regard.
6. May Reduce Cancer Risk
Isoflavones are phytoestrogens that play a key role in the prevention and treatment of cancer. Genistein, an active isoflavone in soybeans, targets processes involved in cancer formation (17). Another study suggests that genistein and daidzein (also an isoflavone) may help prevent breast and prostate cancers by inducing apoptosis (programmed death of cancer cells) (18).
You can reduce the risk of chronic diseases by consuming tempeh. But is it safe for everyone? Let us find out.
Who Is Tempeh Safe For?
Tempeh is safe for people of all age groups except those with soy allergies. Besides, individuals with compromised thyroid function and whose iodine intake is insufficient may also risk developing hypothyroidism after soy food intake. Hence, such individuals should consult their doctor before including tempeh in their diet (19).
Can you eat tempeh directly, or does it have to be cooked? Here are a few things you should keep in mind.
How To Use Tempeh?
Tempeh must be cooked either by boiling, frying, or steaming after being seasoned and broken down. You cannot consume uncooked or undone tempeh as it does not contain any active nutrients and might be harmful. Tempeh usually takes just about 10 to 20 minutes to be fully cooked, irrespective of the process used. Frying or sauteing tempeh makes the outer layer brown and crunchy and the inner layers soft and chewy.
There are many tempeh dishes you can try making. In the next section, we bring to you the three easiest and delicious tempeh recipes. Scroll on.
Recipes To Try Using Tempeh
1. Marinated Baked Tempeh
What You Will Need
(Serves 4)
Tempeh: 230g (uncooked, cut into bite-sized pieces)
Tamari: ¼ cup
Rice vinegar: 2 tablespoons
Maple syrup or any other natural sweetener: 2 tablespoons
Extra virgin olive oil: 1 tablespoon
Sriracha: 1 teaspoon
Freshly ground pepper (to taste)
Method
Steam the tempeh for about 10 minutes in a steamer basket.
Mix the wet ingredients and the pepper in a bowl.
Coat the tempeh in the mixture and marinate for at least 30 minutes.
Preheat the oven to 425°F. Arrange the tempeh some distance apart on a baking tray lined with parchment paper. Save some marinade.
Bake for 10 minutes. Brush the tempeh with the remaining marinade.
Bake it again for another 10 minutes. You can see a slight char on the edges.
Serve hot as is or garnish with salads.
2. Lemon Garlic Tempeh With A Side Of Blanched Kale
What You Will Need
(Serves 4)
Tempeh: 230g (thinly sliced)
Coconut oil: 2 tablespoons
Juice of 1 lemon
Garlic: 6 large cloves (minced)
Grated ginger: ¼ teaspoon
Cumin powder: ¼ teaspoon
Dried oregano: ¼ teaspoon
Kale: 2 cups (destemmed, chopped)
Sea salt and pepper (to taste)
Method
Drop the kale into a pot of boiling water and leave for about 10 to 15 seconds (do not exceed this time). Transfer immediately into ice-cold water. Drain and wring the kale to remove any excess water.
Heat the coconut oil in a large skillet. Add the tempeh strips and cook for 2 to 3 minutes. Turn them over and cook again for 2 to 3 minutes until they turn golden brown.
While the tempeh cooks, mix the rest of the ingredients to prepare lemon garlic sauce.
Plate the tempeh once cooked, add the kale on top, and drizzle the lemon garlic sauce.
Sprinkle some flaky salt and pepper and serve.
3. Tempeh Crumble Wrap
What You Will Need
(Serves 4)
Tempeh: 230g (crumbled)
Garlic: 2 cloves (minced)
Ginger: ½ inch (grated)
Lemongrass: ⅓ cup (finely chopped)
Green onion (just the white parts): ¼ cup (chopped)
Soy sauce or tamari: 3½ tablespoons (for a gluten-free option)
Maple syrup: 1½ tablespoons
Sriracha: 2 to 3 teaspoons (optional)
Water: ⅓ cup
Sesame oil: 1 teaspoon
Mayonnaise or tahini for the spread
Pita bread for the wrap or tortilla wraps
Method
Mix all the ingredients (except for the bread/wraps and sesame oil). Chill the mixture for at least 15 minutes.
Heat the sesame oil in a skillet and cook the mixture until the tempeh has absorbed the marinade (7 to 8 minutes). Break down the bigger pieces with the spatula to make sure the tempeh has an even crumble size and texture.
Spread the mayonnaise or tahini onto the wrap and assemble the crumble on top. Make sure to wrap the crumble tight, so there is no spillage.
Sear the wrap on a pan until a golden brown layer is visible. Serve.
Tempeh is a fermented soy product with a rich nutritional profile. It is also considered a superfood and is a great source of carbs and protein. These nutrients in tempeh benefit your health in a multitude of ways. . The intake of this fermented food may promote digestion, improves gut flora health, maintain bone health, reduce oxidative stress, decreases cholesterol levels, and manages body weight. Consumption of tempeh is suitable for many people except for the ones with a soy allergy. And you can prepare many delicious varieties with tempeh. However, tempeh has to be cooked to enable the nutrients present in it. Hence, add it to your diet and enjoy its many health benefits.
Frequently Asked Questions
Is tempeh high in estrogen?
Soy foods are rich in isoflavones, which are phytoestrogens. Genistein is the most potent phytoestrogen in the tempeh.
Is tempeh healthier than meat?
If we see the nutritional breakdown of tempeh, it has more nutritional advantage over meat. It is high in manganese, which contributes to healthy bones and supports brain function.
Can I eat raw tempeh?
Yes. Tempeh can be eaten raw.
Key Takeaways
Tempeh is made of soybeans bound tightly by fermenting them with a special fungus called Rhizopus oligosporus.
It has isoflavones that inhibit free radical damage and reduce oxidative stress on the cells.
Tempeh is safe for all age groups except those with soy allergies.
Sources
Articles on StyleCraze are backed by verified information from peer-reviewed and academic research papers, reputed organizations, research institutions, and medical associations to ensure accuracy and relevance. Read our editorial policy to learn more.
Recommended Articles
The following two tabs change content below.
Gayathri is a biotechnology graduate with a keen interest in research-oriented writing, microbiology, genetic engineering, and psychology and cognitive science....
more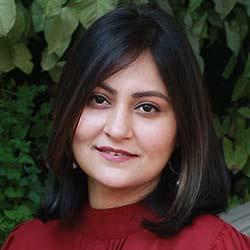 Dr Archana Batra
(PG Diploma, CDE)
Dr Archana Batra is a dietitian, physiotherapist, and Certified Diabetes Educator with over 13 years of experience in nutrition and...
more