Thank You Quotes For Friends: Explore The Very Many Ways To Offer Gratitude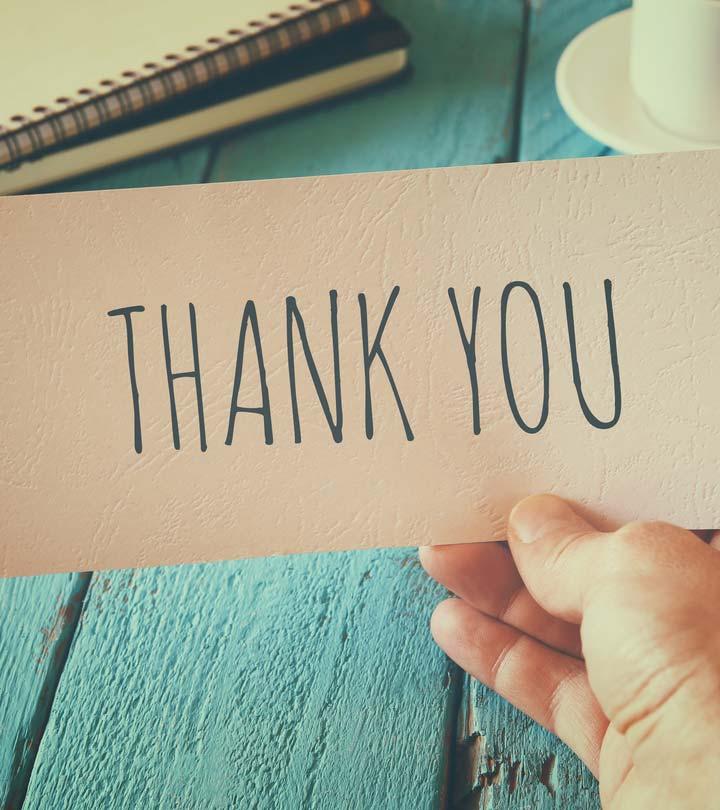 A simple "thank you" can be pretty difficult for many of you to let out. Regardless, if you feel thankful, acknowledge and express it through your actions or perhaps send a "Thank You" text. Also, while sending such a message, when you add "Thank You" quotes for friends, it can do wonders with such a gesture that parallels the manifestation of emotions like humility as well as gratitude. When you acknowledge the other person's help, you vouch for your personality as well. A small appreciation can make the person's day apart from motivating him to incorporate good deeds merely for the sake of humanity. In any friendship, sending good wishes while being grateful to them seems precious, and it would make them feel treasured and loved.
23 Best Quotes For Friends To Show Your Gratitude
Showing gratitude to someone who has helped and supported you is deemed a selfless action. This is how goodwill transpires within society. Here, we are listing some efficacious ideas to use a thank you quote for a friend.
Thank You For Being A Friend Quotes
Have you been wanting to convey gratitude to your peers and friends as to how significant they are to your life? Feel free to exhibit your vehement acknowledgment by using some familiar thank you card quotes for friends.
 "Only your real friends will tell you when your face is dirty."
Supposedly a widely used Sicilian proverb, it implies that real friends will always tell you straight in the face if you are going the wrong way.
 "I am more than thankful that you are a part of my life."
This quote is used to convey your appreciation towards a friend who has endured your good and bad at all times.
 "Life is always better with you."
With real friendships, you learn to build up your social skills as well as self-esteem, thereby not letting stress and anxiety take over your life. The abject fear of negativity is expunged from life.
 "Thanks for being a ray of sunshine on my cloudy days."
Be glad of the gloomy days when a friend comes to rescue and brightens your days. The smallest attempt that one has made to reach out to you is worthy of being treasured.
 "You are the best."
Although it might be the shortest way to express your gratitude, yet this message acquires profound weight in its essence. Somehow, having a listener who is empathetic can be a blessing.
 "Thank you for guiding me when I could not even think straight."
There are indefinite times when you go astray unknowingly, along with losing your mind. If you had been struggling mentally and emotionally, a friend would try to be patient with you and introduce you to clear thinking with his perspicacity.
 "Thank you for being kind."
Compassion, selflessness, and magnanimity are the attributes that establish an enduring friendship. Kindness costs nothing, yet people choose not to be kind to everyone. However, those who display kindness are inevitably your true friends.
Cute Thank You Quotes For Friends
Are you ready to learn a few cute tactics to say thank you to your friends and make them feel worthy of friendship?
 "You are the peanut butter to my jelly."
This quote is pertinent in any bond which is dearly and special. This phrase can be linked to another common phrase that goes – "You are the smile to my face". It emphasizes the complementary nature to one another. In simple words, a pair that is a perfect match is what it tries to divulge.
 "You are my partner in crime."
Friends that indulge in silly and fun activities together are considered best friends. The most significant part is they have your back regardless of the circumstances you are into. Trying to change you is the last of their concerns.
 "Thank you for being my angel."
Phrases like this are meant to symbolize gratefulness on a spiritual level at times. Still and all, this is even supposed to connote a sort of credit and appreciate your friend's gestures.
Birthday Thank You Quotes For Friends
Looking for "thank you" quotes for friends for birthday wishes? Well, we are listing some simple ways to add best thank you quotes for birthday wishes to friends.
 "Thank you for all the amazing birthday wishes. Being reminded on a special day made me realize that I have got some wonderful friends."
 "My birthday turned out to be awesome as you all took out some time to send me lovely wishes."
 "Thank you for all the love, time, and effort. I am touched and hence, sending you a truckload of love and hugs."
 "You all made my heart smile with your warm wishes. No amount of thank you would suffice my gratitude towards you."
Famous Thank You Quotes For Pals
Now, let's look at some famous thank you quotes for caring friends that will aid you in relishing outer sources of happiness that emanate from your friends and well-wishers.
 "If ever there is a tomorrow when we're not together, there is something you must always remember: you are braver than you believe, stronger than you seem, and smarter than you think." – Winnie The Pooh.
This quote from the fictional character representing a teddy bear articulates the rarity of a friend who never expresses exasperation in impelling you to become better in life. Even if you fail to convince yourself to strive harder, it is perceptible that your friend will give you the push. And who is going to open your eyes? It will be that friend who will give you an aha moment.
 "Friendship is born at that moment when one person says to another: 'What! You too? I thought I was the only one."
– C.S. Lewis.
Anyhow, whenever you find someone that you can seemingly vibe along with, be courteous enough to let them know. This will let you explore commonalities together, just as the saying goes, "people who vibe attracts the tribe". You can be content and thankful forever if you share the same level of energy.
 "True friendship comes when the silence between two people is comfortable." -David Tyson.
Let me start by asking you a question – Is the silence transpiring between you and your friend awkward or comfortable? If you reckon it to be comfortable, then give your best shot to hold on to it because such friendships are rare as hens' teeth. Ideally, this silence between you two will never be awkward, and that's when you are convinced about how real your bond is. And yes, embrace such friendships and appreciate them throughout life.
 "One loyal friend is worth ten thousand relatives."
-Euripides.
What was Euripides' view on friendships? He commended genuine friendships to exist only when a friend shows you love during your difficult times. Anyone can tag along in your good days, but what about their support in your bad times? If they are bold enough to be with you, then keep them close.
Appreciation Thank You Quotes For Pals
Be it a card or text message; it would be wonderful if you sent one embellished with appreciation quotes. Here are some short thank you quotes for friends you can get inspired from.
 "You are the best thing that ever happened to me. I can't thank you enough."
If you feel this way, you ought to express this directly. It might even end up with you getting a card in return.
 "I don't know where I would have been today if it weren't for you. Thank you for sticking with me."
Real friends will lift you and cherish your accomplishments. They will wish for your success. This is an example of thank you quotes for supportive friends.
If you are endowed with an empathetic, positive, and loving friend, you won a best friend for life.
 "I appreciate you and, mostly, your heart."
Praise your friends' generous and kind hearts and pray for their well-being.
Until now, you must have fathomed the impression that a full-hearted appreciation can leave on a person who helped you. So, take time to reflect on your thoughts before sending a "Thank You" message to your significant buddies. Once you do this, it will develop into a habit, and you get to earn a real friend for life.
Expert's Answers For Readers' Questions
How do you thank a close friend?
A close friend can be appreciated by saying – "I am thankful to have you in my life", "I am glad that I have you to rely on," "Thank you for existing," and many more.
How do you say thank you in a unique way?
You can attain this by appreciating the person while saying these phrases out loud: "I appreciate your thoughtfulness, you just made my day," "Thank you for going above and beyond".
The following two tabs change content below.