The 13 Best Dry Shampoos For Oily Hair That You Must Buy In 2023
Enjoy grease, oil, and dirt-free mane while maintaining its shine and softness.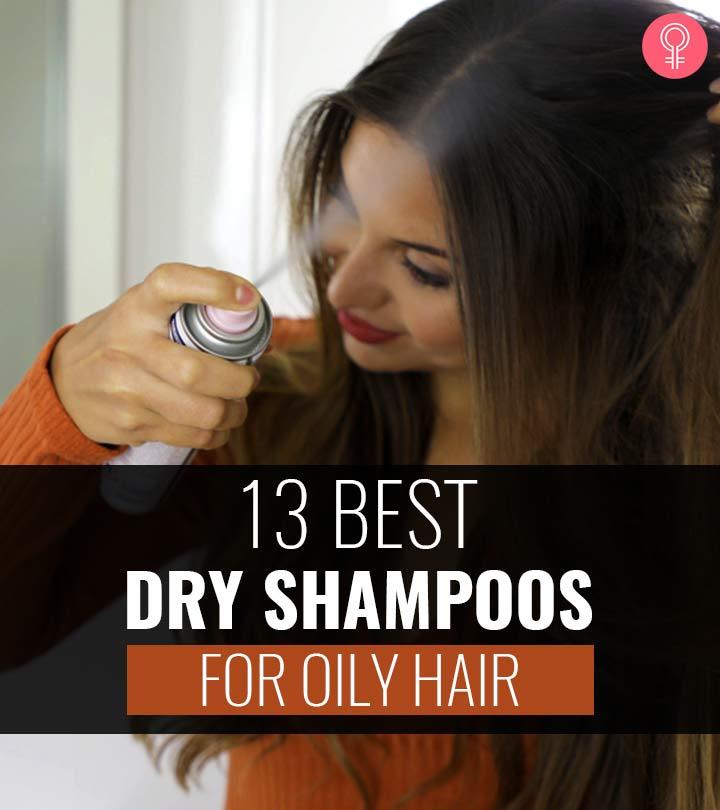 While oily hair tends to get limp and dirty more often, frequent hair washes may not always be possible. That's when keeping the best dry shampoo for oily hair handy with you can make all the difference. It not only absorbs the excess oil and grease from your scalp but also removes the dirt and buildup making your hair look freshly cleaned, soft, and silky. To get you started, we have enlisted the 13 best dry shampoos for oily tresses for you to choose from.
13 Best Dry Shampoos For Oily Hair
The Batiste Dry Shampoo is a waterless formula that absorbs excess dirt and oil from the hair and scalp. It is a 100% vegan formula that cleanses hair instantly. The classic soothing fragrance of lavender, lily, and rose leaves your hair smelling fresh. The time-saving solution shampoo adds texture and volume and revitalizes dull and lifeless
Pros
Saves time
Vegan formula
Fresh smell
Provides extended hair freshness
Traps excess dirt and oil
Makes hair bouncy
Easy to style
Easy to use
Cons
Price at the time of publication: $9.38
The non-greasy and silicone-free formula of the Living proof Perfect Hair Day Dry Shampoo is powered with Triple-Action Cleaning Technology for voluminous, healthy, and shiny hair. The fast-absorbing powders absorb excess oil, sweat, and dirt for a clean scalp. The Healthy Hair Molecule (OFPMA) formula smoothens the hair strands and eliminates white residue from the hair without weighing it down.
Pros
Paraben-free
Silicone-free
Phthalate-free
Cruelty-free
Safe for chemically treated hair
Color-safe
Adds volume and shine to hair
Dirt repelling power
Fresh fragrance
Cons
Poor quality spray bottle
Expensive
Price at the time of publication: $28.0
The Drybar Detox Dry Shampoo is a super-absorbent formula to trap excess oil and impurities for a clean and healthy scalp. The micro-rice powders reduce grease and oil without stripping the natural moisture. The fine powders become translucent and blend with all hair colors (leaving no residue on the scalp). The golden root extract seals the moisture and prevents breakage and split-ends. The shampoo has a refreshing aroma of jasmine, sandalwood, and Madagascar vanilla.
Pros
Super-absorbent formula
Traps excess oil and dirt
Paraben-free
Silicone-free
Phthalate-free
Cleanse hair in no time
Easy to use
Leaves no residue
Perfect for all hair types
Fresh aroma
Cruelty-free
Cons
Expensive
Strong smell
Not suitable for bold hair colors.
Price at the time of publication: $26.0
The Bumble and Bumble Prêt-à-powder is a fullness dry shampoo that instantly adds texture and shine to hair. It is specially formulated for fine to thick healthy or color-treated hair. The key ingredients are polysilicon-22, zea maize, tapioca starch, oat kernel flour, silica, and montmorillonite. Polysilicon-22 is a hybrid silicon powder that mainly targets the oily roots of the scalp. It absorbs the oil and offers a dry cleanse, leaving hair clean and refreshed without any leave-in residue. The natural starching complex acts as a bulking agent to add volume and texture to the hair. The shampoo is very lightweight. Its super-absorbent silica powder, along with montmorillonite and natural clay from the Poitou-Charentes region of France, absorb excess oil and impurities.
Pros
Paraben-free
Phthalate-free
Mineral oil-free
Formaldehyde-free
Cruelty-free
Absorbs excess oil
Adds bounce with shine to hair
Easy to use
Long-lasting
No leave-in white residue
Cons
Expensive
Poor quality spray nozzle
Price at the time of publication: $25.99
The Dove Dry Shampoo is a perfect low-budget choice for those who are busy. This dry shampoo powder absorbs excess oil and grease and makes your hair bouncy and shiny within minutes. Spray this weightless formula, give a gentle massage, comb, and style your hair as you wish.
Pros
Paraben-free
Sulfate-free
Phthalate-free
Cruelty-free
Restores hair shine
Soaks up excess oil and dirt
Easy to use in busy days
Affordable
Refreshing
Provides good scalp revitalization
Available in different variants
Cons
Not suitable for thin, fine hair.
Leaves a sticky residue.
Price at the time of publication: $13.96
The Not Your Mothers Dry Shampoo is an instant non-water cleansing formula that absorbs excess oil and dirt without weighing the hair down. The refreshing formula adds body and texture to lifeless, dull hair. It is a boon for a sensitive scalp. You can style your hair without damaging it. Shake well, spray over hair, massage gently, and your hair is ready for styling.
Pros
Light matte finish
Weightless formula
Absorbs oil and grease
Adds life to dull hair
Easy to use
Easy to style
Leaves no white residue
Perfect for oily and sensitive scalp
Suitable for blonde to dark brown hair
Value for money
Cons
Contains propane
Smells odd
Price at the time of publication: $9.48
The Amika Perk Up Dry Shampoo is effective for absorbing excess oil. This award-winning shampoo contains rice starch and sea buckthorn extract that add body and texture to lifeless and dull hair. The rice starch soaks oil, adds texture, and gives a bouncy look for styling. The sea buckthorn adds shine to hair and leaves it soft, smooth, and manageable.
Pros
Absorbs excess oil and impurities
Improves overall hair health
Pleasant, refreshing smell
Color-safe
Sulfate-free
Vegan-certified
Paraben-free
Phthalate-free
Gluten-free
Mineral oil-free
No artificial colors and fragrances
Cruelty-free
Safe for Brazilian-treated and keratin-treated hair
Cons
Poor quality spray system
Strong fragrance
Price at the time of publication: $26.0
The Klorane Dry Shampoo With Nettle revives and refreshes hair in just 25 seconds. The botanical nettle extracts help absorb excess oil from the scalp and regulate oil production for 48 hours. This award-winning dry shampoo unclogs the oily roots to trap all the grease. It also adds volume, texture, and sheen to hair. Rice and corn starch are excellent cleansers that leave no white residue. The natural ingredients in the shampoo give an invisible finish and are gentle enough for daily use.
Pros
Hypoallergenic
Invisible formula
Absorbs oil and dirt
Long-lasting effect
Eliminates oil, dirt, and odor
Color-safe
Paraben-free
Sulfate-free
Silicone-free
Free of phenoxyethanol and MIT
Preservative-free
Dermatologically tested
Ultra-gentle
Cons
Poor quality nozzle
Not for sensitive scalp.
Price at the time of publication: $10
The R+Co Skyline Dry Shampoo powder has thermal and UV protection. This portable on-the-go styling shampoo absorbs grease, adds texture to limp hair, and enhances the extra grip and elevation. You can experience bouncy, grease-free hair right from the second dry wash.The shampoo contains a unique non-aerosol powder infused with diatomaceous earth, mica, jojoba seed oil, and burdock root extract.
Diatomaceous earth is ultra-absorbent, and it absorbs oil and impurities and leaves a smooth, supple hair texture. The jojoba seed oil with mica is a nourishing ingredient that adds texture and balances excess sebum formation. The burdock root extract is antioxidant and anti-inflammatory. It protects the scalp from environmental damage.
Pros
Non-drying formula
Enhances hair texture
Paraben-free
Sulfate-free
Petroleum-free
Mineral oil-free
Gluten-free
Vegan formula
Infused with thermal and UV protection
Suitable for all types of hair
Cons
Price at the time of publication: $32
The Paul Mitchell Dry Wash Shampoo quickly leaves hair looking elegantly renewed with its non-greasy texture. This paraben-free lightweight formula is infused with hydrolyzed soy protein that strengthens hair roots and absorbs excess oil and impurities. This quick fix shampoo also revives limp and lifeless hair. This is a colorless dry powder that leaves no flaky residue and adds body to hair. With its quick application and effective results, the residue-free shampoo is a convenient and reliable choice for keeping your hair looking its best between washes.
Pros
Absorbs impurities and excess grease
Maintains a healthy scalp
No white residue
Adds volume to hair
Cruelty-free
Paraben-free
Affordable dry shampoo
Lightly scented
Cons
None
Price at the time of publication: $25.5
The Kristin Ess Style Reviving Dry Shampoo is an ultra-absorbing lightweight formula that removes excess oil and dirt for a healthy scalp and hair. The powder is translucent and blends easily with even the darkest hair tones and leaves no flaky residue. The 'zip-up' technology strengthens hair follicles by targeting the weak strands, smoothing the appearance of damaged cuticles, and protecting the hair shafts from environmental aggressors. By reducing scalp oiliness and improving overall hair health, this dry shampoo promotes a balanced and healthy scalp environment for optimal hair growth and vitality.
Pros
Cruelty-free
Soaks up impurities
Regulates sebum formation
Strengthens hair shafts
Blends easily with hair
No white residue
Cons
Price at the time of publication: $15
The Giovanni Powder is a 2-in-1 formula that acts both as a cleanser and a volumizer. It is a convenient refresher that instantly removes all dirt and excess oil and provides extra body and shine to hair. It is formulated with rice starch, panthenol, and grape seed oil. Rice starch is an ultra-absorber that absorbs grease, whereas panthenol strengthens the hair roots. Ginseng and grape seed oil nourish hair strands and prevent hair breakage.
Pros
Anti-grease control formula
Paraben-free
Sulfate-free
Color-safe
Adds life to limp and damaged hair
USDA certified organic ingredients
Vegan formula
Long-lasting effect
Cons
Not suitable for blonde hair.
Price at the time of publication: $9.85
The Nexxus Dry Shampoo is a fine spray that absorbs grease, dirt, and pumps up the hair volume. The volume boost shampoo helps revitalize hair in between washes and manages styling for long. It does not leave any flaky residue after a dry wash. It is safe for dark-colored hair.
Pros
Lightweight
Adds bounce
Weightless cleanser
Removes odor
Easy to style
Suitable for all hair types
No powdery build-up
Cons
Price at the time of publication: $11.18
Oily hair tends to accumulate dirt faster, looking limp and sticky. But it's not easy or healthy to wash your hair everyday. A dry shampoo in between wash days is a great alternative to keep the scalp from collecting muck and clogging pores. However, the market is bombarded with dry shampoos of various kinds. We have put together a few guidelines for you to choose the best dry shampoos for oily hair.
Things To Consider While Buying The Best Dry Shampoos For Oily Hair
Formula
The first property to look for in a dry shampoo is its capacity to absorb oil from an oily scalp. Starch complex is an effective ingredient to look for in a dry shampoo. Similarly, charcoal, clay, tapioca, silica, oatmeal, arrowroot powder, and baking soda are natural ingredients in a dry shampoo which are excellent oil absorbers. They also absorb sweat and pull out extra sebum and build-up from the pores, unclogging them, and keeping the scalp non-sticky. This also helps in controlling mal-odor.
Ingredients
Look for a product that is made of gentle ingredients. Harsh chemicals may give immediate effect but will harm the skin and hair eventually. Fruit and vegetable extracts, vitamins, and natural ingredients are gentle on the skin. Although we want the shampoo to absorb excess oil from the scalp, we also need some natural moisturizers that will maintain the pH balance of the hair. Vitamin E, aloe vera, and shea are mild hydrators that will keep the scalp from getting too dry while providing proper nourishment to the hair. Also, look for peptide fortifying complexes, natural oils, mint, and bamboo extracts which moisturize and purify the hair while controlling oil secretion from the scalp.
Volumizing
Oily hair often looks limp, flat and sticky. Pick a dry shampoo that gives a volumizing effect to your hair and makes it appear thicker and puffier. The shampoo will eliminate the oil build-up which otherwise weighs the hair down.
Hair color
Some dry shampoos come in chalky or tinted colors. They may leave a white residue which is ok for white, platinum, blonde or silver hair. If you like an icy shine on your hair, a purple-tinted shampoo is worth a try. Natural blacks and brunettes should pick a dry shampoo which is colorless with an invisible finish.
Scent
If you feel your hair not only gets oily fast but also smells unpleasant, you can pick a dry shampoo with a mild, long-lasting, and refreshing scent. If you have a sensitive scalp with dandruff and issues of the skin, it is advisable to pick a fragrance-free shampoo which will be non-allergic.
These are the13 best dry shampoos for oily hair you can buy online. In the following section, we have discussed how you can choose the right dry shampoo for your hair.
Tips To Choose The Right Dry Shampoo For Oily Hair
Ensure your dry shampoo meets the following requirements.
Gentle Ingredients: Choose ingredients that are natural and gentle on the scalp. Gentle ingredients also impart proper nourishment to hair without damaging it.
Oil-Absorbing Formula: The shampoo must contain an oil-absorbing formula. Check for ingredients like starch complex. They would help absorb excess oil and regulate sebum formation.
Volumizing: If the dry shampoo also adds volume to hair, it is an added benefit.
Why Trust StyleCraze?
Oyendrila Kanjilal, the author of this article, loves experimenting with different hair care products. On her quest to find the right product, she has thoroughly gone through several product reviews to curate the list of dry shampoos for oily hair for her readers to choose from. This carefully curated list of shampoos absorb excess oil and dirt, giving you silky, soft, and healthy hair.
Frequently Asked Questions
Will a dry shampoo make black hair look gray?
No, it does not. But some dry shampoos may leave residues, causing black hair to look gray. Ensure you buy the right shampoos that do not leave any residues.
Do I have to wash out a dry shampoo?
No, you do not have to wash out a dry shampoo.
How often can I use a dry shampoo?
Dry shampoos can be used daily to absorb oil and impurities.
What are the side effects of using dry shampoo?
Overuse of dry shampoo leads to hair breakage. Hence, practice moderation.
Does dry shampoo help with oily hair?
Yes, dry shampoo helps control the oiliness and greasiness of the scalp and strands.
Does dry shampoo cause oily hair?
Overusing dry shampoo can lead to unwanted buildup and clog pores on your scalp, which leads to excessive oiliness.
How often should I wash my oily hair with dry shampoo?
You should wash your hair with a dry shampoo twice weekly for the best results.
Why is my head so oily?
An oily scalp is a genetic trait where the scalp produces excessive amounts of oil to hydrate itself. It may also be due to hormonal imbalances, unhealthy diet, and environmental factors like humidity and pollution.
Is having greasy hair healthy?
Usual oiliness in the hair is healthy, but excessive greasy hair can damage the hair and scalp's health.
Recommended Articles