The Best Hairstyles For Oblong Face Shape
Hairstyles speak a lot about how you carry yourself. So, of course, taking care of those lustrous locks is an important part of grooming oneself. But, here's the thing – just taking good care of your hair is not enough. In fact, all the TLC (tender loving care) that you shower on your tresses could go to waste if you sport hairstyles that don't flatter your facial structure or – as it is more popularly known – your face shape. There are 6 types of face shapes in total – round, oval, square, heart, diamond, and oblong. In this article, we'll just be dealing with hairstyles for oblong faces.
Oblong (also known as 'long') face shape is often confused for oval face shape. Quite simply, this face shape is longer than it is wide. People with an oblong face could have a long chin and forehead. They typically don't have full cheeks and their forehead, jaw, and cheeks are equal in width.
Now, let's look at some tip and tricks you need to keep in mind when styling your hair for your oblong face.
Tips To Keep In Mind When Styling Hair For Oblong Face Shapes
Curls and waves will never fail you if you have an oblong face. They add to the overall width of the face and, thus, help tone down the appearance of its length.
Girl, if you've got a long face, bangs are going to be your best friend. Some straight cut or side swept bangs that cover your forehead and graze your eyebrows will work wonders in reducing the length of your face.
Avoid going for high up dos that sit on top of your head if you have an oblong face. The volume of such hairstyles will only add to the length of your face and make it look even more oblong. So, high ballerina buns and high ponytails are a definite no-no for you.
Another great way to use your hair to streamline your oblong face is to go in for some highlights. Hair eclipting is a new hair coloring technique that involves positioning your highlights in such a way that they act as a contour for your face.
Now, this one is going to sound weird because it doesn't have anything to do with your hair, but hear me out. Your glasses can work wonderfully to flatter your oblong face. Whether you actually wear prescription glasses or just sport them for ~fashion~ is irrelevant here. Go ahead and get yourself some square glasses or glasses with a contrasting color at the temples and a low bridge as they can make your face wider, instead of long. When it comes to sunglasses, classic aviators will suit you perfectly.
Keeping these tips and tricks in mind, let's have a look at all the hairstyles that will suit your oblong face perfectly!
20 Gorgeous Hairstyles For Oblong Faces
1. Loose Waves
Carrie Underwood sure knows how to make her hair work for her oblong face. You will usually find her sporting some loose and relaxed waves that give off a super casual vibe. The dents of these waves fall right on her cheekbones, thus adding to the width of her face. This is further achieved by the center parting that allows for her hair to fall equally on both sides of her face.
2. Layered Hair
When you have a long face, the volume lent by a layered haircut is exactly what you need. The first layer of Courteney Cox's hair falls right at her cheekbones and the second layer halfway down her neck. When styled in some loose curls, these layers create tons of volume around her face and alter her oblong face shape by adding more width to it. The asymmetry created by the slightly off-center parting also works wonderfully.
3. Thick Side Swept Bangs
Take a page out of Kelly Rowland's look book and go get yourself some bangs! The perfect bangs for long faces are those that cover 1/3rd of your face. And Rowland's bangs do just that. Her side swept bangs cover all of her forehead and conceal the length of her face. Paired with some shaggy curls at the bottom, there's no stopping her from rocking this look.
4. Classic Side Sweep
Girl, when Kim Kardashian is sporting a look, you best believe you should be following her lead. Here she has gone for a classic look to complement her long narrow face. Her voluminous waves have been swept over to one side to draw the eye sidewards and counteract the oblong shape of her face. Her hair falling sexily down one side of her forehead also adds to the look.
5. Low Curls
Supermodel Iman sure knows what she's doing when she's styling her hair for her oblong face. Now, the aim of this particular hairstyle is to flatter her long face, not hide it. Her shoulder length hair has been curled right at the ends and parted down the middle to create an elegant hair look. She has highlighted her dark brown hair with some caramel highlights to work beautifully to complement her oblong face.
6. Retro Curls
This effortless and elegant look is one of the best hairstyles for oblong faces. The retro curls paired with the side swept style and the deliberate show of her ear makes this look perfect for someone like Liv Tyler, who has an oblong face.
7. Curtain Bangs
Another great style of bangs that is great for long faces is curtain bangs. These style of bangs are parted down the middle and reach till your ears. The way they drape down the sides of your face is similar to curtains pulled back from a window, hence, the name. The way these bangs cover a part of the forehead is perfect for altering the silhouette of your long face.
8. Short Bob
Short bob is the best haircut for oblong face shape. We all know that Victoria Beckham is the queen of everything fashion and style. Her trademark bob has been wowing the world for years now and for a good reason. Her side parted bob has blunt ends that fall a couple of inches below her chin. But it's her blonde highlights that work wonders at adding width to her oblong face and bring the whole look together.
9. Half-Up Shaggy Curls
If there's one person you should be taking inspiration from for styling your hair for your oblong face, it has got to be Angelina Jolie. Though she has created volume on top with a slight pouf (a big no-no for anyone with an oblong shaped face), she has counteracted its lengthening effect with the help of some center parted long bands and some shaggy curls to create volume at the sides.
10. Carrie's Crazy Curls
Carrie Bradshaw is no less than an icon for the modern millennial woman. But what's even more iconic are the crazy curls that Sarah Jessica Parker sported for the role in Sex And The City. To flatter her extremely oblong face, she went in for some super voluminous and bushy curls that added width to her face and also made her face look smaller in comparison.
11. Side Ponytail
When you have a long face, you really need to experiment with different styles and angles when styling your hair. Look at Iman, for example. Here, she is sporting a simple low side ponytail parted on one side. The deep side parting makes her hair cut across her forehead diagonally and alter the shape of her oblong face.
12. Headband Updo
OK, I know said that oblong faced ladies should avoid high updos, but hear me out. This formal updo sported by Sanaa Lathan rests elegantly at the crown of her head. The thin gold headband wrapped around her head three times draw the eyes sideways, thus working perfectly to take attention away from the length of her face.
13. Curly Short Bob
Our favorite Desperate Housewife Teri Hatcher sure knows how to make things work for her oblong face. She knows that the best way to add width to her oblong face is to go for a short bob. Just styled in tight curls and parted on one side, and she's good to go and rock that red carpet!
14. Bumped Up Waves
Sandra Oh is absolutely working her oblong face with a big hair look. And by big, we mean BIG. She has added volume on all three sides of her face by going for a pouf on top and some super voluminous waves. With loads of textured added to shag up her hair, this look makes for an edgy and bold style. The sheer volume of this hairstyle works to complement her oblong face structure and makes it look smaller in comparison.
15. Classic Long Bob
Peaches Geldof looks like she has stepped out of a vintage pin-up poster from the 40s with this long bob look. With its simple curls at the bottom and the side parting, this long bob makes for a simple and classy hair look. But what makes this perfect for a long face are the dark roots that stand as a stark contrast with her blonde hair to create some dimension and take focus away from the length of her face.
16. Simple Short Bob
Whoever said you can't sport short hair on a long face was wrong. There are plenty of perfect short hairstyles for oblong faces. Take a look at Milla Jovovich, for example. She has simply straightened her short bob and parted it to one side to create an effortlessly chic look. The gold headband adds a bit of sparkle to her style and brings the whole look together.
17. Long Lustrous Waves
A variety of hair trends keep coming in and going out of fashion but there are a few styles that remain evergreen. Long, flowing hair styled in waves is one of them. Supermodel Gisele Bundchen has been sporting this classic look for years now because it flatters her oblong face perfectly.
18. Dramatic Side Sweep
Ashlee Simpson is absolutely slaying it with her dramatic hair look. To offset her oblong face shape, she has swept all of her hair over on one side. Styled in big, texturized curls, this side swept hairstyle creates immense volume on one side of her face to draw the eye sidewards and take attention away from the oblong shape of her face.
19. Wavy Mid-Length Bob
Follow Hilary Swank's lead when picking a short hairstyle for your long face. Her golden brown tresses have been cut in a long bob and styled in some open curls to create a simple yet chic hair look that complements her long face perfectly. A simple trick that Swank has used to add a bit of width to her face is pushing one side of her hair back behind one ear.
20. Slicked Down Center Parting
If you want to go for a totally fierce hairstyle, look no further. Jessica Lowndes looks like a total badass with this slicked down center parted look that has been styled in waves. Lowndes has pushed all her hair back behind her ears to leave them exposed and make her oblong face look wider.
So there you have it, ladies! Our rundown of the best hairstyles for oblong face shape. Hope you found some styles here that tickled your fancies. Don't forget to comment below to let us know which of these looks you can't wait to try out!
Recommended Articles
The following two tabs change content below.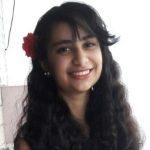 Latest posts by Arshiya Syeda (see all)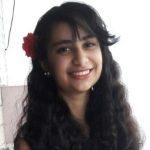 Arshiya Syeda
Arshiya Syeda is an editor and certified counselor. Ever the lover of the written word, she served on the editorial boards of her school and college newsletters. Writing articles on hairstyles, hair care, and nutrition helped her combine her love for reading, writing, and research. As an associate editor, she helps her team members deliver polished and meticulously researched content. Fluent in English, Urdu, and Hindi, Arshiya now aims to become a multilinguist by learning German and teaching herself American Sign Language (ASL).