15 Best Organic Blushes For That Beautifully Flushed Look – 2022
Add that healthy hint of color to your face with these non-toxic, natural formulations.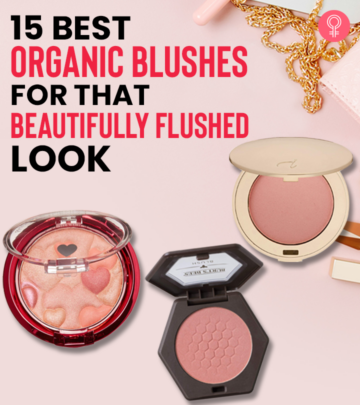 Blush helps to highlight your cheekbones, adding extra radiance to your looks. But most blushes available in the market are formulated with chemical talc that might harm your skin. This is why you need the best organic blush.
Unlike regular blush, an organic blush won't cause any irritation on your skin. It doesn't clog pores and keeps you safe from respiratory issues. They are toxin-free and are free from preservatives, parabens, and artificial fragrances. The organic blush is infused with natural ingredients that make your skin feel fresh and healthy. Choosing the right organic blush may be tricky if you have numerous products available in the market. In this listicle, you will find the 15 best organic blushes that you can use safely. Keep scrolling to read more!
Top 15 Organic Blushes Available Right Now
Physicians Formula Happy Booster Glow And Mood Boosting Blush is an ultra-soft and easy-to-blend blush that adds a refreshing and vibrant hue to your cheeks and gives you a healthy and naturally flushed look. The multi-reflective pearls infused in this organic blush impart a naturally soft and iridescent contouring effect to add shimmer and shine to your cheeks. This organic blush is infused with euphoryl and natural plant extracts that mimic the effects of endorphins to help your skin combat environmental damage and stress. It also has the sweet fragrance of violets that is sure to leave you feeling happy and cheerful. If you want to know more about the results, take a look at this review on YouTube.
Pros
Easy to blend
Hypoallergenic
Paraben-free
Chemical-free
Dermatologist-approved
Non-comedogenic
Highly affordable
Buildable
Great texture
Cons
Low pigmentation
Strong fragrance
Burt's Bees Blush is a sheer and shimmery blush that can be applied with ease and built up for that extra oomph factor. It is made with completely natural and lightweight minerals and other ingredients like bamboo, honey, and vitamin E. These natural and organic ingredients nourish your skin and enhance your cheeks with their beautiful glowing effect that loos very natural. This organic blush is available in 5 shades for various skin tones. You can check this YouTube video for more information about the product.
Pros
Lightweight
Gives a naturally flushed glow
Blends easily
Buildable
Talc-free
Paraben-free
SLS-free
Phthalate-free
Petrolatum-free
No synthetic fragrances
Dermatologically tested
Cruelty-free
Reasonably priced
Cons
Shades look slightly darker than pictured
Jane Iredale PurePressed Blush is sure to leave your skin feeling naturally glowy and radiant. It is formulated with nourishing natural and organic minerals and antioxidants that help in soothing and nourishing your skin while keeping the glam quotient on point. With its all-natural ingredients, this blush is completely safe to be applied even on the lips and eyes. The texture of this organic blush is smooth and glides easily across the cheeks. This gorgeous pressed powder blush is available in 13 shades.
Pros
Wide range of shades
Suitable for all skin tones and skin types
No chemical dyes
Blends easily
Controls shine and oiliness
Cons
Expensive
Unsatisfactory quantity
Undone Beauty 3-In-1 Lip To Cheek Palette is an organic blush palette comprises of 3 different formulas in one compact. From sheer to medium to intensely opaque – you can take a pick from the formulas and blend it the way you want! This multipurpose formula can be used for highlighting and tinting lips as well as cheeks. It is infused with coconut extract that nourishes and adds a radiant glow to the skin. It blends seamlessly and leaves a naturally dewy finish.
Pros
Multipurpose
Affordable
Dewy finish
Hydrates the skin
Vegan
Paraben-free
Cruelty-free
Cons
Better'n Ur Cheeks Mineral Blush is a pressed powder blush that is formulated with all-natural colors and ingredients. The texture of this organic blush is creamy and silky despite being a powder-based product. It glides on smoothly and evenly to give a naturally flushed and radiant glow. It does not feel cakey on your skin. In fact, it moisturizes it with its organic essential oils and botanicals. These organic botanicals provide moisture, while the antioxidants help in preventing the signs of aging.
Pros
Effective ingredients
Cruelty-free
Talc-free
Non-GMO
Palm-free
Paraben-free
Vegan
Non-toxic
Creamy texture
Long-lasting
Anti-aging formula
Cons
May get patchy
Color may vary
BaeBlu Organic Cheek Tint is a versatile product that can be used as a cheek tint as well as a lip tint. Its creamy texture is easy to blend. It contains natural mineral pigmentation that enables you to build the color to your preference. It is infused with a mixture of ultra-moisturizing shea butter and cocoa butter that softens and hydrates your skin while giving your cheeks a dewy, flushed, and radiant finish. It is suitable for all skin tones and skin types, including mature skin.
Pros
Travel-friendly
Versatile product
Moisturizing formula
Naturally dewy finish
No artificial color
No preservatives
No synthetic fragrance
Buildable color
Gluten-free
Non-GMO
Cons
The texture of Jillian Dempsey Cheek Tint is velvety soft. It glides seamlessly on your cheeks without creating any patches. Its creamy texture helps you blend and build it. It has a naturally dewy and flushed finish. This cheek and lip tint is formulated with plant waxes and bamboo stem extract that aid in moisturizing and forming a protective barrier on the skin to make it look smooth and even.
Pros
Multipurpose
Vegan
Paraben-free
No harmful chemicals
Creamy and velvety texture
Smoothens the skin
Moisturizes and nourishes the skin
Highly pigmented
Cons
Insufficient quantity
Not very buildable
Harvest Natural Beauty Quick-Stick is a tint that can be used on the cheeks, lips, and eyes. Its retractable packaging makes it easy to use on the go. This organic blush contains castor seed oil, carnauba wax, glycerin, and corn starch. It hydrates your skin and leaves it looking naturally glowing and flushed.
Pros
Moisturizes the skin
Imparts a natural and dewy finish
Vegan
Gluten-free
Versatile
Paraben-free
Petrochemical-free
PEG-free
GMO-free
SLS-free
No propylene glycol, EDTA, or other chemicals
Easy to blend
Cons
Very tiny stick
May cause irritation on sensitive skin
Mom's Secret Natural Organic Cream Blush Stick is a cream-based blush. It is made of all-natural, organic, vegan, as well as gluten-free ingredients that are skin-friendly. This blush stick is versatile as it can be used on your cheeks as well as on your lips. It hydrates your skin with its natural moisturizing extracts. It imparts a dewy, naturally flushed, and rosy finish to your cheeks. This retractable stick is small enough to be kept in your purse to touch up on the go!
Pros
Versatile
Sheer and dewy finish
Buildable
Glides on smoothly and evenly
Cruelty-free
Vegan
Paraben-free
GMO-free
Travel-friendly
Pleasant fragrance
Cons
Insufficient quantity
Feels flaky on the skin
PuroBIO Make Me Blush is a certified organic blush. This matte blush is highly pigmented and long-lasting. It gives your cheeks an instant glow to make you look youthful and radiant. Its weightless texture makes your skin feel silky smooth. The superfine micronized powder pigments in it are easy to blend and build up. This organic blush is infused with the goodness of argan oil, shea butter, cocoa extract, avocado oil, macadamia oil, minerals, and antioxidant vitamins that impart a natural-looking flush. This organic blush is a 2-in-1 product that not only adds a glow to your face but also works as an anti-aging product.
Pros
Anti-aging formula
Highly pigmented
Natural matte finish
Suitable for all skin types
No mineral oils
Sulfate-free
Paraben-free
Formaldehyde-free
Hydroquinone-free
Vegan
Cruelty-free
Nickel-tested
Cons
Antonym Cosmetics Natural Baked Blush delivers an instant glow and shine to your cheeks. Its micro-fine powdered texture is highly pigmented and imparts a youthful radiance with a single swipe. This organic blush does not feel heavy on the skin. Its subtle shimmer adds amps up your glam factor while keeping the blush quite natural-looking.
Pros
Paraben-free
Sulfate-free
Cruelty-free
Lightweight
Ultra-smooth and velvety finish
Suitable for all skin types
Cons
W3LL PEOPLE Nudist Multi-Use Color Stick has a lightweight and creamy formula that does not feel heavy on the skin. It is no less than a magic stick as it is multifunctional and can be used on your cheeks, lips, and eyes. It is infused with the goodness of high-quality all-natural ingredients and is easy to blend even with your fingers. It does not crease even when applied and worn all day long.
Pros
Multifunctional
Quick and hassle-free application.
Buildable
Lightweight
Non-greasy
Covers fine lines and creases
Vegan
Cruelty-free
Cons
Olio E Osso Natural Lip & Cheek Balm is a gorgeous stick blush with a tad bit of glamorous shimmer. This organic blush stick is hand-produced in small batches. This ultra-emollient balm is made with the richness of all-natural and luxurious ingredients that include beeswax, shea oil, organic olive oil, natural grapefruit essential oil, and mica. These natural ingredients enhance and nourish your cheeks and lips while leaving a shimmering trail behind.
Pros
Shimmer finish
Hand-produced
Multifunctional
Travel-friendly
Paraben-free
Sulfate-free
Cruelty-free
Suitable for all skin types
Buildable
Cons
Au Naturale Pure Powder Blush is an organic blush that gives your cheeks a natural flush of color. It is lightweight and does not leave your skin feeling patchy, irritable, or dry. This organic blush is infused with natural ingredients and minerals like titanium dioxide, silica, iron oxides, and mica which are considered skin-friendly. It delivers a perfect air-brushed effect without weighing down your skin.
Pros
Cruelty-free
Vegan
Lightweight
Easy to blend
Air-brushed finish
Does not dry out the skin
No synthetic fragrances
No preservatives
Paraben-free
Gluten-free
Cons
Color may slightly vary
Expensive
HAN Skincare Cosmetics All Natural Multi-Stick is a versatile organic blush stick. You can effortlessly apply it on your cheeks, eyes, lips, and anywhere else on your face without any hesitation. You can attain a subtle, sheer, and glamorous look with a single stroke or build it up to create a dramatic or bold look. It is made with natural ingredients like shea butter, argan oil, and vitamin E that aid in nourishing your skin. Its vivid color comes from natural plant and mineral pigments.
Pros
Long-lasting
Does not crease
Non-toxic
Carmine-free
Natural pigment
Buildable
Easy to use
Affordable
Cons
Slightly greasy
Strong fragrance
There is nothing as good as a natural makeup product that does as great a job as any other high-end brand and is also beneficial for your skin. It may also come as a surprise that most of these organic blushes are affordable. Listed in the next section are a few reasons why you should pick an organic blush.
Why Should You Choose An Organic Blush?
Goodness Of Everything Natural: Almost all blushes contain synthetic fragrances, talc, chemicals, mineral oils, and other harmful ingredients. These toxins slowly affect your skin's health and end up clogging your pores to make your skin look saggy and dull. With organic blushes, you avoid all these side effects.
Happy Skin: Your skin is not built for products that are loaded with chemicals and toxins. Acne, breakouts, inflammation, redness, clogged pores, and irritation – your skin can rebel in many ways when it is over-exposed to such products. When you pick an organic blush, your skin is replenished with the goodness of natural ingredients. These natural and organic antioxidants, vitamins, and minerals protect and nourish your skin while keeping your glam quotient intact.
Eco-Friendly: Organic products are environment-friendly as they are mostly produced using natural and recycled materials. Nothing from the process gets discarded or added to toxic landfills.
Check out the next section for some natural ingredients that are used in organic blushes.
Natural Ingredients Commonly Used To Make Organic Blushes
Moisturizing Ingredients: Shea butter, cocoa butter, argan oil, jojoba oil, and coconut oil are some natural moisturizing ingredients found in organic blushes. Beeswax is yet another natural ingredient that is used to make a cream or stick organic blushes.
Natural Minerals And Vitamins: Natural minerals like iron oxides, titanium dioxide, silica, or mica are usually used for their high shimmer and glittery effect. They are considered completely safe for the skin. Also, vitamins like A, C, and E are infused in their purest forms in these products.
Powders: Powders are usually used in blushes to control oil, reduce the greasy effect, and create a matte finish. Various naturally obtained powders like corn starch, rice starch, rice powder, and tapioca starch powder are used to make organic blush.
Antioxidant Fruit Or Plant Pigments: The gorgeous pigments are obtained with fruits or plant extracts. These extracts are highly pigmented and leave a naturally flushed finish on your skin.
If you are new to makeup and want to pick the perfect blush for your skin tone, check out the next section for a simple guide.
What Color Of Blush Is Best Suited For My Skin Tone?
Fair Skin Tone: Fair tones are perfectly suited for hues of pinks and peaches. Moreover, lighter pinks and peaches are perfect for your skin tone.
Medium Skin Tone: Your skin tone can take any shade of blush and rock it like no one's business! From pinks and purples to peaches and corals – you can experiment with any color without any worries.
Dark Skin Tone: If you have dark skin, your options are limitless! Your skin tone can easily make warmer hues of purple and red look natural and radiant.
Why Trust Stylecraze?
Shalini Roy is a makeup enthusiast who loves using organic blushes to add a subtle tint to her cheeks before stepping out of the house. She prefers using organic blushes because it doesn't cause any irritation to your skin. She has sifted through multiple online reviews to pick the best ones for her readers. The products mentioned in the article are mostly chemical-free, offer buildable coverage, and ensure long-lasting results.
Frequently Asked Questions
How can I make my blush last all day?
To make your blush last all through the day, apply a good base of moisturizer, primer, and foundation underneath. Also, seal your makeup after applying blush with a setting spray.
How do you get natural blush?
To get a natural blush, include the following foods in your beauty routine:
Beetroot: Use a few drops of beetroot juice as a natural blush.
Pomegranate: Mixing pomegranate juice into your daily facial rub or lotion is one easy way to add a mild blush to your cheeks.
Oils: A drop of grapeseed oil, olive oil, sunflower oil, or apricot kernel oil can give a nice sheen to your face.
Rose Petal: Rubbing a red or pink rose petal on your cheeks can impart a faint tint to them.
What color blush looks good on everyone?
If there is a color of blush that looks good on every skin tone, it is most certainly peach or dusty rose.
What is natural blush?
Natural or organic blushes are pigments free of harsh chemicals, preservatives, or toxins. They only contain natural ingredients that do not clog pores and irritate the skin.
What color blush makes you look younger?
Warm blush shades with pink undertones make you look younger.
Is powder or liquid blush better?
Liquid blushes have hydrating formulas, so they are better for people with dry skin. They glide easily on the skin and provide a natural-looking flushed look. On the other hand, powder blushes control excessive oil and are ideal for people with oily skin.
Recommended Articles