11 Best Pizza Stones – Reviews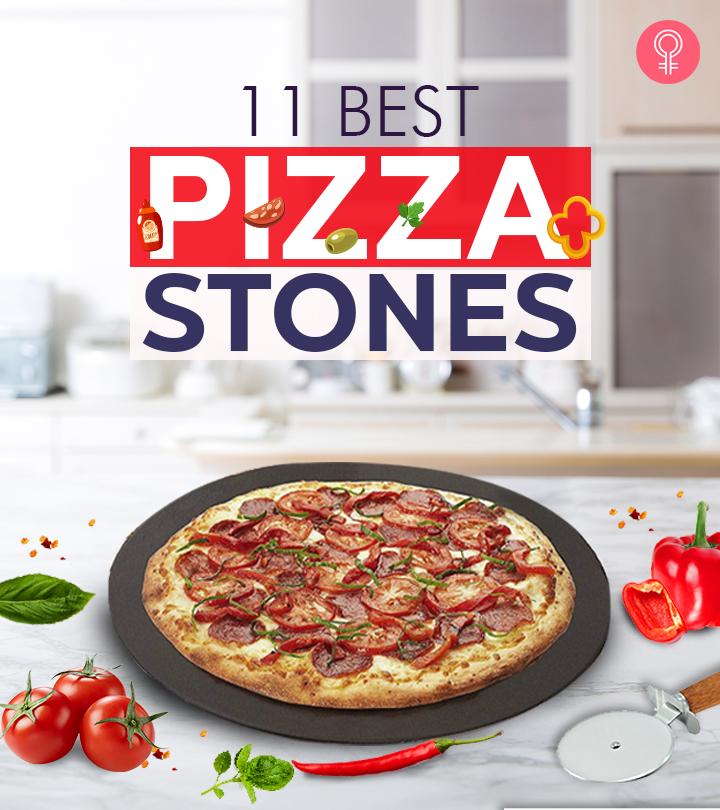 A pizza stone is a tool that helps in making a crispy pizza with a brown crust. It can also be used for baking breads, pies, and biscuits. The stone comes in a circular, rectangular, or square shape that makes it easier to bake your pizza. Its even heat distribution allows you to make a perfect batch of pizzas just like that of commercial pizza stations.
Here, we have listed the 11 best pizza stones available on the market. Take a look!
11 Best Pizza Stones
The Hans Grill Pizza Stone is ideal in shape and size. It works best for baking a large pizza. It is made from cordierite, which is the most reliable material used for manufacturing baking stones. The stone is ideal for ovens, BBQs, grills, or hobs. Apart from pizza baking, it can also be used for making sweet treats, breads, and other snacks. Its 1.5 cm thickness is ideal for optimal heat conductivity, giving you a puffy crust pizza. It comes with an additional wooden pizza peel that has a safety handle to avoid any cooking accidents.
Specifications
Dimensions: 17.7 x 16.6 x 2.5 inches
Weight: 8.23 pounds
Material: Cordiette
Pros
Versatile baking
Ideal size
Cooks evenly
Includes pizza peel
Easy to use
Cons
Pizza dough may get stuck to the stone
The JulyPanny Pizza Stone is made of formulated cordierite. It does not leave any odor post cooking. It is a multi-purpose baking stone perfect for making cookies, breads, or roasting and barbecuing. Its ideal thickness bakes every pizza slice evenly with a crispier crust. Its unique moisture-absorbent feature makes the crust of the pizza and pies crispier. It also includes a plastic scraper, which can be used for scraping residual dough on the stone's surface, or can be used as a dough cutter. You can rinse and clean the stone. Ensure you do not put it in the dishwasher. Do not use soap or detergent – it may absorb it and eventually change the food taste.
Specifications
Dimensions: 16.7 x 16.6 x 1.9 inches
Weight: 5.34 pounds
Material: Cordiette
Pros
Safe to use
Durable
Includes a scrapper
Thermal shock-resistant
Heat-balancing design
Cons
If you are ready to bake professional pizzas, this model is going to impress you. It has heat spirals at the bottom that distribute heat equally to each portion of the pizza. It also offers a good grip and does not slip off while in use. Its incredible design fits all types of standard ovens. Its large surface area allows extensive cooking. You can bake professional style pizza, bread, and cookies at home and impress all your guests. The cordierite material heats up quickly and retains the thermal power at the center, allowing the pizza to bake evenly. Its rectangular shape is ideal for serving homemade pizzas. The stone works well for readymade frozen pizzas too.
Specifications
Dimensions: 16 x 14 x 1.1 inches
Weight: 13.32 pounds
Material: Cordierite stone
Pros
Even heat conductivity
Durable design
Versatile baking
Suitable for frozen pizzas too
Anti-slip grip
Cons
Are you planning for a pizza night? Bring home this clay pizza round stone to bake the perfectly crispy pizza. You can easily bake vegetables, gourmet pies, pastries, and breads. It quickly absorbs heat from the oven and spreads it evenly for baking the ideal batch of pizzas. Its durable, non-cracking clay material is ideal for amateur chefs. It can bake on 500 degrees heat and takes no damage. It has a raised surface at the bottom, making it more stable and easy to pick. It is made from a blend of lead-free clays. Ensure you do not clean the stone with soap.
Specifications
Dimensions: 16 x 16 x 0.59 inches
Weight: 8.98 pounds
Material: Clay
Pros
Crack-resistant
Lead-free
Easy to use
Even heat transfer
Sturdy design
Withstands high heat
Stable design
Cons
The Cuisinart Pizza Stone includes a circular pizza paddle, a stainless steel pizza cutter, and a pizza peel with a foldable handle. It encompasses the essential tools needed for pre- and post-baking. You do not have to purchase any additional items for baking. It is lightweight. The stone is made of cordierite, which is extremely durable and helps with even heat distribution. Its smooth finish keeps the dough from sticking to its surface. The stone can easily heat upto 800 degrees. It even suits the traditional brick oven. It is an ideal match for grilling on propane, charcoal, or pellet grills. The stone also works great for serving bagels, waffles, tortillas, and toast. The stainless steel pizza cutter has finger protectors that keep your fingers away from the sharp blade.
Specifications
Dimensions: 13 x 2 x 13 inches
Weight: 5.7 pounds
Material: Cordierite
Pros
Easy to clean
Even baking
Good heat retention
Quick heating
Value for money
Includes pizza peel and cutter
Suits the traditional brick oven
Cons
The Unicook Pizza Stone is a multi-purpose baking essential. Its large size suits family parties and gatherings. It has a good heating capacity of upto 1,450°F (787°C). Its natural cordierite material makes it thermal shock-resistant and durable. The stone produces no odor while heating. It comes with an additional plastic scraper to remove the residue. Its invisible porous surface absorbs moisture from the pizza, making it crispier at the bottom and soft on the top. It also ensures your pizza is not soggy. It is advisable to clean the stone with plain water and keep it away from any chemicals for a long-lasting, odor-free baking experience. Also, ensure you do not season the stone with oil or grease.
Specifications
Dimensions: 12 x 12 x 0.6 inches
Weight: 5.19 pounds
Material: Cordierite
Pros
Comparatively lighter
Odorless baking
Even heat distribution
Moisture absorption
Heat retention
Cons
Dough may stick to the stone
The Heritage Ceramic Pizza Stone is best known for its 2 times faster pre-heating capacity than regular pizza stones. It helps you save power and money. Its unique ceramic surface is stainless and non-stick and ensures no more burnt food stains. It retains the new condition after a wash. The stone is completely odorless when used in a grill or an oven. The stone is crack-resistant too. It is built to last a lifetime.
Specifications
Dimensions: 15.79 x 15.79 x 2.48 inches
Weight: 3.15 pounds
Material: Ceramic
Pros
Pre-heats faster
Odor-free baking
Durable material
Stainless surface
Crack-resistant
Cons
May not fit into standard ovens
The Augosta Pizza Stone has good thermal shock resistance and heats upto 600 degrees. It works best for home ovens. You can try baking breads, cookies, and pastries as well with this multi-purpose cooking stone. You can show off your professional pizzeria skills to your friends and guests with the extra pizza peel. You can easily scrape the residue with a scrubbing pad or scraper. The stone's ideal thickness evenly transfers the heat to all sides of the baking item. It is comparatively lighter too.
Specifications
Dimensions: 15 x 12 x 0.59 inches
Weight: 6.6 pounds
Material: Stone
Pros
Thermal shock-resistant
Safe to use
Long-lasting
Optimal heat distribution
Multi-purpose baking
Cons
Suitable for personal size pizzas only
The Weber Gourmet Pizza Stone is made of cordierite. It helps absorb the moisture that results in a light, thin, and crispy pizza. It also comes with a carry rack that allows you to transport the pizza easily. The pizza stone adds smoky flavors and fits directly into the charcoal grate Gourmet BBQ system. The stone offers an enjoyably crispy pizza with perfectly grilled toppings and melted cheese.
Specifications
Dimensions: 14 x 14 x 4 inches
Weight: 0.145 ounces
Material: Cordierite
Pros
Long-lasting
Easy to clean
Carry rack allows easy transportation
Cons
None
The ROCKSHEAT Pizza Stone distributes the heat evenly and provides light, crispy pizza. It has a robust thermal stability and 1400-degree resistance. The stone comes with in-built handles that are designed for convenience. This product is a perfect food-grade stoneware that does not emit any odor even at high temperatures. The ROCKSHEAT Pizza Stone is 0.63 inches thick and does not require pre-heating. It can also be used for baking biscuits, breads, and cookies.
Specifications
Dimensions: 15 x 12 x 0.63 inches
Weight: 7.1 pounds
Material: Stone
Pros
Perfect thickness
Evenly distributes heat
Handles offer convenience
Cons
Pizza may get stuck to the stone
The CastElegance Pizza Stone bakes the crispiest brown pizza crust with melting delicious toppings. The thermarite stone absorbs moisture and distributes the heat evenly. This stone is thermal-resistant and does not smell even at high temperatures. The product is durable, long-lasting, and has a perfect dimension to fit any oven or grill. This pizza stone comes with a 4 x 5 inches scraper, an instruction guide, and a recipe book.
Specifications
Dimensions: 14 x 0.63 x 16 inches
Weight: 8.2 pounds
Material: Thermarite stone
Pros
Odor-resistant
Premium packaging
Easy to clean
Durable
Cons
May develop marks after prolonged use
These are the top 11 pizza stones you can buy online. The following buying guide tells you what to consider before buying a pizza stone.
What To Consider Before Buying A Pizza Stone
Material: Pizza stones are manufactured from various materials like steel, clay, ceramic, and cast iron. Cast iron is the most recommended of these. It heats faster than any other material. Steel is another good option.
Stone Type: The stone type is determined by the intensity of baking. Heavier baking needs a stone made of cast iron or steel. Lighter baking needs stones made of clay or ceramic.
Size And Weight: Pizza stones vary in shapes and sizes depending upon the material used for their manufacturing. The diameter of pizza stones usually ranges from 10 to 16 inches. Steel pizza stones are the heaviest and weigh around 25 pounds, whereas ceramic and cast iron stones weigh from 5 to 10 pounds.
Shape: Pizza stones come in round, rectangular, and square shapes. Round and square stones are used for making standard round pizzas, whereas rectangular stones can help one make pizzas of a unique shape.
Handles: Always choose a pizza stone that comes with a handle. Having a handle will help you conveniently remove the pizza from the grill or oven. Ensure the handle is heat-resistant to avoid hand burns.
Pizza stones are a worthwhile investment if you plan to have homemade pizzas. You can enjoy a healthier and fresher pizza with just the right taste! Pick from these top pizza stones and start making your favorite pizza today!
Frequently Asked Questions
What should I look for when buying a pizza stone?
Always check for the cordierite material that works best for baking the crispier crust. A lightweight pizza stone is easy to work with. Also, ensure it is odorless.
Does a pizza stone make a difference?
Buying a pizza stone makes your pizzas crispier. The even baking makes your pizza's crust crispy and the topping soft and chewy.
What is the best material to use for a pizza stone?
In terms of cost, ceramic pizza stones are relatively more appealing. However, cordierite and clay stones are more durable and allow proper heating. They also are crack- and heat-resistant.
What can I use instead of a pizza stone?
Alternatives to pizza stones include baking sheets, cast iron pans, grills, and regular tiles.
Should I preheat my pizza stone?
Preheating your pizza stone is always recommended for proper cooking of the crust. Also, it is advisable to dust cornmeal flour on the stone to keep the dough from sticking.
What temperature can a pizza stone withstand?
This differs from one pizza stone to another. Some stones may heat upto 600 degrees, whereas others can go upto 800 degrees.
Should I oil my pizza stone?
Pizza stones need pre-heating. However, oiling or greasing the stone might reduce its effectiveness. Some pizza stones are porous for better moisture absorption, and greasing with oil may block those pores and leave you with a soggy pizza.
How do you use a pizza stone for the first time?
Pre-heat the stone for a while, sprinkle some cornmeal on the surface, and place the dough at the center. Put the stone in the oven. Cook for the required temperature and remove the pizza from the stone using a pizza peel.
Can I use slate as a pizza stone?
Slate cannot withstand the high temperatures. It may crack and split. Using slate is not advisable.
How do I clean and care for a pizza stone?
Pizza stones should be cleaned with plain water and air-dried. Scrubbing pads are also recommended for cleaning them. No chemical soap or liquid cleaning is advisable.
Recommended Articles
The following two tabs change content below.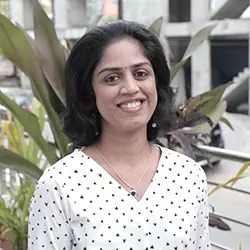 Harini Natarajan
As Chief Editor, Harini sets the tone and editorial direction for StyleCraze to deliver engaging, interesting, and authentic content revolving around women's health, wellness, and beauty. She has over 14 years of experience in content writing and editing for online media. She specializes in the areas of Beauty, Lifestyle, and Health & Wellness and is proficient in Medical Sciences (Biology, Human Anatomy and Physiology, and Biochemistry). Her background in Biomedical Engineering helps her decode and interpret the finer nuances of scientific research for her team. Harini is a certified bibliophile and a closet poet. She also loves dancing and traveling to offbeat destinations.