How To Follow The Curly Girl Method: Prepping, Styling, & Caring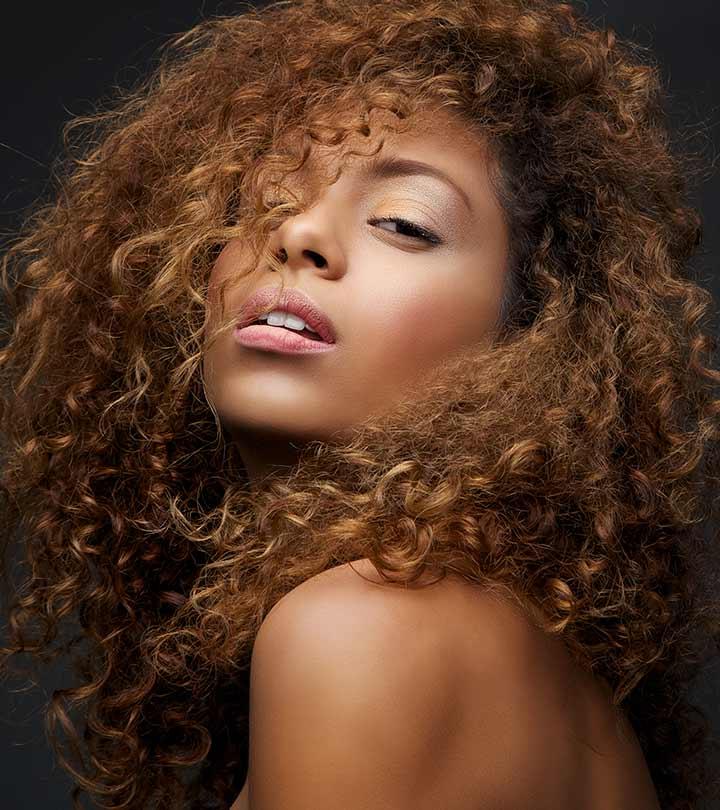 The Curly Girl Method has taken over the hair and beauty community in recent times. It is a simple and super-effective technique to get your wavy or curly hair to embrace its natural texture. If you have curly hair, you know the struggles of managing it. Lorraine Massey, a hairstylist and author of Curly Girl: The Handbook (the Bible for women with naturally curly or wavy hair), is hugely responsible for popularizing this method. The CG or No-Poo method has revived bouncy, natural curls. Also, it clarifies why certain hair has more frizz or does not stay sleek even after using tons of products. Learn everything you need to know about getting gorgeous curls here. Keep reading.
What Is The Curly Girl Method Or The CG Method?
The Curly Girl Method is a hair care approach adopted by people with naturally curly or wavy hair. It is especially for those who have experimented with almost all kinds of shampoos, conditioners, styling methods, and products, only to be left with frizzy and damaged hair.
CG Method came into the picture in 2001 when author Lorraine Massey published her best-seller, Curly Girl: The Handbook. She developed this method to encourage the use of healthy ingredients and procedures to protect and nourish your natural curls. It condemns the use of sulfate shampoos, silicones, drying alcohols, heating, ironing, and blow drying. There are certain rules that you need to follow while practicing the Curly Girl Method. So, let's take a look at what you should and should not be doing while following the CG regimen.
Don'ts
Don't wash your hair with shampoos containing drying alcohols, non-water soluble silicones, and sulfates such as Sodium Lauryl Sulfate, Ammonium Lauryl Sulfate, Alkylbenzene Sulfonate, and Sodium Cocoyl Sarcosinate as they are harmful and damage your hair.
Avoid using hair styling tools like straighteners, curling irons, and blow dryers as they dry out your hair and make it brittle.
Don't use combs or brushes as they cause frizz and breakage.
Avoid using hair perfumes.
Dos
As you can't stop using shampoo at the drop of a hat, start off by washing your hair with silicone- and sulfate-free cleansers and conditioners that are more gentle on your locks.
Start co-washing (conditioner washing) your hair instead of washing it with shampoo.
Natural hair emollients, proteins, moisturizers, and gels work wonders on your curls.
Getting your split ends trimmed regularly will go a long way in maintaining your curly hair.
Now that you have the basics right, let's dive into the Curly Girl Method and see what goes into following it.
How To Follow The Curly Girl Method – Wash And Style
The three keywords that Lorraine Massey stresses on to protect, nourish, and maintain your curls are: Cleanse, Condition, and Style. It does not matter whether you have wavy, curly, or coily hair. As long as you do these three things, you don't need to worry about anything.
So, what do you to do to flaunt your diva-like gorgeous curls? We've broken down the steps for you! Let's jump right in.
Washing your scalp with sulfate-free cleansers is good not only for you but also for the environment as it takes less water to wash your hair. Massage the cleanser onto your scalp gently after wetting your hair to get rid of all the dirt and residue. Rinse it off with water. This helps in retaining the natural oils in your hair.
Apply the conditioner evenly all through your hair. Leave it on for 5-10 minutes before washing it off with cold water. This will help in energizing your curls and reducing frizz.
Once you are done with conditioning, blot your hair with a towel to remove excess moisture. Set your curls by applying CG-friendly products such as natural gels, moisturizers, or leave-in conditioner.
Wasn't that the simplest hair care regimen you've ever come across? I was just as surprised as you when I first found out that The Curly Girl Method involves following just three simple steps. However, there are a few things you need to do before you start following this method to reap its benefits to the fullest. Here's what you need to know.
Prepping Your Hair For The Curly Girl Method
Before starting the CG Method, one needs to follow some mandatory rituals. This involves replacing your shampoos and conditioners with sulfate-, silicone- and alcohol-free cleansers, purchasing Curly Girl-friendly hair styling products, and getting rid of your split-ends. Once you have everything ready, nothing can stop you from getting the curls of your dreams.
Get your hair trimmed (and do so regularly) to avoid breakage.
Use your regular shampoo one last time before shifting to a sulfate-free cleanser. This removes the dirt, oil, and residue that is built up on your scalp.
Discard your regular shampoo and start following the 'low-poo' or 'no-poo' method.
After picking a sulfate-free shampoo, you will need to look for conditioners and hair styling products that cause minimal or no damage to your hair cuticles. This includes looking for hair masks, serums, leave-in conditioners, hair creams, and gels that are free of silicones and sulfates.
Still a bit confused about how to follow this marvelous method? Don't worry! Here's a tutorial that will take you through the Curly Girl Routine step by step.
Starting Your New Curly Girl Routine
Wash your hair with a cleanser and apply conditioner all over your scalp gently with your fingertips. Cleansing eliminates dirt, and conditioning moisturizes your hair. Do this once or twice a week, depending on your hair type and how dry your scalp is.
Distribute the conditioner evenly all through your hair and leave it on for 5-10 minutes. Detangle your curls gently with your fingers or a wide-toothed comb. Detangling your hair when it is dry will cause frizz and breakage.
Wash your hair with cold water as it locks in moisture, reduces frizz, and adds shine to your hair.
After washing your hair, blot it gently with a towel and apply a leave-in cream, gel, or serum (according to your hair type).
You can't leave your hair wet, right? So, the best way is to blow dry your hair with a diffuser attachment until it is 80% dry, and let it air dry the rest of the way. Both the bowl diffuser and the sock diffuser work well and decrease frizz.
When it comes to the Curly Girl Method, you need to not only begin the journey but also keep going. Apart from adhering to your routine, you need to maintain your curls on a regular basis. Let's see what goes into it that.
Maintaining Healthy Curls
Find an expert hair stylist who has the knowledge and experience in dealing with curly hair and the products that are good for maintaining it.
Get your split ends trimmed every 4 to 6 months.
It takes time for your hair to understand what you are doing with it. Let it adjust to the new CG regimen. This includes not freaking out when you feel like your hair is starting to look too greasy or weighed down. Let your hair embrace the new changes, and you will see your curls unfurl in all their glory in just a few days.
To recap, the curly girl method was made famous by 'Curly Girl; The Handbook,' which is essentially the Bible for naturally curly and wavy-haired women. It condemns the use of harsh ingredients on your curly locks, such as sulfates, drying alcohols, silicones, and other harmful substances. It has a list of dos and don'ts that you can follow to really care for your curly or wavy hair. It promotes the use of natural emollients and proteins to replenish your curls. It gives you additional tips to thoroughly care for curly hair, such as how you wash or condition your hair.
The following two tabs change content below.