40+ Things For Couples To Do At Home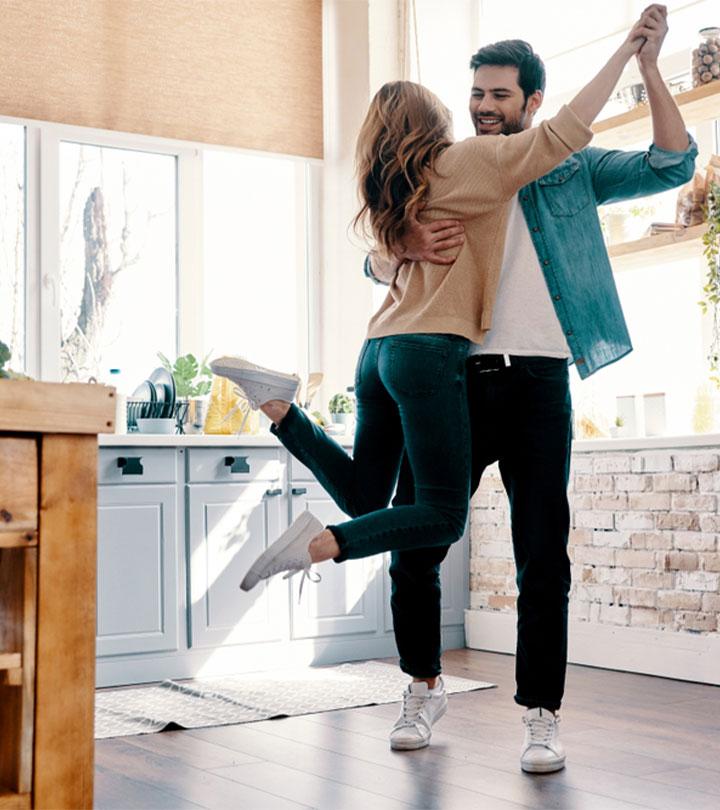 Being stuck at home can get boring after a while and affect your relationship with your partner. If you are in such a relationship phase, you need to indulge in interesting activities to keep the monotony at bay. Even simple activities like cooking, exercising, or reading books together with an innovative twist can help deepen your connection and make your love grow stronger each day. If you are looking for ways to spend some quality time with your partner indoors, try these 44 cool ideas when bored. Keep scrolling!
44 Things For Couples To Do At Home
1. Try A New Dish
Trying out new recipes together can be fun for couples. Look up unique recipes online and try them out. You will have some drool-worthy pictures for your social media and to gorge on together.
2. Exercise Together
Exercising at home can be a great way to spend time together while getting fit. You can join online workout classes or yoga sessions for couples. This way, you can keep each other motivated to exercise daily and enjoy the health benefits of a regular fitness regimen.
3. Learn A New Language
You can learn a new language with your partner that may come in handy in different walks of life. Enroll in part-time courses, take online classes, or participate in virtual chatrooms with language enthusiasts. Reading poetry or watching movies in that language can also help you enhance your speaking and listening skills. And who knows, this activity may lead to a trip to the place where the language is widely spoken!
4. Learn A Musical Instrument
This hobby is ideal for couples who love music. Learning and playing musical instruments can be therapeutic and help relieve stress. You can subscribe to various apps and courses, such as EarMaster, Tonara, MuseScore, Chord, Symphony Pro, or Yousician that teach music theories, vocals, and instrumentals. Even if you have just learned the basics, conduct at-home concerts for your partner and surprise them.
5. Try Gardening
Gardening is a relaxing activity, and doing it with the person you love can make you extra happy. From sowing a seed and taking care of it to watch the plant grow, the entire journey can be a rewarding experience for both of you. Gardening will help you feel closer with your significant other and help you both grow as a team. If you want to make your garden a couples' retreat to bond, add seating, a water feature, and dim lighting to make the space beautiful and cozy.
6. Play Board Games
Board games are a fun and entertaining way to spend quality time together. From Monopoly and Cluedo to Twister, you can choose from a wide range of board games. Whether you want to rekindle some childhood memories or try something new for a date night, board games are a great choice. You can also challenge your partner by playing a chess match or Uno – everything in the comfort of your home.
7. Redecorate Your House
Be it your living room, kitchen, or bedroom, redesigning it according to your and your partner's idea will be great. Redecorating a part of your house may give you a better sense of comfort and coziness, help you manage your stress, and benefit your mental health. It gives you a sense of control over your life, and a change in setting mimics a change of environment, which keeps the boredom away. You can change your furniture to make more space or decorate a corner of your house for some "me" time. Add things that make you happy and help you relax.
8. Have An Indoor Picnic
A picnic in your living room, balcony, or garden is a great idea to keep the fun alive in your relationship. Get your favorite snacks, lay down comfy blankets and pillows, and enjoy each other's company. You can also put on some romantic music and enjoy the weather while sipping on cocktails.
9. Plan For A Vacation
Planning for a trip can give you a sense of happiness and fulfillment. Discuss with your partner and make a detailed itinerary for your upcoming vacation. From looking up places to visit hotels to stay in, it can be a fun activity for both of you. You can also make a list of foods you want to eat while vacationing. It will also give you an idea about what kind of savings are required to make this vacation a success.
10. Organize A Karaoke Night
Organizing a karaoke night at home and sing your heart out. Set up a karaoke machine at home and take turns singing for each other. You can prepare a special playlist of songs that will take you both down memory lane. Add a disco ball as well to give your at-home musical performance a real karaoke experience.
11. Solve Puzzles
Solving puzzles with your partner can help you relax and unwind after a long day at work. Playing jigsaw, Trivia, Brain Teaser, Word Search, or Sudoku is an excellent way to inspire conversations rather than scrolling through your phone or watching TV. Moreover, you can also frame the entire puzzle as memorabilia of the time you spent with your partner.
12. Make Legos
If you and your partner like creating buildings, an evening spent playing Legos can be a great way to bond. It will provide you an opportunity to plan and create something together, which can feel satisfying. This activity also helps enhance your teamwork as a couple and improves your communication skills.
13. Try Jewelry Making
You can use DIY jewelry kits available on the market to create cute and fashionable jewelry together. What's even more adorable is that you can gift this jewelry to your partner on Valentine's Day or anniversaries and flaunt them together in public. If you master this craft, you can also turn your jewelry hobby into a thriving business.
14. Volunteer
Volunteering is a great way to give back to your community and the people around you. It can also make you both feel happy and satisfied. Discuss with your partner about what social cause interests both of you and start volunteering. It is a challenging experience that can strengthen your bond and help you learn more about your partner. If you both teach together or help improve others' lives, your mutual dependency and collaboration as a couple become powerful.
15. Check Out DIY Projects
If you have stuff lying around your house, use them to create cute DIY projects together. These projects will not let you get bored or feel wasted. This creative activity is great for spending quality time with each other while having fun. These projects are affordable and will allow you to gain new experiences without burning a hole in your pocket.
16. Read A Book
Couples who read together stay together. Pick a book, read it, and exchange your viewpoints. Choose a book from any topic and cozy up to have a fun reading session. Reading can easily uplift your mood and cheer you up. It also keeps the mind active and engaged, closing the door for negative thoughts.
17. Learn Calligraphy
Learn the beautiful art of calligraphy together and create beautiful and frame-worthy manuscripts and letters. You can take up online classes or use the internet to learn this art. However, this hobby will take a lot of patience and practice to master. So, don't give up too soon.
18. Get Ready For A Photoshoot
Plan and have a photoshoot in your garden, backyard, or terrace. Figure out how to pose for pictures and practice some poses beforehand to see what's comfortable for you. This way, you will have tons of pictures to frame and keep as memories. You can coordinate your outfits, pick up special poses, or even recreate your older photos. You can also create some fake candids. This fun activity will give you tons of photos that can adorn your wall.
19. Arrange A Barbecue Night
Barbecue and a summer evening go hand in hand. If you have a backyard and a barbecue grill, plan a barbecue night. What can be more fun than food, wine, and your bae by your side? Prepare deliciously grilled veggies, burgers, and meat and pair with your favorite wine. You can also put on some romantic music and enjoy a romantic date with your partner.
20. Indulge In A Spa Session

There's nothing more relaxing than a good massage. Plan a spa night where you two can give each other massages. Light some scented candles and play relaxing music to set the mood. A spa night is perfect to destress and lower your anxiety. This shared experience encourages intimacy and affection and leads to a stronger, closer bond. You can also relax in a bubble bath with your partner. Use this time to chat with each other and relax.
21. Play Charades
This is a great game to play on a weekend night. Pour yourself and your partner a glass of your favorite wine and start playing charades. It can help improve your communication skills and foster trust, empathy, compassion, and intimacy.
22. Prepare A Scrapbook
Scrapbooks are a great time capsule for you to look back and cherish the old, happy days. Make a scrapbook of your favorite memories with photos and special mementos from your trips or date nights. You can also collect childhood pictures of both of you and add them to your scrapbook. This engaging activity is a stress-buster and will take your mind off worry, anger, and anxiety. It will transport you and your partner to a world of memories, away from any concerns.
23. Learn Dancing
From salsa to Viennese waltz, you can take up online dancing classes together. Learning a new dance form is a great way to jazz up your romantic life while staying healthy. You will also get to show off your amazing dance moves at your next party.
24. Start A Blog
Start a couple's blogging website where you can write about relationship goals, interesting recipes, lifestyle, or fashion. From relationship advice to sharing your favorite books, you can do anything on your blogging website.
25. Start A YouTube Channel Together
Starting a couple's YouTube channel can give you both a platform to express your creativity with fun yet informative videos about anything and everything in your life. From vlogs to fun couple challenges, you can try out numerous activities. It is a fun and interactive hobby and can potentially turn you into a popular online personality.
26. Binge-Watch TV And Movies
There's nothing better than cuddling on the bed or sofa and binge-watching your favorite series or movies with a big bowl of popcorn. A lazy activity indeed, but binge-watching a show or a movie with your partner is surely enjoyable. According to a study, watching TV together can improve a couple's relationship and experience deeper connection through the shared interests in characters and plots (1).
27. Play Video Games
You can buy a game console or play one on your laptop. To make it more interesting, find video games that will allow you two to play as a team against other players. Playing video games can enhance your team-building skills and teach you how to work together.
28. Paint Together
You can paint beautiful art pieces to decorate your house or office or gift them to your friends and family. Painting is a good way to calm your mind and feel relaxed. Buy painting supplies, canvas, and colors, indulge in a paint date night alongside your partner. To make it interesting, keep your favorite snacks and beverages ready! Cheese, chocolate, and drinks will make your painting session even more unique.
29. Do Skin Care Together
You can set a beauty and skin care routine with your partner. Following this practice together will make the process fun while keeping your skin healthy and happy. This will add up to your couples' relationship goals and help you lead a better life. Introduce your partner to skin care basics, make them follow the bedtime beauty regimen, or whisk some homemade packs. You can also pamper each other by giving shoulder, neck, and back massages after  a hectic day at work.
30. Write Love Letters
Love letters are one of the most romantic ways to express your feelings. Pen down your thoughts and feelings about your partner and seal them in an envelope. Hide it around the house for them to find. You can also add some romantic quotes or refer to their favorite music or poem to make it extra special. Add a flower with the letter to make it more romantic.
31. Stargaze
There's nothing more romantic than lying back and watching the sky on a starry night with your partner. Go out to your balcony or backyard and spread a mattress with some fluffy pillows to lie on. Put on some serene music and get lost in the starry night sky together.
32. Make A Wish List
Make a wish list and note down the things you want to purchase or do. Setting aside an evening to prepare such a list will help both of you sort out your finances while setting a deadline on when to buy a certain item.
33. Confession Night
Dedicate a night to reveal all your secrets to your partner. Remember to be compassionate and not judgmental. This activity will help you and your partner build trust. It is a good chance to share and listen to each other's deepest secrets without the fear of being judged.
34. Bring Out The Ouija Board
If you and your partner are big fans of supernatural and unsolved mysteries, spending an evening playing with an Ouija board or narrating stories about mysteries can be a great activity. Just be careful not to welcome any evil spirits into your house!
35. Take An Online Personality test
There are tons of online personality tests that you two can take up and learn about your unique personality traits. You can also go for fun quizzes like finding out which pizza best describes you and your partner. These activities are helpful to check your compatibility and better understand your significant other.
36. Have A Bubble Bath Together
Draw a bubble bath for you and your partner. You can add bath salts, light your favorite scented candle, and put on some light music. Dip yourself in the bath with your partner along with a glass of your favorite wine. A bubble bath will help you relax and destress after a long day and the bath.
37. Play 'Truth Or Dare'
Playing a round of 'truth or dare' with your partner can be super fun. You can give each other funny dares or know secrets that your partner may be hiding from you. This game can encourage your partner to tell you more about themselves and vice versa. Add a fun twist to the regular truth and dare by making it a tipsy game.
38. Tell Each Other Dad Jokes
This might be an awkward activity, but if you want to find out whose jokes can make people cringe, spend an evening telling each other dad jokes. You can also tell your partner an excellent joke and note down their reactions. In the end, the one who makes the other cringe more should win this game.
39. Make Cocktails Together
Spend your weekend evenings experimenting with new cocktail recipes or recreate the old ones that you both are experts in. If making a cocktail equally interests you or your partner, you can take classes on mastering this skill. Why grab a cocktail at the bar when you can learn how to make them with your private mixologist in the home?
40. Do Couples Yoga
Couples' yoga is a great way to keep your mind and body healthy. Doing yoga with your partner can make you feel more satisfied in your relationship –  it enhances romantic attraction and forges meaningful connections. The calming practice enables the partners to relate to each other through assisted poses. This helps strengthen your trust and develop honest communication. Yoga can also positively affect your sex life by reducing your stress.
41. Start A Small-Scale Business Together
 If you or your partner is skilled at painting or baking, you can start a small-scale business together. It will help improve your bond and communication skills as you work as a team. And who knows, this side business can grow into something big in the future!
42. Watch A Match Together
If you both are big fans of sports, watch a live game together. You can also watch old matches or highlights when your favorite teams are not playing. Don't forget to stock up on snacks and beverages while watching the game.
43. Plan Matching Outfits Together
Wearing matching outfits is an adorable way to show the world that you are a couple blooming in love. Plan your outfits based on themes or favorite fictional characters. Caption your pictures and post them on your social media – your followers will surely love seeing adorable pictures of you two.
44. Make Tik Tok Videos
Tik Tok has taken the world by storm. From dancing to lip syncing, you can create tons of videos together to kill boredom and try something for fun. You can also make videos on the latest couple trends and share tips on couple goals and marriages.
Try these interesting activities with your partner to make your time at home more fun. Spending quality time with your significant other makes every day feel like a date and strengthens your connection.  So, indulge in these cool and cute activities to refresh your friendship and enjoy your togetherness.
Sources
Articles on StyleCraze are backed by verified information from peer-reviewed and academic research papers, reputed organizations, research institutions, and medical associations to ensure accuracy and relevance. Read our editorial policy to learn more.
Let's stay home and watch TV: The benefits of shared media use for close relationships
https://journals.sagepub.com/doi/abs/10.1177/0265407516660388
Recommended Articles
The following two tabs change content below.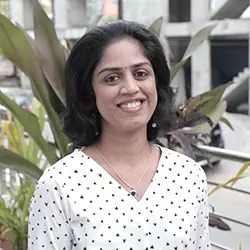 As Chief Editor, Harini sets the tone and editorial direction for StyleCraze to deliver engaging, interesting, and authentic content revolving around women's health, wellness, and beauty. She has over 14 years of experience in content writing and editing for online media. She specializes in the areas of Beauty, Lifestyle, and Health & Wellness and is proficient in Medical Sciences (Biology, Human Anatomy and Physiology, and Biochemistry). Her background in Biomedical Engineering helps her decode and interpret the finer nuances of scientific research for her team. Harini is a certified bibliophile and a closet poet. She also loves dancing and traveling to offbeat destinations.