Cool Things For Couples To Do At Home When Bored
From cooking to puzzles – unearth the endless possibilities for growing your love together!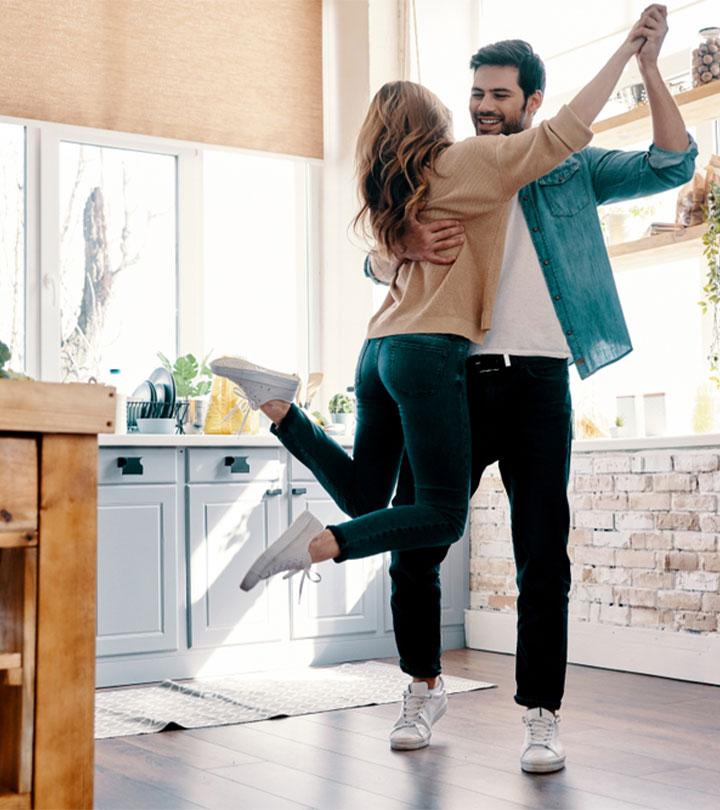 Spending too much time at home can get boring and monotonous, especially for couples. However, there are plenty of things for couples to do at home that can break the monotony and make things interesting. Whether the weather outside is holding you back or you simply do not have any plans, these activities can keep both of you engaged. You can boost your relationship by giving a new spin to everyday activities like cooking, exercising, or reading. In the longer run, you will realize how these boring moments would turn into bonding moments to know one another better. Check out these 89 indoor date night ideas or fun indoor activities to do with your partner when you are bored. Scroll down.
89 Things For Couples To Do At Home
1. Try A New Dish
Cooking together can be fun for couples. Look up unique recipes online and try them out. You discover what cuisines tickle the taste buds of your partner. Experimenting with recipes can make for some fun memories. This can also be a great time to talk to each other as you cook. Not to mention the delicious meal you gorge on together over some candlelight.


Quick Tip
You may also make a book of recipes of all the dishes you both cooked together. It will be a wonderful token of your love for each other.
2. Exercise Together
Couple workouts are a great way to spend time together. Indulge in fun cardio workouts or weightlifting or enroll in an online yoga or Pilates class. This will not only reduce your stress but also keep you motivated to lead a happy, healthy lifestyle together.
3. Learn A New Language
You can learn a new language with your partner that may come in handy in different walks of life. Enroll in part-time courses, take online classes, or participate in virtual chat rooms with language enthusiasts. Reading poetry or hosting a movie night in that language can also help you enhance your speaking and listening skills. And who knows, this activity may lead to a trip to the place where the language is widely spoken!
4. Learn A Musical Instrument
This hobby is ideal for couples who love music. Learning and playing musical instruments can be therapeutic and help relieve stress. You can subscribe to various apps and courses, such as EarMaster, Tonara, MuseScore, Chord, Symphony Pro, or Yousician that teach music theories, vocals, and instrumentals. Even if you have just learned the basics, conduct at-home concerts for your partner and surprise them.
5. Try Gardening
Gardening is a relaxing activity, and doing it with the person you love can make you extra happy. From sowing a seed and taking care of it to watch the plant grow, the entire journey can be a rewarding experience for both of you. Gardening will help you feel closer with your significant other and help you both grow as a team. If you want to make your garden a couples' retreat to bond, add seating, a water feature, and dim lighting to make the space beautiful and cozy.
6. Play Board Games
Board games are a fun and entertaining way to spend quality time together. From Monopoly and Cluedo to Twister, you can choose from a wide range of board games. Whether you want to rekindle some childhood memories or try something new for a date night, board games are a great choice. You can also challenge your partner to a chess match or Uno game – everything in the comfort of your home.
7. Redecorate Your House
Be it your living room, kitchen, or bedroom, redesigning it according to your and your partner's idea will be great. Redecorating a part of your house may give you a better sense of comfort and coziness, help you manage your stress, and benefit your mental health. It gives you a sense of control over your life, and a change in setting mimics a change of environment, which keeps the boredom away. You can change your furniture to make more space or decorate a corner of your house for some "me" time. Add things that make you happy and help you relax.
8. Have An Indoor Picnic
A picnic in your living room, balcony, or garden is a great idea to keep the fun alive in your relationship. Get your favorite snacks, lay down comfy blankets and pillows, and enjoy each other's company. You can also put on some romantic music and enjoy the weather while sipping on cocktails.
9. Plan A Vacation
Planning a trip can give you a sense of happiness and fulfillment. Discuss ideas with your partner and make a detailed itinerary for your upcoming vacation. From looking up places to visit hotels to stay in, it can be a fun activity for both of you. You can also make a list of food items you want to eat while vacationing. It will also give you an idea about what kind of savings are required to make this vacation a success. Go ahead and even create a bucket list of places you'd like to visit so you can plan a trip once a year.
10. Organize A Karaoke Night
Organize a karaoke night at home and sing your heart out. Set up a karaoke machine at home and take turns singing for each other. You can prepare a special playlist of songs that will take you both down memory lane. Add a disco ball as well to give your at-home musical performance a real karaoke experience. Let your heart feel free while you let all other worries fade with the sound of the music.
11. Solve Puzzles
Solving puzzles with your partner can help you relax and unwind after a long day at work. Playing jigsaw, Trivia, Brain Teaser, Word Search, or Sudoku is an excellent way to inspire conversations rather than scrolling through your phone or watching TV. Moreover, you can also frame the entire puzzle as memorabilia of the time you spent with your partner.


Quick Tip
You can get customized jigsaw puzzles of your own photos. Joining the pieces of a favorite moment of yours will be interesting and fun.
12. Make Legos
If you and your partner like creating buildings, an evening spent playing Legos can be a great way to bond. It will provide you an opportunity to plan and create something together, which can feel satisfying. This activity also helps enhance your teamwork as a couple and improves your communication skills. You can display your work as a showpiece at home that you can keep looking at later.
13. Try Jewelry Making
You can use DIY jewelry kits available on the market to create cute and fashionable jewelry together. What's even more adorable is that you can gift this jewelry to your partner on Valentine's Day or anniversaries and flaunt them together in public. If you master this craft, you can also turn your jewelry hobby into a thriving business.
14. Volunteer
Volunteering is a great way to give back to your community and the people around you. It can also make you both feel happy and satisfied. Discuss with your partner about what social cause interests both of you and start volunteering. It is a challenging experience that can strengthen your bond and help you learn more about your partner. If you both teach together or help improve others' lives, your mutual dependency and collaboration as a couple become powerful.
15. Check Out DIY Projects
If you have stuff lying around your house, use them to create cute DIY projects together. These projects will not let you get bored or feel wasted. This creative activity is great for spending quality time with each other while having fun. These projects are affordable and will allow you to gain new experiences without burning a hole in your pocket.
16. Read A Book
Couples who read together stay together. Pick a book, read it, and exchange your viewpoints. Choose a book from any topic and cozy up to have a fun reading session. Reading can easily uplift your mood and cheer you up. It also keeps the mind active and engaged, closing the door for negative thoughts.
17. Learn Calligraphy
Learn the beautiful art of calligraphy together and create beautiful and frame-worthy manuscripts and letters. You can take up online classes or use the internet to learn this art. However, this hobby will take a lot of patience and practice to master. So, don't give up too soon. If you and your partner enjoy taking up creative hobbies, you might want to take this up as a challenge.
18. Get Ready For A Photoshoot
Plan and have a photoshoot in your garden, backyard, or terrace. Figure out how to pose for pictures and practice some poses beforehand to see what's comfortable for you. This way, you will have tons of pictures to frame and keep as memories. You can coordinate your outfits, pick up special poses, or even recreate your older photos. You can also create some fake candids. This fun activity will give you tons of photos that can adorn your wall.
19. Arrange A Barbecue Night
Barbecue and a summer evening go hand in hand. If you have a backyard and a barbecue grill, plan a barbecue night. What can be more fun than food, wine, and your bae by your side? Prepare deliciously grilled veggies, burgers, and meat and pair with your favorite wine. You can also put on some romantic music and enjoy a romantic date with your partner.
20. Indulge In A Spa Session

There's nothing more relaxing than a good massage. Plan a spa night where you two can give each other massages. Light some scented candles and play relaxing music to set the mood. A spa night is perfect to destress and lower your anxiety. This shared experience encourages intimacy and affection and leads to a stronger, closer bond. You can also relax in a bubble bath with your partner. Use this time to chat with each other and relax.
21. Play Charades
This is a great game to play on a weekend night. Pour yourself and your partner a glass of your favorite wine and start playing charades. It can help improve your communication skills and foster trust, empathy, compassion, and intimacy.
22. Prepare A Scrapbook
Scrapbooks are a great time capsule for you to look back and cherish the old, happy days. Make a scrapbook of your favorite memories with photos and special mementos from your trips or date nights. You can also collect childhood pictures of both of you and add them to your scrapbook. This engaging activity is a stress-buster and will take your mind off worry, anger, and anxiety. It will transport you and your partner to a world of memories, away from any concerns.
23. Learn Dancing
From salsa to Viennese waltz, you can take up online dance lessons together. Learning a new dance form is a great way to jazz up your romantic life while staying healthy. You will also get to show off your amazing dance moves at your next party.
24. Start A Blog
Start a couple's blogging website where you can write about relationship goals, interesting recipes, lifestyle, or fashion. From relationship advice to sharing your favorite books, you can do anything on your blogging website. You can also make it your space to share your daily lives.
25. Start A YouTube Channel Together
Starting a couple's YouTube channel can give you both a platform to express your creativity with fun yet informative videos about anything and everything in your life. From vlogs to fun couple challenges, you can try out numerous activities. It is a fun and interactive hobby and can potentially turn you into a popular online personality.
26. Binge-Watch TV And Movies
There's nothing better than cuddling on the bed or sofa and binge-watching your favorite series or movies with a big bowl of popcorn. A lazy activity indeed, but binge-watching a show or a movie with your partner is surely enjoyable. According to a study, watching TV together can improve a couple's relationship and experience deeper connection through the shared interests in characters and plots (1).
27. Play Video Games
You can buy a game console or play one on your laptop. To make it more interesting, find video games that will allow you two to play as a team against other players. Playing video games can enhance your team-building skills and teach you how to work together. It will also help you cultivate the habit of building a healthy relationship rather than being competitive.
28. Paint Together
You can paint beautiful art pieces to decorate your house or office or gift them to your friends and family. Painting is a good way to calm your mind and feel relaxed. Buy painting supplies, canvas, and colors, indulge in a paint date night alongside your partner. To make it interesting, keep your favorite snacks and beverages ready! Cheese, chocolate, and drinks will make your painting session even more unique.
29. Do Skin Care Together
You can set a beauty and skin care routine with your partner. Following this practice together will make the process fun while keeping your skin healthy and happy. This will add up to your couples' relationship goals and help you lead a better life. Introduce your partner to skin care basics, make them follow the bedtime beauty regimen, or whisk some homemade packs. You can also pamper each other by giving shoulder, neck, and back massages after a hectic day at work.
30. Write Love Letters
Love letters are one of the most romantic ways to express your feelings. Pen down your thoughts and feelings about your partner and seal them in an envelope. Hide it around the house for them to find. You can also add some romantic quotes or refer to their favorite music or poem to make it extra special. Add a flower with the letter to make it more romantic.
31. Stargaze
There's nothing more romantic than lying back and watching the sky on a starry night with your partner. Go out to your balcony or backyard and spread a mattress with some fluffy pillows to lie on. Put on some serene music and get lost in the starry night sky together.
32. Create A Wish List
Create a wish list and note down the things you want to purchase or do together. Setting aside an evening to prepare such a list will help both of you sort out your finances while setting a deadline on when to buy a certain item. Plus, you will be able to introduce each other to your likes and dislikes, and you can grow on knowing each other. It allows you to explore new things!
33. Plan A Confession Night
Dedicate a night to reveal all your secrets to your partner. Remember to be compassionate and not judgmental. This activity will help you and your partner build trust. It is a good chance to share and listen to each other's deepest secrets without the fear of being judged. Remember, a confession night should never turn into a fight. If it does, you are giving your partner the signal that there is no safe space for communication with you.
34. Bring Out The Ouija Board
If you and your partner are big fans of supernatural and unsolved mysteries, spending an evening playing with an Ouija board or narrating stories about mysteries can be a great activity. Just be careful not to welcome any evil spirits into your house!
35. Take An Online Personality test
There are tons of online personality tests that you two can take up and learn about your unique personality traits. You can also go for fun quizzes like finding out which pizza best describes you and your partner. These activities are helpful to check your compatibility and better understand your significant other.
36. Enjoy A Bubble Bath Together
Draw a bubble bath for you and your partner. You can add bath salts, light your favorite scented candles, and put on some light music. Dip yourself in the bath with your partner along with a glass of your favorite wine. A bubble bath will help you relax and destress after a long day and the bath.
37. Play 'Truth Or Dare'
Playing a round of 'truth or dare' with your partner can be super fun. You can give each other funny dares or know secrets that your partner may be hiding from you. This game can encourage your partner to tell you more about themselves and vice versa. Add a fun twist to the regular truth and dare by making it a tipsy game.
38. Tell Each Other Dad Jokes
This might be an awkward activity, but if you want to find out whose jokes can make people cringe, spend an evening telling each other dad jokes. You can also tell your partner an excellent joke and note down their reactions. In the end, the one who makes the other cringe more wins this game.
39. Make Cocktails Together
Spend your weekend evenings experimenting with new cocktail recipes or recreate the old ones that you both are experts in. If making a cocktail equally interests you or your partner, you can take classes on mastering this skill. Why grab a cocktail at the bar when you can learn how to make them with your private mixologist in the home? And then, you can get drunk on your creations and turn it into a dance party, or you can invite some friends over to try what you made.
40. Do Couples Yoga
Couples' yoga is a great way to keep your mind and body healthy. Doing yoga with your partner can make you feel more satisfied in your relationship – it enhances romantic attraction and forges meaningful connections. The calming practice enables partners to relate to each other through assisted poses. This helps strengthen your trust and develop honest communication. Yoga can also positively affect your sex life by reducing stress.
41. Start A Small-Scale Business Together
 If you or your partner is skilled at painting or baking, you can start a small-scale business together. It will help improve your bond and communication skills as you work as a team. And who knows, this side business can grow into something big in the future!
42. Watch A Match Together
If you both are big fans of sports, watch a live game together. You can also watch old matches or highlights when your favorite teams are not playing. Don't forget to stock up on snacks and beverages while watching the game.
43. Plan Matching Outfits Together
Wearing matching outfits is an adorable way to show the world that you are a couple blooming in love. Plan your outfits based on themes or favorite fictional characters. Caption your pictures and post them on social media – your followers will surely love seeing adorable pictures of you two. Better yet, frame them up so it keeps reminding you of the fun time everytime you look at them.
44. Make Tik Tok Videos Or Reels
Tik Tok has taken the world by storm. From dancing to lip syncing, you can create tons of videos together to kill boredom and try something for fun. You can also make videos on the latest couple trends and share tips on couple goals and marriages. Instagram Reels are also fun to try.
45. Learn New Skills
Enroll in any online course or teach each other a skill you might know and vice versa. The anticipation of spending time together while learning new things helps you develop shared goals and vision. Moreover, learning and growing together brings you closer and takes your relationship forward. You can even use the skill to start a small business on the side.
46. Try Viral Challenges
Participate in viral challenges to add some excitement and thrill to your life. You can do the "ice bucket challenge" or the "try not to laugh challenge." You can also go for the "my partner does my makeup challenge" for hilarious results or to be surprised by your husband or boyfriend's makeup skills. It allows you to work as a team, support them from the sidelines, and motivate them.
47. Plan A Cozy Movie Night
Plan a cozy movie date night and pick a movie or two that you both like. You can play some old romantic movies to turn up the romance, watch a horror movie to get close to your partner or a comedy to just have a fun time laughing together. Bring the blankets, cook some popcorn, switch on the dim lights, play the movie, and cuddle up.
48. Take A Couples Quiz
A couples quiz is a fun way of ending boredom. They might feel cheesy and corny, but they are a great way to spend time together while getting to know each other and enjoying yourself. You can ask questions about each other's likes and dislikes, on important milestones you have crossed in your relationship, or take an online quiz and see who knows whom the best.
49. Go On A Virtual Tour
Many places give a virtual tour online. Grab two comfy chairs and a bottle of champagne, choose a far-away place that you always wanted to visit with your partner, and go on a virtual tour. Take a walk in the gardens, or time travel to a museum. You can order take-out instead of cooking to enjoy the virtual date.
50. Try Baking
If both of you love spending time in the kitchen, try baking delicious cookies or a cake. Play some music, engage in light conversations, and create a romantic atmosphere. Satisfy your sweet tooth while creating even sweeter memories. Each of you can bake on your own and later see who wins the taste test.
51. Have A Dance Face-Off
Have a dance face-off if both of you are great dancers or equally bad. You can learn a routine and then record it to see who does it the best, or play trendy songs and do the signature moves while blindfolded. It will keep the spark alive in your relationship and encourage you to explore new things with each other.
52. Write Short Drama Skits
Tap into your creativity and pen down short drama skits. Include melodrama, comedy, romance, or fantasy to create a wholesome piece. You can either prepare one drama skit together or two separate scripts and exchange them with each other. You are sure to have a few laughs and get an insight into your partner's artistic personality.
53. Organize A Treasure Hunt
You can organize a treasure hunt at your home. You may section the house into different areas and hide clues and things around it. One partner can be the master and the other person the seeker. You may add obstacles on the way to make it more fun and plan a reward for the winner.
54. Have A Couples Picnic In Bed
You don't have to necessarily step out of your house to have a picnic. You can have a lovely picnic in your bed. Spread a lively blanket to exude garden vibes and open the windows to let the sunshine in. Pack lunch in a basket and cuddle up with some books to enjoy a relaxing picnic in bed.
55. Recreate Your First Date
Reenact your first date with a twist. Dress up in the same clothes and set up the table and the surroundings to resemble your first date. Reminisce what your impression of the other person was at the beginning of the date and at the end. You can also share what made each of you ask the other on the date or agree to it and what their feelings are at present about the decision. It will be a fun way to rekindle the spark in your relationship.
56. Build A Fort
Create a blanket fort with boxes, cushions, and sheets. You can build mock interiors like a fire pit, tables, chandeliers, etc. Enjoy hot chocolate with marshmallows while weaving a heroic story about the fort. You can also take turns in framing the tale and continuing it where the other person ends.
57. Imitate Each Other
You can imitate each other for fun. Dress like your partner and copy their mannerisms, habits, the way they talk, and their body language. You are sure to get some laughter out of it. Alternatively, you may also enact a person from your family that you both know and have the other person guess who. However, remember to be respectful and kind.
58. Host A Tea Party
Dress up in vintage clothes and host a tea party like in the 1700s. Set up a table with fancy crockery in your backyard or dining room to imitate the Victorian style. Search up some recipes and games appropriate for tea parties. You can also role play as a baron/knight who is wooing the princess to add more fun.
59. Invent Your Own Code Language
Learning a new language is fun but inventing your own code language is turning the dial up a notch on the intimacy scale. You can write down the codes and how to pronounce the letters and words on a paper. Use them in public when you have something to convey to your partner without letting the others know.
60. Share Photo Albums
Share your childhood memories and family photos with your partner. Go through the albums to learn more about each other and their families. Share instances when particular photos were taken and reminisce about your childhood moments and events. This will create a deeper connection between the two of you.
61. Rewrite Wedding Vows
Rewrite your wedding vows with your spouse. Your lives and situations may have changed significantly after years of marriage, and you may have a different perspective and altered marriage/relationship goals. This way, rewriting the vows can show where you both are in terms of your goals for the relationship and can reveal how in sync you both are.
62. Plan Storytelling Nights
Hold storytelling nights and let your creative juices flow. You can write a story and share parts of it each night. While you may not be a skilled storyteller, you can be as creative and unrealistic as you want with your imagination. It can be a fun experience filled with a rollercoaster of emotions and laughter. When both of you are finished with a story, you can publish it online on your blog.
63. Try Body Painting
Get your hands on body painting kits and a sheet canvas. Smear body paint on yourselves and create an abstract art piece. Get as messy as you want to be and splatter paint all over your partner. Albeit tiring, it is a creative visual representation of love.
64. Put On A Concert
Put on a private concert for your loved one. Start with an ID check, serve them drinks, play the background noise recording of a large crowd to create pseudo-concert feels. Dim the lights, bring out a spotlight, and sing their favorite songs and maybe dance along to enhance the performance.
65. Spend The Day In Bed
Laze around the day in bed. Pause your busy life for a day and spend it basking in love. It's an underrated luxury that you need to try for strengthening your relationship and detoxing yourself. You can play board games or video games, massage each other's backs and feet, and have light conversations.
66. Facetime Family Members And Friends
A busy life leaves little time to contact family members and friends. It is necessary to let them know from time to time that they are an important part of your life and that you miss them. Facetime your parents, grandparents, and mutual friends and catch up with them; share what is happening in your lives as well. This will improve your mood and balance your social life.
67. Plan Life After A Lottery
It does not hurt to delve into some fantasy now and then. When bored, why not fantasize what your life would be like if you won a lottery. What is the first thing you will buy? Where would you live? How will you spend the money? It can help relieve your stress and take your mind off the things that are bothering you.
68. Clean Your Closets
Although time consuming and not fun, it is necessary nonetheless. You need to tackle the mess that you may have created while shoving everything inside. Attack the closet with your partner and clean it together. You may also discover some things you have long forgotten you possessed.
69. Do Laundry
The pile of clothes needs to be cleaned for the next work week. It might seem boring but you can make it a fun time. Play some music and dance to it while waiting for a washing trip to complete or you can engage in deep conversation over snacks. Alternatively, you can also indulge in a challenge on who can separate socks or colored clothes the fastest.
70. Create A Game
Make up a game for the two of you to play; decide on the rules and the punishments together. Do not forget to note them down to prevent any cheating! You can create a game from scratch or add some twists to simple ones. Healthy competition adds spice to the relationship and gets the adrenaline going.
71. Learn Knitting
Knitting might sound like a hobby for the elderly, but that is far from the truth. Studies have found it has a calming and therapeutic effect on your minds and provides a sense of pride and accomplishment (2). Watch YouTube videos together to learn how to knit. You can knit each other and your family sweaters, scarves or socks for Christmas.
72. Design Tattoos For Each Other
Express your love and emotions with tattoo ideas. Draw tattoo designs for your partner that reflects your love for them and suits their personality. Surf the internet to take ideas from the designs present online to make your own unique concept. Exchange the designs with each other and get them tattooed as a sign of your commitments
73. Try Tie-Dyeing
Indulge in some fun arts and crafts activity with tie dyeing shirts for each other. Grab a tie-dye kit and take out white or old clothes from your wardrobe. Add colors to them as you wish and let them dry. This lets you unleash your creativity while having fun. Moreover, it fosters working in collaboration with your partner and helps develop appreciation for each other's creativity.
74. Make A Video Of Memories
Bring together all the fun memories that you have with your partner in a video. Scour your phone gallery and other albums to find photos that express your love for each other. Such mementos help celebrate your love and cherish the time you have spent together. You can also reminisce about each of the photos together and follow the trajectory of your love together.
75. Make A Couples Playlist
Make a couples playlist of songs and artists you both like on your favorite music apps. Then, just pour some champagne and get to work. Include titles that uplift your mood every time you listen to them, or play the tunes while cooking together or to dance the night away.
76. Create A Memory Board
Pin pictures of fun and romantic times that you have spent together to create a memory board. Attach photos taken when celebrating milestones you have achieved in your relationship, or during your weekend getaways or vacations together. You can also put up photos of your family members and loved ones.
77. Make Pizza Together
Work the magic between the two of you in the kitchen to make pizza together. One can prepare the dough while the other chops the vegetables and meat for toppings. Play some soft music in the background to set the romantic mood. Light touches and stolen kisses will keep the spark alive while cooking together.
78. Play A Trivia Game
A game of trivia is an enjoyable way to spend time together with each other. Decide the rules of the game and scoring format. Design questions based on categories like movies, politics, history, and current affairs. Take turns asking questions and set timer to add edge to the game. It will help you increase your knowledge while getting to know more about each other's interests.
79. Deep Clean Your House
Cleaning the house may sound like a tiring job but it can be a fun and productive activity for couples. Gather the supplies, divide the responsibilities, and put away things before starting the cleaning process. Set cleaning goals and decide when to take breaks. Remember to communicate and work as a team. You can also decide to adopt some organized habits to maintain a clean living space.
80. Pursue A Hobby Together
Pursue a hobby that both of you enjoy. Whether it be drawing, dancing, cooking, gardening, or playing any musical instrument, you can spend one day of each week practicing your hobby together and unwinding. You can do this even if you have differing hobbies, where you help induct the other into your field of interest. This helps you strengthen your bond, communicate effectively, and have the trust to be open about your likes and dislikes.
81. Rewrite Songs
Revamping songs for your partner is an emotional experience. Replace the existing lyrics with words that reflect your feelings and emotions. You can mention your first meeting or date, the happy and special moments you have spent together, how love has changed your life, and how grateful you are to have them. Take inspiration from your personal experiences and emotions to make the song meaningful.
82. Play Strip Poker
Strip poker is a lighthearted and flirtatious game between couples. You can either buy strip poker designed cards or have fun with usual cards. Lay down the rules and establish the boundaries. It helps spice up the relationship and build trust and respect for your partner's boundaries.
83. Solve Crosswords Together
Test your knowledge while solving crossword puzzles. Pick puzzles according to your difficulty level and work together as a team to complete them. You can also set a timer to maintain a competitive edge. This helps you challenge yourselves, expand your vocabulary and knowledge, and bond with your partner.
84. Host A Wine-Tasting Session
If both of you are wine lovers, buy some good wine and spend the time hosting a wine-tasting session. To add an edge, you can make it a competition about identifying the most number of correct notes in the wines involved. Set the mood with some music in the background and dim lights. You can share how you came to love wine or any funny or memorable wine moments. This will help you know more about each other and create new memories.
85. Design Some Wall Art
Personalized home decor projects can really hold a mirror to your relationship. Bring out the canvas or any material on which you want to design the art, colors, brushes, and a dirty rag. Dip your hands in the paints and get messy while creating a masterpiece of your love. Attach some hooks on the back of the canvas and hang it up in your room or living area.
86. Paint A Room
Paint your room together to create a comfortable and romantic atmosphere, tailored to the two of you. Choose the colors that both of you like and gear up to paint the room. Wear old clothes that you do not mind getting dirty; pick out brushes and a ladder to cover the higher areas of the walls. This will allow you to share your ideas and make compromises and adjustments to cater to the likes and dislikes of each other.
87. Make Ice Cream
Homemade ice cream allows you to customize the dessert according to the flavors you prefer. Prepare a fresh batch with ingredients at home or freeze readymade mix-ins. You can experiment with flavors and then host a blind tasting to surprise each other. Add toppings and syrup for a yummy end to the day.
88. Organize A Book Club
If both of you are serious book lovers, you can hold a book club session. Here you can discuss the book you are currently reading and your views on it, and your favorite parts of the book as well as what you think about the author. You can also organize a book-related trivia game and ask questions about some common books you have read.
89. Host Your Own Olympics
If both of you are sports enthusiasts and occasionally enjoy demonstrating your competitive edge, this is the perfect activity for you! Divide the house up into different areas such as the kitchen, drawing room, stairs, laundry room, etc., and each of you pick equal numbers of such areas with one common area designated to both. These are the designated areas where you will set up a small obstacle course for the other, at the end of which will be a reward. The idea is to complete all obstacle courses before the other person and get to the final common area to retrieve the final reward.
Infographic: 6 Fun Activities For Couples To Do At Home
Whether it is raining outside or you just want to do something together at home, the possibilities are truly limitless. Doing different things with your partner not only ignites joy and romance but also strengthens the relationship. Check out the infographic below for a list of exciting activities you can do at home.


You do not always need to plan a trip or break your bank balance to spend some uninterrupted quality time with your partner. These cool things for couples to do at home will help you not only keep busy but also bond with each other better. You can plan an impromptu date, do a home wine tasting, or cook a meal together to make your time at home fun and memorable. The whole idea is to spend some fun, relaxing, and quality time together rather than the activity you do.
Frequently Asked Questions
Can couples strengthen their relationship with activities and games at home?
Yes. Couples can strengthen their relationship with activities and games at home. Romantic games and activities enable them to understand each other psychologically, break the ice, and also create an intimate bond that can strengthen any relationship.
How to turn everyday tasks into fun and enjoyable experiences for couples at home?
Tasks can be made fun and enjoyable if both share them and invent games out of them. You both may take turns in completing everyday chores around the house.
Are there any productive activities couples can do together at home?
Yes, there are many things a couple can do together at home including- cooking meals, organizing and cleaning space, learning a new skill or language, enrolling in a weekend course together, working on a DIY project, or starting a business together.
What are some relaxing activities couples can do at home?
Take a bath or shower together, practice couples yoga and meditation, enjoy a spa or massage day, listen to podcasts, or read books together
How can couples stay active at home?
A couple can start a workout routine together, play sports, practice yoga or pilates.
What are some ways couples can learn and grow together at home?
Couples can take an online course together, learn a hobby, attend events and conferences, or volunteer together at an animal shelter.
Key Takeaways
Engage in some cool and fun activities with your partner at home to kill the monotony and spice up your relationship.
Work out with your partner to add charm to your relationship while staying fit.
Binge-watching TV or your favorite show is one of the easiest ways to spend quality time together and feel relaxed.

Looking for fun and romantic ideas to do as a couple at home? Check out this video for 10 things you can do as a couple and keep the romance alive!

2 Sources
The following two tabs change content below.