10 Hair Ties And Bands For Thick Hair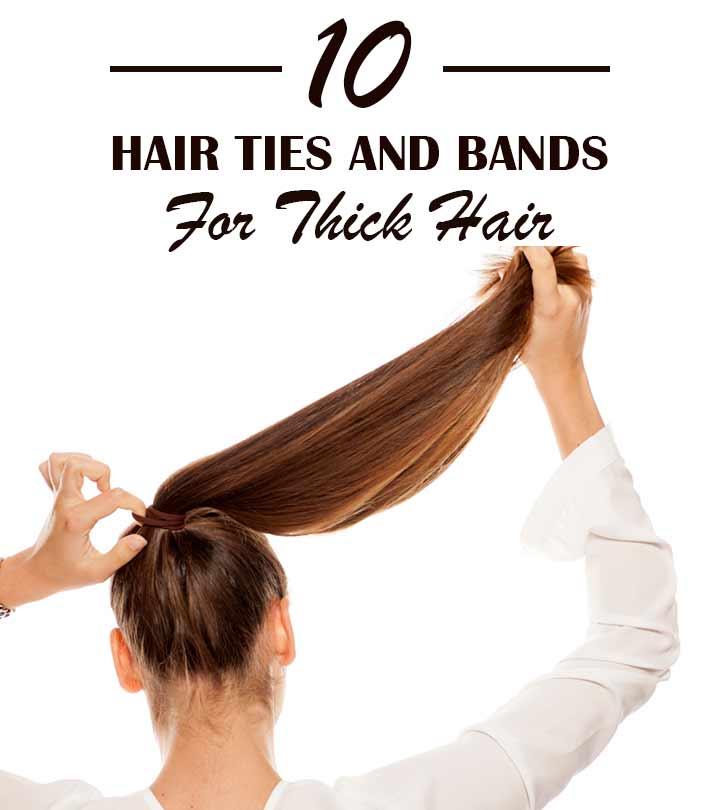 No matter how on fleek your hairdo looks, the chances are that at some point, you will want to tie all your hair back. But if your hair is super thick, your choices of hair bands and ties will be limited, as most of the cute ones cater to thin to medium hair. Also, a surprising number of hair bands and ties on the market will do your hair more harm than good as they snag, trap, and break the hair strands. Some leave creases on thick or kinky hair. Using the wrong hair tie may cause serious breakage and damage. But don't worry! If you have thick hair and are looking for the best hair ties and bands, we have got you covered. Here is a list of the 10 hair ties and headbands for thick hair that will soon become your favorites!
10 Hair Ties And Bands For Thick Hair
These hair bands by J-MEE are super soft and non-toxic. They are made of nylon and provide amazing hold. Unlike other brands of hair bands, these don't have any weird odor. They have a snag-free and seamless design, which make them easy to remove from your hair – no more ripping the hair off every time you pull a hair band off! These bands are made of high-quality elastic material that is thick and durable. They keep your hair firmly in place and do not stretch out quickly. This set includes 100 hair bands.
Pros
Soft material
Washable
Long-lasting
Value for money
Cons
Small
Lose elasticity over time.
These hair ties are an essential piece of your everyday hair accessories and excellent for thick hair, whether curly, kinky, or straight. They are soft, easy to remove, anti-snag, and protect your hair from getting pulled or torn. This greatly reduces the damage to your hair strands and prevents breakage. Whether your hair is short or long, these hair ties will keep your hairdo intact. They are strong enough to hold up a ponytail or bun. The set has 20 large cotton hair ties in black. They are 5 cm in diameter and 1 cm in width and made of seamless elastic. They will not slip, break, or stretch out.
Pros
Soft material
High elasticity
Thick
Strong hold
Cons
If you have long hair, you need a Bunzee headband. This headband is strong enough to hold the biggest of ponytails, buns, updos, and puffs. You can easily go through the day without having to redo your hair! This hairband has an adjustable bead-locking feature that allows you to customize it according to your hair and wear it comfortably. It is also a great sleep accessory; you can simply put your hair up in a lazy bun and sleep peacefully knowing that it won't come undone. Compared to traditional hair ties that snag and yank hair, the Bunzee band conforms and adapts to your hair's movement, ensuring a more secure hold.
Pros
Long-lasting
Soft material
Great stretch
No creasing
No snagging
No snapping
No stretching out
Cons
These super thick hair ties by EBoot are a thick haired girl's dream. The set includes 20 pieces of large cotton stretch hairbands that are amazing for those with curly and kinky hair. These hair ties can hold ponytails and buns with ease. They are anti-snag, super stretchy, and super soft on your hair and will not tear or damage it when you pull it off. These seamless elastic bands measure 6.5 cm in diameter and 6.5 cm in width and are jumbo-sized and comfortable to wear.
Pros
Great elasticity
Soft material
Large
No snagging
Long-lasting 
 Cons
Just because you have thick hair doesn't mean you have to tie your hair back in a bun or ponytail all the time! This amazing set of four hair bands by Ivyu keeps your face hair-free but lets you flaunt your hair. You can keep your hair down and flowing with these soft velvet head bands that make it sleek and smooth. The base of the headband is made of memory elastic plastic, which has excellent flexibility. They are comfortable to wear and do not hurt behind the ears as most headbands do.
Pros
Long-lasting
Value for money
Comfortable
Great color options
Cons
This amazing product by invisibobble will keep your hair out of your face, no matter how thick it is. With a strong anti-slip grip and smooth anti-snag surface, this band doesn't tug or pull at your hair the way other bands do. It is easy to put on and remove and does not restrict your blood circulation or cause headaches. This band is made of anti-allergic material and has silicon grips on the inside. It stays in place even during hardcore exercise.
Pros
2-in-1 band
Strong grip
Anti-slip
No creasing
No snagging
Cons
This amazing hairband by Swirly Curly is made with soft and stretchy material. It fits your head perfectly and does not cause headaches. If you have thick hair and find it hard to get stretchy bands that look fashionable too, you need to get your hands on this product. You can wear it as a turban or like a straight band. It is easy to clean and made of nylon/spandex fabric. The band has three buttons, which enables you to adjust it according to your head size. This means it will hold your hair in place, no matter how thick your hair is.
Pros
Easy to clean
Machine washable
Dryer safe
Adjustable snaps for custom-fit
Multipurpose 
Cons
These fashionable headbands from Ivyu are made of high-quality cotton with an elastic-plastic hoop at the base. The flexible headbands stretch well and bend around your ears effectively to make for comfortable wear. They are sturdy enough to manage your thick hair to keep them in place and the knotted design makes them quite stylish. Available in 6 funky colors and beautiful prints, these can be worn anywhere and everywhere.
Pros
 Stretchy
 Available in 6 colors
 Soft, durable material
 Easy to clean
Cons
These microfiber bands by Turbie claim to replace all your other hair accessories – they are that comfortable! These will also keep all your hair off your face. These extra-wide bands are super stretchy and provide enough material for you to tuck your long hair into the back. They are lightweight and super-absorbent and will not stay wet if you get all sweaty during workouts. These bands are easy to clean and come in a set of four cute colors. They are one-size-fits-all, so no matter how thick your hair is, these bands will hold your tresses in place. They are cute enough to be sported at day parties and functional enough for workouts.
Pros
Machine-washable
Great stretch
Good color options
Long-lasting 
Cons
None
https://www.amazon.com/Turbie-Extra-Headband-Elastic-Thick/dp/B08BS13HY1?tag=tsr-haircarepro-20&linkCode=ogi&th=1&psc=1
These classy headbands by Ivyu are extremely stylish and look great on all hair lengths. They are made of soft velvet and do not snag your hair. The bases of the headbands are made of elastic plastic, which makes them super bendy. They also sit comfortably on your head and do not hurt behind the ears like other headbands do. They can be sported at both gyms and parties. This set includes six velvet padded headbands. 
Pros
Great color options
Reasonably priced
Comfortable
No creasing
No snagging
Cons
None
That was our list of the 10 best hair bands and ties in the market. Now, you don't have to keep on buying ties just because you have thick hair and your tresses kill a hair tie a day! Get one of these and keep your hair out of your face with style!
Recommended Articles