How To Start A Conversation On Tinder Without Feeling Awkward If you are looking for a date on Tinder, conversations can be weird. You want to give them a chance and not come off as creepy or desperate. You might feel awkward, and the conversation can become nerve-wracking.
How do you even start the conversation? What should you say first? These questions may seem trivial, but they run through your head before every conversation with people who match you on Tinder. So, how do we break this cycle and make conversations less awkward?
Conversations on Tinder happen in three phases: initiating the conversations, having the conversations, and ending the conversations. Each phase relies on the last to make any real progress, so it's essential that you master them all to make your communication smooth and easy.
Check out this article on how you can start a conversation on Tinder and establish a deep bond. Keep reading.
How To Initiate A Conversation On Tinder That Goes Somewhere
1. Make The First Move
Initiation is the hardest part of the conversation, and it's easy to say why. You are going into conversations with people you don't know very well, and nobody wants to be rejected.
However, conversations cannot proceed to the next phase if you don't initiate them. So, grit your teeth and jump in! Just go through the talk as best you can, no matter what happens!
Breaking the ice makes initiating conversations so challenging. However, once you get past that stage, connecting with something in common interest becomes a lot easier.
2. Just Saying " Heyyy" Won't Work
That's too informal, and you are taking the risk of coming across as creepy. Think about how you would typically start an interaction with someone new and do exactly that! If initiating gets too awkward, ask a question or make a comment as it can lead from one topic to another.
If you want to make the conversation interesting, use conversation starters instead of common ones like "Where are you from?" or "What do you do?" Here are some examples of some clever conversation starters:
Has anyone ever told you that you look like [insert celebrity]?
What's the worst lie you've ever told?
Help! I need a new series to binge on. Please, it's urgent.
I almost dropped my phone when we matched. Just wanted to let you know you already have that effect on me.
What is a weird food combination that you enjoy?
If you had to describe yourself with three words, what would they be?
If you could do anything without getting caught, what would it be?
What's that one thing you're really good at?
The questions mentioned above are intriguing and make the other person think and help you know them better.
3. Show Genuine Interest With Personalized Opening Lines
Initiating a conversation on Tinder can be difficult. You are not sure what to say or how to start the convo without sounding too boring or desperate. Also, it's easy to get tongue-tied and awkward. So, it helps if you have an opening line ready. This is where clever pickup lines come in handy – they will give you some momentum right from the start.
Regardless of who you are communicating with, here are some great inspirations that will work wonders:
Which sums up your Sunday breakfast style? Homemade waffles, fruit smoothie, orange juice, or sleeping past noon?
What's something you always wanted to learn but haven't had time for?
Which is your favorite dessert? Swiss chocolate, Lemon chiffon cake, or mint choco chip on a cone?
4. Ask A Question To Bring Forth Emotions
Begin the conversation with an open-ended question or initiate a topic that you know the person will be interested in. It's the best way to get some traction going and keep them from stalling out.
For instance, you can ask about their likes and dislikes, hobbies, and what they do during the weekends. Asking a question will initiate a conversation naturally. It's a good way to start, and it can get them talking.
Initiating the conversation with a question about their shared experiences will show that you are truly interested in them. It puts both parties on the same page, even if subconsciously.
5. Let Things Take Their Own Course
You should save deeper conversations for the later stage of your bond. Start with fun and light topics to see if the chemistry works. You don't want to bore people with a lot of stuff about your life before they even have a chance to get to know you on a personal level.
When in doubt, just stick to the basics. Be aware of what not to do when you are communicating on Tinder.
Don't make any assumptions about the other person.
Don't be rude or insensitive.
Avoid asking too many questions. It always helps to listen to what they have to say.
Don't use cheesy pickup lines or ask for a date right off the bat.
Don't try to make your conversation a job interview.
Don't list off a bunch of boring details from your life story.
Don't talk about your ex or past relationships.
Don't be boring and repetitive.
6. Closing The Conversation For The Day
Ending the conversation on Tinder is important to keep what you have going. Don't be afraid of awkward silences or not knowing what to say next if you want your match to respond. Instead, use these moments for self-reflection and introspection about why this person may have liked you. The more effort you put into ending a conversation, the less likely they will stop talking with you.
If you follow these simple steps, a conversation on Tinder is going to be manageable. You will also have plenty of meaningful things to talk about with the people you want.
What Actually To Do During The Conversation
Don't be overly aggressive or try to turn it into a job interview.
Compliment your date when needed. You could even ask them how they became so good at what they do.
Emphasize that you want to know them better, and you are not just there for hookups. Show them that you can be trusted and someone they can open up to.
Don't compare yourself with anyone or use the past as a benchmark. Your personality is your own, and it's unique so let everyone know how special you are.
Focus on learning about their hobbies and passions.
Keep the conversation light and fun. Don't get too serious with it.
Don't judge them. Everyone has their insecurities and weaknesses, even if they don't seem like it. Just be humane to them.
Be honest with who you are and what you want. Don't brag about it, but you share positive aspects of your life and make them like you even more for being humble.
Don't give up too easily. If you hit a stumbling block, take a break and return to the conversation later.
If you feel uncomfortable, you don't have to answer every question the other person asks you. Instead, just politely change the topic.
Don't pretend about who you are and what your interests are. Don't try to be someone else.
Take things slowly. Tinder conversation can be intimidating, so keep things light, relax, and enjoy the talk.
If your conversation isn't going great, end it on a good note and try again later. Look for things that both of you can agree on. If the other person seems to be bored or annoyed, stop talking immediately.
The objective of a Tinder conversation is to establish comfort and connection to the point where you ultimately meet in person. If too many messages are exchanged without this happening, it's easy for both parties to get frustrated.
As long as you know the right things to say and what not to say, a conversation on Tinder is a piece of cake. While you need to keep things light and fun, it all comes down to being yourself.
The following two tabs change content below.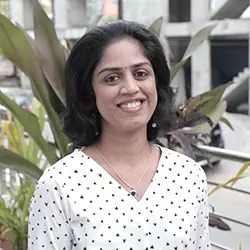 As Chief Editor, Harini sets the tone and editorial direction for StyleCraze to deliver engaging, interesting, and authentic content revolving around women's health, wellness, and beauty. She has over 14 years of experience in content writing and editing for online media. She specializes in the areas of Beauty, Lifestyle, and Health & Wellness and is proficient in Medical Sciences (Biology, Human Anatomy and Physiology, and Biochemistry). Her background in Biomedical Engineering helps her decode and interpret the finer nuances of scientific research for her team. Harini is a certified bibliophile and a closet poet. She also loves dancing and traveling to offbeat destinations.