21 Tips To Make A Long-Distance Relationship Work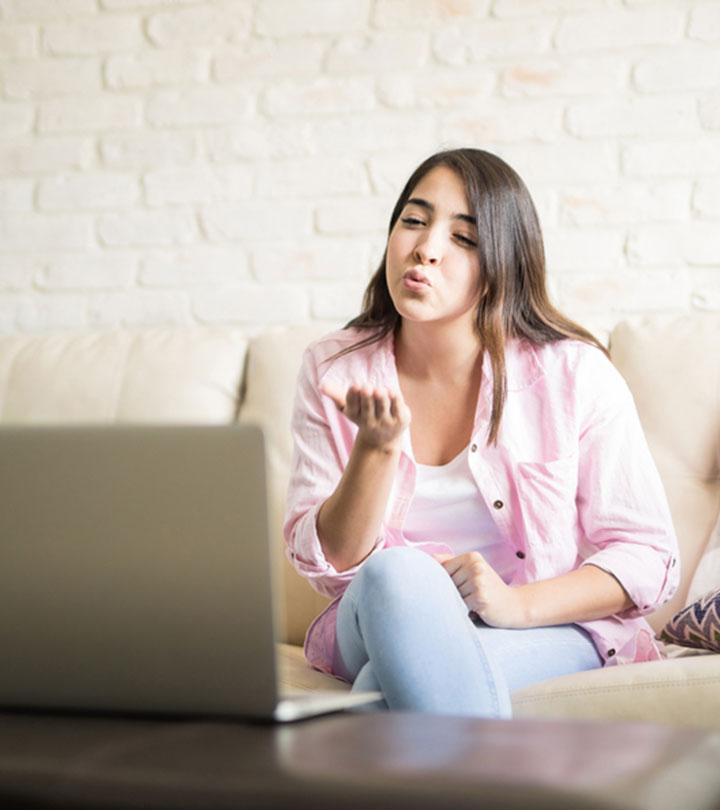 Long distance relationship is hard, super hard. It can be especially tough on you if you are used to hanging out together often and have to stay apart suddenly. It is not going to be easy to keep things going the way they were — the long distance makes things very hard. Things get complicated, trust issues may crop up, and you could get lonely and discouraged at times. It may not be the perfect situation you and your partner were hoping for, but, where there is a will, there is a way.
With proper planning, you can grow even closer, no matter how far apart you both are. The distance doesn't have to ruin your love story. In this age of WhatsApping, maintaining a long-distance relationship with your partner is easier than ever before. are you worried How To Stay In A Long Distance Relationship? You don't have to pay for atrociously priced calls anymore to talk to your boo! Neither do you have to wait for love letters in the mail? Things are fast and easy in the 21st century, so take advantage of it. Here are a few tips for Long distance relationships to get better. Take notes!
How To Make A Long-Distance Relationship Work
1. Do Not Communicate ALL The Time
You may think it is romantic, but, the truth is, it is suffocating. You both don't have to communicate all the time to keep the relationship going strong. Many couples overcompensate for the distance by sticking to each other even more and not giving each other space. This is a sure-shot way of heading for a breakup.
Soon, you both would get extremely tired of each other and simply lose interest. Or it may lead to jealously issues as every single thing you both do will be open for scrutiny. Set time apart for each other, and give each other undivided attention during that time. This would work way better to improve your bond.
2. Set Some Basic Rules
What do you expect from your partner when you both are diving into this long distance relationship? Do you want them to talk to you every day for an hour? Do you have an issue with them postponing your call time because they want to hang out with friends?
Set some basic rules so that none of you surprise the other. This will lessen conflicts and give both a clearer idea about what you are absolutely not ok with. Respect each other's wishes or talk it out if you have an issue with some of them. Make sure that you both stick to the rules you both have agreed upon.
3. Consider It As An Opportunity To Better Yourself
It is a learning opportunity for both of you. Consider it a test of your love and affection for each other. Real-life throws a lot of problems at you, and if you can't handle a bit of distance, how will you manage the more pressing issues that may appear in the future?
Instead of crying about the distance, focus on improving yourself and really getting to know each other. Tell each other things about yourselves that you have never disclosed to anyone else. Play 'get to know me' games by asking each other questions. Since you don't have other things to distract you, make sure you focus on improving your bond.
4. Avoid Situations That Will Cause Tension In Your Relationship
If you are aware that going out drinking with friends or hanging out with a certain someone will make your partner angry, either don't do it or inform your bae before doing it to reassure them. These things can blow up in your face if you try to hide them. Sneaking around will only cause them to be worried or super suspicious and, obviously, upset.
If you decide that your relationship is worth more than hanging out with that cutie at work who has been flirting with you, work on it. Be aware of what might cause a strain in your relationship because you can't just kiss and make up here. Don't just entertain the whims of your heart, pay heed to your brains too. You will need to prioritize each other to work through these things.
5. Talk Dirty!
Sexual attraction in a relationship acts as a glue that keeps couples from drifting apart. It is a biological as well as emotional need. In a long-distance relationship, you don't have the stolen kisses and the makeout sessions, so you need to compensate by going all out on calls and texts.
Talk dirty and try sexting. However, we would advise you against sending nude pictures. Stick to sexual innuendos and puns, as well as provocative descriptions. Tell each other what you would do when you finally get to meet. Have fun with your boo and keep them excited for more.
6. Try To Communicate Regularly
Wishing each other good morning and night will get you both closer. It will let your partner know that they are the first person on your mind as well as the last one. Tell your partner about what is happening in your life, however boring you think it might be.
Ask questions about their life; show interest. Send each other pics, audio messages, and short and cute videos every few days. When you put in effort, you make your partner feel loved and cared for. Keep each other involved and motivated. Being involved in each other's life will help you both build a better relationship.
7. Do Things Together
Watch a movie or a documentary at the same time and then discuss it. Go online and play a game together. Sing together on Facetime while one of you plays an instrument. Go online shopping at the same time. Facetime him whenever you experience something new and beautiful.
This will make your connection stronger than ever. Just be spontaneous about it and make new memories together.
8. Visit Each Other
Visits are the best parts of long-distance relationships – and if it is a surprise, even better! After all that yearning, waiting, and abstinence, you get to meet each other FINALLY! All the little things that other couples take for granted, such as holding hands, kissing, etc., become extra special for you both.
Meeting each other after such a long time will be like exploding fireworks, rainbows, butterflies, teddy bears, and glitter bombs all over again! Plan secret visits – you could ask their roommates for help. Set up their room with flowers and candles and surprise them when they get back from college or work.
9. Do Similar Things
Read the same books, watch the same TV shows and movies, listen to the same kind of music, and follow the same news channels – in addition to your regular favorites. If you do this, you will have more topics to talk about and more things in common.
This will also create a shared experience even though you both are living apart. Also, you can discuss the things that you saw on your own and then compare it to the stuff you both watched.
10. Make A Plan
"What do we want right now?" "What is the longest period of time we are ok with being apart?" "What do we want to do in the future?" You both need to ask these questions to yourselves. Nobody can be in a long-distance relationship forever. That is why you both need to make plans and set goals with each other.
Chalk up a timeline and mark the estimated time periods apart. You both should be working towards the same end goal. If one of you is not ok with the timeline decided upon, it should be made clear in the beginning. The situation can go really bad if you have to break up because there is no chance of you both being together again – but you already invested three years of your life in this relationship! Don't let this happen. Protect yourself and each other.
11. Enjoy The Time You Spend Alone
Yes, you are alone, but you should never feel lonely. Don't let your universe revolve around your partner — you have your friends, your family, and yourself. Spend more time with your friends and family. Get a new hobby. Take up dancing. Create videos. Write a book. Join a gym. Start a blog. Binge-watch TV shows.
You have plenty of extra time now, utilize it well. Starting a new project is the best way to keep yourself busy and learn something new. You can do plenty of things for yourself that doesn't have to involve your partner. Focus on growth and self-development.
12. Be Honest With Each Other
Have in-depth conversations about how you feel – your fears, jealousy, apathy, insecurity, happiness – everything. If you are not completely honest with your partner, it will eat you up from within.
Don't try to solve things all on your own. Be open and truthful, and expect the same from your partner. Ask for the support you need – you both are meant to be partners in everything. Tackle any problem at the initial stages so that it doesn't become a major issue later on.
13. Get To Know About Each Other's Schedules
You both should be aware of when the other one is free or busy. This will help you make the most of your time. If you are aware of each other's/ schedule, you will know when to call and catch up. This way, you won't disturb each other in the middle of a business meeting or a class.
Show interest in getting to know about the small and big things that take place in each other's life – parties, college exams, job interviews, business trips, meetings, and so on. This is very important in a long-distance relationship.
14. Go Old School
Sometimes, going old school can keep your romance alive. You may think that texting, Facetiming, and calling on the phone is all you need to do to keep the romance alive. But it is not enough. You need a physical reminder of your partner.
Keep a shirt of his that smells like him or put up a photo of them prominently in your bedroom. Send each other funny postcards, love letters, unexpected gifts, or flowers. These things mean so much more than the regular 'I miss you' texts couples send each other. A little gesture goes a long way.
15. Display Your Love On Social Media
'Love' each other's pics on Instagram and Facebook. Tag each other on cute pictures. Tweet. Share things on your partner's Facebook wall. Show that you are crazy about them. Compliment them openly. Show the world that you guys are Romeo and Juliet, madly in love.
16. Gift A Memento To Them
It doesn't matter if it is a small keychain, a pendant, a pen drive with their favorite songs and videos, a ring, or a picture frame. We often underestimate the little things that mean so much to our partners. When we store memories in little things, we can look back and remember the important things when our brain fails us.
17. Focus On Having Quality Communication
Talk to each other. Ask questions. His family is your family, so showing interest in their lives will make your partner feel loved. Having quality communication does not mean you have to only talk about serious stuff.
Don't leave out the small details of your day. Tell them about the little things – who did you talk to on your lunch hour? What podcasts are you listening to now? What did you have for dinner? The "boring" events of your day may be what your partner would be really interested in.
18. Check In, Don't Check Up On
This is a must to keep yourself sane in long-distance relationships – trust your partner. You can't really know what your partner is up to every second of the day. Are you worried you are going to be "out of sight, out of mind"?
Give yourself a break – just because you both are in a long-distance relationship doesn't mean you have to be suspicious or check on them all the time. Don't play detective games on your partner. You have chosen to be in this long-distance relationship, and you need to take that leap of faith.
19. Don't Over-Plan Your Time Together
You may feel a lot of pressure to make every second count when you are finally together. But, over-planning things may take the fun out of it. Don't forget that relationships are built on small and big moments – spontaneous cuddle dates on the couch are as good as going to a posh restaurant.
Don't just run, run, and run, hoping to have fun. Stop, take a deep breath, and enjoy some alone time together.
20. Do NOT Put Your Life On Hold
Long-distance relationships need some sacrifices. But don't sacrifice more than is necessary. It will breed resentment between you both and result in regrets.
When the long-distance part of a relationship is supposed to last a certain period, and suddenly gets extended due to unforeseen circumstances like unexpected financial setbacks, military deployment, employment challenges, etc., one of you may be left feeling frustrated and cheated.
To avoid such a situation, make sure that you are doing your best to grow and move forward in your life. Live your life each day, whether your partner is present or not.
21. Stay Positive
You both have to constantly inject positive energy into the relationship to keep it fresh and alive. The distance and loneliness can be painful, but don't let that get you both down. Remind yourself that this too shall pass, and you both will be together one day, living the perfect life.
Be grateful that you have someone who loves you — and someone you can love. Be thankful for the little things life has given you. Be grateful that you both are healthy, safe, and happy together.
There may be a million tips in the world about how to keep the love alive in a long-distance relationship, but if both partners are not willing to work at it, it is near impossible to keep the relationship going. However, the best part is, a long-distance relationship may seem very difficult, but it's very much achievable. All you need is a little bit of love. Stick by each other through the good and bad days, and you both will make it home one day.
Recommended Articles:
The following two tabs change content below.

Latest posts by Harini Natarajan (see all)

Harini Natarajan
As Chief Editor, Harini sets the tone and editorial direction for StyleCraze to deliver engaging, interesting, and authentic content revolving around women's health, wellness, and beauty. She has over 14 years of experience in content writing and editing for online media. She specializes in the areas of Beauty, Lifestyle, and Health & Wellness and is proficient in Medical Sciences (Biology, Human Anatomy and Physiology, and Biochemistry). Her background in Biomedical Engineering helps her decode and interpret the finer nuances of scientific research for her team. Harini is a certified bibliophile and a closet poet. She also loves dancing and traveling to offbeat destinations.