Best Bvlgari Perfumes For Women
Exotic and luxurious, these perfumes will make heads turn with just a single spritz!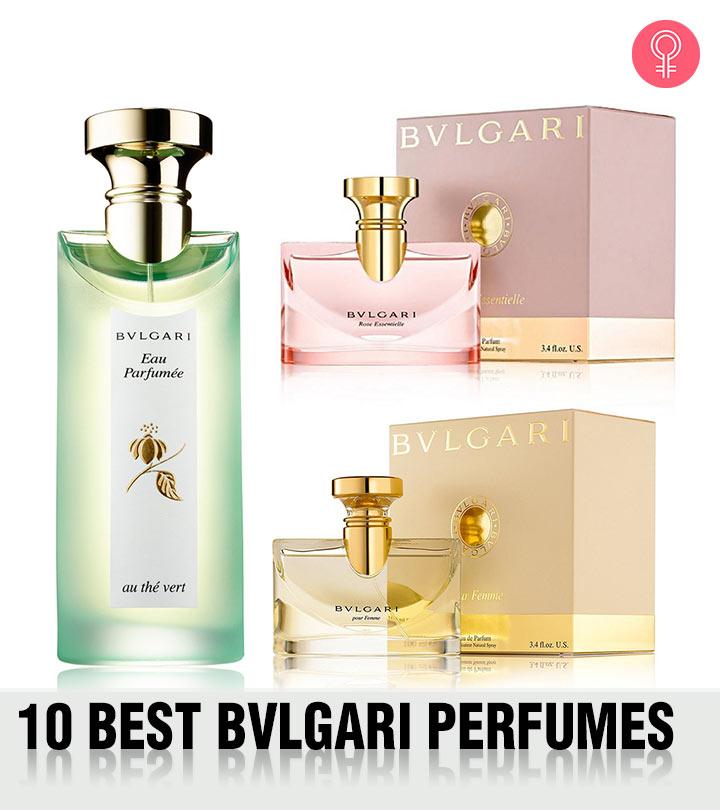 There is something about Italian luxury perfumes that simply make you smell like a goddess. The best Bvlgari Perfumes are no different and will have everyone fall in love with you with just a single spritz. The exotic range of scents from the brand is undeniable, and anyone who wears it will make heads turn. This brand has got it all from musky, floral, fruity, and earthy fragrances. If you have been meaning to try out these exotic scents but did not know where to start, we are here to help. Go through these 10 highest-rated perfumes to pick your favorite scent.
10 Best Bvlgari Perfumes For Women
Review
If you're on the hunt for a safe floral scent, the Bvlgari Rose Essentielle is just the perfume for you. It is crafted with two kinds of roses that open its delicate composition. At its heart, fruity notes of blackberry are softened with a trace of jasmine and violet. On the whole, its classic scent is fresh, feminine, and crisp. It is perfect to wear during the day and at work. If you like rosy fragrances that are not too sweet and are a bit powdery, this perfume will be your new favorite. Before buying, have a look at this video for more details.
Pros
Long-wearing
Premium-quality ingredients
Moderate sillage
Lightweight
Cons
Not suitable for sensitive skin
Price at the time of publication: $225.99
Review
This one-of-its-kind creation by Bvlgari is the perfect combination of sweet, salty, and spicy notes. It opens with fresh marine sea notes accompanied by a hint of orange peel and bergamot. Its blend of magnolia and quince is balanced perfectly to last all day long. This unisex fragrance could easily pass off as its magnolia note is very subtle. All things considered, Aqva Divina makes for a unique spring/summer daytime scent.
Pros
High-quality ingredients
Long-wearing
Suitable as a daytime scent
Suitable for spring and summer seasons
Cons
Contains alcohol
Some find the smell overwhelming
Price at the time of publication: $34.96
Review
If you're all about feeling fresh, the clean combination of pistachios and green note of Omnia Green Jade will be perfect for you. The musk in this perfume lends it a velvety and sensual fragrance, making it perfect for women over 30. Its woody, soft, white floral scent is ideal for daily wear and is also office-friendly.
Pros
High-quality
Long-wearing
Suitable for aromatherapy
Suitable as an office wear
Cons
Some may find the smell too mild
Price at the time of publication: $399.99
Review
The Bvlgari Eau Parfumee Au the Blanc is a soothing unisex fragrance ideal for relieving stress. The scent is infused with delicate artemisia and white pepper that offer a spicy touch to the aroma. The base notes of musk and woody amber add a subtle warmth to the composition, amplifying its overall fragrance.
Pros
Soothing fragrance
Suitable for daily use
Ideal for gifting
Cons
Price at the time of publication: $69
Review
BLV Notte is a very seductive and sensual fragrance for women. Its main ingredients include sumptuous dark chocolate and intoxicating vodka that amplify its dark and mysterious character. This makes for the perfect night or evening time scent for fall and winter.
Pros
Long-lasting
Reasonably priced
Non-staining
Suitable for evening wear
Cons
Review
The new edition of the Omnia fragrance collection from the house of Bvlgari is inspired by India. It promises an aura of nobility and mysticism. This oriental-floral composition opens with a citric aroma of mandarin and orange, while its heart is dominated by osmanthus in an amber base. Its warm and sophisticated scent is perfect for daytime wear in the spring/summer and is office-friendly.
Pros
High-quality ingredients
Great staying power
Decent sillage
Non-staining
Suitable for date night
Cons
Expensive
Overwhelming fragrance
Price at the time of publication: $193.01
Review
If you love a classy jasmine fragrance, Bvlgari Jasmin Noir is our pick for you. Its elegant dark bottle holds a woody-floral composition that is perfect for formal evenings. Its aroma really shines through when the jasmine, almond, and licorice notes dance along your skin in perfect harmony. Bvlgari dedicates this scent to women between 25 and 40.
Pros
Long-lasting
Suitable for casual wear
Affordable
Sleek bottle
Cons
May not be suitable for sensitive skin
Price at the time of publication: $239.99
Review
Inspired by the perfection of crystal, Bvlgari Omnia Crystalline captures the essence of frosted flowers. It smells fresh with its subtle apple-like top notes. At its heart lie soft, feminine notes of lotus blossom while its base highlights elegant woodsy notes. This one's ideal for daily wear and is also a great option for the office.
Pros
Long-wearing
Travel-friendly packaging
Suitable for casual wear
Budget-friendly
Cons
Contains alcohol
Not suitable for sensitive skin
Price at the time of publication: $75.99
The Bvlgari Omnia Coral Eau De Toilette Spray is an invigorating and energizing scent that's perfect for a summer day. This fruity and floral fragrance opens with top notes of pink grapefruit, nashi, and pomegranate, which give it a bright and sparkling start. The middle notes of water lily, lotus, and hibiscus lend it a hint of sweetness, while the base notes of woody and musky accords provide a sophisticated finish. Whether you're going to the beach, out on a date, or just running errands, this perfume will bring a cheerful, sunny vibe to your day.
Pros
Light and airy fragrance
Sensual and feminine base notes
Perfect for summer days
Cons
The fragrance may be too sweet for some people
Price at the time of publication: $68.6
Review
Launched in 1992, Bvlgari Au The Vert is an aromatic citrus fragrance for women and men. Its top notes smell distinctively fresh of coriander, orange blossom, mandarin, bergamot, cardamom, and lemon. It has a green tea and musk base, and its middle notes consist of jasmine, Bulgarian rose, and lily of the valley. Overall, this composition makes for a delightfully pleasing fragrance that can be worn all through the year.
Pros
Long-wearing
Affordable
Suitable for daily wear
Non-staining
Cons
Price at the time of publication: $78.0
Shopping Guide
Bvlgari's origin is traced back to 1884, making it one of Italy's oldest luxury fashion empires. Back in the day, it was synonymous with exquisite fine jewelry designs. The brand has now evolved and expanded into the world of watches, leather bags, skincare, accessories, and fragrances. It launched its perfume line in the early 1990s with the fragrance Au The Vert.
Developed with Bulgari's exceptional savoir-faire, its perfume collection is an invitation to indulge in elegant and refined rituals of wellness.
Even celebrities like Angelina Jolie, Amanda Seyfried, and Jennifer Aniston love wearing Bvlgari. Amanda Seyfried says she enjoys the clean and citrus-y smell of Bvlgari's unisex fragrance Au The Vert.
Price Range
Bvlgari perfumes can cost anywhere between $40 to $150. Even its mid-range fragrances feel fancy and luxurious. However, if you're on a budget, Bvlgari's Omnia collection is your best bet.
Why Trust Stylecraze?
Esha Saxena is a makeup enthusiast who loves trying different fragrances. Her list of the best Bvlgari perfumes are based on extensive research of product specifications and analysis of user feedback available on various online platforms. The exotic range of scents from the brand is undeniably mesmerizing and anyone who wears it will make heads turn. This list includes all kinds of fragranced including musky, floral, fruity, and earthy fragrances.
Frequently Asked Questions
What does 'Bvlgari' mean?
Bvlgari was named after Sotirios Bulgari, the founder of the company. The brand substitutes a 'V' for the 'U' to emulate the classic Latin alphabet.
Is Bvlgari a luxury brand?
Yes, Bvlgari has evolved into a massive player in the luxury market with an established and growing network of stores across the world.
How do you pronounce Bvlgari?
It's pronounced 'BULL-gur-ee' or 'BOOL-gah-ree.'
How can I tell if my Bvlgari perfume is real?
Cross-reference the packaging and the perfume bottle with the image of a real Bvlgari perfume to find out if your product is real.
Bvlgari belongs to which country?
Bvlgari is originally a Greek brand from the country of Greece
Recommended Articles:
Best Victoria's Secret Perfumes For Women
Best Italian Perfumes Reviews
Best Dior Perfumes For Women
Best Magnolia Perfumes Of All Time