20 Health Benefits Of Walnuts, Side Effects, & Cooking Tips
Have these healthy nuts daily to not only look good but also feel good!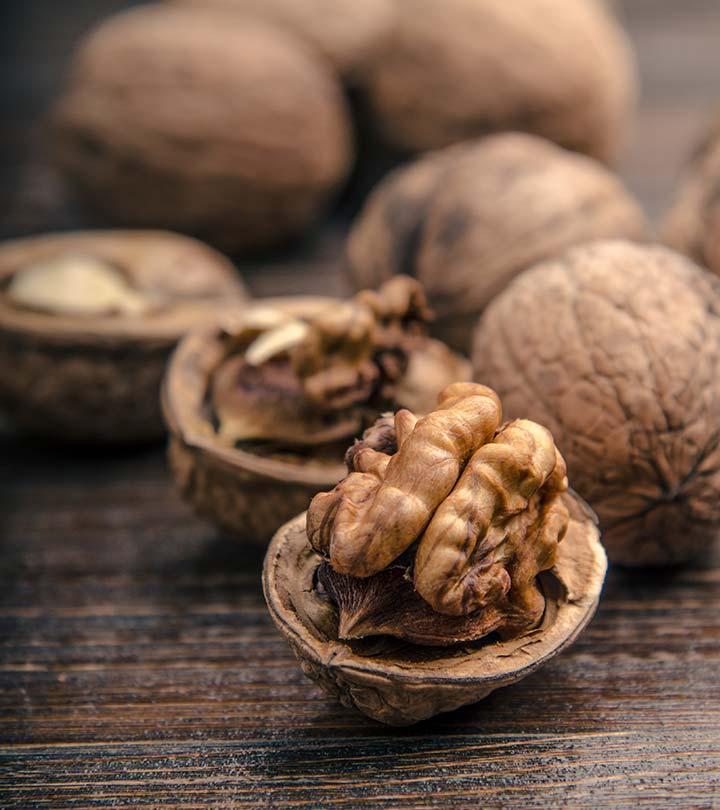 Walnuts (Juglans regia) are high in antioxidants, proteins, dietary fiber, and essential omega-3 fatty acids. All these nutrients contribute to the benefits of walnuts. Walnuts can be black or brown, and both varieties have a wide range of health benefits. They may promote heart health, reduce cancer risk, support brain function, and reduce inflammation.
This article discusses the benefits of walnuts, their types, nutritional profile, how to use them, and their risks. Take a look.

Know Your Ingredient: Walnut
What Is It?
A tough, brown nut with a soft inside, a sweet taste, a mildly nutty flavor.
What Are Its Benefits?
It boosts brain and cardiovascular health, improves memory, and reduces inflammation.
Who Can Consume It?
Anyone can eat this except people with a nut allergy or irritable bowel syndrome (IBS).
How Often?
You can consume 1.5 to 2 oz of walnuts daily.
Caution
Consult a doctor if you are pregnant or breastfeeding. Excess consumption may cause an upset stomach, skin rash, throat tightness, and increase the risk of developing kidney stones.
Health Benefits Of Walnuts
1. May Promote Heart Health
Due to the high levels of omega-3 fatty acids, walnuts are very beneficial to the cardiovascular system. Eating a few walnuts a day may help lower blood pressure too. Omega-3 fatty acids are known for their cholesterol-lowering properties. They help reduce bad cholesterol in the body and encourage the production of good cholesterol. They also help reduce inflammation and boost blood vessel function (1),(2), (3). As a consequence, walnuts can promote heart health.
2. May Reduce Cancer Risk
Walnuts are rich in plant compounds like omega 3-fatty acids, polyphenols, and urolithins. These bio-active components may have anticancer properties.
Walnuts may reduce the risk of certain types of cancers such as that of breast, colon, and prostate (4). The American Association For Cancer Research stated that consuming a few walnuts each day may help reduce the risk of breast cancer (5).
3. May Support Brain Function
The omega-3 fatty acids in walnuts are also good for brain health. Having foods rich in essential fatty acids (like omega-3 fatty acids)may slow down cognitive decline (6).
In one study on the elderly, daily consumption of walnuts had shown improvement in cognitive function (7).
4. May Decrease Inflammation
Individuals with inflammatory diseases like asthma, arthritisi  XA common disorder that causes inflammation or tenderness of one or more joints that can worsen with age. , and eczemai  XA chronic allergic, inflammatory skin condition that causes itchy, dry, swollen, and cracked skin. can benefit from walnuts due to the presence of essential fatty acids (8).
Walnuts may fight inflammation and reduce the risk of coronary heart disease (9). The polyphenols in walnuts may help in fighting inflammation too (10).
Polyphenols are beneficial compounds that can help improve our lipid (fat) profile. The following graph showcases the protective ability of nut polyphenols to lower cholesterol oxidation.
Oxidized cholesterol is linked with an increased risk of cardiovascular disorders like atherosclerosis. Raw walnuts show the highest antioxidant activity, which means that a lower concentration of its polyphenols would suffice to inhibit the oxidation process when compared to other nut polyphenols.
Antioxidant Efficacy Of Nut Polyphenols
Source: Nuts, especially walnuts, have both antioxidant quantity and efficacy and exhibit significant potential health benefits.
5. May Boost Immunity
Walnuts contain antioxidants that keep your immune system healthy and prevent the onset of diseases. Add some walnuts to your diet every day.
Walnuts are rich in vitamins and minerals such as copper and vitamin B6 that may boost immunity (11), (12).
6. May Improve Bone Health
Walnuts contain an essential fatty acid called alpha-linolenic acid. This acid and its compounds have been associated with stronger and healthier bones.
The omega-3 fatty acids in walnuts can also help. They help fight inflammation and decrease the subsequent bone resorption in humans (13).
7. May Provide Better Sleep
Walnuts have melatonin. This compound is associated with better sleep patterns (14). The omega-3 fatty acids may also keep the blood pressure low and help relieve stress. However, more research is needed in this regard.
8. May Benefit Pregnant Women
Having a walnut daily may greatly benefit pregnant women. Walnuts contain healthy vitamin B-complex groups like folates, riboflavin, and thiamin. These may promote health during pregnancy. However, more research is needed in this regard.
The folic acid in walnuts is particularly necessary for a pregnant woman and the fetus. Folic acid has many beneficial biological properties that may be helpful during pregnancy (15).
9. May Help Boost Digestive Health
Walnuts are rich in fiber. The nutrient helps in keeping your digestive system functioning properly. All humans require fiber on a daily basis to maintain their digestive health(16).
Having walnuts daily may help ease digestive problems and keep your bowels functioning properly. 
10. May Cure Fungal Infections
Anecdotal evidence suggests that black walnuts may help treat fungal infections. Candida growth, either in the digestive system or on the skin, can be highly aggravating.
These infections create a range of uncomfortable symptoms including itching and other allergies. Black walnuts could be as effective as certain treatments against fungal infections (17).
However, more research is needed in this regard.
11. May Help Detox The Body
There is limited research in this regard. Some claim the fiber in walnuts may help cleanse the system. Mary Sabat, MS, RD, LD, says, "Walnuts are a good source of dietary fiber, which helps to keep your digestive system working smoothly and allows your body to eliminate waste more easily. They are also rich in monounsaturated fats, which can help to reduce inflammation and improve your digestive health. Additionally, walnuts are a great source of magnesium and copper, both of which are essential minerals that help keep the digestive system functioning properly."
Walnuts could be a healthy snack for weight management. However, do take them in moderation, as they also may cause allergies in certain individuals. Research is limited.


Did You Know?
Walnuts were reserved for the royalty in Persia (modern-day Iran). This is one reason walnuts are also known as golden walnuts.
In the following section, we have discussed how walnuts may promote skin health.
Walnuts For Healthy And Beautiful Skin
12. May Delay Skin Aging
Walnuts can be good for the skin as they are packed with the B-vitamins. These vitamins may help ease stress and hence mood. Lower stress levels may promote skin health, though more information is warranted in this regard. Increased stress levels may lead to an earlier onset of wrinkles and other signs of aging.
The vitamin E (a natural antioxidant) in walnuts may help fight the free radicals caused due to stress. This can further help delay the aging process (18). 
13. May Help Moisturize Skin
Applying warm walnut oil may help ease dry skin. Anecdotal evidence suggests that walnut oil may help keep skin moisturized. It may nourish skin from within.
14. May Reduce Dark Circles
Regular application of warm walnut oil may lighten dark circles. The oil could soothe skin. It also may ease puffiness and relax your eyes. However, there is no direct research in this regard.
15. May Make Skin Glow
Anecdotal evidence suggests that walnuts may make your skin glow too. You may use a face pack for the same. This is how you can make and use one: 
How To Make A Walnut Face Pack
Add 4 walnuts, 2 teaspoons of oats, 1 teaspoon of honey, 1 teaspoon of cream, and 4 drops of olive oil in a blender.
Blend well to make a smooth paste.
Apply it to your face and let it dry completely.
Wash your face with warm water while massaging in a circular motion.
This face mask helps keep skin moisturized and also may delay the signs of aging.
Walnuts may also enhance hair health. In the next section, we have discussed certain important benefits of walnuts for hair. 
Walnuts For Healthier Hair
Factors like pollution, hectic lifestyle, and poor eating habits can damage hair and stress it out. You can have healthier hair by incorporating walnuts into your daily hair care regimen. Walnuts, whether consumed or applied externally as an oil, may keep hair strong and shiny.
16. May Strengthen Hair
Walnuts are good sources of fatty acids. These may strengthen hair follicles. In mice studies, those treated with walnut oil showed improvements in their hair color and texture. The mice also had reduced hair loss(19). More studies are needed to observe similar effects in humans.
17. May Help Treat Dandruff
Walnut oil is widely used for its moisturizing properties. It may help stimulate natural hair oils and help treat dandruff. Ethanol extracts of walnut leaves had shown anti-inflammatory activity. The leaves may also be used to treat dandruff (20). However, more information on walnuts is needed in this regard.
18. May Promote Scalp Health
Regular application of walnut oil may keep your scalp moisturized. This may help treat dandruff. However, more research is needed to further understand this benefit.
Anecdotal evidence suggests that walnut oil may have anti fungal properties. These may also help prevent infections triggered by ringworm. Concrete research is limited in this area.
19. May Enhance Hair Color
The husk of walnuts may act as a natural coloring agent. It may accentuate the natural highlights of your hair. The important proteins in walnut oil may also help enhance and maintain hair color.
20. May Reduce Chances Of Balding
Regular use of walnut oil has been reported to reduce chances of balding. However, there is no direct research to support this.
You may apply walnut oil to your scalp and hair at least thrice a week. You may also use it along with coconut or olive oils. However, if the oil causes any allergies, stop use and consult a doctor.
These are the benefits of walnuts. While most of them are yet to be confirmed by the medical community, including the nutrient-dense walnuts in your diet usually is healthy. The nuts are rich in several nutrients. In the following section, we will explore a few of them.
Nutritional Value*Of Walnuts
Walnuts are rich in fiber and low in carbs. These nuts are rich in fatty acids, vitamins, minerals, and plant components.
One ounce of walnuts (28 grams) provides 185 calories. It also contains 4 grams of protein, 18 grams of fat, and 3 grams of carbohydrates. Here are the other nutrients in an ounce of walnuts:
1.9 g of fiber
27 mg of calcium
44 mg of magnesium
98 mg of phosphorus
125 mg of potassium
1.3 µg of selenium
28 µg of folate
5 IU of vitamin A
0.7 mg of vitamin E 
*values sourced from USDA, nuts, walnuts, English
A study was conducted on 2670 children and adolescents and 5087 adults who were no-nut consumers at the beginning of the study. The results showed an increased magnesium intake of 16.9% in adults and 20.4% in children aged 14-18. Further, the health index score improved from 49.1 to 58.5 in children and from 52.4 to 59.2 in adults.
Though walnuts are replete with nutrients, taking them in excess can lead to adverse effects.
Serious Side Effects Of Walnuts
It is important to be aware of the side effects of walnuts. In some people, excess consumption can lead to allergies and drug interactions. Walnuts may also increase the risk of skin cancer in some. 
1. May Cause Allergic Reactions
Studies state that people who are allergic to nuts (pecans, in particular) should avoid black walnuts. This is because of the allergic reactions associated with them(21). The allergic reactions may include tightness in the throat or chest, hives, and difficulty breathing.
Walnuts may cause both primary and secondary allergies. Primary allergies involve the direct intake of walnuts or their products, which can lead to anaphylaxisi  XA serious, life-threatening allergic reaction that occurs within seconds or minutes of exposure to the allergen. . Secondary allergies involve pollen, which reacts with walnuts due to cross-reactivity and causes itching or swelling of the mouth (22).
2. May Increase The Risk Of Skin Cancer
Many people apply black walnut paste to their skin to treat minor cuts and eczema. However, black walnuts contain juglone, a chemical compound that has certain toxic properties (23). Though juglone is known for its anticancer properties, its pro-oxidant nature may increase the risk of cancer too. However, research is limited here.
3. May Cause Changes In Cellular DNA
According to a study published in the Toxicology and Applied Pharmacology Journal, the juglone in black walnuts may adversely affect fibroblasts (cells that produce collagen proteins). The studies were carried in rodents only (24).
The compound may decrease the levels of p53 (a type of skin protein) and cause damage to cell DNA. However, there is no concrete research in this regard.
4. May Cause Equine Inflammatory Disease
The extract of black walnuts was found to betoxic to horses (25). It caused an inflammatory disease called equine laminitis. The condition caused the white blood cells to accumulate in the hooves of the horse, leading to pain and lameness. Similar inflammatory conditions have not been observed in humans yet.
5. May Cause Iron Deficiency
Black walnut contains phytates. These have a strong effect on the body's ability to absorb iron. Consuming walnuts when low on iron may lead to iron deficiency (26).
6. May Cause Liver Damage
An overdose of black walnuts may harm the kidneys (27). The juglone in the walnuts may have a role to play in this regard, though research is unclear. 
7. May Dry Up Body Fluids
Black walnuts may dry up bodily fluids like mucous. They may also cause dehydration during illness. However, research is limited in this area.
8. May Cause Skin Rashes
When applied topically, black walnuts may result in skin rashes. The chemical compounds found in the hull of the nut may irritate skin and lead to contact dermatitis (red-colored rashes) (28).
9. May Cause Birth Defects
The phytates in walnuts may cause iron deficiency (26). Pregnant women are more vulnerable to iron deficiency. The mineral is crucial for pregnancy. Its deficiency may lead to complications (29).
Iron deficiency during pregnancy may also cause miscarriage, though more research is needed in this regard.
10. May React With Other Medications
Black walnuts may interact with other medications that you may be taking (30). If you are on medications, consult your doctor before taking black walnuts or supplements containing them.
The tanninsi  XA class of naturally occurring plant compounds responsible for protein digestibility and lowering blood pressure. present in the hull may reduce the absorption of medications. However, more research is needed to support this claim.
Walnuts may cause adverse effects if consumed in excess. It also is important that you pick the right walnuts from the market. In the following section, we have discussed how you can select and store walnuts to get their maximum benefit.
How To Choose The Right Walnuts
Walnuts come in three different sizes – small, medium, and large. Check the shells thoroughly. Avoid shells that come with holes and/or cracks. If you are picking the shelled ones, ensure the meat within is plump and crisp. 
How To Store Walnuts
You can store walnuts in an airtight container in a dry, cool area, away from direct sunlight. Walnuts in the shell can have a shelf life of 3 months when stored this way.
Once the shell is removed, walnuts can be stored in the refrigerator for a maximum of six months. You can freeze walnuts in an airtight package and use them for a year without any damage. Walnuts generally absorb food flavors quite easily. While refrigerating or freezing, ensure they are kept away from foods such as onions, cabbage, or fish.
Recommended Serving
You can relish an ounce of walnuts daily. An ounce may include about 12 to 14 walnut halves.
Including walnuts in your diet and cooking is simple. You can check the following ideas.
Tips For Cooking
You can enjoy all the walnut benefits by snacking on them directly or incorporating them as part of your diet. There are numerous walnut uses, such as including them in baked foods, using them as a salad topping, or even using shells as a natural abraser for cleaning. Here are a few ways to consume more walnuts.
Add 2 to 3 walnuts along with a banana and some yogurt for a healthy smoothie.
Transform walnuts into a delicious spread by toasting and then grinding them into a powder. Blend walnuts along with garlic, salt, lemon juice, olive oil, and a dash of pepper.
Prepare a delicious salad by mixing walnuts, diced apples, red and yellow bell peppers, and spring onions. Tossin a low-fat garlic vinaigrette dressing.
For a protein-packed meal, prepare a delicious dish with canned tuna, avocado, celery, and apples. Toss in toasted walnuts and flavor the dish with fresh lime juice.
Toss in a handful of crushed, toasted walnuts in your butter-free, sugar-free, whole grain, almond-oats cookie.
Walnuts can be paired with caramel, blue cheese, mushrooms, port, assorted salads, penne pasta, zucchini, raisins, and sherry.
Always shell walnuts or chop them only when you plan to eat. This will help retain the irfreshness.

Trivia
The Greeks and Romans loved walnuts, and early Romans considered them food for the Gods. They were also used for their oil and were sometimes powdered to thicken dishes in the same way cornstarch is used now.
Infographic: Walnut: What You Need To Know
The benefits of walnuts are many, making them a delightful nut. They are flavorful and nutritious, and they make an excellent snack.
Learn from the infographic below about their global appeal, how they are better than other popular nuts, and some interesting ways of using them to rejuvenate your skin.



Walnuts are nutrient-dense nuts with rich antioxidant properties. They also contain omega-3 fatty acids that contribute to many health benefits. Walnuts benefit and promote heart health, reduce the risk of certain cancers, support brain function, decrease inflammation, and boost immune health. They also help delay skin aging, moisturize the skin, reduce dark circles, and promote scalp health. However, though there are many benefits of eating walnuts, excess intake may cause allergies and drug interactions in some people. Hence, limit their consumption and consult your doctor if you experience any emergencies.
Frequently Asked Questions
Which are healthier, almonds or walnuts?
Mary Sabat says, "Almonds and walnuts are both considered healthy fats. However, walnuts are considered a healthier nut for many reasons. Walnuts are a good source of omega-3 fatty acids, which help protect against heart disease. Walnuts also have more protein than almonds, making them a better choice for someone looking to build muscle." The high concentration of antioxidants present in walnuts also helps reduce cardiovascular diseases and improve the lipid profile and endothelial function (31). However, a comparative study of nuts on blood lipids proved that a walnut-rich diet is a better alternative for lowering triglycerides, LDL cholesterol, and total cholesterol compared to almonds (32).
Are walnuts good for belly fat?
According to Sabat, "Walnuts may help reduce belly fat because they are high in healthy fats, fiber, and protein, which can help you feel fuller for longer, reduce cravings, and help you maintain a healthy weight. Additionally, walnuts contain antioxidants that may help reduce inflammation in the body, which can contribute to weight gain. Finally, walnuts contain omega-3 fatty acids, which have been linked to improved heart health and a reduced risk of obesity. It is important to note, however, that all nuts are high in calories, so even walnuts should be consumed with portion control in mind."
Are walnuts good before bed?
Sabat opines, "Walnuts make a great bedtime snack because they are high in healthy fats and protein. Eating walnuts before bed may help you feel fuller longer, which can help with weight management and reduce the temptation to snack late at night. Walnuts are also a good source of tryptophan, an amino acid that helps the body make serotonin and melatonin, hormones that promote sleep. Walnuts are also loaded with magnesium, a mineral that can help reduce stress and anxiety, which can help you relax before bed. Having a little fat before bed can also help balance blood sugar levels out and prevent middle of the night wakings."
Can walnuts reverse gray hair?
"Walnuts are rich in copper, and copper helps to produce melanin, the pigment that gives hair its color. So, when walnuts are consumed, they can help in restoring the pigment levels in the hair and reverse gray hair" says Sabat.
What is the best time to eat walnuts?
Anecdotal evidence suggests that intake of walnuts along with breakfast may regulate blood pressure. Taking walnuts in the mornings seems to be ideal.
Is eating walnuts everyday good for you?
Yes, eating walnuts everyday is good for you. These nuts are rich in antioxidants and provide essential nutrients thatmay improve brain function, and potentially reduce the risk of heart disease and  cancer.
Which is better – almonds or walnuts?
Both almonds and walnuts offer several health benefits. Almonds reduce cardiovascular health risk and are good for individuals with diabetes, hyperlipidemia, and obesity. The high concentration of antioxidants present in walnuts also helps reduce cardiovascular diseases and improve the lipid profile and endothelial function (31). However, a comparative study of nuts on blood lipids proved that a walnut-rich diet is a better alternative for lowering triglycerides, LDL cholesterol, and total cholesterol compared to almonds (32).
Are walnuts good for diabetes?
Yes, walnuts are good for diabetes control. They help improve insulin resistance and lower the risk of developing type-2 diabetes (33).
Key Takeaways
Walnuts may improve heart health by reducing bad cholesterol levels in the body.
The omega-3 fatty acids in walnuts help improve brain function and reduce the risk of cancer.
Walnuts may reduce dark circles, moisturize the skin, and make it glow.
Walnuts may help treat itching and allergies caused due to fungal infections.
Discover the amazing health benefits of walnuts with this insightful video. From improved heart health to better brain function, walnuts are a superfood you don't want to miss out on.
Sources
Articles on StyleCraze are backed by verified information from peer-reviewed and academic research papers, reputed organizations, research institutions, and medical associations to ensure accuracy and relevance. Check out our
editorial policy
for further details.
The following two tabs change content below.