42 Medium-Length Layered Hairstyles & Haircuts For Women
Never run out of quirky yet practical hairstyles with our handpicked selection!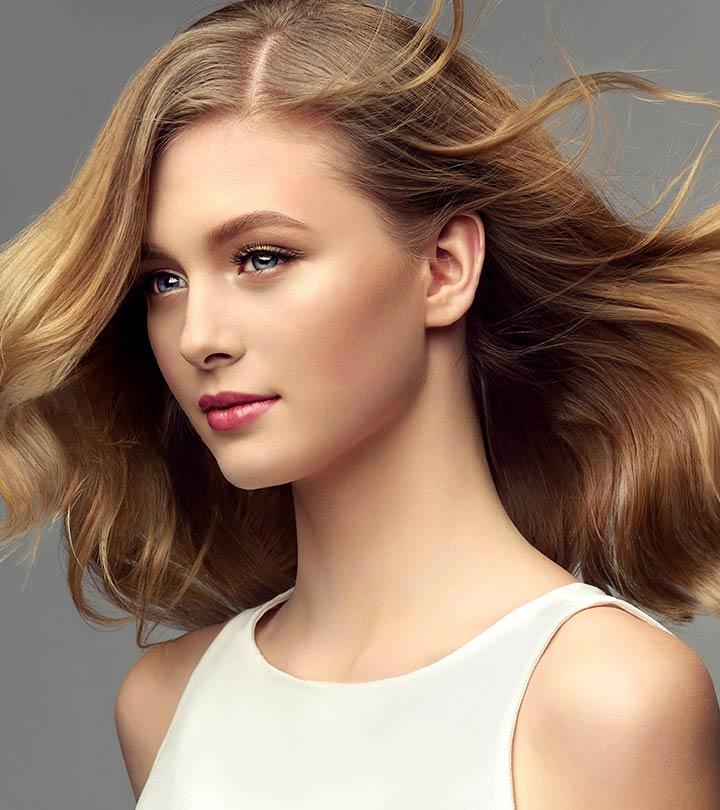 You have cut your hair long, and you have cut your hair short. Now you are looking for a new style to flaunt. How about trying a a medium hair length layered hairstyle?

Before You Get Started
Voluminous roots, gradient layering, and healthy ends are the best way to maintain the perfect layered hairstyle.
Medium-length layered hair retains its shape even without routine runs to your hairstylist.
Layered hair in the front of the face is best suited for those with an oval face shape.
Layers starting above the cheekbones will make your face look wider. The longer the layers, the more slender they will make your face and neck look.
Layers are always a great fashion trend to spice up your look. They also help add depth and dimension to your locks, making them more voluminous and bouncy. You can also add layers to accentuate your facial features, like a sharp jawline or pretty eyes. Here is a tutorial on a couple of ways you can cut your hair to add in some layers. Keep scrolling!
How To Cut Medium-Length Hair In Layers
I. Layers At The Front
Comb your hair to detangle it. Use a brush for fine or straight hair and a wide-toothed comb for curly hair.
Section off all the hair from the front and clip up the rest of your hair. You can also include some hair from the sides if you want more or thicker layers.
Allow the hair to fall on your face and comb it.
Pick up the hair in the center of this section (aligned with your nose) and hold it flat between your index and middle fingers. Cut that section of hair straight across.
Using the newly-cut center hair as a reference, and depending on how many side layers you want, cut the rest of your hair a few millimeters below that section.
You can cut the side layers straight across, but if you want feathered layers, use the point-cut method. Hold your scissors down and cut upwards, keeping the hair at the pivot point. Make sure that as you cut, you don't close the scissors completely. Move along as you cut. You can try the same thing out with the scissors facing down for a more tapered look.
Once you've finished cutting your layers, brush the hair to make sure it is even. Part your hair the way you want to, and unclip the rest of your hair.
II. Layers At The Back
Comb your hair to detangle it.
Flip your hair forward and tie it into a ponytail two inches below your front hairline.
Brush your hair again and tie another elastic band where you want to cut it.
Hold your hair above the second elastic band between your index and middle fingers, spreading it out flat. Cut it straight across.
If you want to feather your ends, hold the scissors straight and cut upwards.
Remove both the elastic bands, flip your hair back and brush it out.
Layers look great just as they are, but if you want to make them look more stylish, here are a few pointers.
How To Style Your Medium-Length Layers
If your layers begin at the front, allow some of the layers to fall free when tying a ponytail, an updo, or a half updo. This will frame your face beautifully. This tip works for all face shapes, especially if you have wide cheeks and a large forehead.
If you have an oval face shape, try the slick back high ponytail. This hairstyle will flaunt your layers as well as your face shape.
If you want to accentuate your jawline, opt for soft layers that begin at the jaw. Keep your ends below the jawline as well.
Now that you know how to cut your hair into medium-length layers, check out our top 40 picks of the best medium-length layered hairstyles.
42 Beautiful Medium-Length Layered Hairstyles
1. Subtle Layered Lob
Sometimes a little goes a long way even when it comes to hair. If you have hair that tends to get heavy near the jawline, forming a triangle from the crown to your shoulders, then this is what you need. Take away some of the heaviness by adding a few light layers to your hair ends. Take a leaf from Selena's book of glamorous style and pair these layers with some waves, for texture, and a deep and messy side part.
2. Retro Curls With Layers
Lily Collins gives us a subtle take on the classic Hollywood curls look. Instead of elaborate curls, her hair is curled only at the end to enhance volume and accentuate her layers. These lower layered curls are perfectly paired with a high lift deep side parting to draw attention to her jawline.
3. Beachy Layers
We are all looking for the perfect beach hairdo. One that flaunts our haircut, hair color, and texture. Margot Robbie – rather her hairstylist – has found it! Opt for layers just toward the ends of your hair and style them in big, loose curls to add texture.
Owner of Royal Locks Curl Care and curly hair expert Casey Simmons says, "This style is perfect for heatless curls. Sock buns (holding a few large buns in place with the elastic of old socks) create large, voluminous, curls. Layers towards the ends of your hair will enhance these even more, creating movement and texture to this beachy wavy curls look."
4. Tamed Afro
If you have kinky hair, the struggle is real. At times, it could be extremely hard to style. This hairstyle is a great way to show off your curls. The layers will flaunt your curls even in a simple ponytail. All you need to do is protect it at night by applying some curl-defining cream and wrapping it in a scarf.


Quick Tip
If you feel your curls lack life and movement, get layers cut in your hair. They help retain the bounce and definition of your curls. They also add texture and shape to your hair.
5. Light Wavy Layers
Claire Danes has stunning blonde hair, but here, she has added a slight strawberry hue to it. She then got her hair in layers to really flaunt the tint. This is a timeless and elegant look!
6. Tapered Ends
Lili Reinhart has stunning blonde hair. It has been enhanced even more with finely tapered layers at the end. It makes her hair look more voluminous. Coupled with her overgrown side-swept bangs, this is the perfect hairstyle for those chill days.
7. Blunt Layers
Blunt layers are great for flaunting a sharp jawline. But if you have a pointed chin, I would advise against them as they can make it look too harsh. These blunt layers are great for oval faces. If you have a heart-shaped face, these layers will accentuate your jawline and even out on your wide forehead.
8. Sharp Highlighted Layers
If you already have layers, add some highlights to really bring them out. Apart from just being fun, highlights help in face framing. Pick a color that is a few shades lighter and brighter than your natural hair color and see the magic work!
9. Waterfall Layers
These layers are smooth and flowy. Wavy hair enhances your layer beautifully. Make sure the waves are defined but not too crisp. Begin curling your hair from midway down to make the waves look more natural.
10. Curly-Ended Layers
Zooey Deschanel is known for her bangs and wavy locks. But this look just makes her shine! The curly-ended layers accentuate her jawline. The caramel highlights make her stunning blue eyes pop.
11. Light Side Layers
When The Big Bang Theory first aired, Penny's golden locks became the talk of the town. It is no secret that Kaley Cuoco has incredible hair, but these layers make her medium-length hair absolutely shine.
12. Subtle Layers
Notice how the layers are there but not too over the top? Instead, the focus is on Priyanka Chopra's face. If you want to flaunt your face shape, this is the best layered look to do so.
13. Fine Layers
I love this look on Jenna Dewan. She looks spectacular! If you have fine hair that rests just above your shoulders, consider a fine bob. There are many kinds of bob cuts, but make sure you add in those light layers at the bottom to really accentuate it.
14. Wispy Layers On Blunt Hair
If you have a blunt haircut, add in layers near your cheeks. Make sure your layers have wispy ends. This will help in framing your face. Avoid keeping your layers blunt as it will make your cheeks look wider.
15. Curly Layers
If you have voluminous curly hair, layers can be your best friend. They show off your hair texture without needing to be overtly styled. The layers and the curls together will make your face appear more slender.
16. Classic Layers
Margot Robbie has beautiful blonde hair, and this type of hairstyling shows us that all that we need is minimalist hairdressing. You can see the layers at the ends. This gives her hair more volume and bounce. The brown to blonde transformation also adds tons of dimension to her locks.
17. Uneven Layers
Sometimes, you need a little unevenness in your hair to balance out any asymmetry on your face. It takes the focus off your facial features and draws attention to your face shape and hair. Get some bangs to frame those stunning features of yours.
18. Thick Layers
If you ever need a good hairstyle for your medium-length hair, check out Rose Byrne's hair look. It is stunning and elegant while still being perfect for the beach. Here, the layers are concentrated at the ends of her hair. They have been feathered out to flaunt her hair's thickness.
19. Flicked-Out Layers
Flicked-out hair tips help in accentuating your jawline and cheekbones. If you have wide cheeks, opt for hair that ends near your shoulder rather than short hair. This will balance out the wide cheeks.
20. Simple Layers
It seems like Claire Danes does not age! She is stunning, and so is her hair. This look is for all fine-haired queens. Adding layers from your jaw down makes your fine hair look thicker and healthier.
21. Tousled Layers
Have the perfect wavy hair but wondering how to flaunt it? Add in some layers to take it up a notch. Not only will your wavy hair flow like a waterfall, but it will also flaunt your hair texture.
22. Soft Curls
If you have fine hair that tends to look thin, this is a great way to make it look thick. Ask your hairstylist for layers with soft feathered ends. Then, curl your hair in big sections to achieve these stunning curls.
23. Voluminous Layers
Dark roots and voluminous hair make for a great combo. Get it cut in some layers to add style to your look. The dark roots elongate your face, while the volume makes your face look slender. If you are having a bad hair day, this is a great way to cover it up!
24. Frizzy Layers
All my curly-haired friends, I know y'all have trouble with frizz. It is a huge issue that can change the way you look (Monica Geller knows what I'm talking about). But if you have light frizz, you can use it to your advantage. Just add in some layers and fluff up your hair.
25. Blonde Accentuated Layers
If you have layers and want to flaunt them, blonde streaks are the way to go. Opt for a shade that is close to your hair color and undertone. Straighten your hair and strut about like Jessica Alba!
26. Wavy Feathered Layers
Place your layered hair in a straightener and twirl it down your hair to recreate this wavy magic. Get some highlights to flaunt those layers and waves. This accentuates your facial features.
27. Layered Lob
If you have a lob or a bob that is growing out, get it cut in some layers to make it look fresh. The layers will thin out the ends but volumize the top. Add some dimensional highlights to get the most out of this hairstyle.
28. Blonde Highlighted Layers
The feather cut is one of the most sought-after layered looks of all times. This blend of inward and outward layers is an absolute showstopper. These layers draw all the focus to your face shape and features.
29. Golden Locks
If you already have a layered look but forget to keep it fresh with regular trims, this look is for you. Opt for an ombre that is a few shades lighter than your roots. You want the transition to be smooth and not too stark.
30. Flowy Curly Layers
Curl your layered hair in big sections to obtain this stunning look. The layers blend in together perfectly, adding volume and drawing focus to your face shape. Part your hair on one side to finish off the look.
Casey Simmons, the curly hair expert who owns Royal Locks Curl Care, recommends asking specifically for a curly expert hair stylist at a salon for this hairdo. She says, "Curly hair stylists know how to cut to the pattern of your hair so that the layers flow together with movement, avoiding the blunt staircase look. Some layered cuts only flow nicely when blown out with a large roller brush and hairdryer. However, if you are DIY-ing this look then it can also be achieved with heatless rollers or scarf, or finger curling. You want to make sure that the cut has a nice finish when naturally air dried or with a hot tool and brush."
31. In And Out Layers
If you have an oval face shape, this hairstyle is for you. The sharp cut layers bring out Annalynne McCord's jawline. (You can cut a diamond on that jawline!) If you have a round or heart-shaped face, try this hairstyle with a side parting.
32. Dimensional Blonde Layers
A dimensional hair look has many qualities. It helps frame your face and brings out your facial features. It shows off your hair texture and gives it a voluminous look. When paired with layers, it makes your hair look thicker.
33. Waved Ends Layers
If you have a round, square, or heart-shaped face, this look is for you. The side bangs draw the attention away from your forehead and cheeks. While the layers at the end, near the jawline, bring out the lower half of your face.
34. Sharp Heavy Layers
Just got a new hair color and want to flaunt it? Layers are the way to go. Opt for heavy, sharply-cut layers that are stacked on top of each other. Part your hair deeply on one side to give your hair a volumizing lift at the top.
35. Volume Layers
It's no secret that layers make your hair look thicker. If you want the maximum volume, keep the ends of your layers long and soft. This will make the top of your hair look thick and full of life.
36. Soft Brunette Layers
If you have medium brown hair, add in some layers to spice it up. Curl your hair in big sections and spritz on some hairspray. Spread out the curls with your fingers. This will accentuate the layers.
37. French Bob Layers
This look is a "formal" version of the classic French Girl bob. It has bangs and the light layers at the end, but there is a slickness to it as well. I love how Zooey's bangs are also layered. If you have wide cheeks, this look is a gift from heaven!
38. Flowy Layers
If you have fine hair, embrace it! You can achieve this flowy look with ease. All you need are layers, a curling iron, and some light mousse. If you have a wider face, don't apply mousse. Keep your first layer a little higher than the rest of the layers, but longer than your cheeks. This draws attention on your cheeks while making your face look slimmer.
39. Defined Layers
If you have short hair that's growing out, your hairstylist probably asked you to wait before your next haircut. That's so they can recreate the haircut you had. But if you're looking for something a bit different, opt for this defined layered look.
40. Light Layers
If you have hair that is soft and silky, adding layers will help define your facial features and take your hair to the next level. Add blonde highlights in the front to frame your face.
41. Side-Swept Layers
If you love layers but want to jazz them up, opt for a different parting. If your hair naturally parts at the middle, opt for a side parting. This will make your hair look thicker and bouncier.


Quick Tip
If you have a large forehead or a long face, you may try this haircut as it helps make your face appear smaller.
42. Face-Framing Layers
Notice how Rose Byrne's layers are at the front, right near her face? This is to frame her face. Rose Byrne has a slightly large forehead that she covers up with bangs. She draws attention to her flawless jawline with layers. The layers also bring her eyes, nose, and mouth into the limelight.
Layers are a great way to flaunt medium-length hair. They add style, depth, and dimension to your tresses. And medium-length layered hairstyles look great in any style, whether left loose, tied up, or braided. If you love cutting your hair by yourself, read our tips to add layers to the front or back of your tresses, and how you can style these layers. You can use layers to either add style to your tresses or highlight certain facial features or your face shape. Of course, layers also make your hair look thicker and voluminous. Hopefully, these 42 hairstyles will inspire you to style your tresses, from loose waves to face-framing layers.
Frequently Asked Questions
Are medium-length layered haircuts low-maintenance?
Medium-length haircuts are easy to maintain compared to short and long hair. They can also help you save frequent visits to the salon for hair trimming.
What kind of hair products work best for maintaining a medium-length layered haircut?
Use products that best suit your hair issues and hair type. For example, if you have wavy medium length hair, look for hair products that are made for wavy hair or handle frizz. A heat protectant spray can help prevent damage and keep your locks looking healthy. Use a detangling spray to brush and style layered hair easily to prevent tangles and breakage.
Can medium-length layered haircuts be easily transitioned from day to night?
Change your look for the night by adding bounce to your hair with a volumizing spray. Changing your part can quickly change your entire look. Do a deep part for a chic and sophisticated look. Play around with hair texture, hair types, and accessories to change your look.
How can I style my medium-length layered hair for a casual look?
If you have wavy hair, air dry your locks until they are 70% dry and then use a curl defining cream and scrunch your hair to accentuate its waves.
Create a French-braid headband from one side to the other tucked in with bobby pins.
Wear a low pony with a few strands framing your face.
Try a messy bun with a satin scrunch or thin elastic.
How can I add volume and texture to my medium-length layered hairstyle?
Use volumizing products like shampoos, powders, serums, and sprays. Use a round brush while blow drying to add bounce to your layers. Gentle backcomb your hair at the roots to create natural lift and volume. Go with styles like beachy waves or crimped hair to enhance hair volume. Sea salt sprays and texturizing sprays can be used to create both texture and volume.