22 Easy & Stunning Curly Long Hairstyles To Try In 2023
Styling ideas to try if you want to give your curls some love, so they steal the show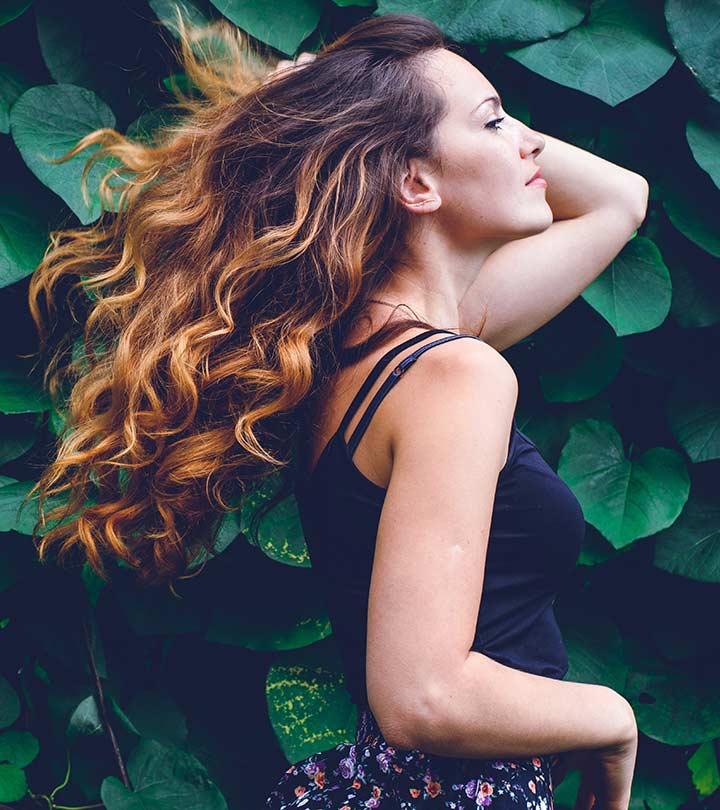 Long curly hair is very beautiful, but on most days, you are tethering on the edge of either looking like an actress from the '50s or Medusa with snakes on your head!
Luckily, we have curated a list of curly long hairstyles, so your wild and flowing tresses always look on point. These hairstyles will make your curly tresses look well-defined, shiny, and ever-so-fabulous. Keep reading to check out all these stunning hairdos for you to try!

Before You Get Started
Ask your hairstylist to use a wide-tooth comb or detangler cream/gel to detangle the curls. This will give them shape and reduce the risk of breakage.
Use an excellent hydrating product that not only makes your curls smoother but also helps to define and separate them. This allows them to keep their shape without feeling crunchy and helps in the maintenance of a smooth texture.
Trim your hair every 8 to 12 weeks to prevent split ends and make your hair look bouncy and young.
22 Best Curly Long Hairstyles
1. Curly Shag
Sandra Oh's curly shag is an excellent example of how any hair type can rock this style. So what is the trick to pulling off this hairstyle? It all lies in the hair products, such as smoothening cream and leave-in detangler for frizz-free shiny hair like hers.
How To Get The Look
Apply a detangler to your naturally curly hair and make sure the product should keep your hair silky. Then, distribute the styling cream with the help of your fingers. Finally, diffuse or let your hair air-dry depending on how big or subtle you want your hairstyle.
2. Messy Curly Updo
Sarah Oh loves flaunting her natural curls and isn't scared of experimenting with them. Her messy voluminous updo gives her a bold rocker-chic look.
How To Get The Look
Pull your curls into a loose ponytail. Wrap the hair tie twice and keep it loose to avoid stressing the strands. Twist the ponytail at the base and secure the loose ends at the top of the head with pins. Spritz some hairspray to set it in place.
3. Loose Laid Back Curls
Curly hair is stunning and quite often used in film to depict fierce characters. So, of course I had to start off this list with long, loose curls. The key is to make them look voluminous.
How To Get The Look
If you have thin curls, use rollers to make them look bigger. Once you've curled your hair, back comb your hair all over to give it volume. Neatly comb down the front and top so it does not look messy. And, don't forget hairspray!
4. Glamorous Curls
When you have thin hair, curls can make it look thick and voluminous. Instead of opting for perfect ringlets, try out these messy curls. Once you are done curling your hair, mess it up with your fingers to give it a cute messy look.
How To Get The Look
Curl your hair in small sections with a thin curling wand. Part it on one side and twirl a section of hair on both the sides. Pin up the twirled hair and backcomb all the curls to finish off this look.

5. Romantic Updo
Let's be honest, there's something about curly hair that makes it look romantic. You can't really put your finger on it, but it's there. Try any updo with curly blonde hair if you are heading to a wedding or any other formal event.
How To Get The Look
Style your hair in waves with a curling iron, a straightener, or hair rollers. Loosen them up by gently running your finger through them. With a round brush and a blowdryer, curl your bangs as well. Then, gather all your hair and wrap it in a mid-level bun. Flare out the curls and pin them around the bun to finish off this romantic updo.
6. Mythical Braid
This braid has been flooding my Insta-feed, and as a dark-, straight-haired girl, it makes me jealous. This looks like a braid designed by the gods. Out of this world!
How To Get The Look
Style your hair in waves with a curling iron. Then, flip you hair over and shake it to make it look a bit messy and more natural. Weave your hair in a loose braid and pancake it to make it look messier and add loads of dimension to it.
7. Light Curls Ponytail
Ponytails are the quickest hairstyle of all time. With the right styling, you can also make them the best hairstyle you have ever sported.
How To Get The Look
Part your hair down the middle. Leaving out two big sections in the front on either side, gather all your hair and tie it in a low ponytail. Create a space with your fingers in the hair above the elastic band and flip your ponytail through it. Twist both the sections in the front, cross them over each other, and pin them on opposite sides underneath the ponytail. Spread out your hair with your fingers to finish off the look.

8. Deep Side Parting
Looking for a way to jazz up your everyday look? A deep side parting might be just what you need! If you already part your hair on the side, opt for a slightly messy parting instead of a perfect one.
How To Get The Look
Using a rat-tailed comb, part your hair in a deep side parting. If you want a gelled down look, apply mousse to your hair and comb it down.


Quick Tip
You can secure the tucked-in part of your hair with a flirty bow or bedazzled hair clips to amp up the look.
9. Slight Half Updo
Curly hair looks incredible in a half ponytail. But if you want to take things up a notch, add an updo to the mix. This gives your hairstyle a slight boho and messy look. This hairstyle is also super easy to achieve.
How To Get The Look
Style your hair in waves with a curling iron. Then, gather the hair at the top of your head and tie it in a half ponytail or a half top knot. Allow stray hair to fall through the ponytail/bun to add to the messy appeal of the look.
10. Messy Top Knot
The messy top knot is all the rage right now! And if you have curly hair, then you've hit gold. Try this messy top knot to get all the attention you deserve and then some!
How To Get The Look
Take some hair from the sides and weave it in individual braids. Gather the rest of your hair and wrap it in a top knot. Wrap the braids along the base of the bun. Don't forget to give your hairdo a good hit of hairspray to set it in place.
11. Side-Swept Curls
If you have big curls, know that you are envied. One of the best ways to flaunt your curls is to sweep them dramatically on one side.
How To Get The Look
Apply some mousse to your hair. Then, curl your hair with a 2-inch curling iron. Brush all your hair to one side and pin it ini place. Spritz on some hairspray to keep your curls in place throughout the day.
12. Faux Bob
In the '20s, the short bob was the talk of the town. But the women who did not want to cut their hair did the next best thing. They started to fold their long locks to create a faux bob, and we love it!
How To Get The Look
Divide your hair in 2 inch wide sections. Apply some mousse to your comb and comb down one section at a time before curling it. Brush down the curls to loosen them up. Gather all your hair and tie an elastic around it a couple of inches above the ends. Fold your hair and tuck the elastic band under the nape of your neck, pinning it in place. Pull out some hair from the front to frame your face and finish off the look.

13. High Ponytail
A high ponytail means business! But it's also one of the best ways to flaunt those curls.
How To Get The Look
Gather all your hair in a high ponytail and tie it with an elastic band. Flair out your hair so it falls on either side of your face and the back. This will make it look thicker and more voluminous.


Did You Know?
Pop star Madonna popularized the high ponytail in the 1980s. Today, Ariana Grande is continuing its legacy.
14. Messy Ponytail
This is a really simple and graceful hairstyle. It shows that when you have lush blonde curls, just one accessory is enough to style them. Even a simple flower crown can amp up your curls.
How To Get The Look
Gather all your hair at the crown and allow some strands to fall free. This will add to the messy look. Tie your hair in a high ponytail. Push it a little higher and pull the elastic towards your head to tighten it. This will create a slight bouffant at the top.
15. Flipped Ponytail
The flipped ponytail is a classic right now. It is super easy to achieve and looks stunning, It also works with any attire, casual or formal. The owner of Royal Locks Curl Care Casey Simmons says, "A flipped ponytail is perfect for wavy or curly hair of any thickness. It gives volume to fine hair and shows off those round, bouncy, thicker curls. Wavy and curly hair tend to have multiple patterns and shapes throughout one person's head. Often the hair will be curlier underneath or in the back. This style brings those curls outwards for the world to see."
How To Get The Look
There are two ways you can achieve this look. The first way is to brush your hair back, making sure the top is loose. Tie your hair in a mid-level ponytail and topsy-tail the ponytail twice or thrice. The second way to achieve this ponytail is to gather all your hair, except for some on the sides. Tie the gathered hair in a mid-level ponytail and wrap a little hair at the base of the ponytail to cover it. Tuck the loose hair into the hair above the elastic band, using pins to secure it.
16. Big Curls Side Sweep
The side-swept hairstyle is a red carpet favorite! It looks stunning and works for all face shapes. It also flaunts your curls like no other hairstyle.
How To Get The Look
Apply some mousse to your washed, damp hair and comb it down. Use a round brush and a blowdryer to create those stunning and perfect curls. Gather all your hair to one side and pin it up. The mousse will keep your hair in place.
17. Voluminous Half Updo
If you have thick hair, curl your hair in small sections before tying this stunning high ponytail.
How To Get The Look
Detangle your locks with a comb. Apply some curl defining cream to your hair and scrunch it up. Gather the top half of your hair and tie it in a high ponytail. Tie the rest of your hair in a ponytail right under the first one. Flair the ponytails to merge them and flip them to one side to finish off this look.
18. Frizz-Free Curls
Sometimes, leaving your curly hair loose and wild is just what you need. With the rage for messy hair taking over, these imperfect coils are just what you need to get the perfect messy look.
How To Get The Look
Blowdry your hair on a low heat setting until it is 80% dry. Apply curl defining cream and wrap it in a scarf. Sleep on it and remove it the next day. You will notice that your frizz has reduced drastically while your curls look beautiful and defined.
19. Scrunched Curls
Scrunched curls are the perfect hairstyle to sport to the beach or Sunday brunch. All you need is some water, mousse, and a blow dryer.
How To Get The Look
Dampen your hair and apply some mousse to it. Scrunch it up in sections. As you are scrunching your hair, blow dry it on a low setting to set the curls in place.
20. Boho Braids
Boho braids look stunning with curly hair. Here is a perfect example!
How To Get The Look
Detangle your hair with your fingers and weave it in a fishtail braid. Pancake the braid to make it look bigger. Pull out some strands to frame your face and spritz on some hairspray to set it in place. You can also put on a floral headband to add a boho vibe to the look. Getting a few highlights done to your hair would only add to the look.

21. Low Messy Bun
If you have curly hair, it is easy to achieve a spectacular updo style without worrying about how to add volume to it.
How To Get The Look
Wash your hair and allow it to air-dry about 60% of the way. Curl your hair with a curling iron, then wrap it in sections and pin it in place to form a low bun. Accessorize with some fresh flowers or a fancy hair comb to finish off the look.
22. Glossy Curls
Feisty and gorgeous! These curls don't need any more validation.
How To Get The Look
Wash your hair and allow it to air-dry partially. When it is damp, apply some curl defining cream to and wrap it in a silk scarf. Keep the scarf on overnight. It will lend your curls tons of definition and get rid of all the frizz. Apply a few drops of almond or olive oil to give your curls that glossy shine.
Infographic: Tips To Manage Curly And Frizzy Hair
All that hairstyling and the lack of a proper hair care routine can lead to frizzy hair. The frizziness in curly hair is mostly caused due to a lack of moisture and is a sign of hair damage. The good news is, you can restore your hair health by following a few rules to take care of them.
Check out the infographic below to know how to take care of curly and frizzy hair.


The best way for curly hair to flourish is to give it some TLC. These home remedies for curly hair help you manage stubborn curls while providing other hair care benefits such as increased hair shine, regulating the scalp pH level, and increased hair strength. For the best results, use these remedies as recommended above. Using natural ingredients means strengthening and nourishing your curls without adding chemicals or harsh ingredients that might damage your tresses. Use these remedies and watch your curls become more manageable and healthy.
Frequently Asked Questions
Is curly hair better with layers?
Layers can give curly hair more volume and style. Getting your haircut and styling your curls in layers makes your hair look fuller and more bouncy, no matter the length. We recommend getting your hair cut in layers by a hairstylist. "When sitting down in your stylist's chair, have a conversation before they begin to cut your tresses," says Casey Simmons, owner of Royal Locks Curl Care. "Cutting dry and in the direction of the curl pattern makes for better layers that flow with movement, rather than looking like a choppy spiral. Avoid using thinning shears, as there is less control and they actually make hair look frizzy with less definition."
Do curtain bangs work on curly hair?
Yes, curtain bangs look great on curly hair. They cover the forehead's sides, making them perfect for almost all face shapes and hair types.
Are there any hairstyles that are particularly well-suited for special occasions or events, such as weddings or proms?
Different types of buns are well-suited for occasions such as weddings or prom nights. You can wear your bun tight, loose, high, low, messy, or braided and enhance its looks with some hair accessories.
Are there any celebrities or influencers who have curly long hair?
Vanessa Hudgens, Nicole Kidman, Salma Hayek, Halle Berry, Zendaya, Sarah Jessica Parker, and Rukmini Vijayakumar are some of the celebrities and influencers who have been turning heads with their gorgeous curls.
Need inspiration to style your curly hair? Watch this video to find out new curly hairstyles that will have you covered for a week with fun results.
The following two tabs change content below.