11 Of The Best Affordable Primers For Oily Skin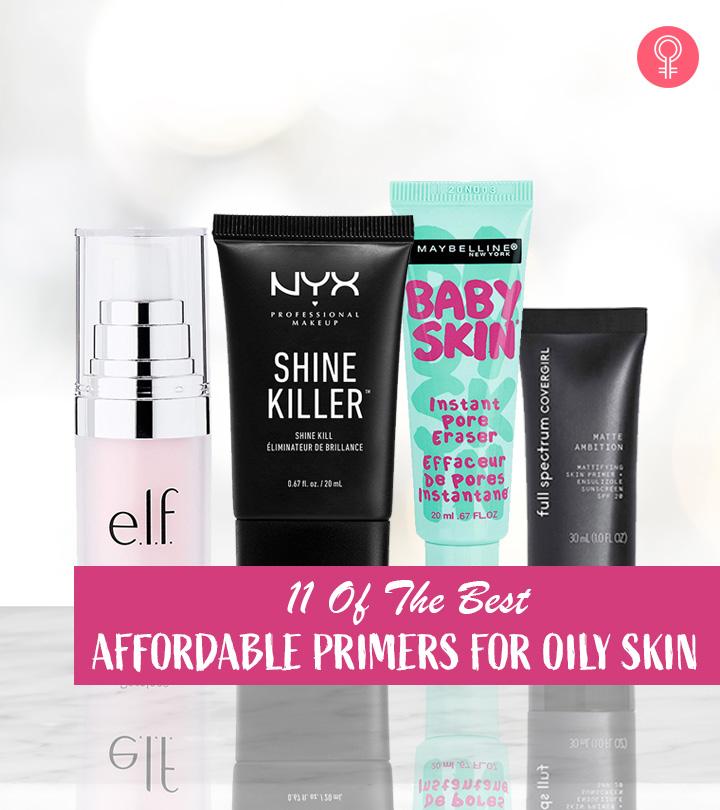 Everyone wants to flaunt a flawless base, but retaining that flawlessness through the day is a real problem if you have oily skin. No matter what you do, it's impossible to train your glands to secrete lesser oil! But having said that, there's still hope. Thanks to makeup primers, you have the power to ensure that your makeup stays in place. Primers create a smooth base for your makeup and minimize the appearance of large pores while evening out your skin tone, so you can achieve that much sought-after flawless look. We've rounded up 11 primers that work wonders on oily skin and are also easy on the pocket. Read on to find out more.
The Top 11 Primers For Oily Skin And Large Pores
Review
Don't be fooled by this primer's price tag! Rimmel Stay Matte Primer keeps shine at bay for up to eight hours. Its lightweight texture smoothens out your skin, minimizes the appearance of pores, and combats redness. Its clear formula complements all skin tones.
Pros
Long-wearing
Lightweight
Does not clog pores
Versatile
Cons
None
No products found.
Review
This cult-favorite primer from Maybelline is so popular for some very legit reasons. Its main ingredient is dimethicone that is known for filling in pores and reducing the appearance of blemishes and redness while absorbing excess oils from your skin. You achieve smooth baby-like skin thanks to its powdery finish.
Pros
Lightweight
Non-greasy
Minimizes the appearance of pores and fine lines
Leaves skin feeling smooth and supple
Cons
None
Review
For the days you want your skin to look extra fresh and flawless, Boots No7 Airbrush Away Primer is a must-try. Its hyaluronic acid moisture-locking spheres smoothen your skin by diminishing the appearance of fine lines and pores. If your skin is on the sensitive side, you are in luck because this primer is also hypoallergenic.
Pros
Lightweight
Long-wearing
Non-comedogenic
Suitable for sensitive, oily skin
Cons
None
Review
Revlon claims that in selfies or IRL, lousy lighting does not stand a chance against its PhotoReady Perfecting Primer. This formula evens out your skin texture effortlessly, so your makeup goes on seamlessly and stays that way. It is also formulated with HD Filter technology that captures and transforms any light to mimic photo filters.
Pros
Minimizes the appearance of pores
Easy to apply
Lightweight
Photo-friendly
Cons
None
No products found.
Review
If you are on the hunt for a primer that improves your skin's texture, the Magic Perfecting Base by L'Oreal is one to look out for. This silky, lightweight formula glides onto your skin effortlessly and instantly minimizes the appearance of large pores and fine lines. Your skin feels smoother, and you get a unified, matte finish that looks flawless throughout the day.
Pros
Non-comedogenic
Dermatologist-tested
Blurs pores and blemishes
Long-wearing
Cons
None
Review
This primer from NYX is your ultimate weapon in the war with shine. Apply it before your favorite foundation or BB cream for a fresh, flawless, marvelously matte look that lasts all day long. It is especially great for hot summer days when your skin tends to get excessively oily.
Pros
Eliminates shine and oil
Does not clog pores
Reduces the appearance of pores and fine lines
Cons
None
[ Read – How To Use NYX Professional Makeup Shine Killer ]
Review
This affordable primer from e.l.f transforms your skin into a flawlessly smooth canvas. It is infused with tea tree and vitamins A and E for their restorative benefits. Its light, silky texture is excellent for oily skin, and it effectively holds your makeup in place throughout the day.
Pros
Value for money
Non-comedogenic
Cruelty-free and vegan
Cons
None
Review
Now you can put your best face forward with Covergirl's Full Spectrum Matte Ambition Primer. This primer leaves your skin looking fresh with its neutral matte finish. It also comes with SPF 20, so you can get the benefits of added sun protection.
Pros
Lightweight
Easy to apply
Cruelty-free
Cons
None
Review
Make your makeup last all day with L.A. Girl's Pro Prep Smoothing Face Primer. This formula creates a smooth base by filling in pores and fine lines while providing the ideal surface for foundation. It is formulated with light-diffusing particles and skin-nourishing vitamin E to give you a beautiful finish on or off camera.
Pros
Softens skin and enhances makeup
Lightweight
Paraben- and fragrance-free
Cons
None
Review
Meet the powerful and invisible answer to picture-perfect skin – Milani's Prime Shield Face Primer. This formula softens the appearance of large pores, fine lines, and other imperfections to create a smooth base for makeup application. Its translucent formula leaves you with a gorgeous matte finish.
Pros
Value for money
Long-wearing
Vegan
Cons
None
Review
Want perfect, shine-free skin? The One Heck of a Blot Primer from Soap & Glory absorbs oil and controls shine through the day, so your pores look smaller and your skin smoother. This multi-action formula also helps even out your skin tone, blurs imperfections, and reduces the appearance of redness.
Pros
Long-wearing
Contains vitamin E
Leaves your skin glowing
Cons
None
Price Range
Face primers can cost you anywhere between $6 to $60. If you are looking for affordable options, our list above contains budget-friendly formulas that you can purchase for under $12. Mid-range primers include brands like Benefit and Tarte that will cost you around $25 to $35. High-end brands like Hourglass and Tatcha are priced a little above $50.
There is no point in putting in all that effort to do your makeup if it all runs down your face in a few hours because of oily skin. A good primer really does go a long way, so make sure you use one before doing your makeup to make it last longer. Did we miss any of the best primers for oily skin? Do let us know in the comments section below.