Top 55 Hairstyles For Professional Women
Put your best foot forward with a sleek, elegant hairstyle that complements your formal look.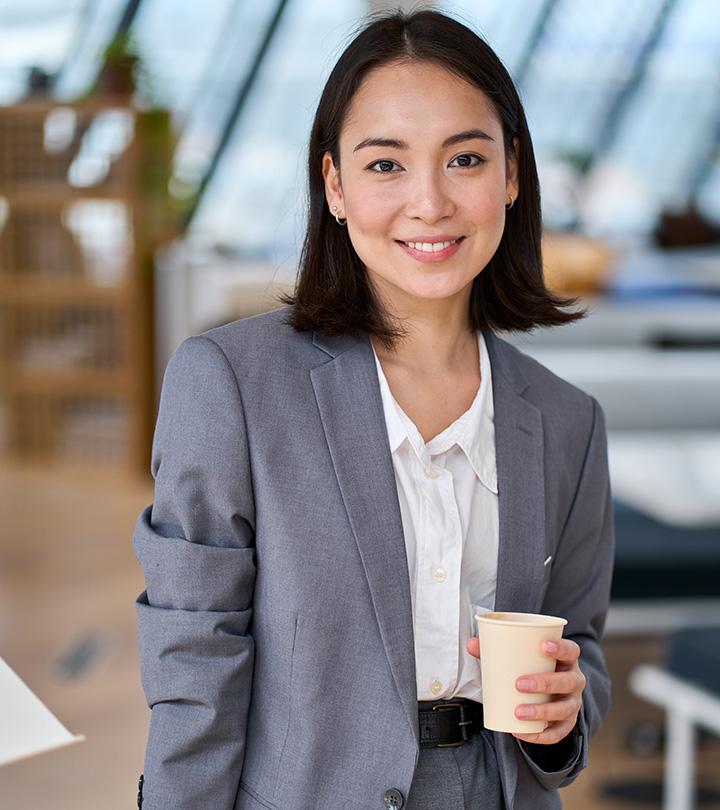 Wearing the same hairstyle every day to your office can become boring and monotonous. Tweaking a bit here and there will help you level up your hairstyle game and make your work-life interesting. "My favorite daytime work hairdos are those that enable a quick change from day to night," says Nick Arrojo. He adds, "If you plan to go out after work, you want to be able to quickly add a bit more drama to your style. Even something as simple as tying hair in a bun by day and releasing the bun into cascading waves by night can be super fun."
Here, we have curated a few hairstyles for professional women that will look fabulous on your professional appearance. From sleek bob cuts to elegant updos, these versatile women's hairstyles are sure to elevate your professional look and add a touch of glamor to your everyday office style. Scroll down and take a peek!

Before You Get Started
As a general rule, professional hairstyles are neat, out of the face, and not time-consuming. Brushed, loose, chest-length hair is also professional.
If you have natural hair, protective braids are a good way to maintain a polished, neat look.
Avoid unnecessary accessories. Trust your basic hair ties and pins in neutral colors like black, brown, or navy blue.
Edgy hairstyles like mohawks, asymmetrical lobs, shags, and vibrant hair colors are an absolute no-no.
55 Professional Hairstyles For Women
1. Combed Back Bob
If you have a bob, you can comb it back and tuck it behind your ear for a formal and elegant-looking style. Use a good amount of hair mousse to set your hair and place and tame flyaways to keep the look clean and classic.
2. Simple Updo With Bangs
The Duchess of Sussex loves to keep it simple. She is seen sporting these simple buns with front bangs quite frequently. You can tuck the long bangs behind your ears or just let them flow.
3. Sleek Long Bob With Curves And Side-Swept Bang
Bob is known to be one of the most popular professional haircuts for women. Here, a long straight bob is found with slightly bent edges and a deep side-swept bang covering a certain part of the forehead.
4. Short Volumized Bob With Graduated Fringes
A very short bob always looks smart and elegant on working women. In order to make the most of your hairstyle, simply decorate it with graduated front fringes and add lots of volume to your crown.
5. Loose Highlighted Waves With Messy Finish
Creating a center part and leaving the hair loose is much appreciated by corporate beauties. It is even better to get reddish brown highlights on loose natural blonde waves and add a messy finish to it.
6. Bob With Soft Fringes And Outward Curls
This simple bob features relaxed front fringes swinging over the forehead with two chin-length side bangs surrounding the edge of the face. Conversely, there is a puff at the crown and the end of rest of the hair is curled up in an outward direction.
7. Wavy Side Ponytail With Side Bang
If you think that a ponytail cannot be considered as a corporate hairstyle, you are totally wrong. Give this low side ponytail a try for your next conference. The beautiful waves and sexy side bangs would go excellent with your professional attire.
8. Short Boyish Bob With Messy Front Fringes
This is a very short boyish bob with small layers and slightly curved ends. The messy effect to the front fringes has made the look even more elegant.
9. Smart Short Bob With Long Side-Swept Bang
If you want to look the classiest in your workplace, opt for this chic yet super smart short bob. The neat side-swept bang is the specialty of this highly popular and trendy hairstyle.
10. Retro Bob With Tucked In Textured Curls
Retro is not necessarily meant for parties and formal events. If you can carry it off, it can be a good choice for a professional look too. Here, the inward curly hair is texturized and tucked in for a sizzling appearance.
11. Simple And Elegant Twisted Topknot
A topknot not only gives a neat and tidy look, but it also appears quite elegant. Both of these are equally important for a professional appearance. You can twist it up in order to add a touch of freshness to it.
12. Long Straight Hair With Semi-Circular Fringes
This is one of the simplest professional hairstyles for women with long straight hair, which doesn't have layers. It is characterized by the semi-circular front fringes, and adds to the personality of business women to a great extent.
13. Wavy Layered Bob With Curly Side Bang
When it comes to getting a fashionably professional look, waves and layers go hand in hand. Create waves in your layered bob and get them curved outward. The luscious curly side bang should complete your look.
14. Twisted And Tucked Bob With Side Part
Small twists can add an edgy flair to your professional look. Just create a side part on your simple short bob and twist up as well as tucked in the front and side sections of hair respectively. You're done!
15. Layered And Outward Feathered Bob With Fringes
It is a shoulder-length bob with lots of layers and uniform front fringes. Getting the layers outward feathered would help you turn the hairstyle into a smarter and more professional one.
16. Smooth Layered Bob With Outward Curly Ends
Here is the perfect hairstyle for professional women with thin or super fine hair. The ends of the layered bob should be bent a little in the outward direction in order to make the most of the effort.
17. Low Twisted Chignon With Neat Side Sweep
Chignon, especially a low one, can enhance your corporate look significantly. You just need to side-sweep your hair and turn it into a low twisted chignon at the nape of your neck. Extremely graceful!
18. Loose Medium-Length Blonde With Curly Side
If you are a blonde with medium-length hair, try out this simple yet sophisticated hairstyle at least once for your professional look. Curl up one side of your hair and let it embrace your face, while keeping the straight hair of the other side tucked behind the ear.
19. Super Long High Ponytail Wrapped With Hair
This is one of the easiest professional long hairstyles to try out. Be it a professional or casual look, nothing can be more gorgeous than this super long high ponytail. Keep the hair absolutely straight in order to maintain a neat and stylish flair and wrap the base of the pony with a thin section of hair.
20. Sleek And Smooth High Bun With Side Sweep
High bun symbolizes confidence and smartness. The smooth rounded high bun with a precise side sweep shown in this picture would match each and every professional outfit perfectly.
21. Relaxed Bob With Inward Curly Ends
No matter whether you are a young entrepreneur or an aged business woman, this smooth relaxed bob would look amazing on you. Curl up the ends of the hair inward and add texture to them for a more tidy appearance.
22. Short Slicked Back Bob With Volumized Top
Let your hairstyle reflect your awesome personality and incredible intelligence. Opt for this short slicked back bob, which features slightly volumized top an intense texture. Utterly elegant!
23. Very Short Textured And Curtained Hair
Though the curtained hairstyle is very much a man's hairstyle, it can make you look ravishing if you can pull it off with enough confidence and proper attitude. Just check out this short bob with an off-center part and curtained hair at the front.
24. Messy High Bun With Flat Tight Top
Replace your smooth high bun with this messy one. All you need to do is pull all your hair back together and create the bun at your crown. Your top hair should be flat and tight enough to achieve a true professional look.
A blogger recalls her personal experience of creating a flawless messy high-hair bun. She shares some easy step-by-step points to ace the look. She begins with applying hair serum, brushing the hair, securing the messy hairdo, and other steps for a graceful yet complete look. She adds, "It's not "perfect," it's messy! Enjoy (i)."

Quick Tip
Use a U-pin or hairpin to bind the hair in place. Slip a U-pin into the bun's base vertically and twist it slightly to the side so it sits securely and holds the bun in place.
25. Short Ponytail With Curly End And Hair Wrap
A short voluminous ponytail with outward curly ends can also be your ideal workplace style statement. If you want to add a modish effect to this, just wrap it with hair.
26. Straight And Middle-Parted Side Ponytail
If you have straight hair, this sleek and low side ponytail can turn out to be your signature style, ideal for a corporate look.. The flat top and the center part tie together this work-appropriate hairstyle.


Quick Tip
To achieve the perfect sleek and low-side ponytail, secure the ponytail around the head with a bungee cord for extra hold. Additionally, use a light gel to tame flyaways around the hairline.
27. Silky Semi-High Bun With Puffy Top
Create a semi-high bun with your medium-length hair and wrap it efficiently with a thin braid. The top of your head should be puffy and texturized in order to make this look professional.
28. Ponytail With Puffy Top And Inward Curls
Puff up the top of your head and create a semi-high ponytail with the rest of your layered hair. Wrapping it with hair and creating inward curls at the ends would help you boost your professional look.
29. Sleek Ponytail With Beautiful Front Fringes
This sleek ponytail with beautifully curved front fringes is also quite suitable for your workplace hairstyle. It is an ideal combination of style and elegance – we must say.
30. Messy Wavy Ponytail With Texture
If you are a professional woman with highlighted wavy hair, this is the best option for you. Make a messy high ponytail and add texture to it. You will look chic yet classy.
31. Highly Volumized Layered Bob
Jazz up your workplace hairstyle with intense volume and great texture. You just need to add ultimate volume to your layered shoulder-length bob and give it the right hold in order to keep up the style.
32. Layered Inward Feathered Hair With Side Bang
Add a zing to your medium-length layers by getting them inward feathered. Now, leave your straight hair loose and tuck the side bang behind your ear. You are ready for your office.
33. Straight Loose Hair With Front Fringes And Curly Ends
Straight loose hair with rounded front fringes has long been known as a great hairstyle for professional women. Make it your very own version by curling up the ends and puffing up the crown a bit.
34. Large High Bun With Hair Wrap
Well, it may not seem to be a typical corporate hairstyle, but a little twist to the traditional look never hurts. So, just create a large high bun at your crown and wrap it up with a thick section of hair.
35. Semi-High Angled Bun With Messy Finish
This semi-high bun with angular structure is excellent for achieving a stunning corporate look. The angle and the slightly messy finish go very well with a strong personality and unique character.
36. Straight High Ponytail With Puffy Top
Here is another straight high ponytail. But this time, it is with a puff at the top. It is highly suitable for a corporate woman and puts emphasize on her independence as well as positive outlook.
37. Smooth Low Side Bun With Center Part
We have already shown you how a chignon or low side bun can beautify your workplace look. Let us make it a bit classier by creating a center part and flattening and smoothing the top hair.
38. Messy High Bun With Twisted Hair Wrap And Layered Fringes
If you find that a simple messy high bun is not enough to complete your professional look, twist up a thin section of hair and wrap it around the bun. At the same time, you can also get beautiful layered fringes over your overhead to balance off rest of the hairstyle.
39. Loose Straight Layers With Side Bangs
When it comes to workplace hairstyles, long loose layers are always considered as a hit. Check this super straight, silky smooth long layers cascading the shoulders gracefully and give it a shot.
40. Fringed Layered Hair With Inward And Outward Curls
This is a striking workplace hairstyle, which features heavy layering with inward curly ends at one side and outward curly ends at the other side. You can get this style in sync with your persona by adding front fringes and beautiful highlights to it.
41. Messy Curly Ponytail With Puff And Side Bangs
This variation of high ponytail is quite different from the previous ones. You need to puff up your crown, curl up the ponytail and add waves to the side bangs in order to make your workplace look even more interesting.
42. Sleek Face-Contouring Bob With Side Bang
If you want to look charming and confident at your workplace, this face-contouring bob will be your solution. Let the side bang swing over your eye and keep the other side of the hair tucked behind the ear.
43. Shoulder-Length Textured Curls With Middle Part
Texture is the key to this stunning corporate hairstyle. Start with creating a center part and add soft curls to the end of the hair. Finally, add lots of hairspray to provide excellent hold to the entire hairdo.
44. Simple Hairdo With Curly Ends And Side Bang
This is one of the simplest hairstyles that can be worn almost everywhere – from your office to your friend's house. Take a certain portion of your top hair and secure it at your crown, while letting a wavy side bang embrace one side of your face. The rest of the hair should flow down your shoulders.
45. Short Bob With Brushed Back Top And Layered Bottom
In this short layered bob, the upper section of the hair is brushed back and given a slight messy finish. The rest of the hair in the lower section is straightened and razored for a smart and unique look.
46. Choppy And Razored Bob With Front Fringes
Look fashionably smart and professional by sporting this choppy bob with razor-sharp ends. The discrete front fringes will complement the look perfectly.
47. Front Side Bun With Added Texture
Just like a high or low side bun at the back of your head, a front side bun can also spice up your corporate look in a stylish way. Make a flat bun at one side of the top of your head and give it a lot of texture for the final appearance.
48. Brushed Back Bob With Texture And Messy Finish
In this short bob hairstyle, the top hair is brushed back and given a messy finish, while the lower part of the hair is volumized and made relaxed to some extent. However, do not forget to add texture to it in order to get that tidy professional look.
49. Loose Hair With Puffy Crown And Intense Curls
Create a side part and let the hair flow down your shoulders. Now, curl up the ends of your hair intensely and add puff to your crown slightly. You are ready with a totally glamorous workplace look.
50. Brushed Back Hair With Puffy Crown And Headband
This simple hairstyle will help you appear youthful, charismatic and full of positive vibes. Tease your crown in order to puff it up and smoothen it by brushing all your hair back. Then, finish your styling by using a decent headband.
51. Braided Low Side Bun With Center Part
This is a modified version of the aforementioned low side bun with middle part. You just need to braid up a thin section of hair and secure it into the bun for added style.
52. Super Smart Slicked Back Bob With Texture
Last but not least, wear this slicked back short bob hairstyle to increase your glam quotient considerably. The volume at the top, the soft lowlights and the intense texture make you look like a super smart professional from all aspects.
53. Classic Bob
The classic bob is a timeless and versatile hairstyle ideal for professional women. This chin-length cut features a sleek and structured look, exuding sophistication and confidence. If you want a style that is easy to maintain, nothing is better than this!
54. French Twist
An updo that screams elegance and professionalism! This style involves sweeping the hair upward and securing it at the nape of the neck with pins or combs, creating a sophisticated and polished look suitable for formal business settings.
55. Sleek Low Ponytail
The sleek low ponytail is a refined choice. It involves gathering the hair at the nape of the neck and securing it with a hair tie, creating a polished and neat look that's perfect for the workplace. You can either part your hair in the middle or just gather it all together at the nape before securing it with a tie.
Infographic: Top 10 Professional Hairstyles For Women
Are you bored doing the same hairstyle every morning? Try tweaking your style to elevate your hairdo. While you can try any hairstyle from our exhaustive list, we have a quick round-up of the 10 timeless hairstyles that are apt for your workplace. Scroll down and check out the infographic.



Flaunting a new hairstyle at work is guaranteed to leave you with an earful of compliments and make you look forward to going to the office every day. From a volumized bob to loose waves, these 50 professional yet fashionable hairstyles for women are not monotonous or boring at all. If you are wondering how to pick the best hairstyles to suit you from this list, consider your face shape and personality. Some hairstyles suit particular face shapes better than others. Shorter hairstyles are edgy, while longer hairstyles let you play around with different looks. If you really want a challenge, try styling your clothes to match these hairstyles!
Frequently Asked Questions
What is the best professional hairstyle for women in the early 30s?
Women professionals in their 30s are high up on the career ladder and don't have much time to indulge in hairstyling before leaving for work every day. If you are confident about chopping off your locks, a round bob or a sleek side ­swept lob will make you look younger and smart. For a neat, professional look, an elegant twisted top knot or a low twisted chignon look good too. However, you need longer hair for both these styles. Super long high ponytail wrapped with hair is easy to do and can never ever go wrong.
What are the best quick professional haircuts?
Believe it or not, your hairstyle adds to your appearance in a professional setup. Especially if you are in Sales and Marketing, pacing through back to back client meetings and presentations. Though there are many easy to maintain, quick professional haircuts, you need to choose one according to your body type and the shape of your face. Short volumized bob with graduated fringes is your easiest bet. But if you have slightly longer straight hair, go for layers with easy forehead fringes. Inward layers flowing above a side bang tucked behind your ear will never fail to give you a neat, professional look.
How to style long hair for a job interview?
Preparing for a job interview is stressful, so let's get the hairdo out of the way and one major problem is taken care of! Layered inward­ feathered hair with a side bang tucked behind an ear is the most popular interview hairstyle. But, if you want to go classy, try a hair bun with a hair wrap or a straight high ponytail with a puffy top. Professional hairstyles need to look neat and elegant. They need to go well with your outfit. So, if you can't decide on a particular style, just put your hair together in a middle ­parted side ponytail. That one never goes wrong.
I have curly hair. Which hairstyles are suitable for the workplace?
Curly hair is glamorous, but in a professional setup, you might want to tone down the glamor and make it look neat and elegant. That's where the curly top knot becomes your best friend. For short, curly hair, deep side part or side swept curls make you look professional. For slightly longer hair, a half updo or a causal side braid looks best. Avoid short fringes for curly hair and opt for longer ones that add style to your persona.
Are Mohawk hairstyles acceptable for the professional workplace?
Though the mohawk hairstyle has been a topic of debate in the professional setup, many women sport it with grace and confidence. What matters is the kind of mohawk you choose. A modern mohawk on short curly hair looks absolutely professional, whereas a colored spiky mohawk might be taking it too far. It also depends on the kind of profession you are into. For creative professionals, wacky hairdos are a style statement, whereas if you are meeting clients and making presentations, a sober hairstyle will work in your favor. With professional scenes becoming more and more casual, Mohawks are finding their place in professional workplaces.
How do professional women make their hair look longer?
Professional women can make their hair look longer by using hair accessories like bun makers, extensions, and wigs. If you have curly or wavy hair, you can straighten it so it looks longer.
What is unprofessional hair?
Unprofessional hairstyles are hairdos that don't suit the workplace such as messy buns, pigtails, unbrushed hair, oversized pouf, or messy high ponytails.
Does shorter hair look more professional?
It totally depends on how you carry yourself and the haircut you get. Both long and short hairstyles look professional if the cut is right for the job profile but it is important to stay well groomed and maintain a neat look.
Are space buns professional?
An elegantly-styled space buns hairdo made with braids is an attractive and professional hairstyle. Avoid childish and over-the-top space buns hairstyles for work.
Is messy hair unprofessional?
Most messy hairstyles are considered unprofessional. They look unkempt and might be a sign of a lack of time management or organizational skills.
Looking for effortless yet stylish formal hairstyles? This tutorial video provides step-by-step instructions for creating easy hairstyles that are also elegant. Get ready to turn heads!
Personal Experience: Sources
(i) The Messy Bun Hairstyle: How to Make it
https://hairstylesgalore.wordpress.com/2011/05/18/the-messy-bun-hairstyle-how-to-make-it/
The following two tabs change content below.