Top 12 Must-Try Night Creams For Dry Skin – 2023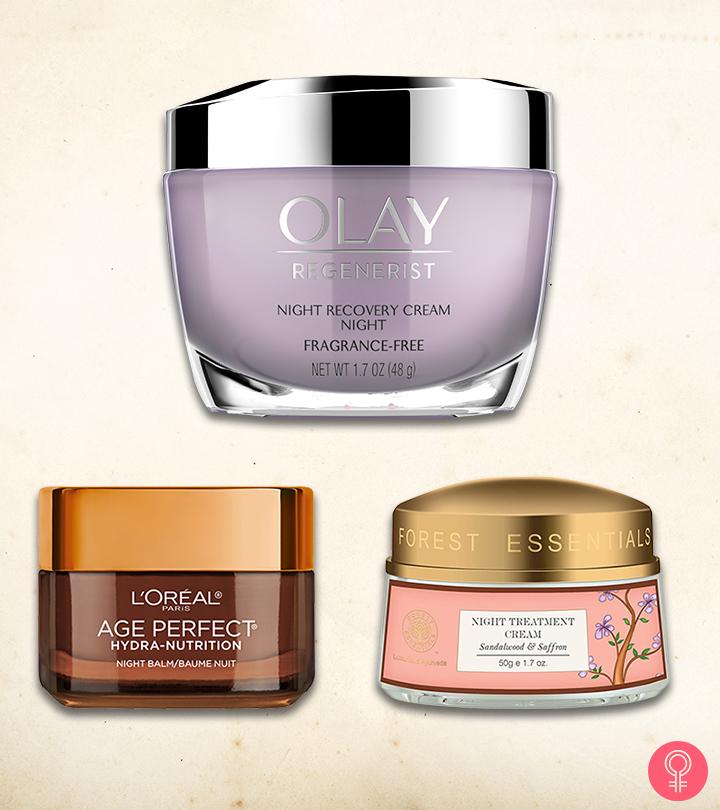 We are all a little too familiar with how chapped and flaky our skin can get during the cold months. The loss of moisture creates a dull and lifeless zombie look that we would all be better off without. The solution lies in diligent moisturization – and that's where night creams can help. Read on to find out about the top 12 night creams that help dry skin stay hydrated at all times.
Top 12 Must-Try Night Creams For Dry Skin
Product Claims
Biotique Bio Wheat Germ Youthful Nourishing Night Cream is created using a unique formula that keeps your skin youthful and prevents aging. It is mainly designed for dry skin to give it that extra boost of hydration. Apart from moisturization, this night cream strengthens your skin for a more resilient and younger appearance. Using this cream regularly on cold winter nights prevents dryness and environmental stress.
Pros
Ideal for dry skin
Affordable
Organic
No preservatives
No chemicals
Pleasant fragrance
Gets absorbed quickly
Suitable for sensitive skin
Does not cause breakouts
Soothes sunburn, redness, and irritation
Dermatologist-tested
No animal testing
Cons
2. Bio Active Intense Night Cream
Product Claims
The Bio Active Intense Night Cream from Greenberry Organics nourishes, comforts, and calms your skin when you sleep. It restores your skin's natural defense system and moisturizes it without leaving behind a greasy feeling. This organically-formulated cream gives you a brighter complexion along with more youthful skin. As an anti-aging night cream, it reduces fine lines and wrinkles and soothes and smoothens your skin.
Pros
Ideal for dry skin
All-natural ingredients
Paraben-and sulfate-free
Non-comedogenic
Gentle on sensitive skin
No harsh chemicals
No animal testing
Travel-friendly packaging
Cons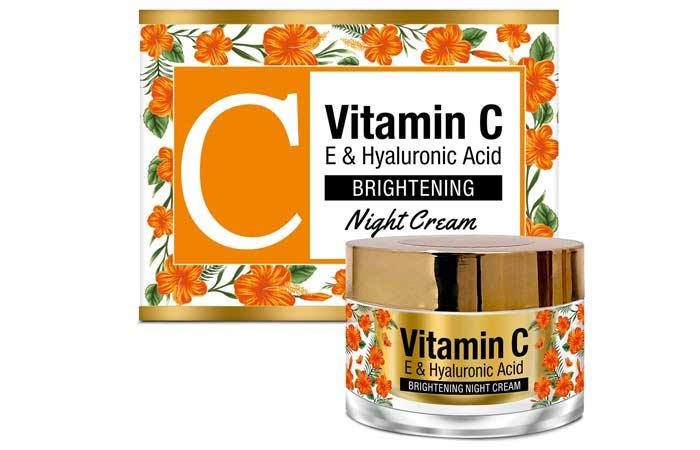 Product Claims
St. Botanica Vitamin C, E & Hyaluronic Acid Brightening Night Cream is the best moisturizing and brightening night cream. This intense night cream uses the most stable and effective form of vitamin C – 3-O-Ethyl Ascorbic Acid. It is enriched with natural oils such as argan oil, almond oil, and extra virgin olive oil that help enhance the texture of the skin and lock in moisture. The antioxidant-rich formula of this night cream helps in brightening the skin tone and diminishing the signs of sun damage like dark spots, sun spots, age spots, and hyperpigmentation. It supports the natural rejuvenation of environmentally stressed skin. This night cream also promotes cell turnover while neutralizing the daily toxins to give you smoother and firmer skin.
Pros
Lightweight
Reduces the appearance of fine lines and wrinkles
Provides deep hydration
Paraben-free
Toxin-free
Dermatologically-tested
Sulfate-free
Silicone-free
No mineral oil
Cruelty-free
Cons
Product Claims
Lakme Absolute Youth Infinity Skin Sculpting Night Crème is a powerful and compact anti-aging product that is suitable for all ages. The instant collagen boosters in this cream energize dull skin after a long and tiring day. It also contains luminizing pearls that brighten your skin tone instantly. Use this cream to rejuvenate your skin overnight and wake up to improved skin elasticity and a youthful look.
Pros
Dermatologically tested
Non-comedogenic
Travel-friendly packaging
Smooth texture
No greasiness
Suitable for daily use
Gentle on sensitive skin
Pleasant fragrance
Cons
Not suitable for oily skin
Does not get absorbed quickly
Product Claims
Himalaya Herbals Revitalizing Night Cream is a deep penetrating and luxurious cream that works overnight with your skin's natural renewal cycle. It renews skin cells, hydrates your skin, and repairs the daily damage caused by the sun and pollution to give you skin that is soft, supple and rejuvenated. Regular use of this cream every night maintains the natural appeal and elasticity of your skin.
Pros
Ideal for dry skin
Lightweight
Gets absorbed quickly
No greasiness
Long-lasting
Mild fragrance
Gentle on sensitive skin
Affordable
Cons
Takes time to show visible results
This breakthrough product has a light gel texture that gets absorbed quickly into your skin and provides intense hydration without making your skin oily. It contains polyphenol and antioxidant-rich green tea and licorice extracts that combat acne and blemishes. The glabridin in licorice is a natural skin lightener that helps in reducing pigmentation and spots and clarifying the skin. The formula contains argan oil, a natural moisturizer that is rich in essential fatty acids (EFAs) and vitamin E that keep your skin hydrated and soft. This refreshing gel is non-comedogenic (does not clog pores), vegan, and free from toxic compounds like parabens and phthalates. Plum's bottles don't have any false bottoms. In fact, they are 100% recyclable. Get clear, fresh, and hydrated skin with Plum Green Tea Renewed Clarity Night Gel.
Pros
Balanced hydration
Clears blemishes
Lightens the skin
Combats oiliness
Does not clog pores
Contains natural moisturizers
Vegan
Paraben-free
Phthalate-free
Cruelty-free
Cons
Product Claims
The Body Shop Vitamin E Nourishing Night Cream offers overnight pampering and repair to give you supple skin when you wake up. Its soufflé consistency does not leave your skin feeling greasy after application. Its intense hydration also leaves dry skin feeling significantly softer and smoother. A small amount of this cream is enough for single use, making the product last quite a long time.
Pros
Ideal for dry and sensitive skin
Lightweight
Cruelty-free
Non-comedogenic
Travel-friendly packaging
Easy to apply
No greasiness
Cons
Strong fragrance
Expensive
Product Claims
The non-greasy, dermatologist-tested formula of Neutrogena Light Night Cream is perfect for dry skin. It gets absorbed quickly into your skin and provides an immediate surge of moisture that lasts up to 8 hours. It minimizes fine lines and wrinkles, leaving your face soft and smooth.
Pros
Hypoallergenic
Gets absorbed quickly
Dermatologist recommended
Non-comedogenic
Ideal for dehydrated skin
No greasiness
Cons
Contains parabens
Expensive
Product Claims
Olay Regenerist Night Recovery Cream hydrates your skin intensely throughout the night so that you wake up to a deeply moisturized and younger-looking complexion. Packed with hydration power and skin-plumping Amino-Peptide Complex, this strong anti-aging cream exfoliates and smoothens your skin and reduces the appearance of fine lines and wrinkles as you sleep.
Pros
Fragrance-free
No greasiness
Quick and effective
Gentle on sensitive skin
Lightweight
Cons
Expensive
Contains parabens
Price at the time of publication: ₹20.54
Product Claims
This night cream from Forest Essentials has an exceptionally high oil content to provide extra nourishment. This formula contains top performance herbs, enzymes, and hydrators to provide vital nutrition to your skin. It is also rich in antioxidants that prevent aging and moisturize and rejuvenate your skin overnight. It retains your skin's firmness, allowing your youthful radiance to last much longer.
Pros
100% natural
Paraben-free
No artificial colours
No synthetic fragrance
Ayurvedic product
Gentle on sensitive skin
Cons
Product Claims
This imported night cream contains shea butter, glycerin, and ceramides, which are perfect ingredients for anyone in need of a highly hydrating moisturizer. It energizes and hydrates your skin to give it a healthy radiance. It is a rich and intensive moisturizer that deeply nourishes your skin while you sleep.
Pros
Ideal for dry skin
Hypoallergenic
Gets absorbed easily
Pleasant fragrance
Gentle on sensitive skin
Cons
Expensive
May cause breakouts
Product Claims
L'Oreal Paris Age Perfect Hydra-Nutrition Night Balm is an incredibly luxurious and nourishing face moisturizer that is most suitable for mature, very dry skin. It melts into your skin for wholesome comfort with up to 48 hours of non-greasy, non-sticky hydration. This high-end night cream contains manuka honey extract and nurturing oils that soothe and improve the resilience of dry skin.
Pros
Non-comedogenic
No greasiness
Paraben-free
Smooth consistency
Can also be used as a day cream
Cons
Price at the time of publication: ₹14.78
The night creams listed above work well on dry skin. But before you buy any of them, check out the factors to consider listed in the next section.
Things To Consider Before Buying A Night Cream For Dry Skin
It is important to check the ingredients list when it comes to night creams for dry skin to avoid allergic reactions. For the best results, go for a moisturizing night cream for dry skin. Anti-aging ingredients like retinol work best to reduce fine lines and wrinkles. Peptides increase the elasticity of the skin. Licorice root extracts in night creams are goodfor dry and sensitive skin as well.
Night creams are mainly for skin sculpting, renewing, and reversing the effects of aging. That is why not everyone needs to use one. This repairing cream is best suitable for people who are dealing with the signs of aging, such as fine lines, wrinkles, sagging, age spots, etc. The ideal age to begin using a night cream is around 30 years. But, if you witness these signs before hitting this age, you can start using it.
Consider your skin's needs when buying a night cream. For example, if you want to repair your sagging skin, opt for a night cream that offers skin-firming and sculpting effects. Likewise, if you want to reverse the signs of aging, go for a cream with an anti-aging formula.
Never compromise on the brand when buying a night cream. Night creams play a vital role in reconstructing your damaged, dull, and dry skin. High-end brands offer refined, dermatologically tested, and certified products that are safe for your skin. So, if you have dry skin, choose a good-quality night cream specifically made for dry skin by a reputed brand.
Finding the right skin care products for combination skin can be difficult as they have both oily and dry skin in different parts of the face. Therefore, people with combination skin need creams that hydrate the dry areas and control oil on the face. These night creams for combination skin are formulated with antioxidants, hyaluronic acid, and vitamin C that effectively control sebum production, maintain proper skin hydration, and fight signs of aging. In addition, they are cruelty-free, lightweight, and non-comedogenic. However, some might be slightly greasy with overpowering fragrance and may not suit sensitive skin.
Recommended Articles:
The following two tabs change content below.