The Best Makeup Brands In The World
Because it's time to stock up your makeup kit with the bestsellers from these brands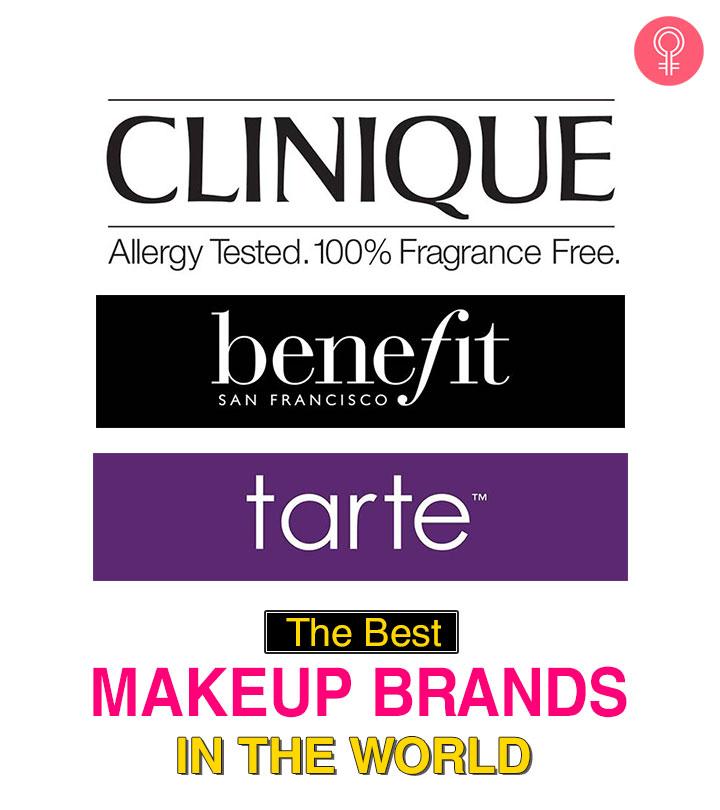 Makeup plays a crucial role in transforming your appearance. Therefore, makeup enthusiasts find it a big deal to find the authentic brand that transforms their look without affecting the skin. International makeup brands provide you with a huge range of cosmetics that provide a flawless finish. Makeup helps you express yourself through your style. It is a great art form. However, unfortunately, it is underappreciated. Whether you want to hide blemishes, make your skin appear even, make your eyes appear bigger, or highlight your high points, all you need is a product from a good brand. This article provides you with some international makeup brands that are worth exploring. Scroll down!
15 Best International Cosmetic Brands
1. M.A.C
If you happen to be a makeup junkie, you probably own at least a drawer full of M.A.C products. Did you know that this world-famous makeup brand was started in a kitchen back in 1984? Frank Angelo, a beauty salon owner, and Frank Toskan, a photographer, were frustrated by how bad most makeup looked in photos. Thus began their journey! Today, the brand is sold in 106 countries. It also sells more lipstick than any other non-drugstore makeup brand. We owe it to M.A.C for cult-favorite lipstick shades like 'Ruby Woo' and 'Russian Red.'
2. NARS Cosmetics
French cosmetics and skin care company NARS was founded in 1994 by Francois Nars, a makeup artist and photographer. With a humble line of 12 lipsticks, it was launched at Barney's New York. Today, NARS has a reputation of its own and is one of the most popular cosmetics brands in the world. Even if you are new to makeup, you've heard the buzz around Orgasm, which is the best selling NARS blush shade. Francois Nars believes that makeup is only good when it's an accessory to help you be yourself. We couldn't agree more!
3. Benefit Cosmetics
This cult beauty brand stands out with its incredibly attractive and high-quality products. It was started in 1976 by twin sisters Jean and Jane Ford – when they flipped a coin to decide what business to start together. Amazing! Thanks to the result of the coin flip, Benefit Cosmetics was born (initially called 'The Face Place'). We wouldn't have our beloved Porefessional Primer or the Benetint if it weren't for these sisters. The company is also famous for its brow bars that are manned by brow shaping experts you can blindly rely on for all your brow needs.
4. Bobbi Brown
Bobbi Brown is a global prestige beauty brand that strives to empower women to embrace and enhance their individual beauty. It was founded in 1991 by makeup artist-turned-entrepreneur Bobbi Brown. It has been named the number one makeup artist brand started by a woman. Its Long-Wear Gel Eyeliner is the brand's most prized product. It is also the first gel eyeliner to hit the market!
5. Tarte
What makes Tarte unique is the way it combines glamorous makeup and ingredients that are good for you. It was started back in 2000 with this very dream, and today, it is one of the best cruelty-free and hypoallergenic makeup brands out there. The company's founder Maureen Kelly believes in using makeup that is a treat for your skin, and she discovered many of her hero ingredients (like Maracuja Oil and Amazonian Clay) during her eco-vacations.
6. NYX Cosmetics
NYX is one of the most adored drugstore brands in the world and kind of a staple for us makeup lovers. Whether you are a professional makeup artist or a newbie, you've used a thing or two from this brand, and yes, it rocked. Tonki Ko launched this company in 1999 with a goal to create high-quality products at affordable prices. And it was a huge success. She did a fantastic job of growing her company, but she eventually sold it to L'Oreal for a whopping $500 million! Its products are now sold in over 70 countries today.
7. Smashbox
Smashbox Cosmetics was launched in 1996 by L.A-based brothers Dean and Davis Factor. The formula for its major success was a simple one – the 21st century heirs of a cosmetic industry legend (Max Factor) walking hand-in-hand with hot, minimalistic packaging and celebrity appeal. After being worn by celebs like Drew Barrymore and Madonna, this brand achieved cult status, especially with women who take their "smokey eye" seriously. Even Hollywood stars swear by this brand's long-lasting makeup products!
8. Clinique
Clinique is one of the most trusted skin care and cosmetics brands in the world. It was the first company to recognize the differing skin care needs of men and women. It then provided them with a practical, approachable line of high-quality skin care. With an elite team of chemists and dermatologists, all of Clinique's products are backed by science. You can also get a free skin consultation at any Clinique store.
9. Estee Lauder
Founded in 1946, Estee Lauder was started with just four skin care products and a big vision. Lauder did not want her customers to buy a lot of products as she firmly believed that the ideal beauty routine only required a few essential products. As the brand grew with its luxury makeup line and fragrances, it changed the face of the beauty industry. Today, Estee Lauder is a whole empire, owning 25 major beauty brands and reaching over 150 countries.
10. Urban Decay
Urban Decay started off in an interesting manner. Its creators were sick of the abundance of pink makeup products on the market. They wanted to create makeup in edgy and crazy colors that they couldn't find in the other brands. It started with a dozen nail polishes and ten lipsticks. Fast forward 20 years, Urban Decay is one of the most loved makeup brands by beauty bloggers, makeup artists, and makeup enthusiasts. Besides their famous Naked palette, their Eyeshadow Primer Potion is one of their most prized products.
11. Neutrogena
We've all used Neutrogena products at some point and continue doing so due to how reliable they are. The number one dermatologist-recommended skin care brand offers some of the world's most loved skin care and beauty products. Founded in 1930, this brand was started by Emanuel Stolaroff, and thus began its success story. It was acquired by Johnson & Johnson in 1994 for $924 million.
12. Anastasia Beverly Hills
Anastasia Beverly Hills was originally launched as a brow product brand back in 1998 by Anastasia Soare. She was a former aesthetician who strongly believed that your brows could change the entire look of your face – and she was right! Her first client was Cindy Crawford before celebs like Kim K started raving about her products. After its expansion, this brand sells a wide range of makeup ranging from liquid lipsticks to highlighter palettes. It also has the most popular Instagram page in the beauty industry.
13. Maybelline
Everyone's favorite drugstore brand Maybelline was founded way back in 1915. Thomas Lyle Williams, a chemist, observed his sister Maybel using Vaseline, coal, and ash for her eyebrows and he was amused. He went on to create the first mascara ever, the Maybelline Cake Mascara. That's how the brand got its name – 'Maybel' plus 'Vaseline' equals Maybelline! Today, this company is the most reputed makeup brand that's sold everywhere in the world.
14. Bare Minerals
The brainchild of Bare Escentuals, Bare Minerals was launched in 1995 with a goal to create natural makeup that was less likely to irritate the skin. Its original products came in loose mineral powder form sans dangerous parabens and chemical fillers. The brand was acquired by Shiseido in 2010 and now has a massive range of beauty products – all of which are good for you.
15. Sephora
Sephora has stepped up its private label range of makeup and skin care products with its 'Sephora Collection.' Whether you are looking for makeup, tools, and brushes or face masks – you'll find it all within this collection. The best part is that the quality is incredible, and the prices are affordable. The brand was launched in 1995 and included bath and body products. Today, it has massively expanded and is one of the most popular beauty brands in the world.
This was the round-up for the top international makeup brands. Whether you go for high-end or drugstore brands, ensure that you pick quality products with the right formulation. Your skin requires care and attention, and only quality products can give you a flawless look without causing skin damage. So ensure that the products you apply are not harsh on your skin.
Frequently Asked Questions
Is Milani a luxury brand?
While the brand's products certainly feel luxurious, Milani is an affordable drugstore brand.
Is Lakme a luxury brand?
Lakme is an Indian luxury brand globally known for their high-quality skin and makeup products.
The following two tabs change content below.
Esha Saxena is a writer and journalist and holds a master's degree in media and mass communication. She firmly believes...
more