10 Best Places (Or) Studios To Get Tattooed In Bengaluru
This city has the best options according to your budget and preference.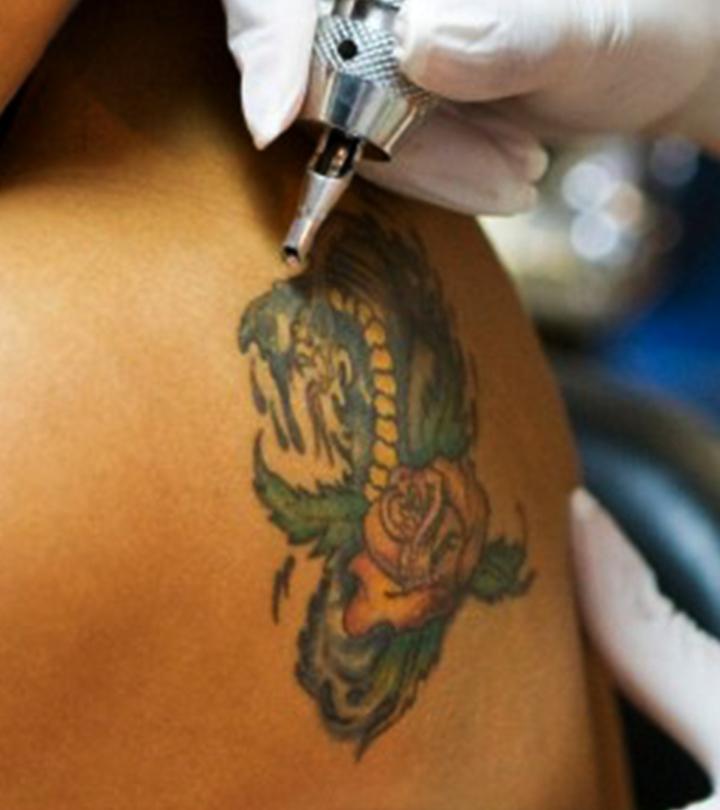 Looking to get a tattoo in Bangalore? They are quite popular in the city. Though there are several tattoo places available – from roadside stalls to sections in sophisticated malls, you should be careful where you get your tattoo inked from. Choose a place that is hygienic, and where the designers are the ones making the tattoo – and not just letting their students loose. Here is a list of the best tattoo parlours in Bangalore to assist you.
Where To Get A Tattoo In Bangalore
1. Brahma Tattoo Studio:
This is the first tattoo studio that was opened in Bangalore. It has a mystic ambience – one that suits its designers. The artists here are cool and talented. They will design any tattoo according to your description. You will not regret going to this place! The address is – No. 5o/1 Church Street, off M.G. road, below State Bank of India.
2. Junior Tattooz Studio:
Junior Tattooz Studio maintains good hygiene levels. The needles are disposed after each use and the inks used are made from vegetable dyes. The designers are quite skilled in their jobs and they specialize in Tribal tattoos, Butterfly tattoos, Fairy tattoos, Biomechanical Tattoos, Japanese tattoos and Portrait Tattoos. They will also design anything you ask them to. Pradeep Junior, the one who opened this studio, has been engaged in tattoo making since 2009. So you can imagine how deft his fingers are!
3. Eternal Expression:
Eternal Expression is another awesome tattoo parlour in Bangalore. The designers here will take care of all your tattoo demands! Portrait tattoos are their general specialty but they make a host of other tattoos too!
Quick Tip
Eternal Expression boasts of artists experienced in 3D ink, cosmetic tattoos, and painless piercings. They have worked in filmmaking projects as well. Additionally, they also have a training program in place to train professional tattoo artists.
4. Dark Arts – The Tattoo Studio:
Pradeep Menon, the founder of this studio, is an excellent tattoo artist. Located in Frazer town, this studio sometimes produces unparalleled work!
5. Gold Touch Tattoo Studio:
Gold Touch Tattoo Studio's primary artist Puneet is one of the best professional tattoo design makers in Bangalore. The best part about this designer is the way he treats his clients. He will warn you of all the possible consequences of getting the tattoo and also tell you the precautions you must take.
6. Buddha Tattoos:
The best part about Buddha Tattoos is that they will send an artist over to your place – and that too at an affordable price!
7. Kraayonz Tattoo Studio:
This studio is located at Raheja Arcade in Koramangala. It is a part of a chain of tattoo parlours which was started by Sameer Patange. One of his best students, Deep, is the main designer here. This studio maintains top-notch hygiene standards. The skill of the designers who work here is evident in the designs they create.
8. Heavens Tattoo Studio:
The studio's address is 8, Castle Street, 1st Floor, Ashoknagar. The designers here are very skilled and can make almost any design look realistic.
9. Maria Tattoos Studio:
The address of this studio is No.17 D, HDFC ATM, Lubbay Masjid, Commercial Street. The studio is clean and hygienic and the designers are skilled.
10. Inkprik Tattoo Studio:
The designer who opened this studio has trained under the international tattoo expert Lancelot Wilkie. So you can imagine the extent of his skill!
Quick Tip
Inkprik studio has been a popular tattoo parlor in Bangalore since 2008. They are knowledgeable and have a distinct craft offered at affordable rates.
Tattoos are an incredible way of revealing your inner style and personality. These bold and beautiful patterns can convey your emotions, beliefs, and creativity. In reality, however, you are just a canvas. What truly matters is the artist who paints their masterpiece on you. Therefore, it is important to consult a seasoned expert to make sure you can express your feelings effectively. If you're looking to get a tattoo in Bangalore, these artists may help you with the process. They can assist you in getting tattooed, what to expect, and how to care for your ink, so you keep it looking good as long as possible.
The following two tabs change content below.