Top 10 Black Hair Dyes – 2019
Blondes, brunettes, redheads – your Insta feed is probably filled with women sporting these hair colors. But you know which natural hair color is sorely overlooked? Black. Gorgeous jet black hair that looks like a piece of the night sky itself has been transposed onto your head…wouldn't that look magical? Now the only question that remains is how to get this stunning hair look. And the simple answer to that is black hair dyes! There are a ton of different brands that stock up on black hair dyes. All you need to know is which ones to actually go for. That's where I come in! Here's my rundown of the best black hair colors that you need to try out.
1. L'oreal Paris Superior Preference Hair Color – Ultimate Black
When a shade goes by the name Ultimate Black, you best believe it's going to give you the ultimate black hair. And that's exactly what L'oreal Paris Superior Preference hair color does. This Superior Preference range of L'oreal hair colors is known to provide super shiny and luminous results. And the Ultimate Black shade is bound to give you hair that is deeply black and not at all dull or lifeless. The Fade Defying system of this translucent hair gel formulation also ensures that your black shine lasts for at least up to 8 weeks. It also comes with a Care Supreme Conditioner with Shine Serum that makes your color look vibrant and your hair silky.
Pros
Color matches closely to as pictured on the box
Easy to apply and wash off
Color looks natural without any brassiness
Makes hair look shiny
Minimal hair fallout
Cons
Rating: 9/10

2. Garnier Nutrisse Ultra Coverage Nourishing Color Creme – 200 Black Sesame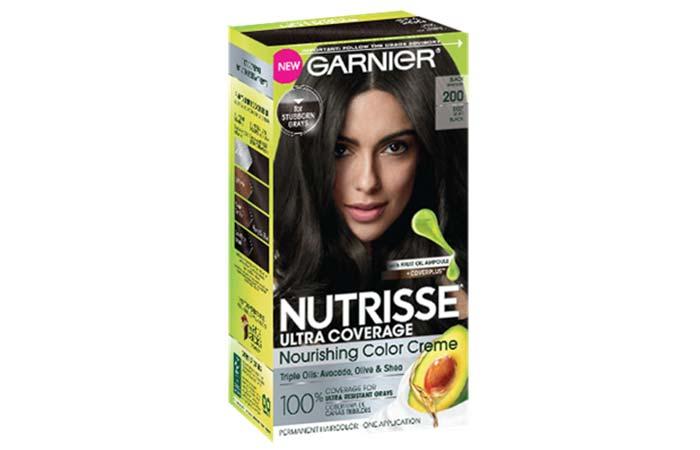 Now, this one is for all you ladies who are on a mission to cover all their greys. This creme based hair color offering by Garnier Nutrisse in the shade Black Sesame promises to give you the richest and most radiant black hair that is also silky and shiny. This at-home hair is also formulated with a CoverPlus Technology that aims to provide 100% grey coverage on even the most stubborn and resistant greys. This offering by Garnier also comes with an after-color conditioner infused with shea, olive, and avocado oils, which deeply moisturize your hair. 
Pros
Creme-based formula that is easy to mix and apply
Does not drip
Pleasant, fruity smell
Does not stain skin
Rinses out easily
Leaves hair feeling soft and smooth
Cons
Hair keeps bleeding color even after 2-3 washes
Color starts looking dull after 2 weeks
Rating: 8/10

3. Revlon ColorSilk Beautiful Color – 10 Black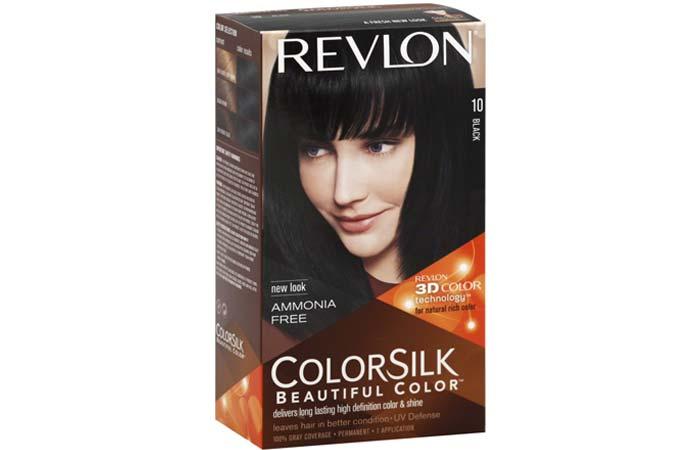 Revlon does not mess around when it comes to its hair colors. When it says Black, it black. This ammonia-free hair color is formulated with Revlon 3D Gel Technology that is a combination of special blended dyes, conditioners, and polymers that you get the most natural looking color from root to tip. It also works to add dimension and shine to your hair color. This ColorSilk range of hair colors also contains UV Defense components that protect your hair color from UV damage and make it look ultra vibrant. Lastly, this gorgeous black hair color also contains silk proteins that nourish your hair.
Pros
Ammonia free
Pleasant smell
Does not stain skin or any work surfaces
Colors evenly
Fades out well and without any brassiness
Rinses out easily
Cons
Messy application process
Rating: 9/10

4. Manic Panic High Voltage Classic Cream Formula Hair Color – Raven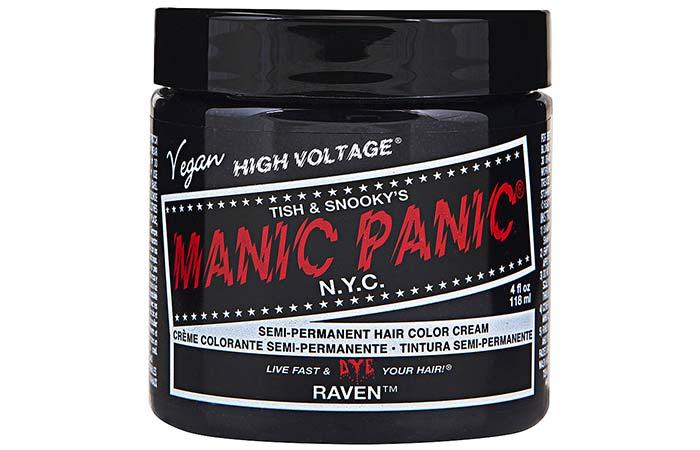 For those of you who wish to channel their badass only temporarily with black hair color, Manic Panic is the way to go. This cruelty-free product in the shade Raven lends your hair an intensely black color that lasts for about 8-12 washes. Interestingly, this Manic Panic color does not contain the allergen PPD which is found in most black hair dyes that are on the market. Besides being cruelty-free, this black hair color also does not contain any parabens and ammonia and is 100% gluten-free.
Pros:
Intensely dark black pigmentation
Does not damage hair
Creamy formulation that makes for easy application
Cons
Rating: 8/10

[ Read: 60 Best Long Hairstyles for Black Hair ]
5. Dark & Lovely Go Intense Ultra Vibrant Color – 1 Super Black
This one is for all the black ladies out there who are looking for the most intense black hair that will work well with their hair texture. Dark And Lovely's Go Intense hair color in the shade Super Black comes in an anti-drying creme gel formula that is infused with olive oil, which protects your hair from damage and breakage. It is also formulated keeping in mind the specific texture and natural color of African hair in mind. The boosters contained in its color formula also ensure that you end up with the most intensely black hair color.
Pros
Moisturizes your hair while coloring it
Covers gray hair
Adds vibrance and shine
Cons
Color bleeds with every wash
Rating: 8/10

6. Just 5 Hair Color – Jet Black
Don't you hate it when you're about to head out the door and notice grays in your hair when you do a last-minute mirror check? Well, instead of admitting defeat, you can actually grab a box of Just 5 Hair Color! As the name suggests, Just 5's Jet Black processes in just 5 minutes and effectively covers your grays. This ammonia-free solution is also so gentle that you can even use it just a day after you've relaxed or straightened your hair. Just 5 is also infused with MoistureDuo conditioners that nourish and protect your hair.
Pros
Ammonia-free
Conditions your hair
5 minutes processing time
Cons
Color fades quickly with each wash
Rating: 7/10

7. Clairol Nice'n Easy – Shade: 2/122, Natural Black
Treat your hair to the most natural looking of hair colors with Clairol's Nice'n Easy hair color in the Natural Black shade. This Clairol hair color's claim to fame is that it lends your hair such a natural and blended hair color that it looks totally natural even under revealing sunlight. It also offers 100% gray coverage and processes in 45 minutes. Lastly, it comes with a CC Color Seal Cream conditioner that makes your hair shiny and soft when you wash off the black hair dye.
Pros
Looks natural even in sunlight
Cover grays
Leaves your hair feeling soft and smooth
Cons
A little on the expensive side
Rating: 8/10

8. Vidal Sassoon Pro Series Ultra Vibrant Color – 2 Black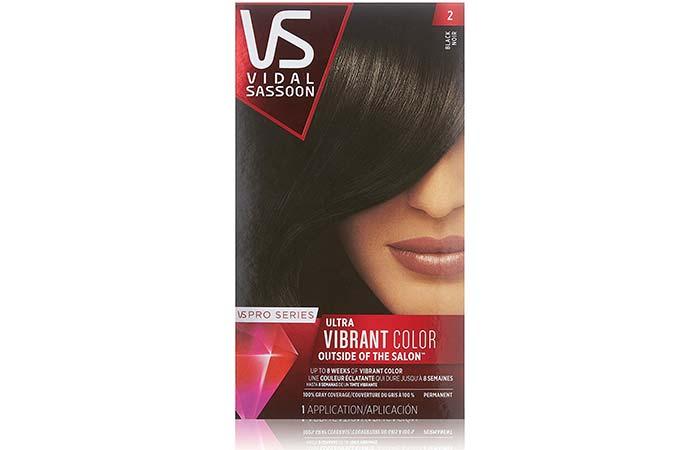 Just because you didn't go to the salon to get your hair colored does not mean that you don't want it to look like it was colored by a professional. Vidal Sassoon promises to do just that with its Pro Series of hair colors. Its Black shade delivers a natural muted black color to your hair while making it look fashion forward. It lasts for about 8 weeks. Additionally, it comes with a water-resistant conditioner that prevents your hair color from fading out too fast and maintains its vibrancy.
Pros
Thick consistency that does not drip
Leaves your hair feeling soft
Covers grays
Cons
Takes a relatively long time to process
Rating: 7/10

[ Read: 12 Simple Black Hair Care Tips ]
9. John Frieda Precision Foam Colour – 2A Luminous Blue Black
The hair care experts at John Frieda offer this thick precision foam color that promises to give you salon-quality hair. Its Luminous Blue Black shade, as the name suggests, is a luxurious black hue with deep blue undertones. It does not fade quickly. But the best feature of this black hair dye is that its foam formula ensures that it does not drip anywhere and saturates your hair easily from roots to tips. Plus, it comes with an after-color conditioner that seals in the color and enriches its tone.
Pros
The foam consistency makes for smooth and easy application
Natural looking color
Gentle on hair
Cons
Unpleasant smell
Color washes fades quickly with each wash
Rating: 8/10

10. L'Oreal Paris Excellence Creme Triple Protection Color Creme Permanent Hair Color – 3 Natural Black
The tagline of L'Oreal Paris Excellence Creme hair color is "No hair color cares more, covers more." And I would say that's a pretty accurate claim that they have made. It triple protects your hair by sealing, replenishing, and conditioning it with ceramide, pro-keratine, and collagen while giving it a rich black shade. Another reason why it makes for an excellent hair color choice is that it contains 5 times the conditioner as other hair colors, thus making it super nourishing for your hair. This Natural Black shade comes in a creme formula that makes for drip-free application.
Pros
Comes with a protective pre-color serum that protects fragile hair
Does not drip
Covers grays
Conditions your hair while coloring it
Cons
Rating: 9/10

*Subject to Availability
So, go forth, my friends! Get yourself some hair as black as night (just like Snow White!) by picking up one of the gorgeous black hair colors! And don't forget to comment below to let us know which one you chose!
Recommended Articles:

The following two tabs change content below.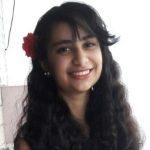 Latest posts by Arshiya Syeda (see all)