Top Knot Tutorial With Detailed Steps And Pictures
With the party and wedding season on in full swing, there is so much dressing up to do. While you may have finalised the dress and makeup you want to wear, there is a lot of confusion when it comes to deciding the hair look that you want to sport.
One of the most popular hair styles of recent times sported by most international and Indian celebrities at one time or the other is the top knot. One of the best things about this hair style is that it is super easy to create. Not just that, it is also extremely easy to manage this hair style and helps you keep the hair off your face with style.
So if you don't know how to create a top knot hairstyle for yourself, this tutorial is just for you. The top knot is basically a very high bun. It has a number of variants. This hair style is worn in a very sleek manner by ballerinas and can be sported in a messy way for a simple day out. It is very easy and quick to make, and looks quite sexy too. The top knot can be made in as less as in 5-7 minutes. It is recommended to try this hairstyle on your second or third day of hair wash as the hair is more manageable by then.
Steps to Create a Top Knot:
1. Before you begin with the steps, make sure you brush out your hair to remove all knots and tangles.
2. Once you have brushed your hair, comb back all the hair as shown in Pic 1. This will help to make a very high pony tail.
3. Now make a pony tail as high as possible and secure it with a hair tie. (Pic 2)
4. Next, to add a little volume to the top knot bun, take a wide hair tie and put it around. It is always best to choose a hair tie that is closest to the colour of your hair. Also, if you have long hair then you can easily avoid this step.(Pic 3)
5. Now start wrapping your hair around the hair tie (rubber band) as shown in pic. 4.
6. As you are going around it, keep on securing the hair with bobby pins as shown in pic 5.
7. The hair has to be secure on all sides in such a way that the rubber band is not visible at all, as shown in pic 6 and 7.
8. The top knot is complete and it looks somewhat like this:
Though this look can be created in a few minutes and is very easy to do, you can have a little difficulty initially, especially if you have silky hair that tends to slip out. Practice it a couple of times before you wear it to a party. Once you get the hang of it, you will be able to weave this.
Hope you liked this tutorial. Please post the comments down here. Have Fun!
Recommended Articles:

The following two tabs change content below.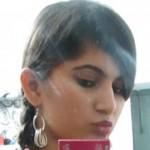 Latest posts by Neha (Lets talk about everything) (see all)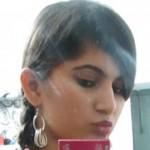 Neha (Lets talk about everything)