Top 10 Most Beautiful Blue Roses
Blue roses are a modern invention that has taken place through cross breeding and scientific experiments. The colour blue represents royalty and these rose species are nothing short of royal. And the blue roses meaning when presented to you signifies the same. You are no less than royalty!
The Most Beautiful Blue Roses
Here are some blue roses pictures and species that will steal your heart.
1. Blue for You:
This variety of Bush roses are hardy and have a good fragrance. They have a deep purple and slate blue hue about them. They are unique and very pretty to have around the house or in a garden. These roses make excellent decorative flowers for almost any occasion.
2. Rhapsody in Blue:
These are a category of shrub roses that grow up to three feet. This rose is purple when it first blossoms but matures into a slate blue which looks exotic and unique. These flowers can be produced over a long time and have a delightfully sweet fragrance.
[ Read: Orange Rose Meaning ]
3. Bleu Magenta:
These rambler roses have a lovely lavender hue which lies between blue and purple. These roses are wonderful center pieces or garden decorations. They are hardy but Bleu Magenta bushes does not repeat flowering. These roses do not have any particular fragrances but are marvellous to look at. They also have late flowering. These are climber roses that grow up to fifteen feet.
[ Read: White Roses ]
4. Sissinghurst Castle:
Legend goes that these roses were discovered at Sissinghurst Castle and thus named after it. They have a beautiful colour with golden stamens. They belong to the variety of old roses and grow in shrubs. The shrubs grow up to medium height and have a light fragrance.
[ Read: Yellow Rose Flowers Pictures ]
5. Veilchenblau:
These roses are particularly special in the sense that they do not have any thorns. They have a rich orange scent and an exquisite and unusual mix of colours. When they blossom they have a glorious magenta colour which turns to lilac grey as they mature. On many occasions they appear blue or turquoise. They have a sweet fragrance and a hardy characteristic. When grown on pillars, they can grow up to fifteen feet.
[ Read: Green Roses ]
6. Blue Moon Roses:
Blue moon roses reflect the magnetic colour of the moon. They are indeed very pretty to look at. They can be grown in gardens to make the landscape picturesque. Also, when gifted to people, these roses can liven up their rooms and moods considerably.
7. Midnight Blue Rose:
As the name suggests, Midnight Blue Roses have a hue that reflect the night sky. They are not sky blue but have a hint of magenta in it just like a semi lit sky. They thus have a bewitching and mystical quality about them which makes them very interesting to look at.
8. Mr. Bluebird:
These miniature roses are hardy and have good repeating. They have a gorgeous lavender blue colour which can beautify any landscape. Since these flowers have no fragrance they can be planted at a distance where only the aesthetic presence would be noticed. These are great flowers to include in a bouquet.
9. Artificially coloured:
Technology has evolved considerably. This evolution allows us to artificially colour roses to almost any colour. Since rose can be found in abundance in almost all colours except blue, artificially coloured blue roses have a huge demand.
10. Cardinal de Richelieu:
This rose has a deep purple hue that at times looks blue. They belong to the old rose category and grow as shrubs. These roses also have a light fragrance.

The following two tabs change content below.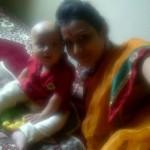 Latest posts by Khushboo Mehta (see all)