Top 10 Most Beautiful Green Roses
A collection of unique and gorgeous roses to adorn your home and garden Roses come in all different sizes and colors. While the red, pink, yellow, and white varieties are pretty common, have you ever come across green roses? Are green roses real? Not only are they unique in their color, but they may also vary in their appearance. Ranging from light green, lime green, green tea green to dark emerald green, these roses vary in their hues and shades across the green color spectrum. To top it off, they have pretty different names to match their beauty. Read on to know more about these lovely and uncommon varieties of green roses.
Most Beautiful Green Roses
1. Mint Julep Rose
Just the name of this one evokes a sense of romance! This green rose is called a green rose despite being predominantly yellow because it has a green border on its petals. The borders are mint-green coloured and occur on the fringes of the petals. They are wonderful to look at and have light delicate colours that give it a soft and comforting appearance. They can be used as decorations for occasions or grown in gardens.


Fun Fact
The most common green rose is a mutated version of a pink rose named 'Old Blush.'
2. Viridiflora
This green rose belongs to the old rose species and does not have any fragrance. They are unique mostly because of their colour and their hardy nature. They have good repeating and can be grown in gardens or flower pots. They add uniqueness to any garden.

3. St Patrick Rose
These roses are lemon yellow but heat or direct sunlight brings out greenish tints in them. They exude an enviable elegance and look lovely in a garden especially when the sunlight falls on them. They are wonderful roses to use as bouquet decorations or wedding decorations as they complement white perfectly.
4. Greensleeves Rose
This rose has a sea green hue and looks absolutely unique. It is has a different and fascinating quality about it. When contrasted with thick green foliage, these roses look wonderful. They can be used as decorative by combining with roses of varying colours like red, white, yellow or lavender.

Fun Fact
Green roses were only grown in China for a long time but became famous in the West during the mid-1800s. Green roses were introduced to the public in America in 1849 by the Philadelphia Nursery, in France by Guillot in 1855, and in Britain by 1856 thanks to British nursery Bembridge and Harrison.
5. Green Ice Rose
These are miniature roses and look absolutely stunning. They have an icy green hue and are perfect garden flowers. Being miniature roses, they are wonderful flowers to grow as potted plants and keep inside an apartment or as a part of a terrace garden.
6. Acropolis Rose
This rose is pink with green undertones. They grow well in gardens and can be used to decorate halls or in bouquets. They are charming and hardy roses and can also be grown by under-experienced gardeners.

7. Floribunda Rose
This rose is love at first sight! It is lime green coloured and has a wonderful appearance. They can be grown in gardens or in shrubs. They can be grown to line fences too. They can be used to decorate bouquets or placed in a vase.
8. Green Tea Rose
These roses look like and have been named after green tea. They have a very delicate green colour about them and are wonderful roses to have around in a garden or at home.
9. Artificially Dyed Rose
A rose can be artificially dyed green. This can be done with a white rose which can be painted any shade of green. This would be a great option for theme decorations. It can be painted light green, dark green, or sea green.

10. Paper Rose
A paper green rose flower can be made out of green paper. The paper rose might also be made with a newspaper or a white paper and then painted green. A paper green rose will last for a long time. They are also easily available as compared to natural green roses.
Infographic: Trivia On Green Roses
Aren't these green roses a sight to behold! But did you know that they were not as widely admired as they are today? Green roses have an interesting history that adds to the charm of this rare flower. Check out the infographic below to learn some fun trivia on them.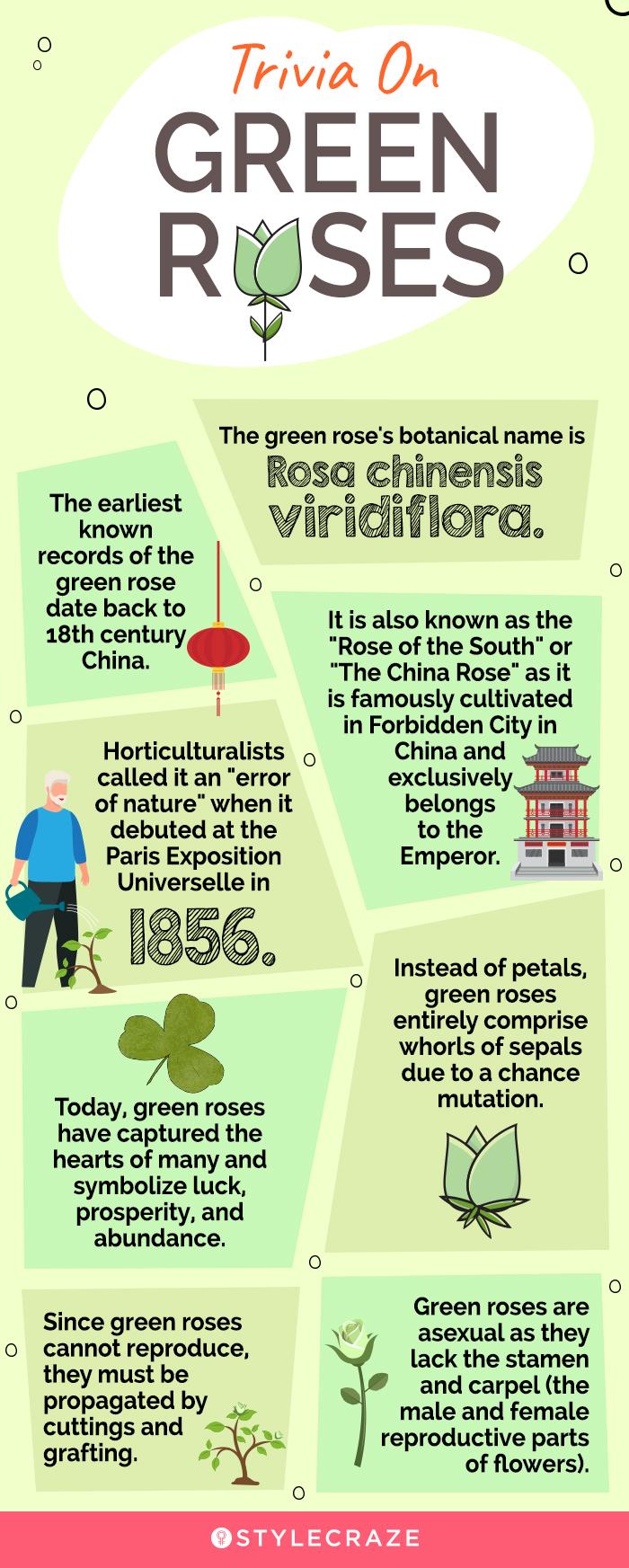 Roses come in different colors. The familiar ones include red, pink, orange, yellow, and white, while there are green roses that are unique and rare. These are not commonly found roses, but they are beautiful and enchanting. And these green roses come in different shades of green, including light green, green tea green, lime green, and dark emerald green. The green roses look gorgeous in decorations and events. Paper rose, green tea rose, and green ice rose are some of the varieties of green rose. The list mentioned above discusses all the other varieties in detail.
Frequently Asked Questions
What does a green rose symbolize?
A green rose symbolizes growth, life, and abundance. It also symbolizes the rejuvenation of energy, fertility, and richness.
What is a green rose called?
A green rose is known as "rosa chinesis viridiflora".
How do you grow green roses?
Green roses can be grown from parts cut out from other green rose plants. These can be planted in the soil directly or grown in containers. Organic compost best supports the growth of green roses.
Image Source: 1 , 2 , 3 , 4 , 5 , 6 , 7 , 8 , 9 , 10
Discover the mesmerizing allure of the green rose flower plant, a true botanical marvel. Watch this video to explore the unique green blossoms of this enchanting floral masterpiece!