Top 10 Most Beautiful Ukrainian Women
These stunning Slavic ladies are the epitome of beauty, culture, style, grace, and strength of their own accord.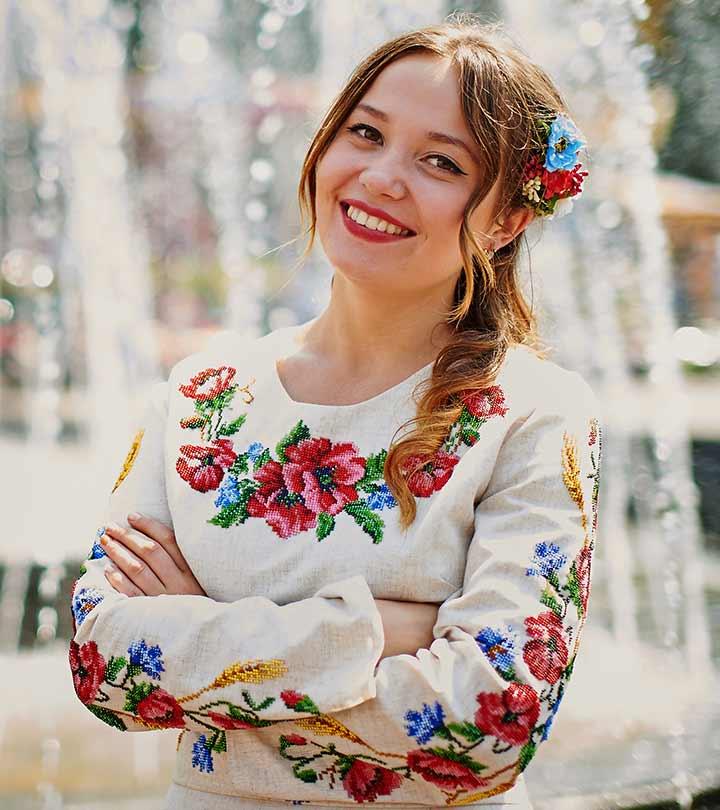 Beautiful Ukrainian women are a combination of stunning features and extreme confidence. They are simply gorgeous. It is almost impossible to mention a few after choosing from the whole country of beautiful women. Here are a few singers, rhythmic gymnasts, actors, and models that have made a mark with their beauty and talent. Keep scrolling!
Beautiful Ukrainian Women
Our top-10 list of talented Ukrainian girls includes actresses, pop stars, news readers, models, and famous personalities.
1. Ani Lorak:
The first on our list is the most popular Ukrainian pop-singer. She was born in the year 1978 and is from Kitsman. She is also ranked one of most beautiful women in Europe. The Ukraine women sure know how to steal your heart with her charm!


Did You Know?
Ani Lorak has been a UN Goodwill Ambassador for HIV/AIDS in Ukraine. She has been awarded a commendation by the UNICEF and UN for assisting and helping HIV-positive citizens in Ukraine.
2. Anna Bessonova:
Anna Bessonova is a popular rhythmic gymnast from Ukraine. She was born in the year 1984 in the state of Kyiv. She is well known for her achievements in sports. Anna has won the title of world champion in rhythmic gymnastics from Patras, Greece in the year 2007. She has also won bronze medals in the Athens Olympics in 2004 and the Beijing Olympics in 2008.


Fun Fact
Anna Bessonova took part in the popular dance show "Dancing for You TV" in 2009 and became the winner.
3. Chantal Kreviazuk:
Chantal Kreviazuk is a very popular songwriter, Canadian singer, and actress born to Ukrainian parents. She was born in the year 1974 from Winnipeg. Her list of albums includes What If It All Means Something (2002), Under These Rocks and Stones (1996), Colour Moving and Still (1999) and Since We Met. She has also won Juno Awards in the year 2000 for the "Best Pop Album" and the "Best Female Artist".
4. Dasha Astafieva:
This beauty with a charming personality is a well known Ukrainian model and member of the popular pop-band called NikitA. Dasha was born in the year 1985 in Ordzhonikidze. She is known for her sexiness and was selected to be the Playboy's playmate in the January 2009 issue. She has also been featured in the Playmate of the 55th Anniversary in Playboy.
5. Milla Jovovich:
This beauty is extremely popular in the American world of modeling, actress, musician and fashion designer. She was born in the year 1975 in the capital of Ukraine, Kiev. Her father is from Serbia and her mother is a Ukrainian-Russian. Her popular movies include The Fifth Element, Return to the Blue Lagoon, Resident Evil series and Zoolander.

Did You Know?
Milla Jovovich has her own production company called Creature Entertainment.
6. Inna Tsymbalyuk:
She is an actress and a model. A perfect combination of elegance, feminity, sophistication and intelligence, she won the title of "Miss Ukraine – Universe" in the year 2006.
7. Olga Kurylenko:
Olga Kurylenko is a Ukrainian model and actress born in 1979 in Berdyansk city. She was born to Ukrainian father and Russian mother. At a tender age of 18, Olga Kurylenko was featured on the covers of Vogue and Elle. She is popular for her role as the Bond girl in the 22nd James Bond movie, Quantum of Solace.
8. Ruslana:
Ruslana is a pop-singer and songwriter from Ukraine. She is known as one of the best Ukrainian pop-stars, born in the year 1973 in Lviv city. Ruslana was the winner of the 2004 Eurovision Song Contest held in turkey.
9. Yulia Tymoshenko:
This gorgeous lady is an Ukrainian politician and was also the Prime Minister of Ukraine. She was born in the year 1960 in Dnipropetrovsk city. She was the first woman Prime Minister of Ukraine (till September, 2005).
10. Tina Karol:
Tina karol is pop singer born on January 25, 1985. Tina was a student of the School of Music for piano. She has also created her own instrumental ensemble during her training period. She was awarded with scholarship of Verkhovna Rada of Ukraine in the fourth year. She was also awarded the title of "Honored Artist of Ukraine" in 2009.
Infographic: Top 5 Beauties From Ukraine
These gorgeous ladies from the second largest country in Eastern Europe have not only made quite the impression with their gorgeous looks, but also made a name for themselves. They are inspiring women and young girls all over the world with all their accomplishments and we cannot help but be in awe of them.
Scroll down for our top 5 picks of the most gorgeous Ukrainian ladies.



In Ukraine, girls have a rare combination of stunning features and extreme self-confidence. This list comprises pop singers, popular gymnasts, songwriters, models, and politicians. Ani Lorak, Anna Bessonova, Chantal Kreviazuk, Dasha Astafieva, and Milla Jovovich are some of the most beautiful Ukrainian women. They can captivate the world's attention with their mesmerizing looks and courage. You may get inspired by their hard work and extraordinary talent. We hope this article helped you learn something new about your favorite women celebrities in Ukraine.
Frequently Asked Questions
Which Ukrainian city has the most beautiful women?
Kyiv, the capital city of Ukraine, has the most beautiful women in the country.
What do Ukraine women look like?
Ukrainian women usually have blonde or brunette hair, brown or green eyes, and boast tanned skin.
Why is it important to appreciate and recognize the inspiring beauty of Ukrainian women?
Today, a slim body, prominent lips, and chiseled cheekbones and jaw are considered beautiful. Ukrainian women don't particularly fit in these standards. They have lighter-colored hair, brown eyes, tanned skin, and their bodies don't correspond to the typical size 0-2. Instead of adhering these standards, they should be encouraged to accept themselves. It is crucial to recognize Ukrainian women's inherent attractiveness so that they can feel comfortable and confident in their own skin.
How can Ukrainian women empower themselves through beauty?
Instead of adhering to conventional beauty norms, they should accept themselves as they are. They do not need to follow current trends like overlining one's lips and over-contouring. Instead, they should wear makeup that complements their natural beauty.
Are there any beauty trends that are popular among Ukrainian girls?
The current beauty fads among Ukrainian girls include flawlessly manicured hands, sleek hair, and heavy, red-carpet makeup. Another beauty trend that is popular in Ukraine is the "barbie flu" where women get eyelash extensions, colored contact lenses, and plastic surgery to fit the body dimensions of a barbie.

Discover the beauty of Ukrainian women in the following video. Hit play to see their stunning looks, learn about their culture, and find out why they make great partners.

The following two tabs change content below.