Top 11 Natural Shampoos Available In India – Reviews And Guide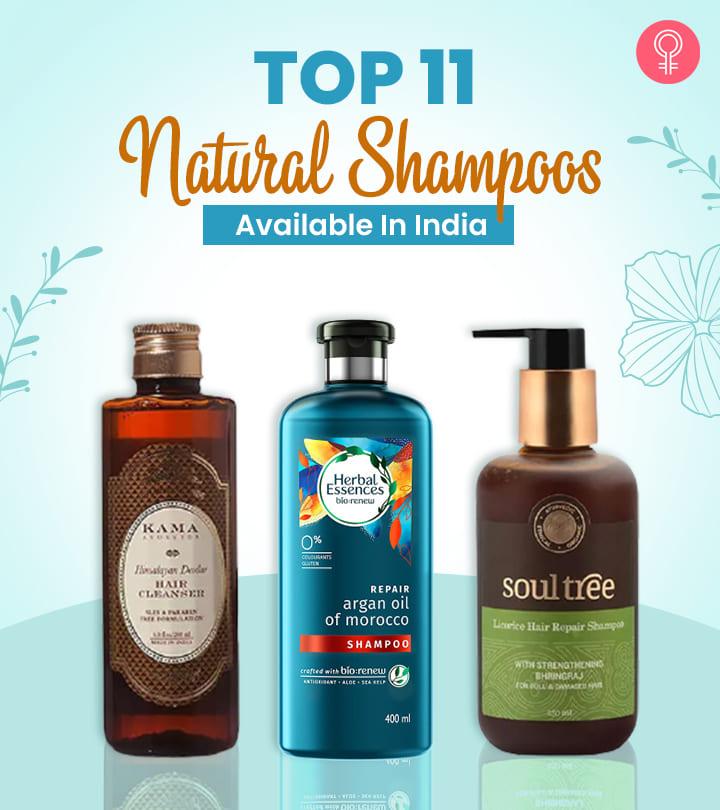 Just walk the aisle of the supermarket, and you'll see words like 'natural' and 'organic' screaming back at you from a majority of the products. That's because eco-friendly products are all the rage these days. So, it's no wonder that the trends have caught on in the hair care world as well.
You must be wondering how something like a shampoo could possibly be natural. Well, natural shampoos contain the extracts of plants, fruits, and herbs that are highly beneficial for your hair and scalp. But for a shampoo to be truly natural, it has to be free of harmful chemicals like parabens, sulfates, and silicones. While it's tough to find natural shampoos that do not contain any of these chemicals, you can still find ones that contain these only in small amounts. And the benefits these natural shampoos offer are many. Let's take a look at a few of them:
They naturally stimulate hair follicles to boost hair growth.
They deliver natural oils and herb extracts directly to the roots to moisturize them and improve the overall health of your scalp.
There is no risk of allergic reactions as they contain all-natural ingredients.
They are better for the environment as they contain biodegradable materials.
Now that you know how amazing natural shampoos are for your hair and the environment, let's check out the top 10 natural shampoos that you can get your hands on.
Top 11 Natural Shampoos Available In India
The thought of using a shampoo bar soap may not sound appealing to many of you. But once you use Soulflower Reetha Coconut Milk Shampoo Bar Soap, you will not want to go back. This natural and hand-pressed shampoo bar contains the goodness of coconut milk, reetha, black castor oil, ginger, and lemon essential oil that work in perfect synchrony to give you softer, thicker, shinier hair.
Pros
Moisturizes hair
Makes hair soft and shiny
Adds definition to curly hair
Easy to lather
Vegan
Free of SLS, parabens, sulfates, silicones, hexane, and phthalates
Cons
Apple cider vinegar is known to nourish hair and cleanse away all the dirt, oil build-up, and bacteria from your scalp. So, it comes as no surprise that Rivona Naturals Apple Cider Vinegar Shampoo works to restore the natural pH level of your hair and scalp, increases blood flow, and stimulates hair follicles to maintain the overall health of your hair.
Pros
Treats dandruff
Free of SLS, parabens, alcohol, silicones, and phthalates
Vegan and cruelty-free
Cons
Herbal Essences is the first hair care brand to be endorsed by the Royal Botanic Garden, KEW, London. If you are looking for a color-safe formula, this shampoo is a great choice. It is made with 90% natural ingredients and enriched with argan oil from Morocco that is rich in vitamins and antioxidants that nourish your hair. This natural shampoo repairs damage from the root and makes your hair soft and silky. It is formulated with a blend of aloe, antioxidants, and sea kelp to fight frizz, retain moisture, and improve hair texture. The pH-balanced formula is infused with the scents of citrus, exotic spices, and vanilla to uplift your senses.
Pros
Fights frizz
Repairs hair damage
Color-safe
Pleasant scent
pH-balanced
Paraben-free
Gluten-free
Colorant-free
Cruelty-free
Cons
May dry the hair and scalp.
St. Botanica Moroccan Argan Shampoo has a special BioActive formula that contains natural ingredients like argan oil, almond oil, rosemary oil, silk protein, clary sage, jojoba oil, ginkgo biloba, and green tea. It deeply cleanses your hair without leaving it dry and brittle. It adds hydration, shine, and volume to the hair and makes it more unmanageable. It is free from harmful chemicals like parabens, sulfates, and mineral oil.
Pros
● Hydrates the hair
● Makes hair more manageable
● Deep cleanses the hair
● Adds shine
● Sulfate-free
● Paraben-free
Cons
● Not suitable for all hair types
Price at the time of publication: ₹30.0
Khadi Mauri Amla And Bhringraj Ayurvedic Shampoo contains, as the name suggests, amla and bhringraj. These natural extracts strengthen your hair roots, prevent hair loss, and promote healthy hair growth. They also clear out dandruff and pave way for darker, shinier, and softer hair.
Pros
Paraben-free
Washes oiled hair effectively
Inexpensive
Cons
Does not reduce hair fall
Can dry out your hair
Pamper your hair with the natural goodness of lemon, tea tree oil, tulsi, and shikakai with Vaadi Herbals Lemon Shampoo. This natural shampoo is formulated to effectively remove dandruff and add volume and bounce to your hair. It also works to improve the overall health of your hair and boosts its energy.
Pros
Removes dandruff
Sulfate-free
Inexpensive
Cons
Strong fragrance
Does not cleanse oily hair effectively
Price at the time of publication: ₹7.99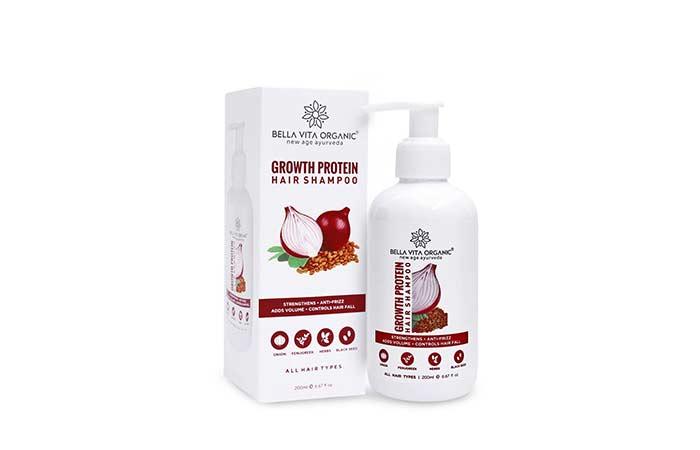 The Bella Vita Organic Growth Protein Shampoo nourishes and hydratesyour scalp while boosting hair growth. It contains coffee, herbs, apple cider vinegar, onion, and black seed. This shampoo also helps prevent dandruff and reduces the oiliness of the scalp. It maintains the pH balance of your scalp and fights frizz.
Pros
Non-toxic
Paraben-free
Sulfate-free
Silicone-free
Not tested on animals
Safe for all skin types
Cons
None
Kama Ayurveda Himalayan Deodar Hair Cleanser is a purifying and scalp toning shampoo that is aimed at strengthening weak and thinning hair and reducing hair fall and breakage. It is infused with the pure essential oil of Himalayan Deodar that boosts hair growth. It also contains soy protein that retains the moisture in your hair, and the aloe vera juice and hibiscus extract add volume and bounce to your hair.
Pros
Reduces hairfall
Adds volume
SLES and paraben-free
Cons
Can dry out your hair
Expensive
Aloe Veda may not be the most famous brand, but that's no reason to not check out its Herbal Conditioning Shampoo. Enriched with the goodness of hibiscus, amla, neem, tulsi, shikakai, cinnamon leaf, and brahmi, this natural shampoo promises to strengthen your hair roots, soothe your scalp, get rid of dandruff, and restore moisture in your hair.
Pros
Treats dandruff
Paraben-free
Cruelty-free
Cons
If you're on the lookout for a mild natural shampoo, you need to check out Aloe Veda Mild Nourishing Shampoo. This gentle cleanser contains aloe vera and allantoin that soothe the scalp and keep it moisturized. They also restore natural pH levels and prevent dry skin and dandruff. This natural shampoo also contains biotin that thickens your hair and maintains the health of your roots.
Pros
Well-suited for oily hair
Removes oil and dirt effectively
Only a small quantity required for each wash
Paraben-free
Cons
Contains SLES
Can dry out your hair
Khadi Herbal Saffron, Tulsi & Reetha Shampoo is excellent for anyone who is dealing with dry, dull hair. It contains saffron that provides protein, tulsi that works as an antibacterial agent, and reetha that is a natural cleanser. Besides these three main ingredients, it also contains lodhira, basil, and shikakai.
Pros
Removes oil, dirt, and build-up effectively
Sulfate-free
Only a little amount of product required for each wash
Inexpensive
Cons
Can dry out your hair and make it frizzy
Strong fragrance
Before you buy natural shampoos in India, keep in mind the following points.
Things To Consider Before Buying A Natural Shampoo
Know your hair type before investing in any natural shampoo because not all shampoos work effectively on all hair types. If you have dry and frizzy hair, go for a shampoo that caters to the health of rough hair and is infused with hydrating and moisturizing agents.
Consider your hair issue. If your hair is damaged due to excessive use of chemicals and colorants, go for a shampoo that heals and repairs chemically-treated hair. If you are dealing with dandruff or hair fall, opt for an organic anti-dandruff or anti-hair fall shampoo, respectively.
It is necessary to scan the ingredients list even when buying a natural shampoo. Although natural ingredients are safe to use, additives like tea tree oil and citrus ingredients may cause irritation, rashes, and redness. If you have a sensitive scalp, avoid buying shampoos with these ingredients.
The cost of natural or organic shampoos is higher than regular shampoos as natural shampoos are made with all-natural and pure ingredients. But, it is worth investing a little more in them as you get all the benefits naturally and safely.
Ensure that the natural shampoo is entirely organic, as claimed by the brand. However, it may still contain some chemical preservatives to increase its shelf life. Thus, check the customer reviews and ingredients list before buying one.
Who knew there was such a wide range of options available in natural shampoos, huh? Pick out the one you liked the best and comment below to let us know how it has improved your hair.
Frequently Asked Questions
Is natural shampoo better than regular shampoo?
Yes, natural shampoo is better than regular shampoo as it contains all-natural ingredients and does not damage or dry out your hair.
How often should a person use shampoo?
You should limit your use of shampoo to 2-3 times a week.
What should you do after washing your hair with shampoo?
You should apply a leave-in conditioner after washing your hair with shampoo.
Recommended Articles:
The following two tabs change content below.