10 Effective Tips To Make A Transition To Natural Hair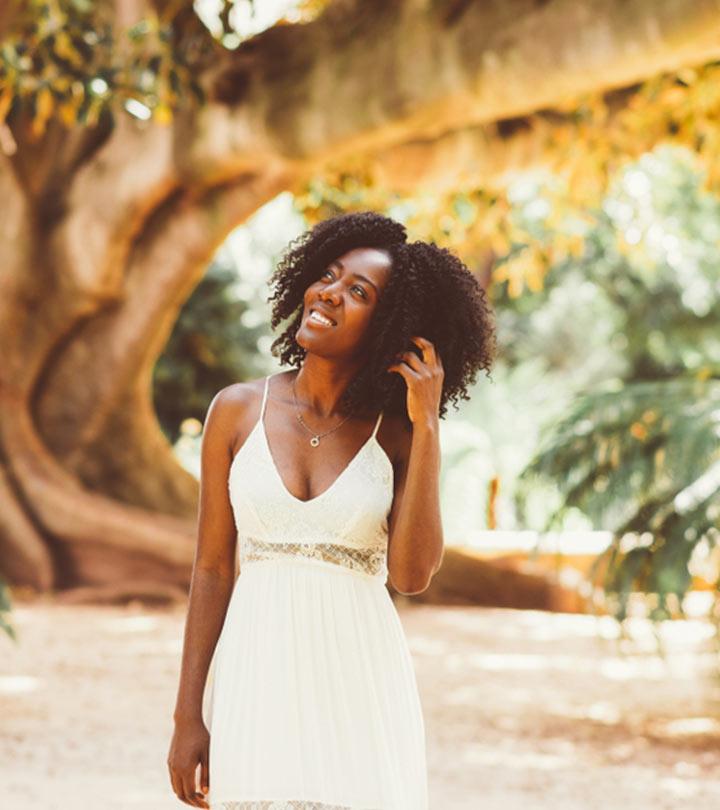 Though transitioning to natural hair may sound intimidating, it actually is easy. You will have to patiently wait while your relaxed hair grows out and becomes curly. Your hair care routine will need more effort and time as well. But the result is worth it.
Take the plunge with us as we guide you through this transitional journey. Keep reading to know how you can get back to your naturally textured locks without chopping your hair.
How To Start Transitioning To Natural Hair
Transitioning can be a very long journey – requiring months, if not years. So, you have to plan your hair care routine properly. Start researching about products that can ease your transition journey. It will save you and your hair a lot of trouble.
The best way is to keep a journal. Note down which products gave you the best results. Note down the pros and cons of the different shampoos and hair care products and the routine you follow along with the outcome. This will make the process much easier.
As the saying goes, well begun is half done. A good start can ensure your journey of transition is a smooth one. Let's check out the tips that may help grow the relaxed hair and care for it during the journey.
10 Tips To Make A Transition To Natural Hair Easier
Tip 1: Pick Your Transition Hairstyle
The switch to your natural hair is a long-term venture, and the time you require depends on your hair length goals. You can go for quick and easy hairstyles during the transition periods.
Choose easy-to-wear hairstyles to accommodate the differing textures and blend the relaxed and natural hair. You can try braids, flat twists, wet sets, buns, and curly dos (using foam hair curlers or rollers).
Tip 2: Trim Once A Month
Managing the differing textures is not an easy task. Use special products to avoid hair breakage and ensure healthy hair.
Moreover, you will need a regular trim every 4-8 weeks to keep your tresses looking healthy. Trimming ¼ inches every month will allow more space for your natural hair texture. You will also be able to maintain your hair length throughout the transition if it matters to you.
Tip 3: Pick Your Protective Style
Protective styles prevent hair damage and breakage during the transition phase. Apart from choosing protective hairstyles, use protective covering for the hair. Silk bonnets and scrunchies are lifesavers for transitioning hair. They prevent moisture loss and breakage.
Alternatively, you can go for silk pressing. It is a process to straighten your hair using heat styling tools. Silk pressing helps keep your transitioning hair manageable. Make sure to get it done by a hair expert to prevent excess heat damage.
Tip 4: Deep Condition Your Hair
Frizz will always be a companion during the transition phase. Natural hair is dry, frizzy, and fragile. To protect it and prevent frizz, use deep conditioners and hair masks. These products will keep the hair moisturized, soft, and manageable. Well-moisturized hair looks nourished and healthy.
Tip 5: Detangle Your Hair Carefully
Transitioning hair is prone to tangles, especially at the points where the different textures meet. Wide-toothed detangling combs and sprays can help you manage it. Always detangle small hair sections. Start detangling from the hair ends and move to the roots.
Also, always detangle wet hair right after the shower. Dry natural hair is prone to frizz and gets tangled easily. Apply a leave-in moisturizer or serum to make the detangling process easy and keep your hair moisturized.
Tip 6: Pre-Poo Transitioning Hair
Pre-poo provides additional nourishment and moisture to your hair and reduces dryness caused by shampooing. It shields your hair from hygral fatigue (hair follicle damage caused by repeated swelling and drying).
Apply the pre-poo treatment to your hair and coat the hair strands from root to tip. Cover your hair for an hour and continue with your regular hair wash routine.
Tip 7: Go Easy On Heat Styling
You may feel tempted to use a blow dryer or flat iron to even out the hair texture. Avoid the temptation as frequent heat styling can damage the fragile transitioning hair. Switch to heat-free styles and products that work well with air drying.
You can try styling balms and anti-frizz creams. These products will ensure proper air-drying without causing frizz. If you must pick up a heat styling tool, use a heat protectant and the tool at the lowest temperature setting.
Tip 8: Go For Hair Extensions
The long process of natural hair transitions can be frustrating for some. Multiple textures on the hair do not always look appealing. You may feel like skipping the entire natural hair transitioning and grabbing your relaxers. Hold on! Why don't you get hair extensions?
Hair extensions are available in multiple styles like braids, Senegalese twists, and loc extensions. You may also try wigs. They allow you to keep your hair tucked up and change your look without any hassles. You can also braid your hair underneath the wig and wear a wig cap to reduce friction.
Tip 9: Say No To Texturizers
Using texturizers may seem alluring to cover up the uneven texture. However, it is best to avoid chemical sprays as the chemicals may break down the protein bonds to straighten your hair permanently.
Tip 10: Use Proteins On An As-Needed Basis
The line of demarcation, where the chemically treated hair transitions into natural hair, is fragile and breakage-prone. The protein products help strengthen the hair and prevent breakage. However, excessive protein can dry out your hair, increasing the risk of breakage. Hence, use protein products sparingly and in small amounts.
How Long Does It Take To Transition To Natural Hair?
It may take several months to a year for a complete transition. However, it may vary depending on the following factors:
The original length of your treated textured hair
The frequency of your hair trims
Your hair condition during the transitioning period
Your hair care and styling routines
On average, it can take about 6-8 weeks for the effects of the relaxer to wear off and regain your natural hair pattern. Your hair will grow to replace the treated hair.
Typically, hair grows at a rate of 0.5 mm each day, and you may expect 6 inches of growth in a year.
Transitioning to natural hair takes time. It may require months or even years. So, you need to be patient and consistent with your hair care routine. Following a few hair care tips mentioned above will help you make things easier. However, the tips and products that work for one person may not suit the other. So, you should experiment with the products and observe the changes. It will be helpful if you keep a journal to note these down. Understanding your hair and its needs will help make this transition easier.
Frequently Asked Questions
How often should you wash your hair when transitioning to natural?
It depends on the needs of your hair. However, you may wash your hair once in 7-10 days.
Can you transition to natural hair without the big chop?
Yes. You can transition to natural hair without a big chop, but it may take several months or even a year to get 100% natural hair.
Does natural hair grow faster than relaxed hair?
No. The hair growth is similar for both natural and relaxed hair.
Key Takeaways
Transitioning to natural hair can be a long process that takes months or even years to complete, so you must plan your hair care routine carefully.
Trim your hair once a month, deep condition it every couple of weeks, and keep it in a protective style whenever possible to make the transition to natural hair easier.
How long it takes to completely transition to natural hair depends on your hair condition, the frequency of your trims, the original length of your hair, and your hair care and styling routines.
The following two tabs change content below.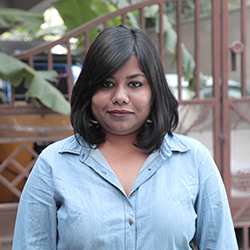 Ramona is an editor at StyleCraze. Prior to that, she authored over 200 articles on skin and hair care. She...
more