20 Rose Gold Hair Color Ideas Trending In 2019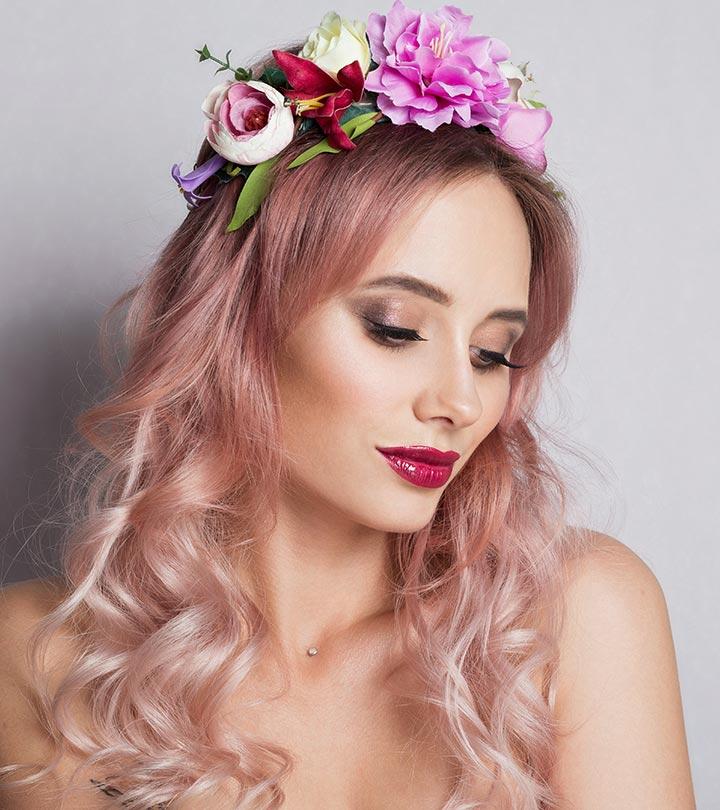 Gold, silver, and copper are metallic shades of the past. (*Cringes at the thought of the gold lip gloss and silver eyeshadow she sported in the 90s*) There's a new metallic shade in town, and it looks like it's here to stay. Yes, the gorgeous shade I'm talking about is rose gold. This muted blonde shade with a pink undertone seemed to burst into the market all of a sudden and has managed to make a place for itself in the clothing, handbags, footwear, and makeup industry. So it was no surprise when it sneaked its way into hair color world as well. More and more women every day are consulting their hairdressers on getting their hair dyed in an elegant rose gold shade. And here we are with our top picks for styling your rose gold hair color!
But, before we jump into our list, let's see how you can color your hair rose gold at home
What You Need
Hair bleach kit
Toner
Hair coloring brush
Bowl
An old towel
Rubber gloves
Sectioning clips
Rose gold dye
Shampoo
Color safe conditioner
How To Color Your Hair Rose Gold At Home
Drape an old towel around your shoulders to prevent bleach from getting on your clothes.
Mix your bleach and developer (included in the kit) thoroughly in a mixing bowl.
Partition your hair vertically and then horizontally to divide it into 4 sections and pin 3 ofthe sections up with sectioning clips.
From the section left loose, pick up a 1-inch section of hair and start applying bleach to it from the ends first and working up the length of your hair with a coloring brush.
Keep repeating the previous step until you have applied bleach to all your hair.
Leave the bleach in for the time duration indicated on the box, making sure you check the shade your hair has reached every 10 minutes.
Shampoo and condition your hair.
You may need to repeat this bleaching process once more after a few days if you have dark hair to begin with and the color did not lift completely the first time around.
Apply a toner to your hair and let it sit for the time indicated on the box before washing it off, to get rid of the orangey or brassiness tones of your hair (which usually happens when you have dark hair).
Apply your rose gold dye to your hair following the same process that you did for bleaching your hair (except you don't need to start applying your dye from ends first).
Leave the color in for the time duration indicated on the box
Wash it off with cold water until the water runs clear and then shampoo and condition it with color safe products.
A good way to maintain your rose gold hair is to limit your hair washes, washing your hair with cold water, and adding your rose gold dye to your bottle of conditioner so that your hair color is renewed every time you condition it.
Phew! Now that you've managed to dye your hair rose gold, let's look at all the beautiful and trendy ways that you can style it!
20 Romantic Styling Ideas For Your Rose Gold Hair Color
1. Blush And Lemon Rose Gold
Rose gold by itself is a breathtaking hair color. Add to that beautiful undertones of blush pink and lemon yellow and you'll have a color look that is one for the ages. The pink, yellow, and rose gold shades of this look blend together seamlessly to give you the most elegant hair color imaginable.
2. Shadowed Rose Gold
You don't always have to go for a soft and pastel look when going for rose gold hair. You can rock this gorgeous color in all its punk rock glory as well. Go for a dark metallic rose gold shade with magenta undertones to get this bold hair color look. Keep your roots a shade or two darker to create a shadow effect that will only add to the edginess of this look.
3. Muted Rose Gold
Now, here's a gorgeous hair color that's less rose, more gold. Muted and subdued, this predominantly gold color has a hint of rose running through it to add that touch of color to it. Though understated, this color job has a quiet elegance all its own.
4. Rose Gold Sombre
Gone are the days of ombre with its clearly demarcated colors and stark contrast. Sombres are all the rage this season owing to their subtle and more naturally blended look. This particular style uses a darker mauve at the roots that blend fluidly into a light rose gold at the ends to create a stunning contrast of pink toned colors.
5. Strawberry Rose Gold
When it comes to hair color, nothing beats a neutral tone that gives off that elegant and mature vibe. And this color job—that is a stunning combination of strawberry blonde and rose gold with dark brown hair—does just that. The balayage style that these colors have been done up in is what pulls the whole look together.
6. Desert Rose Gold
If you've ever been to a desert (or seen a picture of one), you'll know that its vast, uninterrupted expanse of sand is one of the most breathtaking things to behold. Recreate that stunning effect on your hair with the help of a light brown base color highlighted with a subtle shade of rose gold.
7. Rose Gold On Chocolate
Don't let your dark tresses stop you from getting the rose gold hair of your dreams. Simply highlight your hair with shades of rose gold and blush pink in a balayage style to create a mesmerizing melange of colors. Go for some loose curls to bring out the movement and dimension of this color look.
8. Platinum Rose Gold
When two metallic hues come together, the effect they create is guaranteed to take your breath away. Don't believe me? Then just look at the picture above. The platinum-based rose gold shade will have you looking Instagram-ready at all times. Just style your hair in a poker straight manner to complete your picture perfect look.
9. Tinted Rose Gold
Who doesn't want to be a redhead? Ever since I watched The Little Mermaid as a kid, I've wanted to have hair just like Ariel's. An excellent way to style your auburn hair would be to go for some rose gold highlights that frame your face and add depth to the whole look.
10. Peachy Rose Gold
Imagine gulping down a glass of peach iced tea on a hot summer day to cool down and relax… Doesn't that sound heavenly? Show your love for this beloved beverage by getting your hair colored in its peach-tinted rose gold shade.
11. Rose Gold Unicorn
Any self-respecting Instagram account holder will know that unicorns are all the rage this season. And one area where they have completely dominated is in hair colors. This soft pastel pink and rose gold look is sure to transform you into a pretty unicorn princess. Style it in a short wavy bob to make the most of this look.
12. Rose Gold Gradient
Gradient color jobs are huge this season and for a good reason. This color style makes your hair look like something out of a fantasy novel and you like an ethereal being. This particular gradient look starts off with a rich burgundy at the roots that blends into a sweet apricot shade in the middle and descends into a beautiful rose gold shade at the ends.
13. Dynamic Rose Gold
The cool thing about rose gold hair color is that it comes in so many shades that you can't pin it as just a single hue. This dark rose gold shade, for instance, has an auburn undertone to it that makes it look like it could almost be on the red side of the color wheel.
14. Caramel And Rose Gold Color Melt
When you combine a classic hair color with a trending one, magic is bound to happen. And this caramel and rose gold color job sure is casting incantations all around. The two undeniably gorgeous shades blend and melt into each other at the bottom of the chocolate brown hair to create an awe-inspiring hair look.
15. Handpainted Rose Gold
Now, here's a dark rose gold look that you'll definitely fall in love with. Create a work of art on your hair by getting a dark bronze-tinted rose gold shade handpainted onto a luscious auburn base. The results of this color job will be breathtaking, to say the least.
16. Rose Gold Mermaid
If there's ever a cross between a flower child and a mermaid, she would probably sport this hair look. This cool ombre style has been done on a dark coffee brown base with shades of rose gold, peach, and fuchsia at the ends that make for a gorgeous style that plays on contrasts.
17. Copper And Rose Gold Root Melt
A great way to create a dynamic hair color look is to mix and match a soft shade with a rich and vivid one. Following this principle, color job makes use of a bright copper shade at the roots that flawlessly blends into a light rose gold hue towards the ends to create a masterpiece.
18. Rose Gold Blonde Balayage
Of course, this list could never be complete without a good ol' balayage look thrown into the mix. This light blonde based look has been elevated with hints of rose gold streaked into it to create just a suggestion of color. The real beauty of this color job is revealed when it's styled in some loose blow-dried curls.
19. Rose Gold Brunette
Look like a character straight out of a writer's imagination by sporting this ethereal hair color look. The light dusty brown base of this style has been softly tinted with rose gold at the edges to create a look that is as bohemian as it gets. This color look is especially perfect for someone who lives near the beach and wears lots of floaty dresses.
20. Metallic Rose Gold
Add an ultra metallic twist to this otherwise floaty pastel shade to give yourself an awesome extraterrestrial look. This metallic rose gold hair color is darker at the roots and lighter at the ends to add movement to your hair and draw the eye downwards, thus making it look longer.
And that's it! That's the end of our list of top styling ideas for rose gold hair. Didn't you fall in love with every single one of them? So comment below to let us know which styles you can't wait to try out for yourself!
Recommended Articles
The following two tabs change content below.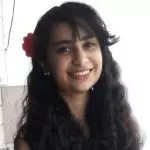 Latest posts by Arshiya Syeda (see all)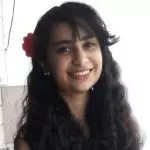 Arshiya Syeda
Arshiya Syeda is an editor and certified counselor. Ever the lover of the written word, she served on the editorial boards of her school and college newsletters. Writing articles on hairstyles, hair care, and nutrition helped her combine her love for reading, writing, and research. As an editor, she helps her team members deliver polished and meticulously researched content. Arshiya is fluent in English, Urdu, and Hindi and aims to become a multilinguist by learning German and teaching herself American Sign Language (ASL).