20 Trending Swimming Costumes That Will Make You Beach Vacation Ready
Picture yourself on a beach, or being surrounded by pristine waters, or lying by the poolside. Sun in your face, the breeze making your hair sway, music soothing ears and peace in your soul.
Summer is around the corner, and it's that time of the year where all our goals will come (at least mine) to a screeching halt. Why? Because the rubber hits the road. Reality check! Let's face it, "I will get fit, lose weight and rock this summer" has been a New Year resolution for most of us at some point. More power to women who stayed true to this, but I'm usually the sore thumb.
I'm one leg on the plane to my next beach holiday, but guess what! Easier said than done. It's not as fancy as it sounds for some of us, considering our inhibitions when it comes to shopping (for swimwear). I can swim all day every day. It tones your body like no other, and it's like meditation. But, for the longest time, I never attempted to learn because of my fear. More so, the fear, of having to buy a swimsuit that would fit my frame, one that can camouflage my love handles or the protruding belly and also one that is comfortable. None of which I knew anything about. So, I did what I was best at doing—AVOID!
If you're anything like me, follow me through, and we will explore some gorgeous and trending swimming costumes for different body types and preferences. Ready to take the plunge, yeah?
Stylish Swimming Costumes For Ladies
For "The Grandma" In you
I always lose to my grandmother in progressive choice. You can rate me on the 'boring scale.' Do you get the drill? Anyway, for all of you like me who prefers something that covers the body, here are our choices. Do check them all out because there's one for everyone.
1. Speedo Essential
The first thing that comes to your mind when you think of swimming is speedo. A brand that is forever hashtagged. This swimming costume is for anyone looking for a relatively concealed active swimwear, especially if you're a beginner. It is padded and extremely comfortable. The water drains out pretty fast and dries faster. It was my first swimsuit ever and is probably my favorite too.

2. Speedo Full Body Suit
Are you looking for fully covered swimming costume for ladies? Then here it is! A line extension to the 'essential' variant. Also, not everyone is excited about the idea of getting a tan. This is particularly for those skeptical about the chlorine content in the pool water. What you see here should be perfect for you. A detachable, two-piece swimwear that is both comfortable and snug. We could all use some padding support, and stay at peace while swimming.

3. Four Piece Striped Suit
Four things in one! A steal for sure because it's just two full suits in one. As a beginner, you could sport the entire set, the bikini, tank and the shorts for your swimming sessions. And, try wearing the bikini on a beach holiday, perhaps. The striped motif is a smart way to sport a bikini for newbies, unlike the plain ones. The fabric is smooth on the skin and dries easily too. All the TLC you need for this one is to wash it in cold water.
4. Sea Blue Swimwear
Bleed blue all the way. What better color for your swimwear than this azure suit, right? It is designed to give you coverage, but won't let you compromise with style. The flouncy tank that trails down, covering your hip and the snug shorts that are form fitting will have you blend into serenity the minute you deep dive.
5. Printed Crisscross Tank With Shorts
Take a step forward and try this stylish printed suit. This modish design is ideal for anyone with inhibitions about trying new active swimwear because of reasons, best known to them. The subtle cuts to the bodice, padded support to the chest and shorts that camouflage till just above the knee makes this a perfect choice for you. And, wait till you hear this. For those wanting to hide their tummy, this is your best bet.
For "The Rock Chic In The Hard Rock World" In you
I have friends who believe in living just to dress up and religiously follow latest trends. If that defines you—Take a look! If not, see if the next one is for you, or maybe the one after.
1. Tuna Sport High Waist Bikini
An encompassing and chic-looking bikini suit with a twist. The crop top design goes all the way to the active wear, and we couldn't have been happier. A high waist bottom that meets the top half way above the bellybutton and the black and white detailing quietly makes a style statement.
2. Halterneck Mesh Design
Good times come with tan lines. But they are worth it, especially when you get to wear something as stylish as this one. The halter neckline that moves back into a form-fitting silhouette is a stunner and is sure to make you one. This, I tell you is for keeps!
3. Sheer Panel Stretchable Swimsuit
Wearing this is nothing but showing off your exploding confidence. Flaunt your figure and your sense of style with this one. The sheer tulle panel that comes with comfortable arm and leg openings is elastic, so you have one less thing to worry about. It's just as stylish from the back as it is from the front. Go get it!
4. Asymmetrical Suit With Side Cutout
Asymmetric is the fad right now, and we all love the design. Don't we? And the one hand sleeve design takes this up a notch higher! When you go with your girl gang, this is what will probably set you apart. Imagine this with your reflectors, a fedora, and a body accessory. You're about to rock the world!


5. The One Piece Monokini
Monokini? Yes, you heard it right. I just love the novelty of some of the fashion designers, and always in awe of their prodigal designs. Let me explain—monokini is usually a one piece suit that has gotten a facelift. It looks like a one piece from the front and a one piece from the back. Isn't it cool? Plus the fish scale bottom, halter neck, and the tie-able bow as you move back. I cannot wait to get into one of these (someday)!


For "The Classy Babe" In you
Do you believe in making minimalist fashion statements? Classy but not over the top. I know exactly how you think. Let's see what we have got for you.
1. Blush Pink One Piece Suit
This redefining beauty will define your classic style like no other. In poised pink and a macrame neck design, this swimsuit is purely an urbane choice. The material is soft and smooth, just the way I like it.

2. Open Back Swimsuit With V-Halter Neck
You want to look stylish, but have apprehensions like—"I want an elegant bikini, but I have a broad frame." "I would love to have a classy swimwear but, I'm not comfortable showing off my butt-cheeks." Here's a design you should consider.
If you are looking for something to camouflage your tummy, floral print is your go-to wear. They look busy and takes the focus away from the waistline, they conceal the hip area too. A blessing in disguise, I must say!

3. Striped Two Piece Tankini
If tankini is another word you just heard, here's what it means. The top piece of the suit looks and feels like a tank top, mostly a pattern that you would see in two-piece suits. The padded protection that lifts and supports the bustline, and moves down into a striped transparent fabric is a flattering choice. The boyfriend shorts that come with it are taut and comfortable, so you don't have to worry about malfunctioning.

4. One Piece With Halter Neck And Plunging V Design
Sensuous and classy are the words that occur to my mind. Imagine someone sporting this! An effacing and enthralling piece that fits in the right places and flows in a proper way. Also, the in-built shorts completes this suit. Swap the colors, and it will look just as good. But, this probably will remain my most liked combination.

5. A Two Piece Tankini
By now we get the drill. Halter neck is a swimsuit staple, whose neckline makes everything else fall into place. This is why it's your safe bet. The lycra material suit with a bust defining design and the gold embellishment bumps it up, and beauty is in the details. The luscious material is smooth on the skin, easy to maintain and wash.

For "The YOLO Believer" In You
Are you the kind, who will never miss an opportunity to make heads turn no matter what your style is. Yes, I know, after all, "you only live once." Read on till you reach the interesting part of this article and thank me later.
1. Double Strap String Bikini Set
Black, blue and striped. A triad that is not easily beatable, not in the context of beach wear at least. A total, knock-out in every sense. The blue band moves back into a strapped bra and does the heavy lifting; the black band converts into a halter neck. Now, you know what I mean? Oh and the matching underpants. It does not cease to amaze me. Be Amazed!

2. Bikini With A Cover-Up
A bikini set and a matching cover-up? I mean why not? First off, the flouncy skirt and the stunning top piece is slaying it, and the cover-up only makes it better. You're officially vacation-ready!

3. Emerald Blue Halter Neck Bikini
The color, the design, and the tussles scream fervor and fun. All of it directly implies a beach vacation and deserves one too. If you cannot wait to flaunt your hourglass figure, you must waste no time in adding this to your bikini wear collection. After all, everyone deserves treats like these, especially if you have worked hard to get that bikini body.

4. Striped Tankini
We can never get enough of tank tops, can we? Except this tank is a blessing in disguise. The soft padding for breast support and an underwire defines this classic piece. It trails down to perfectly sit above the belly button with an elastic holding it all together, a matching underpants is something you cannot say 'No' to. Chic and suave, that's right!

5. Monochrome Waved High Neck Design
Never tried a monochrome look before as you thought the color is boring? Wait till you see what I have found for you. Take a proper look at this and tell me if you haven't changed your mind yet. This high neck monochrome suit will have heads turning at your next beach vacation. It is body-hugging, comfortable and supporting all at once. And, irresistible of course!

Found anything of your taste? Remember there is only one right way of sporting a swimming costume—feeling comfortable in it. A fully covered body suit or a bikini will otherwise be no different. As they say, you're one swim away from a good mood! On that note, keep calm and continue to swim.
*Subject to Availability
Do you have any favorites in swimming costume designs? Share your thoughts with us in the comments section below.
Recommended Articles

The following two tabs change content below.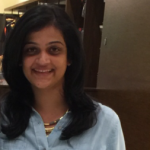 Latest posts by Pratima Ati (see all)