Should You Be Concerned About Triethanolamine In Skin Care Products?
Studies claim it's safe! Learn how this chemical compound benefits your skin. Have you ever come across triethanolamine (TEA) on the label of your skin care product? Ever wondered if there are at all any benefits of triethanolamine for skin? TEA is commonly used as an "inactive ingredient," a pH balancer, and emulsion stabilizeri  XA compound that coats emulsifying droplets to prevent any reactions or changes in the product. . However, there have been safety concerns regarding its effects on the skin, which is why many avoid this ingredient in the products they use.
However, is triethanolamine really harmful to the skin? Should you be really concerned if you find it in your products? This article clarifies everything you need to know about triethanolamine and its risks. Read on.

Know Your Ingredient: Triethanolamine
What Is It?
A tertiary amino compound, which is oily and colorless in nature.
What Are Its Benefits?
It is used in skin care products as a formula thickener and emulsifier.
Who Can Use It?
It can safely be used by anyone, but some people may be allergic to it.
How Often?
Products containing triethanolamine can be used daily.
Caution
Products with more than 5% concentration of triethanolamine may cause adverse reactions.
What Is Triethanolamine?
Triethanolamine (TEA) is a tertiary amino compoundi  XAn amine in which nitrogen atoms are bonded to three carbon atoms to make ammonia. and triol (a compound containing three hydroxyl groups). It is a colorless, oily liquid, denser than water, and smells slightly like ammonia as it has nitrogen in the center.


Did You Know?
Triethanolamine is a common ingredient used in ear drops for cleaning earwax.
Triethanolamine is commonly used in cosmetic products as a pH adjusting agent, emulsion stabilizer, and
surfactant
i
X
A detergent agent added to soaps, shampoos, and other products to cleanse a person or object or to reduce the surface tension of water.
. You can see this ingredient in foundations, lotions, creams, serums, cleansers, and sunscreens. There is an ongoing controversy about whether TEA poses a threat to the skin or not. Let's find out in the next section.
Is Triethanolamine Safe For Your Skin?
Yes, triethanolamine is considered safe for use in both skin and hair care products. Many concerns are raised on triethanolamine's toxicity and its safety as a skin care ingredient. These concerns stem from the fact that triethanolamine results from a reaction of ammonia with N-nitrosatingi  X A reaction in which organic amino compounds mix with nitrates to form nitrosamines. ingredients to create nitrosamines, which were thought to be carcinogens.
However, the levels of N-nitrosating ingredients in skin care products are highly regulated, so the interaction of the two ingredients to form carcinogenici  XAn element, ingredient, or chemical that has potential cancer-causing properties. compounds is relatively low. Also, most of the products must comply with the guidelines set by the Cosmetic Ingredient Review Expert Panel, which bars the use of TEA in any products in which N-nitroso compounds can form. The panel concluded that TEA and TEA-related ingredients are safe when formulated to be non-irritating to the skin.
Hence, you need not panic and banish all TEA-containing products from your skin care routine. This ingredient does not have any skin benefits. However, it can help improve the efficiency of the cosmetic formulations of the products.
What Are The Benefits Of Triethanolamine?
Here are some benefits of using triethanolamine in cosmetics: 
1. Balances The pH Levels
One of the most important uses of triethanolamine is balancing the pH of cosmetic formulations. It is known to neutralize higher and lower pH and reduce the acidity and alkalinityi  XThe capacity of a water body to neutralize bases and acids to obtain a balanced pH level. of any product. Products with neutral pH levels do not irritate the skin.
2. Excellent Emulsifier
Triethanolamine is also said to help in the emulsification of various ingredients, which is one of the primary reasons it is used in creams and other product formulations.
Emulsification is the process of mixing two immiscible liquids, mostly an oil and non-oil liquid, to form a more homogenous product. For this process, you need a chemical that helps in the process by holding both molecules together.
Triethanolamine can aid this process and prevent oils and other liquids from separating, giving the product an even consistency.
3. Thickening Agent
Another reason you find triethanolamine in lotions and creams is its benefit as a thickening agent. Many formulations (like creams, moisturizers and conditioners) require thickeners to get the ideal consistency.


Quick Tip
You can use cleansing milk-cream emulsions containing triethanolamine for removing your makeup.
While choosing products that contain triethanolamine, you may have questioned the possible side effects of this ingredient. Read on to know if there are any negative effects you should be concerned about.
What Are The Possible Side Effects Of Triethanolamine?
Triethanolamine is safe for the skin and does not have any side effects, as most products keep its concentration between 1% and 3%. At this concentration, triethanolamine is safe for skin application and does not lead to irritation of the skin or any other side effects.
It can cause allergic reactions and skin irritation when used above 5% in cosmetic products. However, the irritation can go away once you discontinue using the product.
So far, there is no evidence of any other long-term side effects of triethanolamine.
Triethanolamine is not an ingredient you must be actively looking for in skin care products. However, many skin formulations can benefit from its stabilizing properties.
Infographic: Benefits Of Triethanolamine You Should Know About
Triethanolamine is an inactive ingredient commonly used as an emulsifier and thickening agent in cosmetic formulations. While the ingredient may not have skin benefits, it can improve the efficiency of your cosmetic and personal care products drastically. Check out the infographic below to learn more in detail about the amazing benefits of triethanolamine.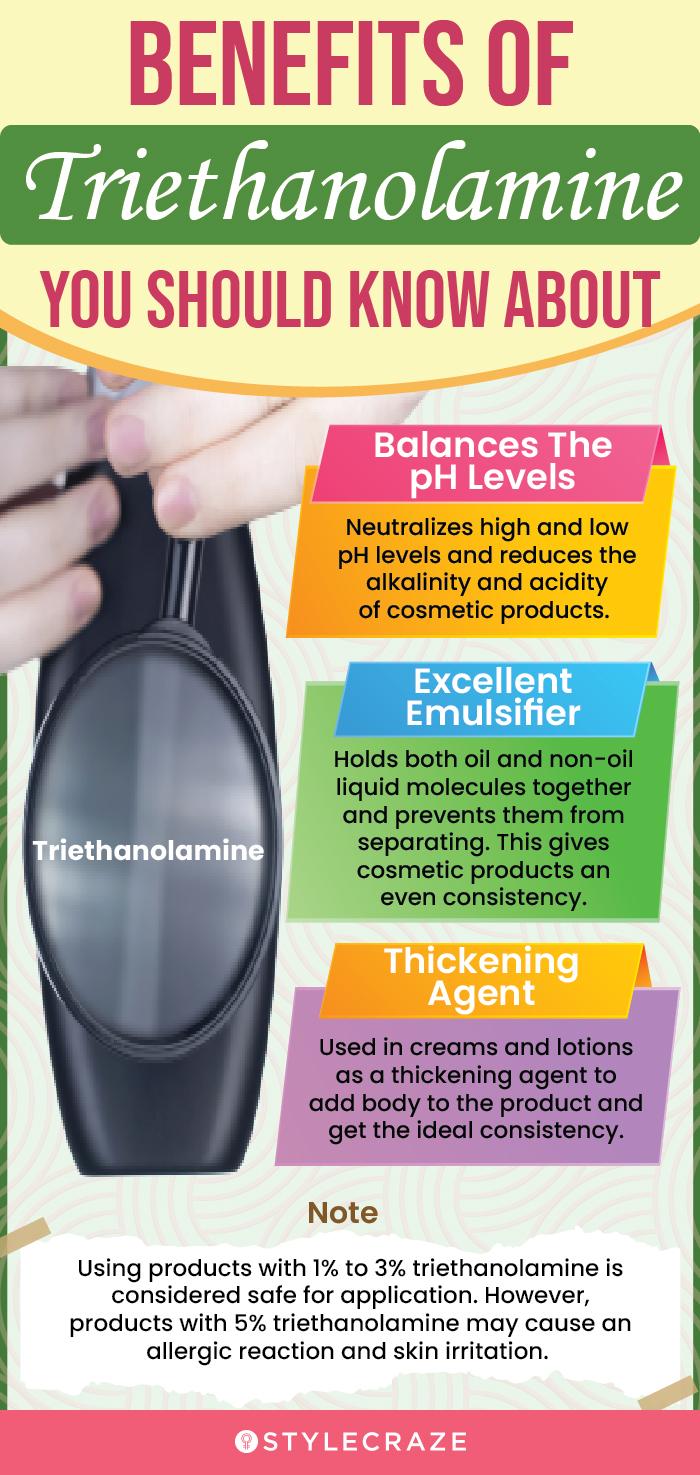 Triethanolamine (TEA) is found in many skin, hair, and cosmetic formulations. It works as a surfactant and stabilizer and is responsible for improving the quality of the products. Its pH adjusting abilities make it incredibly useful in cleansers, sunscreens, fragrances, and body lotions. There are no skin care benefits of TEA, and using products with triethanolamine for skin is considered safe. So, if you have been using products with TEA without any issues, you can continue using them. However, if you are skeptical about the ingredient, you can do a patch test before using the product.
Frequently Asked Questions
Why is triethanolamine used in hand sanitizer?
Triethanolamine is used in hand sanitizer to balance its pH level and emulsify ingredients that do not blend well.
Is triethanolamine an alcohol?
Triethanolamine is a compound that contains triol, an alcohol compound.
Is triethanolamine a natural product?
Triethanolamine is a synthetic compound produced when ethylene oxide reacts with aqueous ammonia, creating a colorless, thick, and odorless liquid.
How can I properly store and dispose of skincare products that contain Triethanolamine?
Ensure that you store and dispose of products containing triethanolamine in sealed, plastic containers. You can contact your state Department of Environmental Protection for further information on how to store and dispose of such products.
Key Takeaways
Triethanolamine (TEA) is an ingredient that is found in many beauty products such as lotions, sunscreens, foundations, and creams.
It serves as a pH adjuster or emulsion stabilizer so that a cosmetic product performs better.
Its concentration is limited to 1-3% in most products, making it safe to apply to the skin.
Learn the art of choosing safe and effective skincare products in this enlightening video. Discover key factors, ingredients, and tips to ensure your skin stays healthy and radiant. Watch it now!
The following two tabs change content below.