Triphala For Weight Loss: How Does It Help?
Discover the strength of this Ayurvedic ingredient and make it a part of your weight loss journey.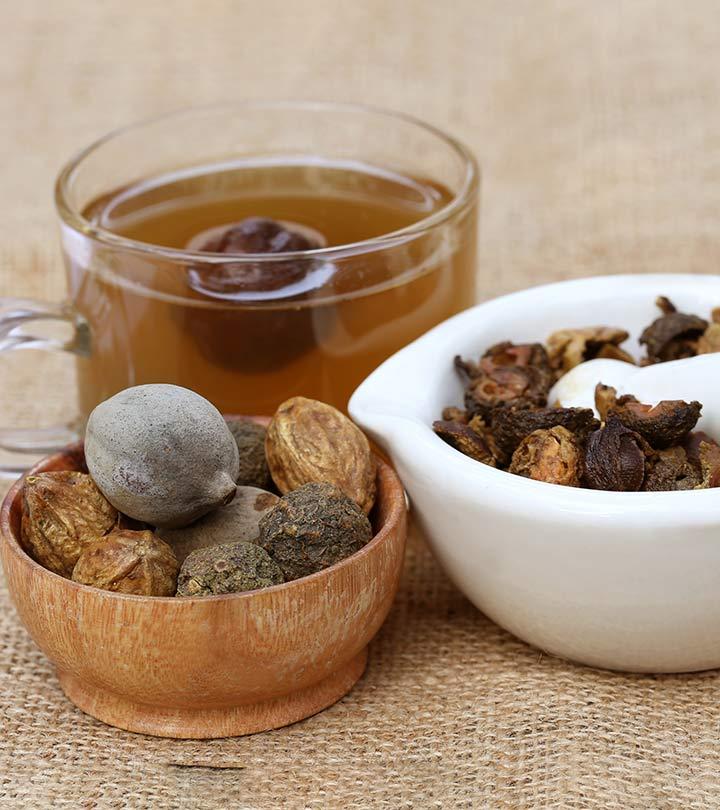 The use of triphala for weight loss is popular in Ayurveda. As the name suggests, Triphala is a mixture of three (tri) fruits (Phala), namely amla (amalaki or Indian gooseberry or Emblica officinalis), harada (haritaki or Terminalia chebula), and behada (bibhitaki or Terminalia bellirica). These fruits can flush out the toxins, keep your stomach, small intestine, and large intestine healthy, and promote your overall health. This Ayurvedic diet supplement may also reduce cholesterol, boost metabolism, improve immunity, and combat many microbial infections (1). Learn more about its role in weight loss. Read on.

Fun Fact
Amla, is amongst the oldest edible fruits in India. Haritaki is considered to be "the king of medicines" in Ayurveda. Bibhitaki has a more notorious reputation for growing on a tree believed to be haunted by demons by the people of Northern India.
What Is Triphala?
Triphala, an age-old herbal remedy used in Ayurveda, combines three potent fruits – amla, harada, and behada – to provide a holistic approach to well-being. Beyond its weight loss potential, Triphala also offers an array of health benefits. Its rich antioxidant content not only slows down the aging process but also safeguards against chronic illnesses by neutralizing harmful free radicals (2), (3). Anecdotal evidence suggests that amla may enhance vision and oral health, while also nurturing hair vitality. Triphala's digestive benefits may also extend to regulating bowel movements and detoxifying the body, promoting overall vitality.
Before we get into its many health benefits, let us first learn how it can aid weight loss. Keep reading to know more.
Triphala For Weight Loss
Taking Triphala, in combination with healthy food habits and a proper exercise regimen, helps reduce unwanted fat.
Several studies have demonstrated the beneficial role that Triphala plays in fat loss and subsequent weight loss:
A study was conducted by Birla Institute of Technology and Science (India) on mice that were fed a high-fat diet. It found that giving the mice Triphala helped reduce through fat burning as well as reduced

body-fat percentage

i

  X

The amount of fat in the body in comparison to its lean mass (which consists of muscles, organs, bones, and body water).

. It also resulted in an improvement in their lipid profile and glucose levels (4).
Another study conducted on obese individuals in Iran found that supplementation of 5 g Triphala (Itrifal Sagir) powder twice a day helps reduce body weight, waist circumference, and hip circumference (5). It also works as an appetite suppressant.

Did You Know?
Triphala is not only widely recommended in the Ayurvedic system of medicine for weight loss and detoxification but also mentioned in Al-Qanun fit-tib or the "Canon of Medicine," an encyclopedia compiled by Persian philosopher Ibn Sina.
To find out how to add Triphala to your diet to aid
weight loss
, check out the next section.
How to Use Triphala Churna for Weight Loss
Triphala is available in the form of powder or herbal supplement tablets at pharmacies and Ayurvedic stores, or you can also buy it online.
The findings of the National Health and Nutrition Examination Survey from 2017 to March 2020 analyzed the prevalence of dietary supplement usage across different age groups. The study involved a total of 6,324 children and adolescents aged 0 to 19 years, along with 9,924 adults aged 20 years and older. The results indicated that 34.8% of children and adolescents, as well as 58.5% of adults, reported using at least one dietary supplement within the last 30 days. Interestingly, the usage of dietary supplements like Triphala was more prevalent among females compared to males, except for children aged 12 to 24 months.
Here are a few ways to take Triphala as a dietary supplement to improve your overall health and aid weight loss.
1. Triphala Powder And Cold Water
Add two teaspoons of Triphala powder in a glass of water and let it soak overnight. Drink the Triphala water first thing in the morning for easy bowel movements.
2. Triphala Powder And Warm Water
Add a tablespoon of Triphala powder in a glass of water and let it soak overnight. In the morning, boil this water until its volume reduces to half. Let it cool for some time. Drink it in one go.
3. Triphala Powder, Honey, And Cinnamon
Add a tablespoon of Triphala powder and a small stick of cinnamon to a glass of water. Let it soak overnight. In the morning, add a tablespoon of organic honey to this water and drink it at one go.
4. Triphala Tablet
As a natural remedy for improved digestion, take one tablet per day with warm or cold water before you go to bed.
5. Triphala Tea
Boil a cup of water and add a tablespoon Triphala powder to it. Let it boil for 30 seconds. Pour the water into a cup and let it cool. Add a tablespoon of flaxseed powder and a dash of lime before drinking.
Triphala Dosage for Weight Loss
Taking 10 g of Triphala powder before breakfast and after dinner aids weight loss (5). Drink a glass of lukewarm water after taking Triphala for better results.
Other Health Benefits Of Triphala
The

phenolic compounds

i

  X

Chemical compounds found in plants rich in anti-inflammatory, anti-cancer, and antiviral properties.

present in Triphala possess antioxidant properties and, thus, help in scavenging

free radicals

i

  X

Unstable oxygen molecules in the body that raise the risk of chronic ailments like cardiovascular disease and cancer.

(7).
A clinical study revealed that taking 5 g of Triphala daily for 45 days helps in the lowering of blood glucose levels (8).
Triphala has been found to reduce total cholesterol,

triglyceride

i

  X

A type of fat coming from excess intake of oils, butter, and other fatty foods, the high levels of which can elevate heart disease risk.

, and LDL cholesterol levels in experimentally-induced hypercholesteremic rats (9).
Triphala boosts immunity and is effective in reducing stress and anxiety (1).
Triphala Reviews
Customer reviews for Triphala tablets have been positive:
"Triphala definitely helps my digestion system. The most important thing is that it takes time. Not a quick fix. Noticed improvement after about two weeks of daily usage." – LC369
"It works, and I would recommend it to anyone who needs to be relieved without waiting too long." – Dilnaz
"I'll continue to use as it does what's suppose to do for healthy digestion & elimination." – mcdm
Infographic: 4 Ways To Use Triphala For Weight Loss
Triphala is a traditional Ayurvedic powder made from the blend of the fruits amalaki, bibhitaki, and haritaki. Consuming triphala may suppress your appetite, boost metabolism, and improve your overall health. We have rounded up the top ways to use triphala for weight loss in the infographic below. Check it out!

Triphala Churna has a special place in Ayurveda with regard to weight loss as its benefits are backed by scientific evidence. It may help improve lipid profile, reduce body-fat percentage and waist and hip circumference, and lower glucose levels. Use Triphala for weight loss by mixing the powder with warm or normal water and letting it soak overnight. Then, drink it in the morning. You can also make tea with it or add honey and cinnamon for added benefits. For effective results, drink 10 g of Triphala powder with water before breakfast and after dinner.
Frequently Asked Questions
Who should not take Triphala?
Triphala is believed to lower blood pressure or lead to mild digestive health problems like flatulence or diarrhea. Hence, those with low blood pressure or a history of digestive issues must refrain from consuming Triphala.
Can I take Triphala during periods?
Possibly not. While taking a spoonful of Triphala powder mixed in water a couple of days prior to your periods is believed to help ease menstrual irregularities, taking it during your periods may lead to heavy bleeding. Consult your doctor for more information in this regard.
Can I take Triphala with milk?
Yes. According to Ayurveda, Triphala with milk may help relieve constipation and boost digestion.
Key Takeaways
Triphala is an Ayurvedic formulation of three Indian herbs: Amla, Harada, and Behada.
Studies have shown that it helps reduce weight and body-fat percentage.
You can have it with water, tea, or supplements to reap its benefits.
Uncover the magic of Triphala as a tonic for weight loss in this captivating video. Discover why Triphala can be a game-changer for your weight loss journey.
Sources
Articles on StyleCraze are backed by verified information from peer-reviewed and academic research papers, reputed organizations, research institutions, and medical associations to ensure accuracy and relevance. Check out our
editorial policy
for further details.
The following two tabs change content below.