12 Best Triple Barrel Curling Irons To Get Mermaid-esque Curls
Flaunt curls that look well-defined and stay bouncy all day, with the right stylish tools.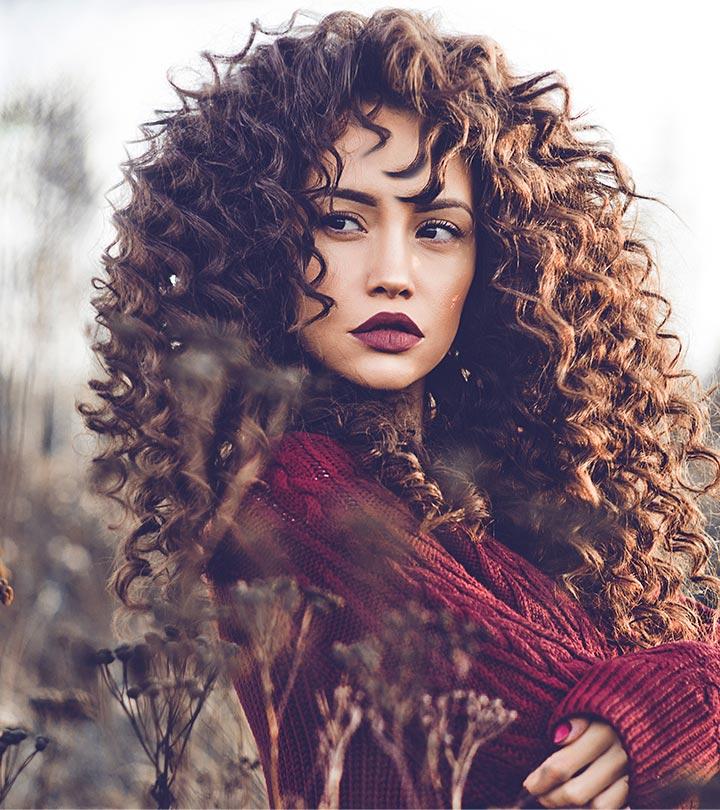 The best triple barrel curling iron will save you money and time when it comes to jazzing your hair up. These easy-to-use irons will heat up to a high temperature to give you massive curls in just a matter of minutes. What's more? The barrels are ceramic that evenly distribute heat across your hair, making them suitable for all hair types. The tourmaline coatings on the barrels help trap the moisture in your hair and reduce frizz by sending positive ions to your dry hair. Prom night, movie matinee, or a night out with your girlfriends, triple barrel curling irons are your new best friend. Scroll down to check out our list of irons to get you star-ready!
12 Best Triple Barrel Curling Iron of 2022
Beach waves are trending with celebrities like Vanessa Hudgens, Selena Gomez, among many others flaunting them, and now you can too! The Revlon Jumbo 3 Barrel Hair Waver, comes with three rolling barrels, and a specially designed larger middle barrel to help you achieve those picture-perfect waves. Its tourmaline ceramic barrel coating reduces hair damage and distributes heat evenly throughout the length of your hair. To put you in control of the styling process, this device comes with 30 heat settings that go upto 420°F. This video review will help you understand more about the product.
Pros
30 heat settings
Comes with a locking ring
360°Swivel cord
Cons
The device is large and heavy
The Alure Three Barrel Curling Wand gives you salon-like curls at home effortlessly, for all hair types and lengths. Its negatively charged ions help reduce frizz and add gloss to your hair. With this triple barrel curler, you can curl and crimp it. In a matter of seconds, this styling device can go from 0 to 410°F, saving you time on busy mornings. That's not all; this curling iron comes with a digital temperature display, which helps you monitor and set the temperature easily. If you are still unsure, check out this honest review.
Pros
1-inch barrel
Comes with a 7 ft cord for easy use
LCD temperature display
Cons
The curls are not long-lasting
Transform your hair into beautiful waves with the LAYADO Three Barrel Curling Iron. It is equipped with 2-levels of temperature adjustment – 360℉ and 410℉. The curling iron is made of ceramic tourmaline, offering quick heating within 60 seconds. In addition, the anti-scald design prevents heat damage, and the 360° rotation cord ensures smooth movement of the curling iron.
Pros
Long-lasting
Suitable for all hair types
Quick-heating
Cons
May not be suitable for thick hair
Have you ever dreamed of rocking that signature Marilyn Monroe look? The Garne-T 3 Barrel Curling Iron Hot Tools makes that dream a reality! Its aluminum alloy barrels make sure to minimize heat damage to your hair while giving you frizz-free, long-lasting curls. This curling barrel also allows you to set the heat anywhere from 176°F-410℉, making it suitable for all hair types. Its silicone handle ensures a firm grip, and the swivel cord allows you to use the wand with ease, making styling a piece of cake!
Pros
Silicone handle enhances grip
Fast-heating technology
Cons
Emits a strong smell while heating
Do you want to curl your hair to work, but can't seem to find enough time to do it? The CkeyiN 3 Barrel Curling Iron Wand's fast-heating technology takes only 30 seconds to heat so that you can look stylish on a schedule! The product is designed with front insulation knobs and comes with a glove to protect you from burns while styling. This device works well on all hair types, especially to get that quintessential Hollywood soft curls look.
Pros
Comes with an easy to use push power on and off control
Comes with a glove
Takes upto 30 seconds to heat
Cons
Curling your hair just got easier with the KeMei Professional Triple Jumbo Barrel Curling Iron. Its easy-to-use power on and off button and two heat control systems make it a good choice for home stylists and amateurs. Set the barrel to 170℃ if you have thin and silky hair, or to 220℃ if your hair is thick and curly. Its PTC build releases negative ions that calms your hair giving it a sleek and shiny look.
Pros
Easy to use
Negative ion makes hair sleek and shiny
Cons
Not suitable for long hair
What's not to love about this super cute hot pink barrel curling iron? Its triple barrel design works on the length of your hair to give you those big dramatic curls that are sure to bowl people over. Its 1-inch barrels make it suitable for styling long hair, and adjustable heat settings allow you to set the temperature according to your choice. With a universal voltage of 100 to 240V, this device can be used anywhere around the world.
Pros
1-inch barrel
Maximum temperature of 446℉
LED temperature display
Cons
The device is big and heavy
The Bed Head TIGI A-Wave-We-Go Adjustable Tourmaline Ceramic Waver comes with an adjustable barrel that allows you to style your hair in beach waves, loose, or tousled curls. Its tourmaline ceramic barrels, make sure to evenly distribute heat throughout your hair and leave you with flawless glossy curls every time. While most barrel curling irons weigh a ton, this is lightweight and travel-friendly. With multiple heat settings and a maximum heat of 400℉, this device is compatible with any hair type. Click this video to learn more about the product.
Pros
Comes with a rotating cool tip
Auto shut-off button present
Cons
Does not have a lock switch to secure barrels
With this wavers' interchangeable barrels, you get to style your hair in 3 different styles-tousled waves, natural waves, and defined waves. This waver comes with multiple heat controls so you can customize it to suit your hair type. It also works super fast as it can reach its peak of 400℉ in under 30 seconds! To ensure that your safety is taken care of, this product comes with an insulation glove.
Pros
Fast heating
Can style your hair in 3 styles
Comes with an insulation glove
Cons
Small in size, not suitable for long hair
Compact and efficient perfectly describe the Jindin 26mm Ceramic Curling Iron. Its aluminum-coated barrel makes this device safe on your hair and prevents it from burning your hair. Its 26mm barrel makes it lightweight and travel-friendly. This curling barrel comes with a simple lock button that allows you to put it away after use. This device has a universal voltage, which means you can use it all over the world.
Pros
Lightweight and travel-friendly
This device comes with a lock button
Cons
The instruction manual is in Chinese.
Don't judge the Conair Mini Waver by its size; it might look small, but it is highly effective on short hair. If you envy Ashley Tisdale's soft curls, then this is the waver for you! Its barrels are specially designed to give your hair volume, making it ideal for people with thin hair. With its fast heating and a maximum temperature of 375℉, this waver can glam you up in minutes.
Pros
Travel-friendly
Adds volume to hair
Designed for short hair
Cons
Not suitable for long or thick hair
Getting those deep S waves that Tyra Banks often sports is now possible with the BlueTop Three Barrel Curling Iron! With a 0.98-inch barrel size and a maximum heat of 446 ℉, this curler is designed to cater to the unique needs of women with thick hair. For easy use, it has a 2.5m swivel cord that rotates 360° making it convenient to use. Its safety features like the anti-skid handle and security bracket, add to the reasons why it is an absolute must-have.
Pros
Has an anti-skid handle and security bracket
Temperature control is easily adjustable
Cons
Has a narrow barrel opening
Now we will share with you a few tips and tricks to buy the right triple barrel curling iron.
Triple Barrel Curling Iron-Buying Guide
Buying a barrel curler, especially if you don't know much about them, can be a confusing process. It is easy to get lost among the many designs, companies, and features; therefore, to make sure you don't get lost at sea and make a smart and well-informed decision, we have put together a buying guide that will help you pick the best product for you.
With hundreds of products in the market, having a clear picture of what a curling barrel is and what distinguishes it from a curling iron is of utmost importance.
Difference Between A Triple Barrel Curling Iron And A Regular Curling Iron
The most obvious difference between the two is their design. The triple barrel curling iron is bigger and has 3 cylindrical barrels that can be opened and closed. The barrels are opened with the help of a clamp. The hair is then placed into the heated barrels where the curl is created.
A curling iron, on the other hand, has only one barrel with a clam opening. To create curls, the hair is manually wrapped around the heated wand.
Triple curling barrels are heavier and larger. Therefore they are not travel-friendly as compared to curling irons.
On the plus side, triple curling barrels work faster and create more distinctive curls.
Using a Triple Barrel curling iron is pretty straight forward, follow these simple steps to get those curls of your dreams!
How To Use A Triple Barrel Curling Iron
Make sure your hair is dry and comb it out to get rid of all knots. (0:31)
Next, use an anti-frizz serum on your hair to reduce heat damage and make your hair more manageable. (0:43)
Pick up your triple barrel curling iron and set the temperature according to your hair requirement. Temperature upto 170℃- 190℃ is suitable for thin and silky hair, while 190℃-220℃ is suitable for thick hair. (1:17)
Gather the crown of your hair together and tie it in a bun and start working on the lower part of your hair first. (1:33)
Now, divide the lower part of your hair into two smaller sections and start working on them one at a time. (1:39)
Take your triple curling iron, open the clamp and place the length of your hair in it, starting from the top and working your way downwards. (1:48)
 Be sure to hold the device on your hair for a few seconds, for the curls or waves to form. (2:02)
Then gently release the hair from the clasp of the barrel. (2:12)
Repeat the same process for the rest of your hair, remembering to work in small sections for a more voluminous look. (5:17)
To take your look up a notch, add in some hair accessories like clips or a hairband (5:44)
Understanding the features and functions of a triple barrel curling iron is vital. Listed below are a few points that you need to consider before finalizing on one.
Things To Consider Before Buying A Triple Barrel Curling Iron
Barrel Size- if you have long hair, then buying a curling iron with a large barrel will make the styling process easy. However, if you have short hair, invest in a device that has smaller barrels. A 1-inch diameter barrel is suitable for long hair, while a ½ inch barrel works for short hair.
Technology-the technology that the barrel curling iron uses depends on the following-
Teflon- Teflon distributes heat evenly on the barrels, thus giving you long-lasting curls.
 Ceramic Ionic- ceramic coatings prevent heat damage and leave you with frizz-free, glossy curls.
Tourmaline- Like the ceramic coating, tourmaline too reduces heat damage on hair. Its negative ions cancel out the positively charged ions in the hair, to give you smooth and well-defined curls.
Titanium-triple barrel curling irons that are made of titanium are more durable.
Warning: Although triple barrel curlers with metallic plates are a cheaper option, steer clear of them as they can cause irreversible heat damage.
Temperature Settings-While some devices come with 2 or 3 heat settings, others allow you to set temperature manually. Buying a triple barrel curling iron in which you can control and set temperature is always a good idea.
Warning: Do not use very high temperatures (above 220℃) as this can burn your hair and cause split ends.
Voltage- investing in a barrel curler that consumes less power and has a voltage range between 110 to 240V is beneficial.
Weight- while most triple curling barrels are heavy and large, picking the lightweight ones is advised.
Display- barrel curlers that come with an LED display of the temperature are better as they can be easily set and keep you informed of the heat you are using.
Auto-shutoff- Some of the barrel curling irons come with this essential safety feature. Auto shut off means that if you keep the device unused for a certain amount of time (typically 15 to 30 minutes), it switches off by itself, preventing overheating and other accidents.
Extra Long Wire- Most triple barrel curling irons come with a 5-7 feet cord. If you wish to buy a curler for professional use, pick one that comes with an extra-long wire. Also, look for a curler that comes with a 360° swivel cord, which helps in twisting and turning the curler during use.
Comfort-Grip Handles- choose a triple barrel curler that comes with silicone, rubber, or any other insulated handle as this will give you a better grip over and protect you from the heat of the barrels.
Why Trust StyleCraze?
Vaishnavi Kothuri, the author of this article, is a hair care aficionado who loves hair styling too. She agrees that curling irons are great styling tools that help achieve desired waves for your hair. Therefore, she thoroughly researched the best triple barrel curling irons, analyzing users' feedback on various forums. These curling irons reduce frizz, add shine to your hair, prevent heat damage, and provide the desired hairstyle.
Frequently Asked Questions
What does a 3-barrel curling iron do?
A 3-barrel curling iron creates beachy, mermaid-esque waves effortlessly without damaging your tresses or irritating your scalp. The barrels with tourmaline coatings also reduce frizz and keep your hair smoother and healthier.
Are triple barrel curling iron worth it?
Yes, triple barrel curling irons are a big time-saver. They are user-friendly and offer beachy waves faster than normal curling irons with a single barrel.
Can you use a 3-barrel curling iron on your curls?
Yes, 3-barrel curling irons work on any hair type and texture. They are safe to use on curly hair and offer the perfect definition to your beach waves.
Do triple barrel curling irons work on short hair?
Yes, triple barrel curling irons work well on short tresses. However, since you do not need large-sized curling irons for short hair, you can purchase the ones with medium barrel sizes.
How do you do beach waves with a 3-barrel curling iron?
Hold the curling iron at a 45° angle and keep it at the medium or highest heat setting, as per your preference. Clip your hair while sectioning them from the top of your ears. Place your strands in between the three barrels of your curling iron. Make sure the barrels do not touch your scalp. Hold the barrels close to your tresses for three to four seconds, and release the strands instantly.
Recommended Articles: