10 Best Turmeric Skin Care Products For Women
The antibacterial properties of this wonder herb tackle all kinds of skin issues.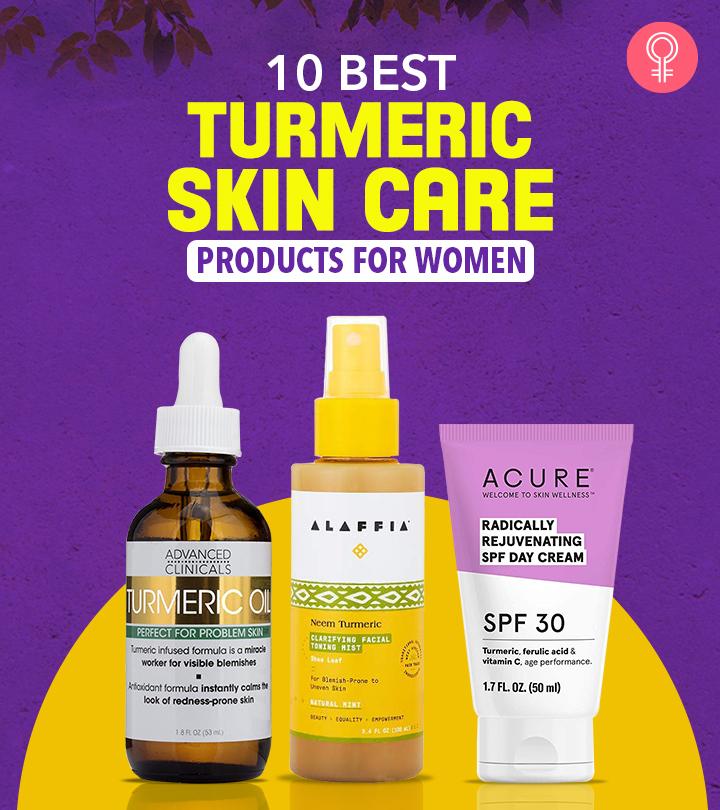 10 Best Turmeric Skin Care Products
The all-natural JJ Turmeric Face Mask is packed with the goodness of turmeric, aloe vera, vitamin C, sweet almond oil, bentonite, and kaolin clay to shrink open pores and control oil production. It minimizes dark spots, scars, and hyperpigmentation caused due to exposure to harmful sun rays. This multitasking product also firms the skin to reduce wrinkles and other signs of premature aging and adds a healthy glow.
Pros
Cruelty-free
Natural ingredients
Non-drying formula
Cons
Not suitable for combination skin.
Price at the time of publication: $14.99
The TuGlo moisturizer from BeauteHacks is formulated with turmeric and apricot oil to hydrate and nourish the skin, combat acne, reduce scarring, and control sebum production. This anti-aging preparation is enriched with coconut oil and shea butter to reduce free radical damage, improve elasticity, and maintain skin health. The addition of jasmine extract to this product ensures a brighter and smoother complexion. It is ideal for dry and combination skin types as it deeply moisturizes the skin.
Pros
Natural ingredients
Lightweight
Suitable for all skin types
Mild fragrance
Non-sticky
Absorbed quickly
Cons
The non-greasy Turmeric Oil from Advanced Clinicals is made with concentrated curcumin with antioxidant properties to keep the skin firm and supple. It is absorbed quickly and leaves the skin radiant and youthful. This oil is fortified with rose extract and jojoba oil to heal and soothe the skin while reducing inflammation and blemishes. The lightweight formula deeply penetrates the skin to hydrate and soften it. Daily use of this oil improves skin elasticity and diminishes redness and inflammation.
Pros
Paraben-free
Mineral oil-free
Non-staining
Non-greasy
Cons
Thick consistency
Strong smell
Not suitable for sensitive skin
Price at the time of publication: $12.99
The Neem&Turmeric Face Wash from Himalaya Botanique is a soap-free cleanser that penetrates deep into open pores to eliminate dirt and impurities without drying out the skin. This facial cleanser is fortified with neem, turmeric, and sweet marjoram to maintain skin health and resilience while clarifying and soothing it. It is also enriched with moisturizing ingredients that leave the skin soft and well hydrated.
Pros
Hypoallergenic
Paraben-free
SLS-free
Phthalate-free
Petroleum-free
Silicone-free
Artificial fragrance-free
Artificial color-free
Cruelty-free
Cons
Not suitable for oily skin.
Price at the time of publication: $9.99
The facial toning mist from Alaffia is formulated from therapeutic botanicals like neem and turmeric to calm irritation and revitalize and refresh the skin. This product is refreshing and purifying as it contains tea tree, spearmint, and citrus oils. The shea butter base moisturizes the skin to keep it soft and youthful, while the red algae and yarrow promote a healthy skin barrier. This mist is ideal for blemish-prone skin as just a few spritzes of it evens out the skin tone to bring out a natural glow.
Pros
Vegan
Sulfate-free
Paraben-free
Phthalate-free
Silicone-free
Mineral oil-free
Artificial color-free
Synthetic fragrance-free
Cruelty-free
Cons
Price at the time of publication: $19.99
The potent turmeric-based facial scrub from Minimo Skin Essentials has antioxidant and anti-inflammatory properties to heal damaged skin and protect it from free radicals. It is fortified with hemp seed oil to shrink open pores and prevent acne and blackheads. The presence of raw manuka honey and chamomile extract in this exfoliator restores moisture levels and adds a healthy glow to the skin. The cinnamon and cane sugar work together to improve blood circulation and gently buff away acne scars and dark spots to reveal a smooth and even skin tone. Watch this video to know more about the product.
Pros
Organic
Non-comedogenic
Gentle
Unscented
Fast-acting
Cons
Price at the time of publication: $27.65
The Enlighten Serum from Andalou Naturals is formulated with a fruit stem cell complex and a combination of turmeric and vitamin C to combat various skin conditions. It treats hyperpigmentation caused by harmful UV rays and keeps the skin protected. This antioxidant-rich serum is enriched with sunflower oil and aloe to nourish the skin and protect its moisture barrier. Daily use of the product increases the skin's suppleness, improves its tone, and leaves it with a dewy glow.
Pros
pH-balanced
Hypoallergenic
Organic ingredients
Vegan
Gluten-free
Cruelty-free
Cons
Not suitable for sensitive skin.
Price at the time of publication: $15.79
The all-natural organic soap from Aspen Kay is infused with turmeric root powder, root essential oil, and root extracts. These ingredients have anti-inflammatory properties that combat acne, reduce redness, and calm eczema. This versatile foaming bar is gentle enough to be used on babies and for shaving by men. It is fortified with shea butter, olive oil, and sunflower oil to soothe and soften the skin by keeping it well moisturized. This cleanser effectively removes impurities from open pores to leave the skin clean and healthy.
Pros
Organic ingredients
Multipurpose
Handmade
Cruelty-free
Cons
Leaves a residue.
May not suit sensitive skin.
Price at the time of publication: $18.87
Achieve maximum sun protection with the Acure SPF 30 Day Cream that rejuvenates and revitalizes the skin. It is fortified with turmeric, ferulic acid, and vitamin C that protect the skin from environmental stressors and free radical damage. The cream is also enriched with chlorella and zinc oxide to combat the signs of premature aging like fine lines and wrinkles and decrease the risk of skin cancer caused due to sun exposure.
Pros
Vegan
Cruelty-free
Paraben-free
Sulfate-free
Mineral oil-free
Petrolatum-free
Formaldehyde-free
Cons
Price at the time of publication: $16.84
The warm and spicy fragrance of the Gya Labs Turmeric Essential Oil makes it ideal for use in aromatherapy, to purify the air, and relieve headaches. It can be blended with a carrier oil to be used as a body massage oil to reduce muscle and joint pain. Turmeric in its purest form gives this oil hydrating and moisturizing properties to smooth uneven skin tones. This multipurpose therapeutic product can also combat colds and improve hair health.
Pros
100% natural
Can be used in aromatherapy
Pleasant fragrance
Cons
None
Price at the time of publication: $8.59
If you're looking for a natural way to improve your skincare routine, then turmeric is a good option to consider. This yellow spice has been used for centuries to treat a range of skin issues, and there are plenty of turmeric skin care products on the market today. In this buying guide, we'll outline the key factors to consider when buying turmeric skin care products. So, read on to learn everything you need to know about buying turmeric skin care products!
 How To Select The Best Turmeric Skin Care Products
Type: Decide what type of product you're looking for, an anti-wrinkle cream, a face mask, a lotion, or a lotion bar, there are plenty of options out there. Depending on your needs, you'll want to select the type of skin care product that will work best for you. Opt for products that are created specifically for your skin type. For example, choose a facial oil for mature skin types.
Ingredients To Avoid: Look for products that have no fragrances and are chemical-free. Turmeric is great for the skin, but it is best to use products that are not chemically enhanced, so you can get the full benefits of this natural product. Watch out for parabens, sulfates, and phthalates. Turmeric products that have organic formulations are best for the skin.
Skin Type: Your skin type is a vital determinant in choosing a suitable product. Choose products that best suit your skin type. Look for a product that will suit your skin's unique needs. For example, if you have dry skin, look for products that contain moisturizers and oil-absorbing ingredients. For oily and acne-prone skin, look for oil-absorbing products to balance your skin's pH level. For extremely sensitive and reactive skin types, go organic!
Dermatologically-Tested: Look for products that have been tested and approved by dermatologists. These are important to ensure that the product is safe for the skin. This is to ensure that the ingredients used are suitable for your skin type, and do not contain any harmful chemicals.
The safest way to incorporate turmeric into your beauty routine is to use a product that has this spice as the main ingredient. It treats various skin conditions like premature aging, sun damage, and acne. Therefore, keeping your skin type in mind, choose from our list of 10 best turmeric skin care products and enjoy their benefits.
Why Trust StyleCraze?
Shiboli Chakraborti, the author of this article, is a certified skin care coach. Her extensive knowledge of skin care and its needs helps her recommend the best turmeric skin care products to her readers. Her recommendations are based on scientific research and various reviews she researched online. These turmeric skin care products are easy and safe to use on your skin to improve skin health.
Frequently Asked Questions
Is applying turmeric skin care products daily on face good?
Yes, turmeric adds a natural glow to your skin. The curcumin in turmeric reduces excess melanin production and minimizes the appearance of dark spots.
Can turmeric repair damaged skin?
Yes, turmeric helps reduce the appearance of scars and blemishes. It also minimizes pores and repairs inflammatory areas in your skin.
Does turmeric serum really work?
Yes, turmeric serum reduces dark spots and patches and effectively fades acne scars.
How long does it take for turmeric products to work?
It takes around two months for turmeric products to work fully.
Do turmeric products make your skin dry?
Yes, leaving turmeric products on for a long time on your skin may make it dry.
Recommended Articles