32 Best TWA Hairstyles For Short Natural Hair
There's no better, stylish, and creative way to embrace and flaunt your short natural locks.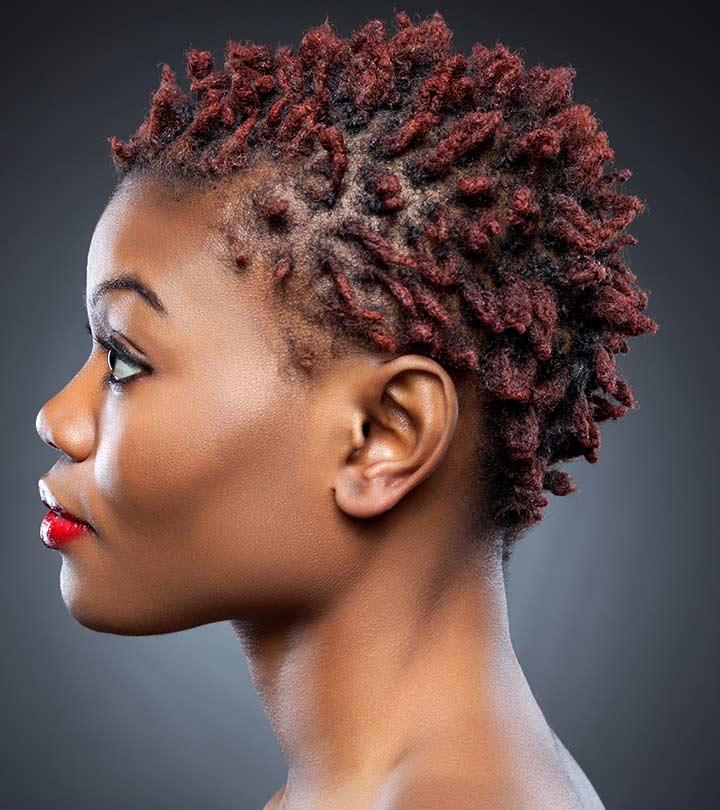 It is the season of the short locks – so say hello to TWA hairstyles!
TWA, as in Teeny Weeny Afro, is the shorter version of the good ol' Afro. Instead of growing out your naturally coily hair, embrace your short locks and wear them proud. There are many benefits to sticking to short coily hair. You won't have to deal with sweaty hair, hair fall, hair breakage, split ends, dry hair, and a myriad of other hair issues.
And if you thought that TWA hairstyles are just one or two styles, you couldn't be more wrong. Scroll down and check out these fierce and stylish TWA looks.

Before You Get Started
TWA is a versatile hairstyle that suits all face shapes
TWA hair needs to be washed every 3-7 days, depending on your hair texture.
TWA hairstyles require strict hydration. So use hydrating products like serums or mists.
Shampooing daily is a big no-no for TWA hairstyles, as it may dry out your hair.
Give heat styling a rest to prevent hair damage.
32 Best TWA Hairstyles For Your Short Natural Hair
1. Short Dreadlock TWA
When it comes to preserving your natural curls, nothing beats dreadlocks. This TWA will save you a ton of time in the morning when you're rushing and will allow you to wash your hair less frequently. The red highlights give the locs more pop.
2. Blonde Wild Curls TWA
Notice how the girl's curls are messy but defined? This makes it look fuller. Additionally, it can be enhanced by going completely blonde. This carefree beauty, easygoing attitude, and effortless look is sure to be anyone's favorite!
3. Short Crew TWA
Really short afro hair looks very edgy and sporty. This short hairstyle draws all the attention to your face and features. You only need a little makeup with this hairstyle to make your features pop.
4. Coily Roots TWA
Nourish your hair with a natural oil that suits your texture. You'll be surprised at how intensely it moisturizes your coily hair. Opt for coconut oil or argan oil as they nourish your hair right from the roots.
Casey Simmons, a curly hair expert and owner of Royal Locks Curl Care, offers a piece of advice saying "Coily hair tends to be one of the finer and drier types of hair. Hair is naturally moisturized by oils produced from the sebaceous gland in the scalp. However, because of its hair shape, resembling a tight coil or zig zag, it is harder for natural oils to travel down the hair. Steaming coily hair before applying oils will help penetrate the moisture and oils deeper into the hair shaft."
5. The Side Parting
Apply some gel to your hair and comb down the front. Using the rat tail end of your comb, part your hair in a side parting. Use a strong hold gel to keep your hairstyle in place for the entire day.
6. Colored Roots
If edge is what you're looking for, a colored TWA hairstyle might be your jam. Depending on how short your hair is, you can achieve this rad look with some hair dye and gloves.


Quick Tip
Alternatively, you can also experiment with an icy edge look by dying your short hairdo a strike white blonde or any honey and buttery shade.
7. Finger Coils
Wash and condition your hair. Apply some curl defining cream to your locks. Stretch and twirl your hair to form perfect coils. These are called finger coils. They make your hair look flawlessly coily.
8. Small 'Fro TWA
Show off your grown-out TWA with a stunning small afro. Small afros have been making their mark for the past few years and have quickly gotten on par with the afro itself. Make a statement with your TWA by coloring it blonde.
9. Double TWA Curls
Apply some gel or oil to your tresses. Divide the hair at the top into two sections. Using an elastic band, tie each section into a thick ponytail. This TWA hairstyle looks great with big hoop earrings and dramatic makeup.
10. Tufted TWA
This tufted hairstyle is what TWA dreams are made of. All you need is some curl defining cream to achieve this tufted look. This TWA hairstyle is perfect for pairing with a pair of chunky earrings and a turtleneck sweater.
11. Patterned TWA
If you love funky styles, patterns will make your head spin with glee. Patterns are taking the hairstyling world by storm. This zig-zag pattern looks super well-defined and prominent because it has been done on a TWA.
12. Stretched Out TWA
The major issue with kinky hair is it gets stretched out, making your curls lose their definition. Use this to your advantage. Your stretched-out curls will look suaver when styled in a TWA.
13. Flat Twist Out
Apply some curl defining cream to your tresses. Twist your locks in section depending on how big you want your curls to be. Cover your head with a silk scarf and leave it on overnight. The next morning, remove the scarf and untwine your twists. Apply some hair gel or oil to give them more definition.
14. Side Cut
The side cut not only accentuates your curls but also adds style to your hairdo. Simple designs, like a line on one side, can transform your regular TWA into an edgy hairstyle. Pair this look with some big hoops, and I guarantee all eyes will be on you.
15. Well-Defined TWA
If you love your teeny weeny afro, stick to it. Enhance your curls with some curl-defining cream. This will not only keep frizz at bay but also make your curls look coily and perfect in the morning.
16. Twist Out TWA
The twist out TWA is a chic and messy hairstyle. Messy hair is making waves everywhere, and it seems only fair that kinky hair is in on it too. This twist out TWA looks utterly messy with a hint of crimping.
17. Mini Bantu TWA
Bantu knots are a traditional hairstyle that has been a part of African culture for centuries. These knots protect your curly locks from pollution, heat damage, and hair fall. You can keep bantu knots for as long as two weeks. But, make sure you loosen your hair after that to allow your scalp to rest.
18. Finger Waves
It's amazing what a bristle brush and some hair gel can do for your locks. That's right, these finger waves can be achieved using regular hair products. Apply a generous amount of gel to your locks and brush them down, styling them in waves as you go.


Did You Know?
You can take inspiration from global celebrities such as Rihanna, Tyra Banks, Venessa Hudgens, and Zendaya to enhance the style of finger waves TWA for an outstanding OOTD look.
19. Layered Waves TWA
Layered hair is always fashionable. Style your TWA in waves with the help of mousse to create this flaunt-worthy look. I recommend using mousse because it will give your hair a fuller look rather than a flat appearance.
20. Braid Out TWA
Wash and condition your hair. Allow it to air dry for a bit and then apply some curl defining cream. Use your fingertips to make sure you apply the cream all the way to your scalp. Divide your locks into small sections and weave them in braids. Wrap your hair in a scarf or thin cotton T-shirt. Unfurl your locks in the morning, fluff them up a bit, and get ready to conquer the world!
21. Thin Bantu Knots
If you have thin, fragile hair, bantu knots can protect them from environmental damage and breakage. Apply oil to your locks and divide them into sections. Wrap each section around itself to form bantu knots. This hairstyle looks totally badass when paired with a sporty outfit.
22. Colored Tips TWA
One of the best ways to spice up your locks is hair color. Opt for shades like blonde or light brown to create a beautiful contrast. Also, remember to choose a color that goes with your skin's undertone.
23. Colored Buzz Cut
Buzz cuts don't need to be limited to side or under cut hairstyles. You can accentuate your TWA by adding some peppy colors like this bright pink. Color your hair in this stunning shade and make a statement with your locks this year!
24. The Perfect TWA
The perfect TWA can be achieved using the finger coil-out technique. Finger coil your hair and wrap it overnight. In the morning, stretch out your coils, so your hair looks fluffy and lends a fuller look to your afro.
25. TWA Mohawk
Is there any haircut that doesn't look good when styled in a mohawk? I think not. One of the best ways to show off your TWA is by styling it in a frohawk. However, you'll have to get regular trims to keep the style looking fresh.
26. Laid Down TWA
Not everyone loves hair-raising experiences! Lame jokes aside, laid down hair can be fashionable and perfect for women working in formal offices. They show off your kinky locks without looking too outlandish.
27. Close Cut TWA
Go big or go home! That's the feeling conveyed by this stunning hairstyle. This close cut TWA is bold. The blue hair color just makes this hairstyle look truly out of the world.
28. Undercut TWA
The undercut has captured the heart of women all around the world. It oozes style and, let's be honest, makes short hair look enviable. It also accentuates your natural hair. Grow out your TWA just a bit before you get the undercut. This creates a much starker contrast.
29. Big Twist Out TWA
Styling kinky curls every day might get tiring. So, opt for a more laidback look with big twist out curls. Apply some gel and twist your locks at night. Unravel your locks in the morning and separate the twists to create this pretty look.
30. Pushed Back Fro
This pushed back 'fro adds tons of volume to your tresses. Apply some hair gel and brush your hair back. Use a headband to keep your hair down. You can even pin down some sections of hair in the front to flatten it completely.
31. Clipped In The Front
This article wouldn't be complete without adding a good ol' beaded hairstyle. This is a simple hairstyle to achieve. Braid the front of your hair in two or more thin braids. Accessorize the braids with decorative beads to add a touch of glamor to this look.
32. Brushed Down
Apply oil to your TWA. Brush your hair down to give it a flat look. This simple TWA style is great for anyone who does not have the time to style their hair in the morning but still need to look presentable at work.
Infographic: 5 Easy Hairstyles For TWA Hair
Gone are the days when people rooted for longer hair. Short hair, especially the TWA, has been reigning the trends these days. The advantages of maintaining a TWA hairstyle are numerous. You won't have dry hair, split ends, sweaty hair, hair loss, hair breakage, or any of the other numerous hair problems.
Check out the infographic below to learn the 5 easiest TWA hairstyles for you to try out!


In the world of fashion, there are tips, advice, and hacks for everything. We know TWA haircuts do not look like much can be done with them, but are you not surprised! While styles like goddess braids, Senegalese twists, cornrows, and other protective updos are very trendy, they may not work for your gorgeous short hair. We have compiled a list of TWA hairstyles to show you that, given the length of your hair and your struggles against styling them, there are other ways of making a style statement out of your TWA haircut. So, why the delay! Pick a style from the list and flaunt your new protective hairstyle with pride. There is no stopping you!
Frequently Asked Questions
How long does it take to grow out a TWA?
If the hair is tightly curled, it approximately takes 2 – 3 years to grow out TWA.
How can I protect my TWA at night?
Using a satin pillowcase, wrapping a satin scarf, and moisturizing the TWA at night can help protect the hair.
What is tapered TWA?
Tapered TWA is done by shaving or trimming the sides of your hair.
How often should I cut my TWA?
If your hair is damaged, it is advisable to trim it once a week. However, if you wish to grow your hair, trimming it once in 2 weeks is suggested for TWA.
Key Takeaways
TWA is an acronym for Teeny Weeny Afro. Basically, it's the shorter version of the famous Afro hairstyle.
There are many TWA hairstyles that you can try out, from a short crew look to a brushed-down style.
If you struggle with styling your beautiful coily locks every day or just want to make an edgy fashion statement, try this hairdo!
Discover 5 quick and easy hairstyles for short natural hair with this video below. Embrace your natural texture and elevate your style effortlessly.

The following two tabs change content below.