Easy Way To Get The Perfect Twist Out On 4C Natural Hair
Enjoy your bouncy curls with the easy step-by-step guide for the perfect twists.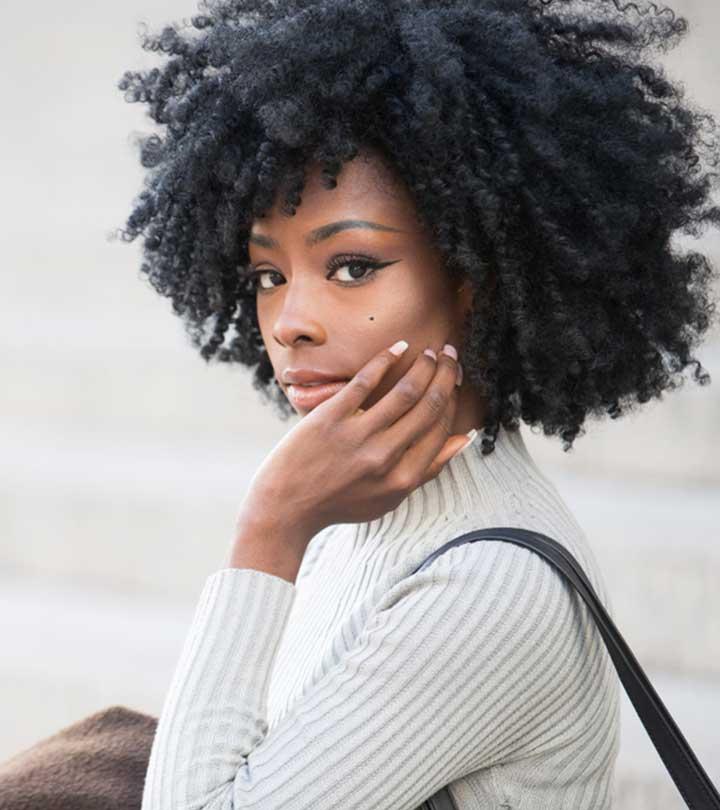 If you have 4C curls and are looking for a simple way to add some definition to those kinky locks, you are not alone. A perfect twist out on 4C natural hair is the best option to try. Irrespective of the length of your hair, a twist can help you detangle it without any pain and hair loss. It also defines your curls, protects your hair from dirt build-up, and imparts a new bouncy look to your mane.
This article explores how to get a perfect twist out on 4C natural hair in a simple and easy way. We also discuss the products to use and the common mistakes to avoid. Scroll down for more information.
How To Twist Out 4C Hair Easily On All Hair Lengths
Here's a step by step tutorial with pictures to help you twist out your 4C natural hair easily:
Step 1: Section your hair after washing.
Step 2: Clamp the rest of the hair.
Step 3: Apply a hair moisturizer to the sectioned hair. Focus on the ends.
Step 4: Comb your hair, starting at the end, and work your way up.
Step 5: Apply shea butter or coconut oil. Make sure each strand is moisturized.
Step 6: Comb your hair.
Step 7: Section the hair into two.
Step 8: Clamp one half. Apply whipped butter or a styling cream or a leave-in conditioner to the hair.
Step 9: Divide this portion of the hair into two and start twisting them together.
Step 10: When you get to the end, twist the hair around your fingers and leave it.
Step 11: Repeat the process.
Step 12: Well, keep going! Listen to good music – it'll help.
Step 13: Leave the two-strand twist on overnight or for 30 hours.
Step 14: Pour a few drops of almond oil on your palms and rub them together.
Step 15: Start untwisting the hair by twisting it in the opposite direction.
Step 16: Separate the twists. Just be patient, and you'll love the end result.
Step 17: Pick the roots just a little if you want the twists to last.
Final Result: Look at those beautiful curls!
Defining the twists needs a lot of patience, especially if you have 4C, kinky, or high porosity hair. The following section has a list of products you should keep handy whenever you decide to twist your 4C curls. These products can help moisturize, hydrate, nourish, and add a slip to the hair so that twisting it becomes easy.


Quick Tip
Senegalese, Havana, and Marley are different types of twist hairstyles.
Products To Use To Twist Out 4C Hair
Coconut Oil – If your hair is tangled, nothing works better than virgin coconut oil. Apply it to the sections of your hair and comb your way up from the ends to the roots to easily detangle your hair.
Olive Oil Gel – Olive oil gel is great for reducing frizz. If your hair is not gel-friendly, you can use olive oil to tame flyaways and frizz. Apply it before and after twisting your hair.
Shea Butter Souffle Or Cream – The mother of moisturization, shea butter souffle or hair cream is a product that your hair is going to love. Apply it while twisting your hair so that each strand is moisturized and nourished.
Twist Locking Gel – It locks the twists by providing a strong hold.
Almond Oil – Use almond oil as a serum every 24 hours to add shine, hydrate the twists, and reduce frizz.

Quick Tip
You may also secure your locks with a scrunchie before bed to get overnight twist-outs. Ensure to cover your head with a satin bonnet before sleeping.
If you are new to twisting your hair all by yourself, here's a list of common mistakes to avoid.
Must Read: Twist Out Mistakes To Avoid 
Twisting your hair without washing it. A terrible thing to do! Always wash your hair before you twist it.
Not letting your hair dry completely before you start twisting it. Let your hair dry out completely. Wet hair may weaken the roots and cause itchy scalp, odor, and frizz. The twists will also lack definition.
Not letting your hair cool down. If you use a blow dryer to dry your hair, allow it to cool down completely to reduce frizz.
Not detangling before twisting. This is just going to make the process harder for you. Use coconut oil and a comb to detangle your hair.
Not using the right products. Your hair texture, thickness, and type (dry, damaged, etc.) are different from everyone else's. Hence, use products that suit your hair the best and add definition to your curls.
Using too much product. Guess what happens! Your twists are not as bouncy and voluminous as you want them to be. Use the right amount of product to keep the twists alive.
Take a look at these gorgeous before and after pictures of women with twists on 4c curls. 
Twist Out Before And After Pictures
Infographic: 4C Natural Hair: Products To Use And Mistakes To Avoid While Twisting Out
Although 4C hair is often thought to be difficult to style, it is quite versatile as it can be twisted, curled, braided, and tied. The problem is that 4C hair is very fragile and prone to breakage while styling, so it is important to be gentle on the hair. One of the most trendsetting hairstyles for kinky hair at all times is the twisted-out mane. This method not only enhances the coil, but it also puts less pressure on the hair than other braiding techniques. If you are looking to style your 4C tresses in a twist-out style, go through the infographic below to know about the right products to be used and what precautions you have to keep in mind.


A perfect twist on 4c natural hair is the best way to protect your hair from buildup, reduce hair loss, and to get a bouncy appearance. You can follow the step-by-step guide mentioned in the article for a proper and perfect twist. Keeping some products such as coconut oil, shea butter, or almond oil can damage your hair painlessly and keep it moisturized. If you are twisting your hair for the first time, make sure you dry and detangle your hair and use suitable products to keep your hair bouncy and nourished.
Frequently Asked Questions
Do you have to retwist a twist out every night?
If you have short hair, it is better to retwist your hair every night in order to maintain your hairstyle. A twist out on longer hair, when protected and maintained properly, can last for up to 1-2 weeks.
Key Takeaways
If your hair is not gel-friendly, use olive oil to tame flyaways and frizz.
Almond oil adds shine, hydrates the twists, and reduces frizz.
Use a blow dryer to dry your hair and allow it to cool down completely to reduce frizz.