32 Stunning Two-Tone Hair Colors You Need To Check Out
Because two is better than one when it comes to the shades you can sport on your hair.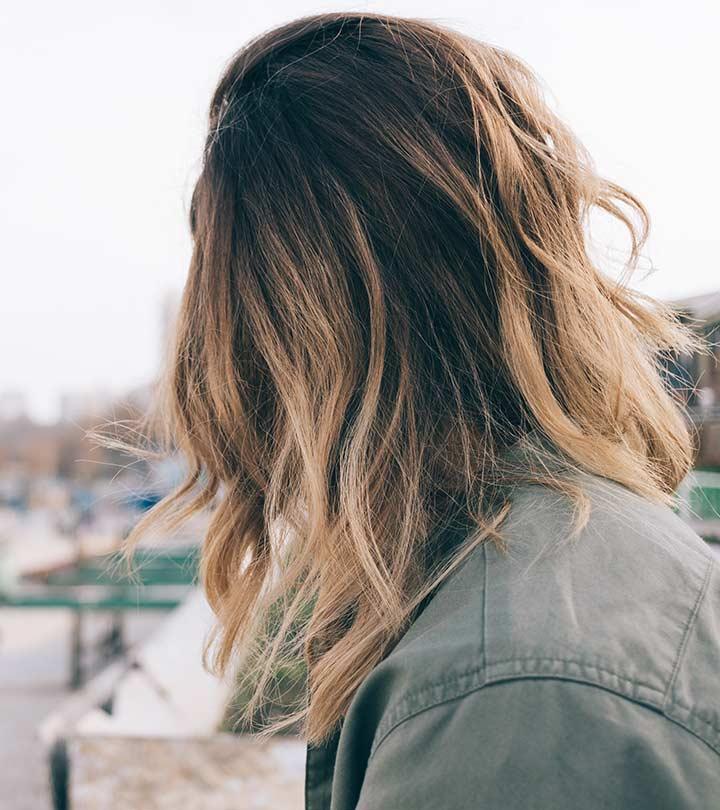 Blonde or brunette, ginger or forest green, black or white, pink or purple, and blue or gray.
When it comes to coloring your hair, picking just one shade may be difficult. But with two-tone hair colors, you don't have to! Two-tone hair colors remove the "or" in between, letting you experiment with both black and white, blonde and brunette, and any other color combo you can imagine! Wondering how? Keep reading to know.

Before You Get Started
There are no rules. The shades you choose can be anything that fits your sense of aesthetics.
Use color-protectant products once you get your two-tone hair done to maintain the vibrancy of your hair colors. Purple shampoos are a must for bleached hair to neutralize brassy tones.
Wash your hair 2-3 times a week to avoid dryness.
Do a hot oil treatment once a week to moisturize your hair.
Avoid heat styling since your colored hair has already undergone damage due to hair color chemicals. Heating tools will further break down hair bonds and make them brittle.
Protect your hair color from the harsh weather when outdoors. Wear scarves or hats as the sun's UV rays can make your color fade faster and further dry your hair.
What Is The Two-Tone Hair Color Trend?
Two-tone hair color is exactly what it sounds like. You use two colors to give your hair vibrance and life. A few people have even gone creative with this two-tone idea by using multiple shades of the same tone to create a dimensional look. The most common trend is to opt for a peekaboo two-tone hairstyle, where one tone is hidden. But if you want to go all out, opt for a blunt contrast.
Read on to find out how you can dye your hair in two tones at home.
How To Dye Your Hair Two-Tone: Peekaboo Two-Tone Coloring
First, pick the colors you want and make sure they are contrasting shades. You will need to consider your surface skin tone, undertone, hair color, usual makeup, and clothes when making this decision.
Licensed hair stylist and founder of Twisted Scissors Salon, Jessica Shults says, "You can tell what undertones your skin has by looking at the underside of your wrist. If you have blue veins, you have cool undertones. If you have green veins, you have warm undertones. If you see both colors you have neutral undertones."
Keep this tip in mind and decide on the colors you want to use.
What You Need
Boxes of two hair colors
Old towel
Petroleum Jelly
Sectioning clips
Bowl
Hair coloring brush
How To Do
Divide your hair horizontally (from ear to ear) and clip up the top section.
Apply one hair dye to the lower half of your hair.
Cover this section with a foil to prevent it from getting on the top section.
Apply the second color to the top section of your hair.
Wait for the required time. Keep checking every 5-10 minutes to see if it has reached the desired shade.
Wash off the color once it has reached your desired shade.
If you want to go for a very stark contrast, it's better to get it done at a professional hair salon.
Now, let's get to the best two-tone hair color styles that you need to check out right now!
32 Stunning Two-Tone Hair Color Styles
1. Sunset Mix
This sunset-inspired dual-toned hairstyle screams summer vibes! Vibrant orange with streaks of blonde-yellow encapsulates the warmth of sunrays so well. Since the orange color is super bright, it would require intense bleaching, which in turn requires extensive hair care.
2. The Plum Project
Plum hair color on dark black hair almost look metallic. The color looks muted on black hair, giving your tresses a glossy sheen. The plum-jet black combo is perfect for medium to fair skin tones.
3. Pink Ends
One of the funnest hair color experiences is getting your hair tips colored. Color the ends of your hair a lovely pastel pink, keeping the top tone your natural shade. This lovely rose hair shade looks fantastic on warm skin tones and works with all other skin colors as well. Perfect to get heads turning!
4. Blonde And Bright Blue
While the two-tone hair trend might be cool, there are a lot of women who prefer a less dramatic look. In that case, you can opt for a more subtle two-tone look – like adding colored highlights to your natural locks. Highlights are the best way to beat the heat this summer. And what better way to do so than with some cool blue ones? Go for some electric blue highlights to make your two-tone hair experience all the more chill.
5. Deep Blue And Blonde
Deep like the ocean and cool as ice, this two-tone combo is spectacular. It is also a clear example of a classic two-tone hair look – the half and half. These days, a lot of young celebs are sporting this look with drastic color pairs.
6. Orange And Black
Another way to go drastic with two-tone hair is to go half and half from ear to ear. Who doesn't love the thrill of mystery? That's what this blend of colors is all about! Orange roots melt into black streams, giving your tresses a hint of intrigue. Once you stare at it, you can't seem to stop!
7. Blue Tips
Blue and purple go hand in hand and look absolutely stunning! Why not incorporate that amazing combo into your hair? This two-tone trend also keeps up with the unicorn color craze that has taken over the world.
8. A Slice Of Pink
If you are new to the two-tone trend, start off with this hair color blend. Sometimes, just a dash of color can go a long way. This beautiful shade of blush pink is sure to liven up your life. It is warm in its tones and, hence, works well with warm tones. If you have hazel, green, gray, or blue eyes, this color is sure to enhance their beauty.
9. Pink And Purple
Purple and pink are those incredible shades that have always been paired together. Almost all women love these two colors. So, why not splurge them all over your hair?
10. Light Tone Ends
Trying out the two-tone look for the first time? Then, this is the way to go. Opt for a shade that is a few tones lighter than your natural hair color. If you like how it looks, you can always go for a more drastic look with it later.
Jessica Shults adds, "To get this look, ask your hairstylist to balayage your hair into a subtle ombre look."
11. Green And Pink
Mermaid color combinations are big nowadays. Colors that you would imagine on a mermaid, like sea green and light pink, are what you need to choose for this look.
12. Dark Roots
The dark roots trend has really been taking the world by storm. It helps frame your face and adds definition to your hair as well. Go for a bright color with dark roots to create a gorgeously contrasted look.
13. Blue Peekaboo Highlights
Peekaboo highlights look really stunning and are perfect for the two-tone trend. Go for electric blue peekaboo highlights under silver hair to create a winter frost look. So, what are you waiting for?
14. Pink And Blonde
Think about Avril Lavigne, and your mind immediately goes to her blonde hair with pink streaks. Take that look a step further with this stunning two-tone hair look.
15. Pink Hues
There are numerous shades of pink, and all of them can give your hair the dimension you want. Remember to pick hues that match your skin tone, though. Don't pick a cool hair shade if your skin is warm-toned, and vice versa.
16. Red And Orange
Red and orange go well together and blend well too. If you're looking for a less drastically contrasting two-tone look, this is it.
17. Brown And Auburn
Brown and auburn is another iconic mix-and-match combo. If you have darker hair, opt for this color combination. The auburn adds a subtle splash of color while the brown keeps things understated.
18. Black And Blonde
Michael Jackson sang it right: It doesn't matter if you're black or white! So, why not choose both? Monochromatic designs are ruling the world, and we love them! Black and white locks meet to create this bold color look that you absolutely need to try.
19. Gray And Pink
Pixies are mythical creatures that love dancing and having a good time. This blend of pink and gray sums up that pixie energy very well. The gray shade has a wild grunge feel that contrasts with the feminine pink beautifully.


Quick Tip
You can experiment with different shades of ink, like pastel pop, rose, or champagne. If you feel adventurous, you can even go for neon pink.
20. Brown And Purple
Women have a deep pull towards shades of purple like amethyst. Not only is it the color of royalty, but it also symbolizes feminine energy. Give your hair a royal do-over with this lovely shade.
21. Forest Green
Green is a bold and robust color. It's no wonder The Hulk and the Statue of Liberty are green! Green hair is the best rebel-with-a-cause hair color trend. If you have black hair, you need to try this beautiful blend. It is definitely on my list.
22. Bubblegum Pink
Blend two feminine elements – roses and the color pink – and what do you get? This incredible hair color concoction. This deep rose hair blend exudes a fun vibe like no other hair color.
23. Frosty Blue
Did you know that the first interior decorator was also the first woman to sport blue hair? Lady Elsie De Wolfe Mendl dyed her hair blue in the year 1924. That's right, blue hair has been around for that long and looks absolutely brilliant.
24. Red And Brown
Red velvet and chocolate make for a great dessert combo. Take that gooey richness to your hair as well. Chocolate hair with some red added to the mix will make your hair look luscious and thicker.
25. Blonde Dimensional
Imagine you are at the beach. You can hear the waves and feel the sand in your feet. Blonde is the perfect hair color for this scenario. Think dimensional this summer with multiple shades of blonde that look surreal in sunlight.
26. Blonde Tips
This is the answer to that unsolvable question – blonde or brunette? Get the best of both worlds with a high-contrast bronde two-tone mix. The dark roots accentuate the blonde hair while framing your face.
27. Candy Two-Tone
Think feminine with a hint of sophistication. Candy pink and pastel blue are the colors that come to mind. This blue-to-pink ombre is styled in those perfect twirls of hair, making it a mesmerizing waterfall.
28. Blonde Waves
Dirty blonde hair gives off the perfect beachy vibe. If you have naturally dark hair, the best way to change your look is to go blonde. While it is a hair change that requires serious thought, it sure is a head-turner. Instead of opting for a full blonde change, just go for a two-tone look.


Quick Tip
You can go for a side shave or bangs to add more volume and depth to your two-toned waves.
29. Purple And Black
Purple signifies feminine energy while wine makes for a good time. Combine them to create a fantastic hair look. The black here accentuates the light purple like a force of nature. Sublime!
30. Pink And Black
You will definitely find this color combo everywhere. It works best with cool-toned skin and gray eyes. It looks classy, sophisticated, chic, and utterly fashionable!
31. Denim Tones
Nothing describes navy denim better. It is a versatile and vibrant color that boasts sophistication. Take this versatility to your hair, and it won't disappoint. Blue is the perfect hair color for that moody grunge style. If you have black, hazel, blue or gray eyes, this color is for you.
32. Brown And Blonde
If you are looking for a simple change, this is it. Blonde highlights are a great way to show off your natural dark locks. Having blonde highlights near the face helps in slimming it down, making it look lean and long. You can also mix in some lowlights to add dimension and depth to your two-tone hair color. So, consider this option when discussing your color options with your stylist.
Jessica Shults has a final piece of advice, "In order to get the stark contrast, some of the hair has to be pre-lightened first before the vivid color can be glazed over it. Pre-lightening your hair can be extremely damaging if you don't do it properly. Color always looks best on healthy hair. A good hair stylist will know how to achieve these looks keeping the condition of your hair in mind, and get perfect results while maintaining the integrity of your gorgeous locks."


Fun Fact
Celebrities like Billie Eilish, Dua Lipa, Ruby Rose, and Vanessa Hudgens are among the few names who have experimented with the two-toned hair color technique and nailed it.
Infographic: 10 Gorgeous Two-Tone Hair Color Ideas
Try a two-toned hairdo with fresh hair color to give your hair a lively edge! Any woman can have fun with a two-toned hairdo regardless of previous hair color or length, whether blonde or brunette, long or short. To add tones to your hair, you can either opt for bold neons and pastels or more natural tones. To look into your options and pick your favorite, check out the infographic below.



Two-tone hair colors provide a unique look to your hair and allow you to experiment with the shades you love. You do not have to choose between your favorite shades with these hair colors. Blonde and bright blue, deep blue and blonde, orange and black, pink and purple, green and pink, pink and blonde, and red and orange are a few shades that give you a perfect look. Choosing contrasting colors helps give a vibrant look to your hair. Try any of the two-toned hair colors mentioned above to get your desired look. Make sure you use the right hair products, avoid heat styling, and schedule regular hair maintenance appointments with your stylist to keep your hair stylish and healthy.
Frequently Asked Questions
Who started the two-tone hair trend?
The two-tone hair color trend was started by Dua Lipa and Billie Eilish.
How do you dye your hair two colors without bleeding?
You can apply conditioner to the section of your hair with the lighter color to prevent the darker dye from bleeding onto it and staining it.
How long do two-tone hair colors typically last?
Two-tone hair colors can last for around 4 to 6 weeks. However, several factors such as how fast your hair grows, whether you require frequent gray coverage, the level of hair maintenance and styling as well as hair porosity levels can play a key role in determining color longevity.
Are there any hair care products that should be avoided when maintaining two-tone hair color?
Avoid hair care products with parabens, SLS, petrochemicals, sodium chloride, and alcohols. These ingredients can wash out the color more quickly, making the hair look dull and affecting its moisture levels.
Is two-tone hair color suitable for all hair types and textures?
Yes, two-tone hair colors can be done on all hair types and textures; however, make sure your hair is not damaged. Also, ensure that you do not get treatments on weak, dry, brittle, rough, and damaged hair as they can worsen the hair condition.
Key Takeaways
A two-tone hair color look adds a touch of vibrancy to your hair.
Make it a point to choose contrasting colors that compliment your skin tone, undertone, natural hair color, and personal style.
If you are aiming for a very stark contrast, get it done by a professional.
Get inspired and find the perfect hair color look! Check out this video for the hottest two-tone hair color styles and pick the one for you.
The following two tabs change content below.