What Is 2A Type Hair? How Do You Take Care Of It? You know that perfect beach hairdo with slightly tousled waves that everyone wants during the summer? That's type 2A hair! While 2A hair looks fine and thin, it has natural volume that makes it look lovely in its natural state. In this article, we give you the 411 on type 2A hair. Read on to know how you can style it and take care of it!
What Is 2A Type Hair?
Did you know that your hair type is determined by your hair follicle? Wavy hair is formed when the follicle is slightly bent. There are many hair types ranging from 1A to 4C. Type 2 hair refers to wavy tresses.
If you have hair that is straight from the roots to near the eyes and then falls into gently tousled waves, you have 2A type hair. It is best described as not quite straight and slightly curly hair. The slight S-shaped bends in the hair provide a natural bounce and body.
Here are some tips to help you give your 2A waves some TLC!
How To Take Care Of Type 2A Hair
Wondering how to style your 2A hair so you can flaunt it at its best? Scroll down to find out!
How To Style 2A Type Hair
While 2A hair looks naturally styled, you can always invest in a 1.5-inch curling iron. It gives your hair a more elegant flow and enhances the waves just a bit more, offering more volume and bounce.
If you use heat styling tools often, make sure you apply a heat protectant beforehand. Heat protectants shield your hair from the heat damage caused by curling irons and straighteners.
If you want to enhance your waves, apply a curl-defining product. Then, scrunch your hair with your hands. You can use a finishing spray or hairspray to seal the hairdo.
While 2A hair has natural volume, it can often look thin and fine. Use a volumizing product that can enhance your hair's natural body.
Another easy way to enhance your waves is to tie your hair in braids overnight. Wash your hair and let it air-dry until it is damp. Then, divide your hair down the middle and weave both sections in braids. The tighter the braids, the wavier your hair will be.
Invest in wavy-friendly hair products like frizz-control mousses or serums as they reduce frizz and static substantially. Use a detangling serum that helps prevent hair breakage or damage while combing or styling wavy hair.
Keep a dry shampoo handy. Wavy hair becomes oily at the roots and often needs regular hair cleansing. Shampoos can dry out and damage your hair if used excessively. Instead, use a dry shampoo that reduces excess sebum and imparts texture to your hair.
When styling your hair, opt for a styling mousse or foam instead of styling gels and creams. Styling gels and creams can make your hair look greasy and weighed down.
The concentrated hot air from the blow dryer can cause serious heat damage to your wavy hair. When drying your hair with a blowdryer, use a diffuser as it spreads the hot air evenly and prevents heat damage.
Instead of rubbing your hair dry with a terrycloth towel, use a soft cotton towel to pat or scrunch it dry. This prevents wavy hair from getting damaged, frizzy, or tangled.
If you wash your hair before going to sleep, wrap it in a satin scarf or a thin cotton T-shirt. This prevents your hair from becoming frizzy.
While embracing your natural hair texture is important, there is nothing wrong with wanting curlier hair. Read on to know how!
How To Make Wavy Hair Curlier
There are many ways to make your 2A wavy hair curly:
Did you know that the brush you use can affect your hair texture? Read on to find out the right brush to use for 2A hair.
Brushes For 2A Type Hair
Choosing the right hair brush for your 2A hair can enhance its texture apart from detangling it. You need a brush that will build volume, reduce frizz, detangle your hair, define its texture, and prevent flyaways.
Conclusion
The best thing about 2A hair is that it naturally looks styled. Those slight S-shape bends make it look perfectly tousled and just right! With the right care and minimal styling, your wavy locks can look salon-styled! Just make sure you moisturize it well and control its frizz.
Recommended Articles
The following two tabs change content below.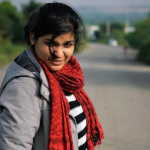 Anjali Sayee is a writer and an introvert. From studying Aeronautical Engineering and wanting to design her own airplane to writing articles on hairstyles, she has been on quite a journey. She believes that hair is one of the key factors that define a woman's personality. To quote her, "What's the first thing they do in the movies to show a personality change? Change the hair – because it has a life of its own." She's here to help you find the hairstyle you need. This bookworm is a self-professed Wholocker, a talented drummer, and an amateur photographer.