4 Types Of Aerobic Dances And Their Benefits
Know all about the various forms of this cardio exercise and what they can do for you.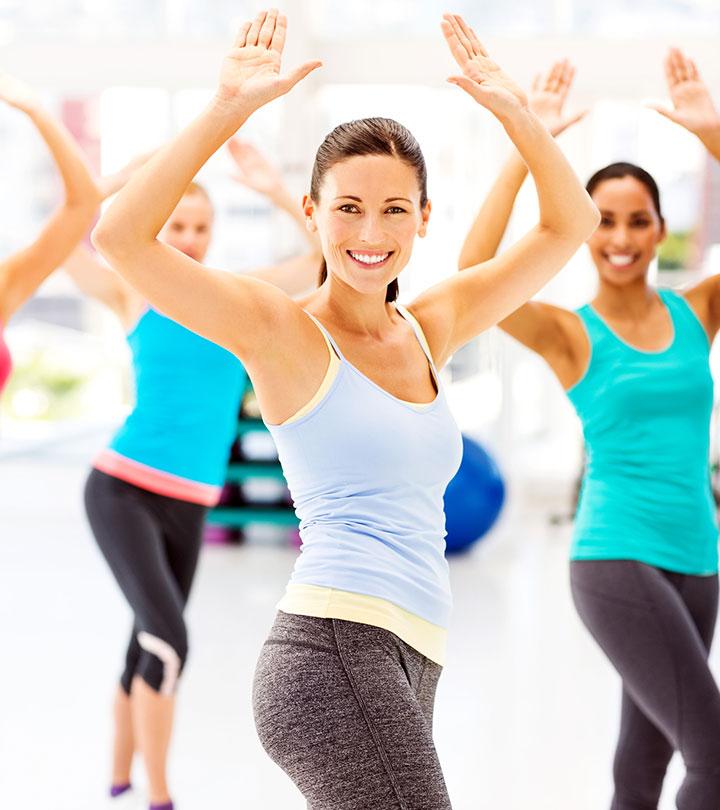 Dancing to stay fit is fun. There are various types of aerobic dances that can help you shed those extra pounds, improve flexibility and balance, and boost fitness. They are way better than doing monotonous gym activities. Moreover, a workout does not feel like a struggle when you incorporate an aerobic dance routine. You will only get healthier and fitter and learn to love the process.
Pick an aerobic dance form without further ado. Such dance forms effectively burn 300-500 calories in an hour, improve metabolism, reduce stress, whittle away excess fat, and boost your mood. Perform this dance forms 3-4 times a week, and you will start seeing the results in a month.
Read on to learn about the many types of aerobic dance forms you can choose from.

Workout Blueprint: Aerobic Dances
Frequency: 3-4 times a week
Benefits: Increase blood circulation, aid weight loss, reduce stress, and boost energy and mood.
Equipment Needed: No
Space Required: Large space
Assistance Required: Yes, for certain moves
Who Should Avoid: Anyone with a chronic medical condition or joint or mobility issue.
What Is Aerobics?

When we speak of aerobics dancing, we are referring to ballet, jazz, Zumba, and so much more. They are usually called workouts with low impact because they are slow-paced compared to other aerobic workouts. Because of this, they are great options for pregnant women, elderly persons, and those with obesity.
However, it isn't necessary that an aerobic dance always has to be of low impact! You can also find some cool aerobics videos that promote high-intensity and healthy workouts for your body. It will rejuvenate your system, increase blood circulation, and make you feel good from the inside. You can also include hip-hop cardio workouts, step aerobics, country line dance workouts, Capoeira workouts, Irish dance workouts, Flamenco dance workouts, Swing dance workouts, and Ballet-inspired workouts. You are not restricted to following just one type either, you can mix and match for a customized workout session that caters to your needs.
With that said, let's go through the different types of aerobic dances making waves these days. So read up, enjoy and try to incorporate these exercises into your workout regimen!
1. Zumba:
The first and most interesting kind of Aerobic Dance is Zumba. It is a great fitness program that combines Latin, International, and Salsa music with some amazing and fun-filled dance moves. You will find interval training, resistance training, and strength training.
There will be slow and fast rhythms alternating throughout so that you can keep burning calories.
A survey conducted on 1488 participants found that Zumba is among the top physical activities liked by Americans. 88% of the respondents had heard of it while 41% reported liking it. Women (46%) were more inclined towards Zumba than men (35%). Further, Zumba is popular among 51% of millennials, 35% of baby boomers, and 33% of Gen X.
Zumba is not just for people who can dance. Anybody can practice it! The steps are simple yet heart-pumping and fun. Not only will you enjoy the workout but also shed those extra kilos sooner than you can imagine (1)!
Zumba comes with a whole lot of benefits. Let's go through a few of them.
Tones Your Entire Body:
Zumba is known today for toning your body in the most fun and effective way possible. It will engage all your muscles and make sure all the popular muscle-building moves, such as squats and lunges, find a place. It will tighten and tone your body from head to foot (2).
It Makes You Come Back:
Workouts that make you enjoy yourself always manage to convince you to come back and try them again. It will change your whole idea of working out and will be something you will look forward to. Now, isn't that amazing?
Gives You Great Results:
Zumba will also give you great results in a very short period. There are many women who have lost over 50 pounds by doing Zumba and claim that it is one of the best cardio dance workouts. A lot of them have also said that they would choose dancing over the gym any day.
Great For All Ages:
Zumba is great for women of all ages. You don't have to do this alone. Get a hold of all your girlfriends and work out with them. If you are a mother, use this as an opportunity to bond with your little one. The two of you can melt fat like it's no big deal with the help of Aerobic dance.
Reduces Stress:
Zumba is not just about losing weight. If you are someone who lives a sedentary lifestyle, Zumba will be a refreshing change for you with its psychological and social benefits (1). You are going to fall in love with Zumba, and there will be no turning back.
Easy To Find:
Zumba is very easy to find. Almost every metropolitan city in the world today has Zumba classes. If you find it difficult to travel to one, don't stress! Grab a DVD. You can order it online or pick it up from a music store. Working out has never been this fun!


Did You Know?
Zumba was founded by Colombian dancer Alberto 'Beto' Perez in 2001.
2. Jazzercise:
Who wants to have fun while working out? We all do! And this is what Jazzercise will do. It will work all those bulky sections of your body and help you achieve your fitness goals. Famous since the 1970s, this workout is effective, heart-rate elevating, and has a great combination of cardio and resistance training. There are over 78,000 Jazzercise instructors today, and almost every country conducts weekly classes on Jazzercise.
Here are a few benefits that should convince you to try Jazzercise.
Reduces The Risk Of Heart Disease:
Jazzercise may reduce the risk of heart disease or heart attack. Every class is about 60 minutes long.
Gives Energy:
You will begin to have more energy in your body when you use Jazzercise. And this is something you need to feel yourself. When you spend an hour on Jazzercise, you are not just going to sweat like crazy but also improve your performance at your workplace. You will see how great it is!
Works For Everyone:
Jazzercise is great for people belonging to all fitness levels. Regardless of whether you are a teenager or a young adult, or even a middle-aged woman, you can practice Jazzercise. Don't ever hesitate to try Jazzercise. You will be amazed at what it can do for your health and body.
Gives A Whole Body Workout:
Jazzercise routines take care of every muscle section of your body. Whether it is your abs, glutes, arms, and inner thighs, you will tone all of that with the help of this amazing routine.
Makes You Happy:
Jazzercise also makes you a happier person. Your stress levels dip, and you feel so much lighter and relaxed. Attending Jazzercise classes five times a week does the trick!
Note: These benefits are mostly based on anecdotal evidence as research is limited on this exercise type.
3. Ballroom Dancing:
Although ballroom dancing might not be the most strenuous aerobic dance to do, it is surely full of benefits. It is a moderate activity and is popular throughout the world. The only downside with this dance form is that you cannot do it alone. You need a partner for ballroom dance workouts. Once you have found someone to dance with, you are surely going to have a great experience.
Following are some of the benefits you will find in ballroom dancing! Some will be a surprise for all those who underestimated ballroom dancing because of how slow it looks.
Tones Your Muscles:
Many of you might have been thinking that the workout is easy and doesn't do much. But that is not true. With ballroom dancing, you can tone those muscles and lose body fat quicker than you imagined. Your hands, shoulders, legs, and thighs will become tighter if you attend ballroom dancing classes on a regular basis.
Burns Calories:
Ballroom dancing burns a lot of calories. Within 30 minutes, you will be able to burn around 200 to 400 calories (3). It all depends upon the intensity of the workout. So if you would like to lose some weight, do make it a point to attend these classes four times a week. The fat will be melting off your body in no time, and you will be in your best shape faster than you had thought!
Makes You Confident:
Did you know that fun aerobic dances such as ballroom dancing make you feel confident and happy? Yes! The more you dance, the happier you feel! Not just that, you find expression in what you do and feel stress-free at the same time (4). If you are someone who deals with a whole lot of pressure at work, ballroom dancing is just the thing for it. It is stress-busting, energy-boosting, and super fun.
Great For Bones:
Most experts have said that ballroom dancing increases your bone density and improves joint flexibility (4). You will feel stronger and fitter with the help of ballroom dancing.


Quick Tip
Ensure you wear two-inch closed-toe shoes for ballroom dancing. These shoes are specifically designed to provide arch support and help you move smoothly across the dance floor.
4. Belly Dancing:
Belly Dancing is beautiful and exotic. It emerged from Arabic countries such as Egypt and Turkey several decades ago. The name is entirely western and is a solo dance form where torso articulation is a must. There are different forms of belly dancing, and they all have unique styles. It does fall under the category of aerobic dances and is used these days in fitness classes too.
Belly dancing also has a host of benefits! Here they are:
Helps You Experience The Spirit:
With belly dancing, you will be able to discover the excitement and color of this exotic and bright dance form. It will surely be a new experience for you!
Improves Your Fitness Level:
Belly dancing also takes care of your fitness level. You will be able to learn the art of dancing and improve your strength. If you are someone who takes time to pick up steps, this will teach you how to stay patient. Even coordination can be learned and taught through this. Isn't that cool?
Great Exercise For The Stomach:
Belly dance workouts are great exercises for your stomach. If you are tired of seeing flab in this region, then it is an earnest request that you give this dance form a try. You are surely going to have a lot of fun and melt belly fat in no time.
5. Masala Bhangra:
India is a diverse country where numerous cultures coexist. The country is known for its culture, religions, languages, ethnicity, cuisine, and of course, dances! One of the most popular dances which falls under the category of aerobics is Masala Bhangra, a Bollywood dance fitness routine. This dance form is cool, fun, exciting, and something that will make you love it. It originated in Punjab ages ago and is the cultural dance of the state.
Here are a few benefits that should convince you to try Masala Bhangra:
It Is Fun:
Masala Bhangra is full of fun. The beats and peppy tunes will make you enjoy dancing more than you can imagine. If you have been looking for a good dance party, there cannot be a better option than this! You could easily join a dance class in your city or even purchase a DVD that teaches you Masala Bhangra.
Helps You Lose Weight:
Here comes Masala Bhangra, one of the best aerobics dances to lose weight. People, who have incorporated this dance form, tend to lose weight pretty fast. It can burn up to 500 calories in an hour. You can also burn more calories through high-impact dance routines.
Tones Your Body:
This dance form can also help you tone several muscle sections in your body. There is no reason you should ignore this!
Best Aerobic Dance Workouts:
There are so many of us ladies who would like to try aerobic dances, but are just unable to find the right class. There are so many others who don't have enough time to reach a fitness studio and workout every day. There is no need to worry at all! Here are some cool aerobic workout videos that will tone your body and reduce body fat drastically!
1. Pump It Up:
There are so many of us ladies who would like to try aerobic dances but are just unable to find the right class. There are so many others who don't have enough time to reach a fitness studio and work out every day. There is no need to worry at all! Here are some cool aerobic workout videos that will tone your body and reduce body fat drastically!
2. Bipasha Basu Break Free Dance:
This one will be great news for all those who love Bipasha Basu and aspire to look as fit as her. The Break Free aerobic workout designed by her is a stress buster and can help you get your body into shape within 30 minutes. Do this six times a week, and you are bound to see some good changes. The workout will improve your strength, stamina, endurance, and energy levels. What better way to work out than dance to some of the cool and funky moves designed by this amazing and super fit Bollywood celebrity!
3. Latin Dance Fitness:
So, you have a dearth of time but would still like to work out? The Latin Dance Fitness is the perfect workout for you. It lasts for 16 minutes and gets your heart rate elevated. You can do this twice a day and burn body fat too. The moves are simple and don't require too much precision. Latin dance workouts are fun and allow you to have a good time while you put in the work.
Similarly, salsa dance fitness, African dance fitness, and tap dance fitness are other workouts that help tone your muscles and are good cardio exercises. No matter what dance form or video you decide to follow, you can expect good results!
Benefits Of Aerobic Dance:

With Aerobics comes a whole lot of benefits. It not only lifts your mood but also helps you beat stress and stay relaxed! Here are some of the amazing benefits you can expect from an aerobic dance workout:
It will strengthen your body and tone the muscles. It will support the cardiovascular system and make it strong and disease-free (5).
It will increase the circulation of blood in your body and lower high levels of cholesterol. If you are someone suffering from high blood pressure, this workout is the one for you (6), (7).
It will boost your immune system and make you a healthier person (8). You will also feel fit and active at all times.
It is a popular and effective remedy for all those looking forward to reducing high levels of stress, anxiety, and tension (9), (10).
People of all ages can enjoy, and it is not a difficult task to accomplish.
The efficiency of your heart and lungs goes up with the help of this power-packed workout (11), (12).
You will also have the freedom to personalize your dance steps. How cool is that? You could also choose the music you like.
These should be enough to convince you to try aerobics dance workouts soon!
Few Tips To Remember:

There are also a couple of tips you must remember when it comes to Aerobic dance styles and workouts. Here are a few!
Before you begin dancing, it is important to do warm-up exercises for about ten minutes. You should get that heart rate elevated so that you are ready to hit the floor and work out hard and intensely. If you are confused about what kind of warm-up you should do, try spot jogging, jumping jacks, and some butt kicks. That should definitely work!
Don't forget to drink a glass full of water after the workout is done. This will replenish your body and make you feel hydrated.
Wear well-fitted clothes while dancing. If you wear clothes that are too loose, you will not be able to dance like a pro. It will restrict your hand and leg movements. The best attire for aerobics dance is a jersey and some sports shoes.
Once the dance workout has come to an end, always remember that you need to cool down. You have to do a couple of stretching exercises for this one. Spending 5 minutes on stretches will relax and burn calories at the same time.
Don't go for something that is too intense if you are a beginner. You can build up the pace with a little time. So remember to stay patient.
If you would like to have a little fun in life, add some of the basic aerobic dance moves and get ready to have the time of your life!
Infographic: 5 Benefits Of Aerobic Dances
Dancing is a fun way to stay fit, and it allows you the room to experiment with different types of dancing. Dancing improves your balance and boosts fitness. Check out the infographic below about the benefits of aerobic dances.


Aerobics keep you fit and flexible in a fun way. Zumba, jazzercise, ballroom dancing, and belly dance are the various dance types that can keep you healthy and active while having fun. Catering to different styles and genres of dance, this helps stretch your body, tone, your muscles and improve flexibility overall. Just like any workout, warming up before your dance practice and staying hydrated is important to make the most of it.
Frequently Asked Questions
Is hip-hop dancing an aerobic exercise?
Hip-hop dancing makes for a full-body workout with both aerobic and anaerobic benefits.
Is jumping rope aerobic or anaerobic?
It is a full-body workout with both aerobic and anaerobic benefits and can be performed anywhere.
Are jumping jacks an aerobic exercise?
Jumping jacks are a combination of aerobic exercise and resistance training.
Are push-ups aerobic or anaerobic?
Push-ups are an example of anaerobic exercise.
Key Takeaways
Aerobic dance is a fun daily workout that can burn 300-500 calories in an hour.
There are low-impact and high-impact aerobic dance forms such as Zumba, jazzercise, ball dance, belly dance, and masala bhangra.
Aerobics strengthens and tones the muscles, improves blood circulation, and provides overall fitness.
Along with the physical benefits, this workout is also rejuvenating for the mind and helps reduce stress.
Beginners should start at a slow pace and slowly bring up their energy level. Always begin with a warm-up exercise and end with stretching exercises.
Aerobic dances are fun and can benefit your health immensely. Check out the video below to discover their different types and figure out which can help you stay active and healthy.
Sources
Articles on StyleCraze are backed by verified information from peer-reviewed and academic research papers, reputed organizations, research institutions, and medical associations to ensure accuracy and relevance. Read our editorial policy to learn more.
The following two tabs change content below.