30 Types of Bras Every Woman Should Know – A Complete Guide
Finding the perfect bra is such a pain - good thing they come in so many varieties. Did you know that 64% of women are wearing the wrong bra? And ironically, 24% know for a fact that they are wearing the wrong size. No wonder we just can't wait to pull the bra off the moment we reach home! We all are doing something fundamentally wrong. So I had to find a method to this madness before it affected me (my health).
Simply put – start with a professional fitting, understand the different types of bras out there, and most importantly, invest in the bra that is meant for YOU. Scroll down to view various bra types with images.

Ace The Look
Choose The Right Bra: For low-cut tops or dresses, opt for plunge bras. For backless or strapless outfits, choose strapless bras or adhesive bras. For sheer fabrics, wear seamless cups or minimal detailing bras. For workouts, wear a sports bra.
Maintenance And Care: Wash your bras gently with a mild detergent and dry them by laying them flat or hanging them by the center gore to retain their shape. Store them in a separate drawer or hang them on hooks.
Fitting: Choose bras that sit flat on your breast bone and fit snugly with proper coverage to ensure comfort, proper support, and a flattering silhouette.
Taking Measurements: Always check for your band size, bust size, and cup size separately to find bras that fit your body shape to avoid welts from the bands digging into your skin.
30 Best Different Types Of Bras With Images and Names
Understanding the right size is one thing, and matching it with your body type is another. Our anatomy might be the same, but each of us is unique, so it is important to be fully aware of your body and what it needs. So, let's discuss the best from the lot and look at 30 types of bras meeting the needs of various body types.

Did You Know?
The first modern bras were designed in the 1890s in France. They evolved from corsets, which were split into upper and lower halves to shape the chest and waist respectively. In the early 1900s, the upper parts were sold as individual pieces.
1. T-Shirt Bra
I'm not fussy about a lot of things in life, but a T-shirt bra is not one of them. Fishing for a seamless T-shirt bra did not come easily to me because I was always under the assumption that they were padded bras. They are very similar, except they are not. These come with molded protection, sometimes with an underwire, but not necessarily padded. They add rigidity and, depending on your bust size, give a minimized look. It is the underwire that offers complete coverage, and the whole idea is to take you far away from the fear of a double boob or a pop-out. The experts always recommend a professional bra fitting at least once to avoid that. Personal stylist Paola Farina says, "It is very important to understand that cups and the breast size are very different. I can have a small cup, but my breastbone can be large. I must be sure that fitting is right. T-shirt bras usually work well on small sizes and small cups. I highly recommend seamless models for evening dresses."


Did You Know?
S.H. Camp and Company were the first to introduce a cup-sizing system. It had a range of four sizes, assigned a letter from A to D. Over the years, the system has been expanded to accommodate more shapes and sizes.
2. Sports Bra
If I could put this better, I would, but choosing a sports bra has no magic formula. So, we need to pay attention to the fundamentals – straps, cups, and the band. It needs to be snug and encompassing all around. However, it cannot suffocate your breasts or result in a uni-boob. Farina adds, "It should fit well but be very comfortable. If it is padded, I suggest buying a half or one size bigger." A few things to remember – run your finger along the band between your breasts and ensure you can pull about an inch from the chest – the front straps should be as less stretchy as possible for better motion control. And lastly, there should be no spillage of the breasts, implying that you need the next size.
Choose a bra based on the activity – a low-impact sports bra is suitable for yoga, hiking, or walking, and a high-impact one is needed for rigorous exercises like aerobics, running, Zumba, etc.
3. Push-Up Bra
This bra is based on a simple mechanism of adding lift and volume to the breasts so they are symmetric, closer, and fuller. For starters, a push-up bra helps women with a smaller bust line or those whose breasts do not stick high up at the chest. So, the myth that women with bigger breasts cannot wear push-ups remains untrue because it does more than just make them fuller. Farina explains, "This type of bra works very well on small and large breasts. If you have a large breast, I suggest choosing a model with a large band as it will help you have better control of your boobs and a more elegant look."
Since most push-up bras are wired, make sure the underwire is not pinching your skin at the bottom but just snugly fits at the end of your bust line.
4. Padded Bra
The padded bra has been a savior for so many reasons. It gives a fuller look for women with smaller boobs, and in winter, it gives you complete nipple coverage and an overall fuller look. Farina says, "This bra is perfect for small and petite breasts. It gives a sexy but not impertinent look. I highly recommend it for shy women who want to look more feminine without being too aggressive."
Some women, however, do not prefer it because it can make their boobs look double their size. The reason could be an error while choosing the size or the design. You also have the semi-padded cup bras that go with deep-neck dresses. And the demi bra is a good option for women with petite frames, smaller breasts, or both.
5. Strapless Bra
I don't know about you, but for me, wearing a strapless bra was a fiasco – every single time until I had my first professional fitting. It is a real blessing if you get your basics right. You need to go down one step smaller because only the band is holding the girls together and supporting your chest. Remember, your dress should be slightly looser near the chest and tighter near the waist; else, we will be back to square one.
Farina advises, "It is very important to find exactly the right size of the band. If a cup is a bit too large, we can always add pads, but if the band is too large, it won't work. I recommend it only for small breasts."
6. Lace Bra
Lace is sensuous, and it just feels great to wear the fabric on your body, especially if it's lingerie. Farina shares, "I love this type of bra because you can always choose a pop-up color and wear it as if it was another piece of your outfit, for example, under a light blouse. I recommend 'nude' color under white clothing and dark colors for dark clothing." You will never run out of options, but it is often known as a fancy variant rather than a functional one. So, check with the sales associate in the store or talk to a professional if you have questions on sporting these flawlessly unless you prefer your nipples pointy.
7. Halter Bra
As the name suggests, these go perfectly well with your tanks, tubes, strapless dresses, or racerback T-shirts. Farina advises, "Be careful with a halter neckline. In Europe, we call the American neckline. Avoid it if you have small shoulders, or they will look even smaller. This bra is not the right choice for big breasts and a triangle body shape. However, it sits perfectly on a rectangle and inverted triangle." Most of the convertibles give you a choice of clear strap, cross-over back, or halter neck, so camouflaging those straps is oh-so-easy!
8. Soft Padded
These are basically well-rounded yet seamless and natural bras. Not just T-shirts, these are ideal under flimsy fabrics like shirts, satin tops, or dresses. You get a range of options in these, like soft padded, padded, underwired, etc., so go with something depending on the size of your breasts.
9. Stick On Bra
When you go shopping and see some dresses, the first question that occurs to you is what bra you need to wear. The shapes, bodice, and necklines are so fancy that nothing seems to be a match. That's when you need a stick-on bra. These silicon pads are adhesive sticks to your body and are intact. It gives just enough nipple coverage, but it's not like your regular bras. Farina shares, "Stick-on bras are right only for small sizes. They are perfect for evening dresses that show off your back or for deep necklines. To avoid problems, use double-face scotch tape to stick the neckline to the bra."


Quick Tip
Stick-on bras can be tricky. Ensure your bust area is completely dry for the adhesive to hold. Undo the clasp and work one breast at a time. Begin sticking from the underboob and then pull upward for proper coverage.
10. Bandeau Bra
We all know of tube tops, don't we? So bandeau bras work similarly. They need to be worn on the head and have no hooks to fasten them. And probably that's what makes these comfortable. The support is taken purely from your breast and shoulders, so ensure you try them out to be sure it sits there right. You get these in plain as well as superior materials such as lace, satin and layered. You could also use the fancy ones as a layer for your racerback tops.
11. Shelf Bra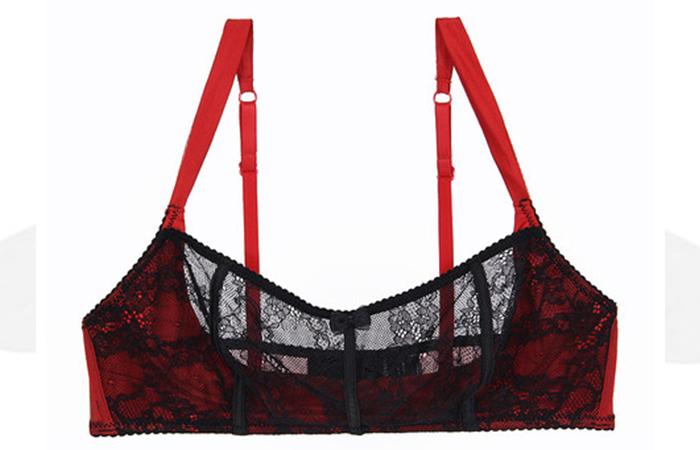 First things first, these bras are not meant for every day. These fall under the lingerie category because, unlike regular bras, these do not give you nipple coverage. They usually come in fabrics like tulle, lace, and satin that support the entire breast but are transparent near the breast. You get a lot of variants in these, so go check them out and invest in a couple of them. After all, we all need some self-pampering too.
12. Balconette Bra
Underwired bras often get support from the bottom and offer very little coverage compared to the other bras. They are horizontal like the demi bra but are much fuller around the breasts. These reveal the top parts of your breasts, so keep this in mind and map this with your dresses. It's usually suited for small and medium-sized breasts. The only support system for these comes from the thick straps and underwire.
13. Longline Bra
Just as the name goes, the longline bra extends till a little above your belly button or over it, depending on the brand. These are usually snug and intact from the start till the very end, thus suitable for a body-hugging corset, evening wear dresses, etc. They are also perfect for full-size breasts. The straps are thick and offer support to any breast size.
14. Sheer Bra
Sheer bras basically show off a little bit of your skin with the fabrics used. These are usually made with fancy materials like satin, tulle, lace or chantilly lace, etc., with convoluted designs that are supportive yet fashionable. Unlike the lingerie and sensuous ones, these give nipple coverage and are well-rounded.
15. Racerback Bra
This is pretty self-explanatory. The straps hover around the collarbone and not the arm, unlike your regular bras. And these bridge a huge gap for T-shirts, dresses, tanks, and tops that have racerback necklines. The padded ones are comfortable and convenient during high-intensity workouts; either way, this is a bare essential. It is suitable for full-size breasts.
16. Demi Bra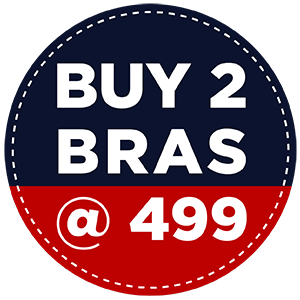 Demi cup bras are ideal for smaller and firmer breasts. These are low cut with lesser coverage and smaller cup size. This lends support from the band and the underwire and makes it twice as important to choose the correct size. It also means that this is not for all body and breast types.
17. Underwire Bra
Designed for the purpose of providing strength and support to the breasts, these come with an underwire at the bottom of the cup. They were initially made with a thin wire but are now also made of plastic and metal. They are meant to round off the shape of your breasts and contour any unwanted bulges. You might see a lot of articles floating around to question if an underwire is advisable to begin. But there's no conclusive result so far. However, the only thing that matters is the quality your brand provides.
18. Front Open Bra
A model that has been around since the inception of women's bras – it's a little old-school, according to some people considering the number of options out there. There is nothing right or wrong about them; it is a matter of choice and comfort. Women in the late forties and early fifties prefer these over the back open since they seem more convenient to wear.
19. Convertible Bra
Bras and lingerie are getting expensive by the day. But you cannot afford not to invest in these because these are bare essentials and a necessity for every woman. But, thanks to the novelty of the fashion industry, there is no dearth of ideas. So, convertible bras are the next big thing. I mean, why not? Buy one that actually doubles or triples up for you. You have a variety of combinations for the multi-way bras. They usually come with a few types of strap sets that convert into a halter, racerback, strapless, etc. A breeze while traveling as well.
20. Bridal Bra
The first thing that invariably comes to your mind when you think of your wedding is the wedding dress. But, I hope you have sorted your intimates as well because it is no surprise that it is a big part of your puzzle. You need to make sure it's comfortable, goes with your wedding outfit, and does not turn out to be a peeping Tom. Farina adds, "Make sure it fits the dress. If I have a slip-on dress, I would recommend a seamless body instead of a bra and panties to avoid folds and wrinkles on your dress." Lace and satin are preferable because they are seamless, light, and comfortable. Do a dry run in advance just to ensure it's all concealed and good.
21. Wireless Bra
Padded, push-up, and wired bras have taken over the lingerie world. We are, in a way, glad that it was a breakthrough we all needed. However, wired bras can be tough to deal with as they dig into your skin and poke your breasts constantly. I personally avoid anything wired for the very same reason. Something about these makes it cumbersome and difficult to handle an entire day. Doctors also advise against it for the same reason, especially for women who have undergone a mastectomy. The only thing you need to remember is, just like any other bra, size is the most important part of it. Nothing else matters, and it will still be uncomfortable.
22. Full Support Bra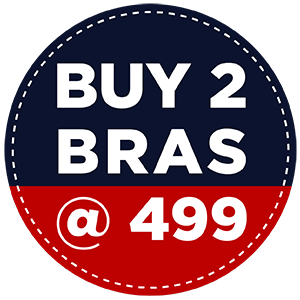 These bras stay true to their name and give you maximum coverage. They come in all patterns, fabrics, and designs, but the constant here is the full support these bras give you. Ideal for women who have big or sagging breasts. It will round off the shape and also keep them firm.
23. Maternity Bra
A lot of things change when you're pregnant, particularly your breasts. The first sign of pregnancy is sore breasts. They enlarge as you progress, prepping for lactation. And, it is critical for women to invest in good maternity clothing — inside and out. Maternity bras are smooth, provide full cup coverage and hold the breasts intact. Some brands make bras that are good during pregnancy and nursing. They double up, so it's value for money. Also, remember first to try a few models to understand what suits your body type and the size of your breasts. This is important because they are expensive and will be used for a little over a year.
24. Transparent Bra
Bras that come in transparent back straps or shoulder bands are basically called transparent bras. We all need them with deep-neck dresses or tops that come in noodle straps or sleeveless. The other type of transparent bra is one made of transparent and flimsy fabrics like satin and lace. These go well with light-colored dresses.
25. Silicone Bra
These have been a rage since the time they were launched. These are just perfect for satin, ultra-light, or see-through/backless dresses. Most of them are reusable, soft, and comfortable. From my personal experience, I can tell you that these work best for women with relatively small breasts.
26. Seamless Bra
We could not be more thankful! Don't you hate it when you wear a T-shirt or dress in smooth fabric and see a clear bra lining? And that is exactly why we need seamless bras. The materials are smooth, the finish is neat, and the support is good. These are usually soft padded and thus also give you good nipple coverage, and there's nothing to worry about.
27. Built-In Bra
Built-in bra, camisole, or cami—these are all the same. It is basically a bra and a slip (tank) in one. A savior when you want to layer up or when you want to tuck your top away. These go perfectly well with your formal shirts or see-through sweaters and tops.
28. Plunge Bra
I love the fact that there's a different type of bra for every dress. We just have to look around, and with a little bit of research, we are sorted. These plunge bras are all we always needed because the struggle with deep cuts, V, and now deep V-neck lines is real. More often than not, these also act as push-up bras and give added support. It is perfect for small and medium-sized breasts.
29. Cupless Bra
Imagine the chassis of a car. This bra has the frame and structure, but there's hardly any cup space, exactly why it is called cupless. A variant that falls under the lingerie bucket. The options in cupless bras are bountiful. Some have only strap structure, others have a negligible cup with an underwire, and some just show the nipples. It really depends on your taste. If you're looking for attractive lingerie options, this might be it.
30. Bralette
Have you heard? A bralette is the next best thing since sliced bread. The buzz around is worth it, and we are so glad that something women probably needed from the inception of boobs is finally here. It is non-wired, non-padded, and non-structured—it just sounds so relaxing already! Plus, with the umpteen design choices you have in this segment, you will never feel like you're wearing an undergarment. It is no exaggeration when we say that people swap it with a crop top sometimes and look spectacular. There is no hard and fast rule for wearing this. It goes with see-through dresses, backless tops, or anything, really. Farina suggests, "I use them under jackets and evening suits, such as tuxedos."

Quick Tip
Bralettes are perfect for styling a boho look. Pair them with your palazzos, maxi skirts, beach shorts, or high-waist jeans for a spicy, casual look.
Best Bras For You Based On Need, Occasion, And Body Type
So, let's look at who needs what depending on the need, occasion, and body type.
We get quite excited when we walk into a lingerie store to buy intimates. It feels great to wear lingerie that is not only sensuous but also smooth on the skin. However, it is not all that rosy for everyone, especially for someone with big busts above DD. And disappointment is a regular part of shopping for some of us. We have to look for bras that give full coverage and support.
Bra Types You Should Consider – Full Support, Built-In, Longline, Seamless, Sports, Soft Padded, Wireless, Halter, and Racerback are some of the bras that you should use. Other fancy variants like Lace, Sheer, Bridal and erotic are a matter of choice. Farina says, "I highly recommend something that embraces the body and gives support to very large breasts. We do not need to show up or add more volume. We need more elegance and beauty in the world. Being feminine is an attitude."
We always complain about having smaller or bigger breasts. Don't we? Breasts being proportionate to the body size is ideal, but since we do not live in an ideal world, we have to work it out. Go with bras that have padding, and that can round off the shape to look fuller.
Bra Types You Should Consider – Demi, Padded, Push Up, Convertible And Sports Bras. The rest depends on your preference and style.
Sagging breasts seems to be an increasing problem for women over the past decade. Women face this problem post-pregnancy and nursing. However, if you have been using the wrong size bra all your life, you are quite likely to end up with sagging breasts earlier in your life.
Bra Types You Should Consider – Full Support, Built-In, Push Up, Padded, And Longline are some must-haves. Sports bras are also good for workouts and physical activities, but make sure your sizes are accurate.
When you are pregnant, your breasts are sore, heavy, and painful all the time. A lot of women told me that it gets almost impossible to keep their bra on and nothing seems comfortable around that time. However, maternity wear has evolved and is catering to solve these issues.
Bra Types You Should Consider – Maternity/Nursing, Sheer, And Wireless Bras. The fabric makes a lot of difference to these bras, so invest in some good quality brands.
It can get tricky sometimes. Padded and push-ups might sometimes make it awkward the lace ones can show the lining and do not give nipple coverage. So a lot of this depends on the material—transparent, opaque, see-through, etc. And the other factors like necklines that plunge at the front and back; with or without sleeves etc.
Bra Types You Should Consider – Padded, Wireless, Push Up, Full Coverage, Lace, Plunge, Transparent, Balconette, Bandeau. Sometimes Silicone or Stick On Bra too!
A breakthrough needed by women arrived a few years ago, and it is only getting better with time. It goes without saying that you need to pay attention to the bra type when you want to step out wearing a tank or a plain T-shirt.
Bra Types You Should Consider – T-Shirt, Sports And Seamless Bra should be your go-to.
Sarah, a Youtuber and vlogger, has shared her lingerie secrets for both comfort and style. She explains, "[A] non-wired t-shirt bra–this is very mildly padded and I have it in the shade nude because a nude bra is a staple in every single girl's wardrobe. It's the perfect color to wear underneath your sheer tops, your white and light colored tops because something like this will not pop through (i)."
Saree blouses are a whole new ball game of late, and it makes all the difference. The necklines are pretty steep at the back and fancy in the front. That is why most of the blouses now are inbuilt with pads—easier and less fussy. However, not everyone is comfortable with the idea. If you are one of them, here is what you need.
Bra Types You Should Consider – Transparent, Plunge, Sheer, Stick On, Silicone, Lace, Demi And Balconette Bras.
You use maternity bras during pregnancy, and nursing bras post delivery because they are meant and made to cater to this. Make sure your bra is smooth, and soft and supports your breast without sagging or digging into your skin.
Bra Types You Should Consider – Maternity And Nursing Bras.
For Sports And Physical Activity
I knew women who brushed it off when I said they needed different bras for sports and physical activities. However fancy your regular bra is, it just doesn't cut it. If you are involved in high-intensity workout training, consider something that is meant for that. But a sports bra is a must-have.
Bra Types You Should Consider – Sports Bra.
When we say western wear, it could be dresses, tops, T-shirts, tanks, formals, or just about anything. All of them need attention, and you cannot afford to pick something and wear it randomly. Consider the color, fabric, and neckline before you pick one. If you don't have at least a few of them, then you should invest in some of them at least.
Bra Types You Should Consider – Sheer, T-Shirt, Seamless, Soft Padded, Push Up, Plunge, Transparent, Strapless, Bralette, Stick On, Bandeau, Balconette, Halter, Racerback and Demi Bras are some of them you need to own.
Infographic: 6 Bras You Must Have In Your Wardrobe
Most of us make the mistake of using one type of bra for all our daily and weekly needs but you need to be aware of the kind of support and shape you need. We have rounded up the top 6 bras every woman must have in their wardrobe in the infographic below. Check them out to know what you need to shop for next.



Thanks to the designers, today, the options are endless when it comes to choosing a bra. As you hit the market, you will know that there is a bra exclusively made for you. All you have to do is know your correct size and offer yourself the one that caters to your unique needs. So, next time you buy a bra, take this article as your guide and allow it to make your purchasing decisions easier.
Frequently Asked Questions
What types of bras should every woman own?
The answer for this is relative and varies depending on a lot of factors like age, body type, breast size, and the need. However, one thing that remains constant for every woman is that they should wear a bra that is of the correct size. Here are a few must-haves for every woman:
What is the bra type that you should wear?
Again, there is no hard and fast rule about the type of bra we should wear. But it is important to map the bra with the fabric, dress type, and occasion. Let's say you are wearing a saree with a deep-neck blouse. Then, you need to go with a transparent bra. For workouts or physical activities, you need a sports bra, a T-shirt bra for T-shirts, and a seamless bra for body-hugging clothes. So, to answer this question, you need to wear a bra that goes with your outfit and yet fits well.
Which type of bra is the best?
Bras that give maximum coverage and support are considered the best. And, It differs for each person. Having said that, the best bra type for you would be the one proportional to your breast size and body type.
Which bra is better for daily use?
A T-shirt bra is good for daily use. It is seamless with smooth cups and can be worn comfortably under your regular casuals.
Which type of bra is the most comfortable?
Bralettes and bramisoles (padded bust camisoles) are the most comfortable bras. They can be worn under any top at home while hosting a casual gathering or while attending business meetings online. They are also comfortable enough to wear to sleep. But they provide the bare minimum support and are not ideal for rigorous physical activities.
What type of bras make the breasts look smaller?
Minimizer bras make your breasts look smaller. They are nicknamed "shapewear for your bust." They are designed with structured cups to compress and spread out your breasts and have wide straps for support.
Is it OK to wear padded bras every day?
Yes. Padded bras are preferred by many women for daily use for their comfort and support.
Is wearing a bra 24/7 healthy?
There are no studies to prove that wearing a bra 24/7 is unhealthy. However, if your bra is not the right size and fit for you, it may impact your blood circulation and cause discomfort, itching, and pain in the bust area. Additionally, unwashed and sweaty bras are unhygienic and can cause skin irritation. It is advised to take your bra off at night majorly for your comfort, but if you are comfortable wearing them to sleep, you may do so.
Key Takeaways
T-shirt bra, sports bra, padded bra, bandeau bra, stick-on bra and longline bra are some of the bra types easily available in the market.
Silicone bras, seamless bras, plunge bras, and seamless bras are great options to wear under dresses.
If you have small or sagging breasts you can wear a push-up, padded, or sports bra.
If you have a big bust, opt for full coverage and support bras. You can also opt for maternity or nursing bras if you are pregnant or a new mother.
Learn about the different types of bras and how to choose the right one for you. Watch this video to know more!
Personal Experience: Source
i. Lingerie Secrets & Bra Must Haves FOR EVERY GIRL ! Detailed Bra Guide from amanté | Sarah Sarosh
https://www.youtube.com/watch?v=dEEZ2bLy6DU
The following two tabs change content below.