12 Types Of Friends You Need In Your Life
Because life is just way too short to miss out on any of these amazing types of pals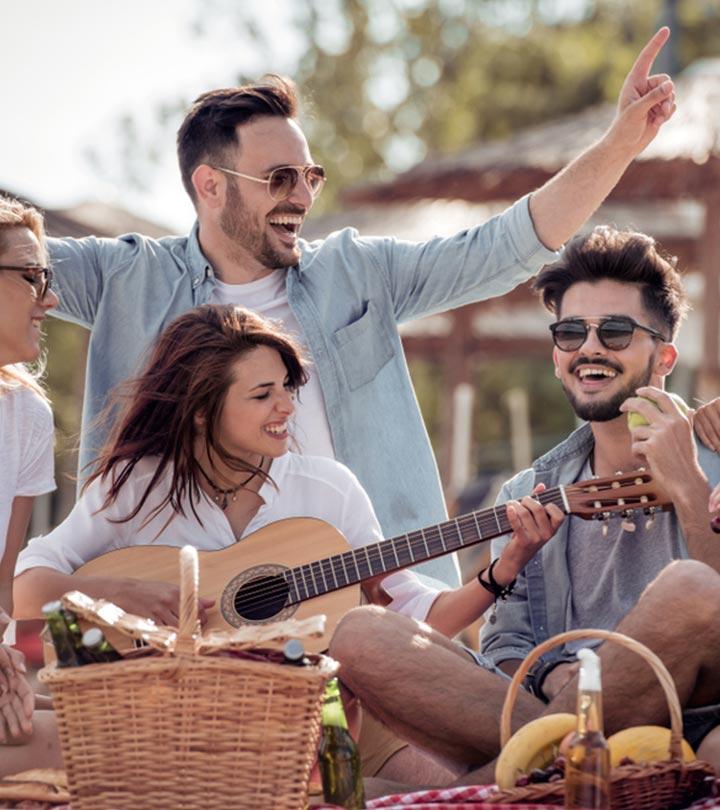 When you look at your buddies, you must wonder where you got such oddballs for friends! However, there are certain types of friends you need to have in life to make it worth living. Without friends, life would be unimaginable. After all, great friends are challenging to find and even more difficult to live without. But, not all friends are created equal. Some people are always there for you, while others bring a smile to your face whenever you think of them. They are always around when you need them, no matter who they are or what position they serve in your life. We have put together a list of the 12 best types of buddies you should have in your life. Check it out!
12 Types Of Friends You Need In Your Life
1. The Best Friend
"A real friend is one who walks in when the rest of the world walks out."— Walter Winchell.
Not all friendships are made to last a lifetime. But a best friend is someone you can always rely on. We all need a friend who listens to us but never judges us no matter what. This kind of pal knows everything, including your dark and deepest secrets. Their love towards you never changes. A loyal best friend always has your back and never gets tired of hearing you.
A real friend loves you unconditionally and accepts you at your worst. They make sure you have a smile on your face every time. No matter what, that one true friend in your life will be there for you for the rest of your life. You can share your deep thoughts, fears, and secrets with your bestie without a second thought.
2. The Mentor
There are times in life where you may need a real mentor who guides you in the right direction. This is the friend you will never get enough of. It can be anyone like your work pal, neighbor, or relative — as long as you look up to this person and want to be more like them. The wise mentor knows how to listen to you and never fails to offer you the best advice for any situation. We all need one true friend who inspires us to be better. Every conversation with them helps you think positively and move in the right direction. They may not share the same ideology, occupation, or hobbies with you. But their thoughts always inspire you to do great things.
3. A Friend From a Different Culture
Relating to buddies from diverse cultures opens up your mind, and allows you to explore their traditions, customs, and values. If you have friends from different cultural backgrounds, you are considered well-rounded. You get to experience a rich selection of eccentricities. Meeting people of different races will help you learn new languages. You can enjoy the cultural diversity and also get an opportunity to travel the world. You may taste a wide variety of foods and can learn how to handle situations and master your emotions.


Quick Tip
Join your friend in their celebrations and festivals to know more about their culture and invite them to yours to strengthen the bond.
4. The Funny One
"Thank you for always being there for me when I can't afford a therapist." — Unknown.
This is the friend that always lightens your mood when you are tense. Your funny friend finds humor in everything and makes you laugh till you drop. This person will get you out of your comfort zone when you need a little push to enjoy the situation. Funny friends are like medicine – they can deal with situations easily and make you laugh.
5. The Listener
Being a good listener can foster any relationship. Good listeners are hard to come by, and having friends who are good listeners can mean everything. When you have a lot of things on your mind, you just need someone who knows how to listen to you. Most of the time, all you may need is someone who will pay all their attention, hear you without any distractions, and without passing judgment. They have the ability to listen and leave their own opinions aside when all you need is to pour your heart and soul out.
6. A True Adventurer
"A good friend listens to your adventures. A best friend makes them with you." — Unknown.
Adventurous friends are the true fighters in life. They are brave and strong enough to deal with life's problems. They love to visit different places and introduce you to new cultures and values. These friends love to explore the world and try out certain extreme activities. They know the best places to go to and being with these friends helps you visit new places.
7. The Crazy One
Crazy friends can take away the seriousness in your life and give you the best memories and laughter to remember for a lifetime. Their contagious humor makes you laugh, and they won't let you stay in a bad mood. They are always positive about life and choose to feel happy. If you are with people who pay no attention to other's opinions, you will feel happy and comfortable. When you hang out with them, you just enjoy every moment and have positive vibes. They will take you outside of your comfort zone and show you the real world of enjoyment.
8. An Honest Friend
"Being honest might not get you a lot of friends but it will always get you the right ones." — Unknown.
Honesty is sometimes hard to face, but having a close friend who is brutally honest is a blessing. This honest pal of yours won't lie to protect your feelings where you need to hear the harsh truth. It doesn't matter how delicate the matter may be, you will receive an honest response from your friend. They can teach you how to stand up for yourself, which is necessary for your personal growth. If you find someone who is very honest with you, especially in a constructive way, hold on to that person. People like that are hard to come by.
9. A Polar Opposite
They say opposites attract. If you are building friendships only with like-minded people, there are chances you may get detached from the rest of the world. There is no common recipe for friendship. Friends who have different views will help you see the world from a different perspective and enable you to develop your personality.
10. The Foodie
It never gets boring to have a foodie friend because they love trying different cuisines. Also, it is an exercise for your taste buds to try the wide varieties of food. Food is their first love, and they explore almost all food joints in your city. They enjoy cooking as well and serve you a variety of foods. When you are with a foodie friend, the foodie in you automatically wakes up. When you are bored and want to chill out, they will take you to new places to indulge and hang out.
11. A Work Pal
As a professional, you spend more time with your colleagues than others. If you are more isolated at work, the more stressed you could become. Your work pal can help you in your work and also improve your stress levels. Friendships improve your work environment. It takes a little more time than usual for colleagues to become friends – but once they are friends, you tend to enjoy work more than earlier. Although, dynamics often change with work friends with the introduction of competition and promotions. So, while you pour your heart out, try keeping some things to yourself until you know for sure that you can trust this person.
12. The Social Butterfly
This friend is socially very active and successful at networking. They are talkative, charming, and extroverted. Also, these people have no problem meeting new people and have multiple friend groups. They love spending time with their friends and know the best spots in the city to party and hang out at.


Trivia
Frances Ha, Stand By Me, Girls Trip, and Waiting To Exhale are a few movies exploring friendship, and you should definitely watch them with your friends.
Key Takeaways
Without good friends, people tend to get lonely and do not find a way to channel their emotions.
You can have different types of friends: a friend who is a mentor to you, a friend who is funny, or one who is a good listener.
Having a work pal is important if you spend a considerable amount of time in the office. This friend can help reduce your stress levels.
A friend who belongs to a different culture can open you up to new ideas and experiences.
After all, what is life without friends? We may choose our friends, but the initial connection between two people clicks organically, and then the bond of friendship is formed. How beautiful does this sound! Of course, you need different types of friends in life to live happily. While a best friend is a must, a pal who mentors you is essential, too. It is also great to have a friend from a different culture to have a cultural exchange. Above all, you need an honest friend with whom you can share your deepest secrets.
Frequently Asked Questions
What kind of friends should you not have?
You should ideally stay away from friends who do not respect your time, don't reply back, never ask how you are, or are only there when it is convenient for them. Staying away from such friends avoids drama and makes you value friends who love you for who you are.
What is the nature of true friendship?
True friends share respect, love, trust, and excitement for each other. They care about you, are honest with you, and only want the best for you. They are your biggest cheerleaders and supporters.
Is it OK not to have friends?
While humans are social beings that crave social connections, it is ok to not have friends. If you are completely happy with your own company, then there is nothing to be worried about.