9 Different Types Of Jeans For Women – Comfy Style Guide
This handy guide helps you choose your favorite denim among the many other types.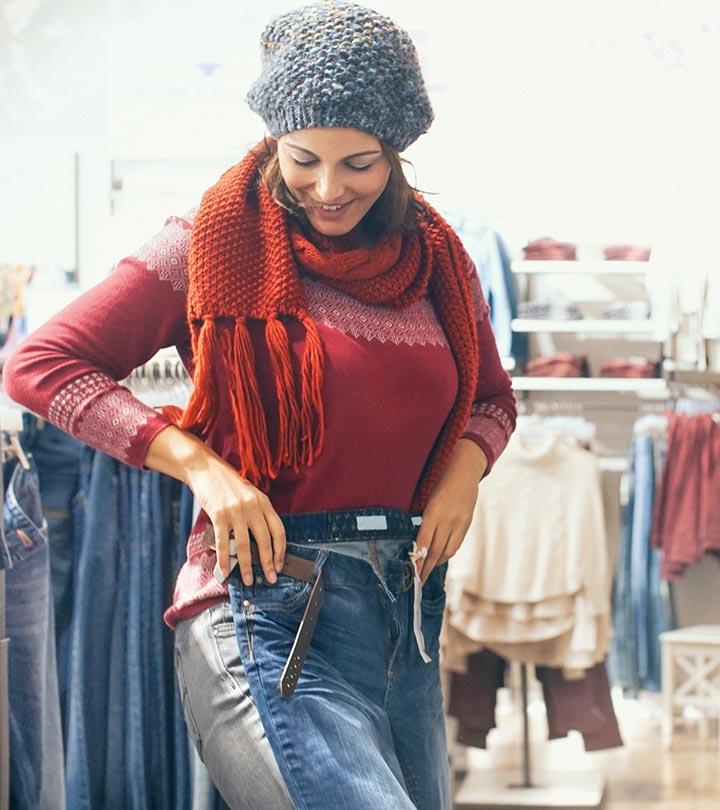 It is undeniable that jeans are a real blessing to humanity, and they are here to stay with us forever and ever and ever. Comfortable and super trendy, jeans are loved by all. This is why they have undergone significant transformation over time, and different types of jeans have made their existence among us. From the skinny jeans to the flared ones, from the mom jeans to the boyfriend ones, jeans have seen it all. Apart from the standard colors that are blue and black, a multitude of colors has been experimented on these pants too. And the best part is that they are always awesome. So, knowing the importance of jeans, today, we are going to acquaint you with the different types of jeans that are available. Now without further ado, go ahead and read the piece. Come on!
Did You Know?
Jeans is thought to have originated in Genoa, Italy, and France. Gênes is the French term for Genoa, which is considered the inspiration behind the name 'jeans.'
Different Types Of Jeans For Your Body Type
1. Skinny Jeans
Skinny jeans, as the name suggests, are skin hugging and fit you snugly. They take the shape of your legs and trace it all along. If you have lean and sexy legs that you cannot wait to flaunt, these are for you. Skinny jeans come in low, mid, and high rise waist cuts, all of which are usually stretchable – which makes them twice as good.
Suitable For – Women with an hourglass body shape, who are petite or anyone with slim legs can wear skinny jeans.
Avoid – Ifyou have a round or pear-shaped body.
2. Skinny Crop
Skinny crop jeans are very similar to the regular skinny jeans, except they end before your shins. Some of them come with a fold that adds to the aesthetic. In terms of the design and technique, there is not much difference between these and the regular skinny jeans. Distressed, white, and black jeans in the skinny crop category are excellent choices.
Suitable For – Women with an hourglass body shape, those who are petite or anyone with slim legs can wear skinny or skinny crop jeans.
Avoid – If you have a round or pear-shaped body.
3. Straight Leg Jeans
Do you love jeans that are snug and hug your body? But you do not have the body and confidence to pull the "super-skinnies" or "skinnies." We have the answer – straight legged jeans. Trust me, they are a saving grace. They are in-between skinny and boyfriend jeans or flared cuts. They make your legs look longer than they are.
Suitable For – Suit most body types because of the way they are designed.
Avoid – If you don't need to worry about this.
4. Jeggings
Jeggings are basically your leggings in denim fabric. So, you follow the same styling pattern with jeggings as well. Wear tops that are a little below your hip if you are conscious, but you can treat them just like your super skinny jeans. Most women swear by them because they are incredibly comfortable and come with a waist band instead of the standard buttons system. They are also a go-to for pregnant ladies as they do not put pressure on the belly but look just as stylish. These are also great in winters for so many reasons – easy to wear with winter boots, and keep you warm and comfortable. And, just like jeans, jeggings come in a lot of shades and colors – so, stick to darker denim tones if you are conscious about your legs.
Suitable For – Suit all body types because they take your shape and fit well. Perfect for pregnant women.
5. Boot Cut
What was initially considered mommy jeans slowly became a hot favorite among women of all age groups. However, the new boot cut jeans are more tapered than the original boot cut styles, keeping in mind the millennial trends. These come with a great fit till the knees and then subtly open out past your calf muscles. You also get these in cropped format, and they flare out a little above your shins.
Suitable For – Suit all body types because they take your body shape and fit well. Perfect for curvy women.
Quick Tip
The inspiration for boot-cut jeans came from the trousers worn by sailors during the 1850s. These trousers were designed to make it easier for sailors to wear boots.
6. Flared Jeans
These jeans initially started getting popular as a nineties fashion statement, and are now back with a bang. While the boot cut jeans open up slowly below the knees, this style flares up – literally. They fall somewhere in between boot cut and bell bottom style trousers.
Suitable For – They look best on tall and curvy women, those who are pear-shaped, and round body types.
Avoid – If you are short and curvy.
7. Low Rise Jeans
Low rise jeans hit us like a tsunami, before you knew what was going on, low rise jeans and short tops were trending, like, everywhere. They look great on women with a well defined waist because they start a little below your belly button. This style blends well with skinny, straight and super skinny design patterns. Distressed and low rise, straight cut and low rise, and boyfriend jeans and low rise are all good choices.
Suitable For – Women who are petite, have an hourglass figure or inverted triangle body type.
Avoid – If you are curvy around the midriff area or have muffin tops because they will create an unflattering bulge and work against your body type.
8. Boyfriend Jeans
People started calling these boyfriend jeans because they look like they were borrowed from him. Quite literally! However, the fit started getting better with time, and now, these are considered very stylish. From runways to airport looks, everyone is sporting these. These give you a great fit near your waist and hip area, and broaden a little bit as they move down. Boyfriend jeans or boyfriend crop jeans are both great choices for curvy women.
Suitable For – Women who are curvy or have a pear or apple-shaped body types.
Avoid – If you're petite or short, as they might make you look shorter.
9. Cigarette Jeans
Cigarette jeans are again very similar to your skinny jeans and fall under the same category. However, they are not full length and stop a little above your shins. Just like cigarette style trousers, cigarette cut jeans have gained popularity and are stylish and chic. These are skin hugging and snug, so best to avoid them if you have big thighs.
Suitable For – Women with an hourglass body shape, those who are petite or anyone with slim legs can wear cigarette jeans.
Avoid – If you have a round body type or have big thighs.
Infographic: Interesting Trivia About Jeans
Jeans are loved by people worldwide as comfort and casual wear. Everyone owns at least one pair of dark jeans. But despite having worn jeans all our lives, how many of us are aware of their history? We have a fun infographic below with some interesting trivia about jeans. Check it out!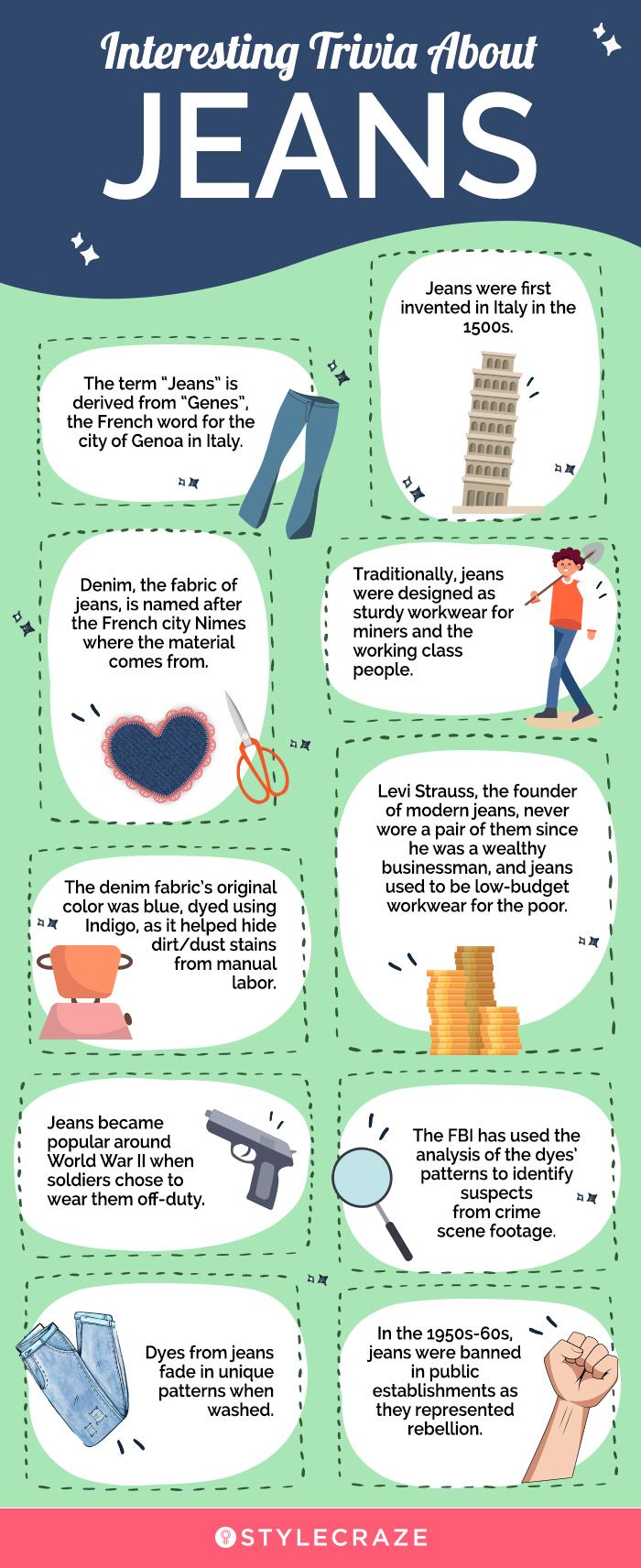 We agree that we are truly spoiled for choice when it comes to the types of jeans available on the market. Just look at the different types of jeans listed above! Isn't the variety amazing? Why do we even have to bother every day about what to wear and what not? Designers have blessed us with endless options. All we need to do is be aware of them. We have covered it all for you in the list above, from skinny jeans to boot cuts, low-rise jeans, and more. So, pick the ones that have won your heart and flaunt them to your next outing.
Frequently Asked Questions
What are regular fit jeans?
Regular fit jeans fit straight from the hip to the thigh. They are usually mid-rise and have a wide-leg opening.
How do you hide belly fat with high-waisted jeans?
It is crucial to find a pair of high-waisted jeans that perfectly fits your body type. The waistband should fit snugly around your stomach without being uncomfortable or excessively tight. Additionally, there is no bulging over the top of them and that they sit an inch below your navel. If you are wearing a shirt tucked inside them, it's preferable if they're loose enough that you can bend over in them without feeling too exposed. Remember to choose jeans made of a stretchable fabric to ensure comfort. Finally, consider choosing dark wash jeans because lighter shades typically have less give. Dark washes also make you look slimmer.
What are relaxed-fit jeans?
The term "relaxed" describes a fit looser than usual but not baggy. Compared to standard jeans, relaxed-fit jeans have a broader seat and thigh and a higher rise. Relaxed jeans usually have a comfortable fit.
Why are girlfriend jeans called that?
Girlfriend jeans are called that because they are a more feminine variation of the boyfriend jeans. They have a sleek straight-leg fit and are tailored to sit higher on the hips. They are designed to embrace your curves but show off your shape.
Are mom jeans good for big thighs?
Certainly! Women with big thighs frequently have big hips as well. They flatter pear and hourglass body shapes. Their loose cut is ideal for thick thighs because they feel comfortable, and you can move around in them without restriction.
Key Takeaways
Different types of jeans are meant for different body types.
Skinny and cigarette jeans are suitable for petite body types and should be avoided by pear-shaped body types.
Straight jeans are classics and look good on everyone when styled right.
Boyfriend jeans offer a relaxed fit and look very stylish.
The following two tabs change content below.