How To Make Ubtan At Home For A Glowing Skin
A powerful powdered concoction to give you the skin you have always wanted.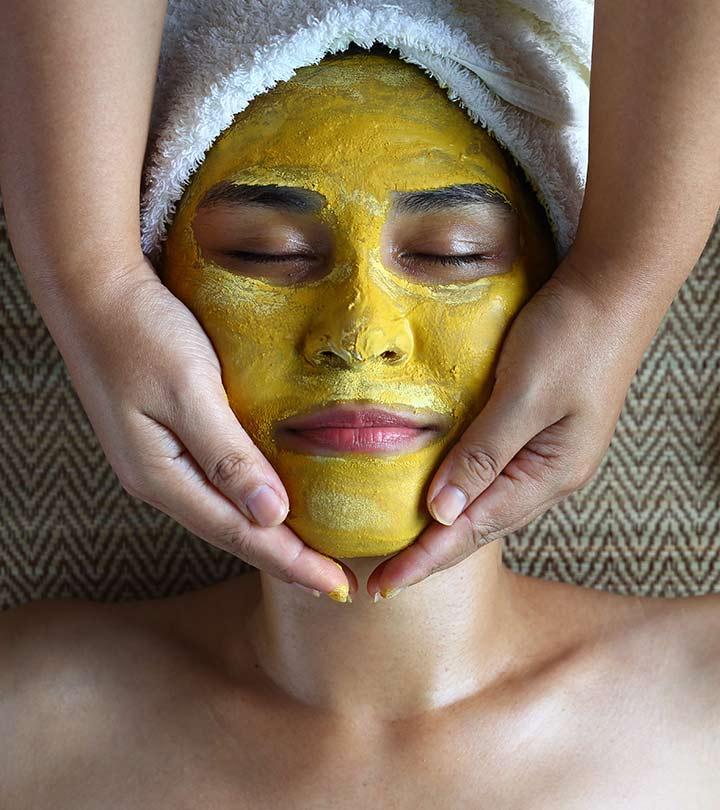 If you have never heard of the term "Ubtan" and do not know how to make ubtan at home, this article can guide you. There are two groups of people in this entire universe: those who understand what an 'ubtan' mask is and those who use it but have no idea what 'ubtan' means. If you belong to the latter group and do not know how ubtan works and what it is, stop worrying. Here, we will answer your queries and explain how to utilize it and maximize its benefits in whatever manner possible.
Therefore, for the convenience of those unfamiliar with the term, let's begin by answering the question, "what is ubtan?" – it is made with dry ingredients, such as gram or chickpea flour, turmeric, and sandalwood powder. The vitamin-infused packs are also most likely the world's oldest face mask and best-kept beauty secrets. They are often considered an important aspect of Indian weddings. A homemade ubtan is almost like a pre-bridal facial routine that helps enhance the skin tone. Because of the natural elements in the ubtan, we recommend making it a permanent part of your beauty and skin care routine. This article will take you through the top 5 tried-and-tested ubtan recipes and ways to use an ubtan powder to minimize skin darkening, and uneven complexion, and improve dullness and skin elasticity. Continue reading.
Ubtan For Fair Skin – Various Recipes
Ubtan can be incorporated into your daily skin regime, depending on your respective skin problems or type of skin. Ubtan benefits the skin in many ways and works for almost all skin types, including delicate skin and sensitive skin types. It will not only help you with noticeable skin lightening but also take care of other issues like blackheads, whiteheads, dark spots, skin pigmentationi  XDarkened patches or spots on the skin that develop due to tanning, medicinal side effects, or an underlying disease. , sunburn, sun damaged skin etc (1).


Fun Fact
Actress Priyanka Chopra Jonas uses an ubtan face mask to keep her skin healthy and glowing.
Ubtan can be used in various ways to attain that desired bright skin and flawless skin texture.
The top 5 trusted recipes to use an Ubtan to brighten dark skin and minimize patchy complexion are as follows:
1. Simple Ubtan Face Wash
You Will Need
1 tablespoon of sandalwood powder
2 tablespoons of besan (chickpea/Bengal gram flour)
½ tablespoon of turmeric powder
2 tablespoons of ground cucumber juice
Raw milk
Mixing bowl
Applicator brush (optional)
Prep Time
Processing Time
Process
In a bowl, mix all the dry ingredients, and then add milk to make a yellow paste.
Mix it with your hand or an applicator brush to ensure that it's not lumpy. It should be neither too thick, nor too runny – just enough to spread over your skin smoothly.
Apply this about 15-20 minutes before you take a shower.
Let it sit until it's dry (which is usually about 15 minutes).
Wash your face. Avoid applying any face wash or soap, because the ubtan does the job for you.
How Often Should You Do This?
If you can completely replace your face wash or soap, go ahead and do it. Otherwise, use this homemade ubtan thrice a week at least or as often as possible to get a radiant complexion. You will start to see a difference soon.
Why This Works
Anecdotal evidence suggests that raw milk may have a range of benefits for skin, such as hydration, deep cleansing, oil control, and gentle exfoliation. It boosts the natural radiance of your face and helps remove dead skin cells without any skin damage. When this is mixed with the ubtan, your daily skin needs are taken care of.
Sandalwood has anti-inflammatory properties and soothes your skin, while besan helps with exfoliating it and removing dead cells (2), (3). Turmeric powder is a natural ingredient and an antiseptic that reduces pigmentation, besides a lot of other things, and helps you get healthy, beautiful skin (4).
2. Ubtan Face Scrub
You Will Need
1 tablespoon of oatmeal
3 tablespoons of chickpea/Bengal gram flour
2 tablespoons of sandalwood powder
½ tablespoon of turmeric
2 tablespoons of ground cucumber
Mixing bowl
Prep Time
Processing Time
Process
Mix all the dry ingredients in a bowl.
Add the cucumber juice and give it a good stir.
In a circular motion, rub this on your face by taking just a little at a time.
Do this for about 5-10 minutes at least.
Wash your face like you normally would.
How Often Should You Do This?
We need to scrub our face at least once in a couple of days because of all the dust and dead skin that accumulates on our skin. They are also one of the reasons most of us end up with blackheads. Always follow up your scrubbing and cleaning with a toner. All your pores open when you exfoliate your skin, to remove dead skin cells, and a toner helps to seal these.
Why This Works
Cucumber, as we all know, is an excellent hydrant and may help soothe dry skin conditions such as dermatitis (4). However, most of us are not aware that it has antioxidantsi  XChemical substances that protect the skin from damage, improve skin texture, and slow down the signs of skin aging. as well. This pack also helps with removing dead skin cells, sunburn, tan, etc. (5). And, oatmeal, as we all know, is the cheapest exfolianti  XAn ingredient or cosmetic product that helps remove dead skin cells and built-up dirt from the outer layer of the skin. and cleanser available (6). Mixing them with the ubtan mask makes an excellent scrub, and it helps you reduce wrinkles and fine lines and cleanse your skin overall.

3. Ubtan Moisturizer
You Will Need
6-7 almonds
Fresh milk or cream
1 tablespoon of sesame oil
1 tablespoon of tulsi powder
3 tablespoon of chickpea/Bengal gram flour
2 tablespoon of sandalwood powder
½ tablespoon of turmeric
Prep Time
5-8 hours
Processing Time
5 min
Process
Soak the almonds in fresh cream or milk overnight or a few hours.
Peel off the skin.
To this, add sesame oil and tulsi powder, and pulse it in a mixie or a processor.
Add the ubtan mix to this and make it into a paste.
Apply this to your face and leave it on for 10 minutes. Take a shower.
How Often Should You Do This?
At least twice a week or as often as you can. You can save the paste in the fridge and use it for a few days consecutively too to achieve flawless skin.
Why This Works
It works great as a moisturizer and gives you clean, lightened, and supple skin. Almonds are no news to the beauty industry; they contain Vitamin A and help reduce any flare-ups on the skin (7). Tulsi works wonders for acne-prone skin as well as sensitive skin and is loaded with antioxidants (8). When these are combined with the ubtan and sesame oil (which helps with pigmentation and uneven skin tone) (9), it works like a charm for oily or acne-prone skin.


Quick Tip
You can substitute tulsi for a dry ingredient like neem powder or almond powder in your ubtan for acne-prone or oily skin type.
4. Excellent Ubtan Face Mask For Daily Use
You Will Need
1

tablespoon of

wheat flour
1

tablespoon of

besan/chickpea flour
1

tablespoon of

sandalwood powder
½

tablespoon of

turmeric
2

tablespoon of

rose water
Mixing bowl
Prep Time
Processing Time
Process
Mix all the dry ingredients in a bowl.
Now, slowly add rose water and make a smooth paste.
Add more rose water to it till you get the desired consistency.
Leave it on for about 20 minutes or till it gets dried up.
Wash your face with cold or lukewarm water and moisturize.
P.S – You could add a little milk or fresh milk cream if you have dry skin.
How Often Should You Do This?
Apply this mask for two weeks continuously, and you will notice a remarkable change in your skin. Do this before you take a shower or at the end of the day for a natural glow.
Why This Works
Wheat flour is known to help with the regeneration of skin cells (10 ), and thereby lightening the skin. When mixed with the ubtan mask, it works as a catalyst to improve your skin. The astringent property of rose water (which contains tannins), as we all know, helps with tightening the skin and locking your pores, giving you a glowing appearance (11).
5. Ubtan For Tan Removal And Dark Patches
You Will Need
1

tablespoon of

besan/chickpea flour
1

tablespoon of

milk powder
1

tablespoon of

sandalwood powder
½

tablespoon of

turmeric
1

tablespoon of

honey
2

tablespoon of

honey
1

tablespoon of

lemon
Mixing bowl
Prep Time
Processing Time
Process
Mix all the dry ingredients in a bowl.
Now, add honey, lemon juice, and milk to make a paste.
Apply and leave it on for about 15 -20 minutes and rinse with normal water.
How Often Should You Do This?
Apply this at least twice a week and more often in the summers. This homemade recipe of ubtan face pack is one of the most effective solutions to your skin problems.
Why This Works
Lemon is supposed to be a natural bleach, and when mixed with honey, it is considered to be one of the most effective anti-tan packs. It helps with skin discoloration and improves overall skin tone (12). Similarly, milk is a key ingredient widely used in homemade skin care remedies. Its cleansing properties may help manage acne-prone skin and soothe inflammation.
Infographic: 3 Easy Ubtan Recipes For Radiant Skin
Ubtan has stood the test of time due to its ease of use and effectiveness. There are many different ways of using ubtan in your skincare routine for a healthy complexion. We have rounded up three effective and easy ubtan recipes for skin brightening in this infographic to help you achieve glowing and healthy skin! Scroll down.



Ubtan is one of the oldest face packs with turmeric, sandalwood powder, and chickpea flour being the basic ingredients. Though used mainly as a pre-bridal facial routine to get the skin glowing, you can use it to solve skin care issues like pigmentation, blackheads, whiteheads, sunburn, and uneven complexion and achieve radiant skin. The article here discusses how to make ubtan at home and use it to avail several skin care benefits and keep your skin healthy. You may use ubtan as a face wash, scrub, moisturizer, and face pack. If you have pimple-prone and irritated skin, then you can also combine a paste made of fresh mint leaves along with other natural ingredients in your face mask and use it as a remedy to reduce pimples and soothe irritated skin. However, if you are using it for the first time, do a patch test to ensure you are not allergic to any ingredients, and make sure to apply sunscreen the next day for protection from sun damage.
Frequently Asked Questions
Which ubtan is best for fair skin?
You can mix ubtan with besan, yogurt, saffron, orange peel powder, oatmeal, or cucumber to exfoliate your skin to remove dead skin cells and get nourished, glowing, and healthy skin.
What should I apply after ubtan?
You may apply a gentle moisturizer or aloe vera gel after washing off ubtan to get plump skin and keep it smooth and healthy. If you face a skin issue like dryness or itchiness, then you can also apply coconut oil or any oil-based product to moisturize the skin.
What is the best time to apply ubtan?
You can apply a homemade ubtan every morning as a face scrub to remove excess dead skin cells to improve rough skin and make it smooth. Rinse it off with cold water after 10 minutes.
Which is better, Multani mitti or ubtan for skin?
Both Multani mitti and ubtan offer various benefits for the skin. You can use either ingredient individually or mix both multani mitti or ubtan masks as per your needs.
Key Takeaways
Ubtan may provide a brighter skin tone by reducing dark spots and hyperpigmentation.
Ubtan may improve the skin texture and give you supple and soft skin by removing dead skin cells during exfoliation.
Ubtan may promote skin cell renewal and make the skin youthful and fresh.
You can use ubtan as a face wash, face scrub, or moisturizer.
Learn how to make homemade ubtan to get glowing and bright skin! Check out the video below to get healthy skin with this easy-to-make ubtan powder.
Sources
Articles on StyleCraze are backed by verified information from peer-reviewed and academic research papers, reputed organizations, research institutions, and medical associations to ensure accuracy and relevance. Read our editorial policy to learn more.
The following two tabs change content below.